For every business, time is money. Moreover, especially with an eCommerce business where consumers can sign up, inquire, or even purchase something any time of the day, marketing automation becomes a must. With the latest trends in marketing technologies, you have more time to focus on growing your business, nurturing your leads, and creating better products.
Fortunately, automating your eCommerce business in 2019 is now a breeze, primarily when you use the right tools and strategies. Save your business precious time by using these ten marketing automation tips.
Table Of Contents:
1. Segment customers based on buying behaviors
2. Create a welcome email workflow
3. Retarget abandoned carts
4. Send reminder emails
5. Never ask for information you already have
6. Offer discounts based on engagement levels
7. Follow the rule of 7 in lead nurturing
8. Use exit-intent pop-ups
9. Utilize messenger bots
10. Automate inventory and delivery
1. Segment customers based on buying behaviors
If you run an eCommerce business with multiple products and services, it's important to note that not all your customers will be interested in everything you have to offer.
One of the best marketing automation practices is sending only relevant emails to specific users. You can achieve this by segmenting subscribers based on their purchase behavior.
For example, if your online shop for moms sells stationery products as well as baking needs, you'll want to segment subscribers by their interest. This way, you're able to send relevant emails, promotions, or even updates about each category without annoying your other segments.
2. Create a welcome email workflow
Now, whenever a visitor signs up to be on your email list, be sure you make them know how thankful you are that they took the time to sign up.
Get an email marketing provider that lets you automate emails based on the moment a subscriber signs up for your list. You can even opt to give a special bonus or discount on your store as a new way to say thank you.
See how Kate Spade sends a beautifully-designed welcome email to their new subscribers while offering an exclusive 15% off their online store. Note that the design has the image of an envelope, giving it an almost personal feel.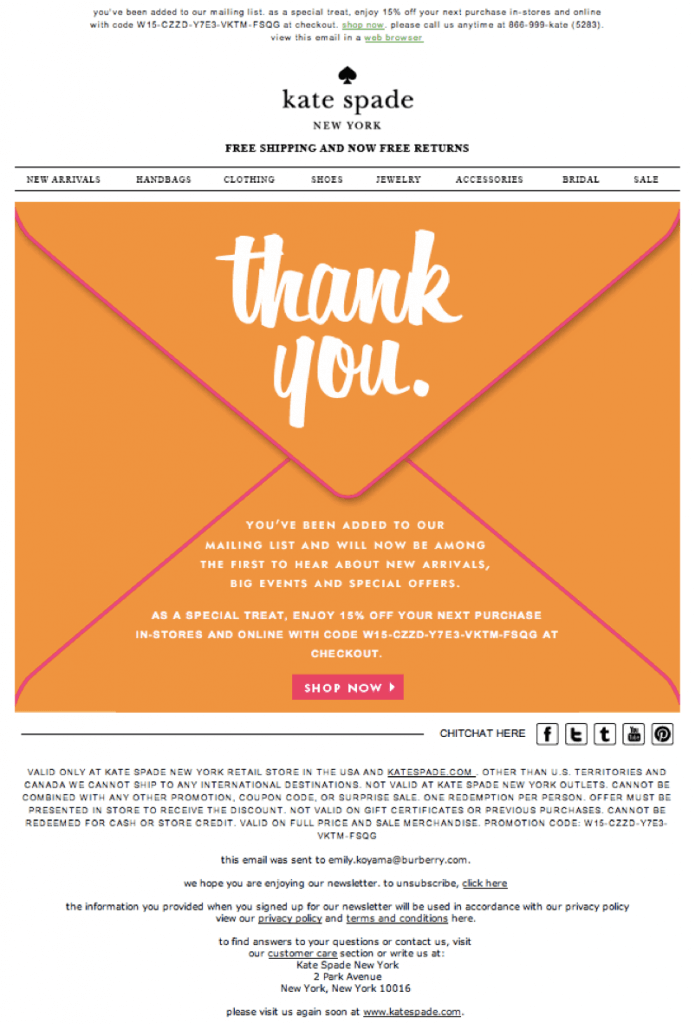 Kate Spade Welcome Email
3. Retarget abandoned carts
Less than 3% of eCommerce website visitors convert into customers on their first visit. These users can go all the way to your checkout page but don't pay – either they hesitated, forgot, or just suddenly had something more important come up. Recover these lost leads by sending targeted follow-up emails when users abandon their carts and use PPC ads to stay top of mind.
"Always remember to optimize your cost-per-click (CPC) bids and constantly push for better click-through rates (CTRs) to ensure you're always getting the best bang for your buck with your ad spend." – Aaron Haynes of Loganix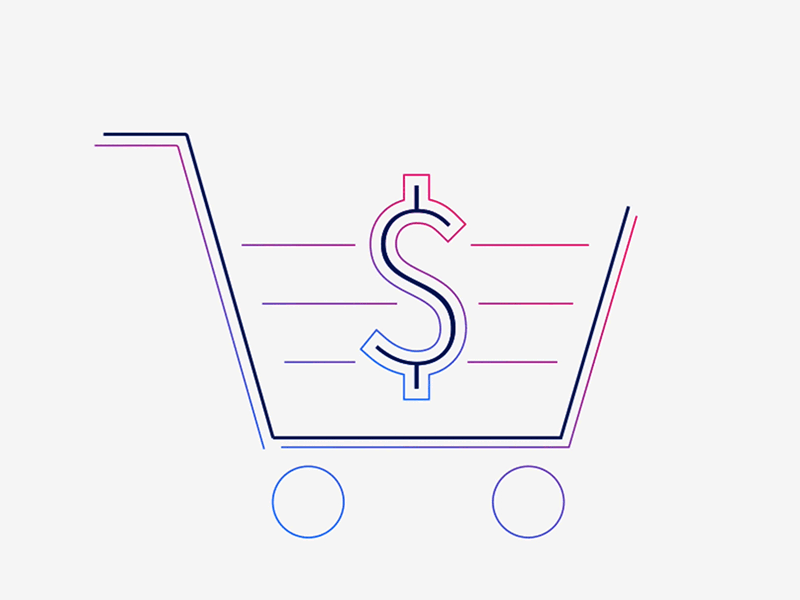 i
Image source: dribbble.com
3 Reasons Behind Cart Abandonment
4. Send reminder emails
When you're running a campaign, whether it's a sale or limited time offers, chances are not all your subscribers saw your first, or even second, email.
Even if they did, they might not have made a purchase right away. It could be the leads aren't interested in your offer at all, but it might also be that they didn't have the time to go over your offer altogether.
Send a series of targeted emails to touch base with prospects who haven't converted into buyers yet. Some people just need a tiny nudge. Subscribers who also may have forgotten to purchase will even thank you for the reminder since they might have wanted to take advantage of the great offer before it expired.
5. Never ask for information you already have
If a user is already a subscriber or customer on your list, don't ask for the same information twice. After all, this turns customers off, and this could cost you repeat sales from loyal fans.
Be sure your eCommerce business tools let your users save relevant data, such as shipping and billing addresses, emails, and full names. Optionally, users can even save their payment details, so they don't need to keep re-entering their credit card details.
6. Offer discounts based on engagement levels
Your loyal customers deserve to know how much you value them. So to reward them for their patronage, offer special promotions and discounts just for them.
Alternatively, you can also re-engage cold subscribers who haven't purchased in a long time with their discount. See how Gap does it – and with an excellent, compelling copy too.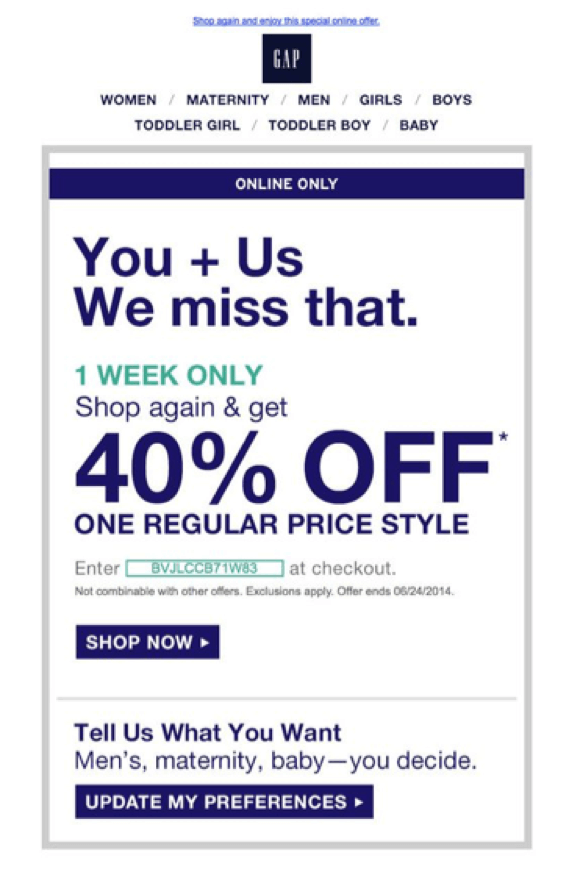 Gap Customer Recovery Email
7. Follow the rule of 7 in lead nurturing
Have you heard of the rule of 7? In marketing, this rule states that any lead has to see your offer at least seven times before they turn into a customer.
Especially now, with marketing automation, you'll need to regularly follow-up with your leads to be sure they become aware and convinced that your offer is the best for them. So of course, you have to do this in a way that doesn't annoy your prospects into unsubscribing.
You'll need the right tools to execute a complete lead nurturing campaign. Be sure to invest in the right apps and marketing stack that helps you capture and manage data to help turn visitors into leads, leads into customers, and customers into loyal fans.
8. Use exit-intent pop-ups
Because people rarely make a purchase the first time they land on your online store, you can entice them to buy now (or a little later) by offering a discount if they sign up to your email list. Some marketing automation tools detect exit intent or the moment when users are about to exit your site or switch tabs.
An exit intent pop-up with an exclusive offer at the very least turns visitors into prospects, and eventually, those prospects may convert into paying customers.
See how J.Crew makes use of an exit intent pop-up in their own marketing automation.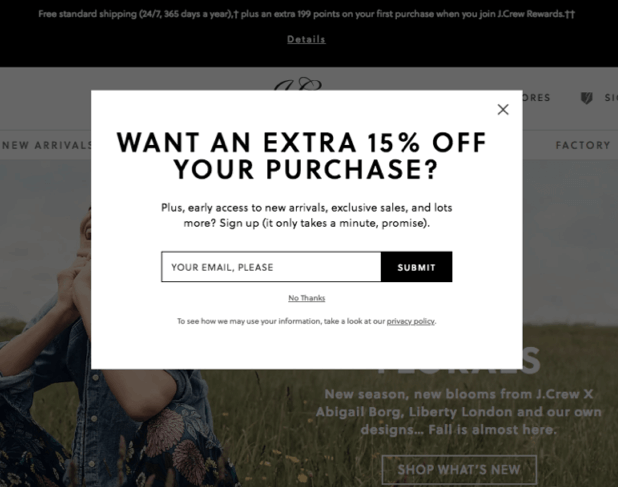 J.Crew's Discount in an Exit Intent Pop-up
9. Utilize messenger bots
People these days are busy; not everyone can spend time looking through your site to find information about your products. Help eliminate that extra step by employing messenger bots to answer frequently asked questions about your product or service.
Depending on the bot your eCommerce business decides to use, some bots may have their questions pre-programmed, or users can type in queries, then your bot presents relevant search results based on keywords.
Here's WebEngage's bot to give you an idea of how useful bots can be for marketing automation. No need to get somebody to respond to customer queries in real-time.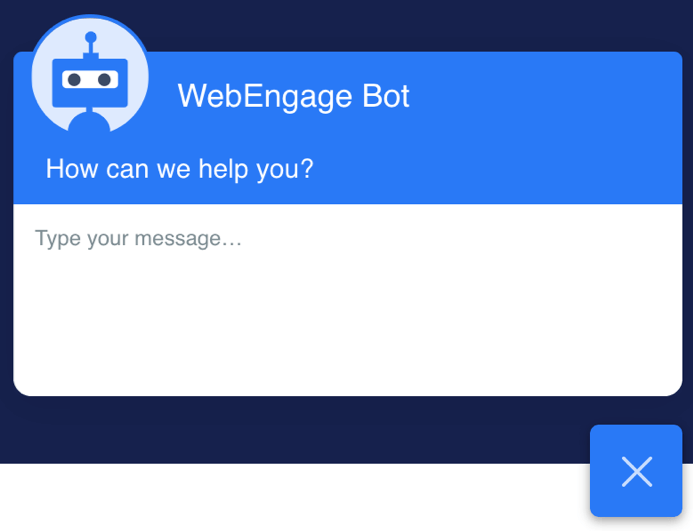 WebEngage Bot
10. Automate inventory and delivery
When customers finally buy, nothing is worse than 1) not getting their item because it's out of stock, and 2) not knowing how much to pay to ship. People prefer to purchase goods from you seamlessly, and it doesn't help your eCommerce business if they can't view their total bill and make an exact payment right away.
Software tools like Core DNA can help you include inventory and shipping processes in your marketing automation. Be sure that you set up an automated inventory system and make deliveries as soon as possible.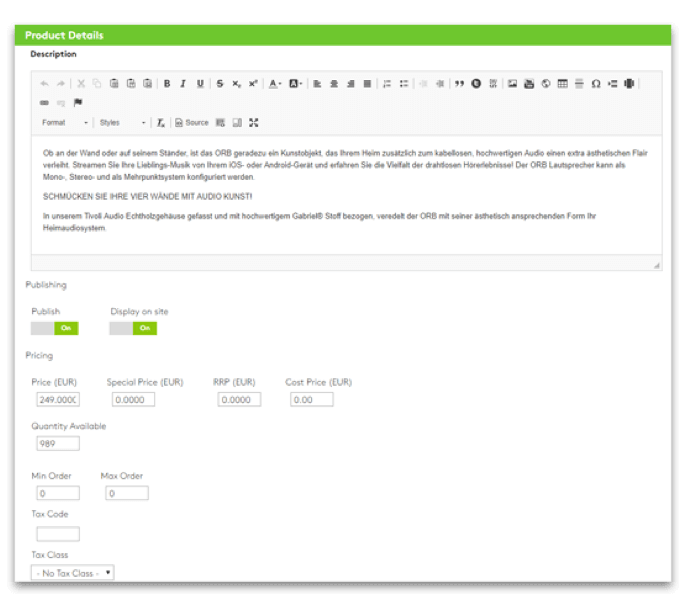 Core DNA's inventory management system
Wrap Up
Marketing automation saves your eCommerce business time and energy. Instead of assigning your people to execute tasks like following up on cold leads or asking frequently asked questions, you can rely on the right automation systems to help you make more time for what matters.
Make the most of marketing automation to help deliver seamless, relevant, and useful content or promotions to your prospects. It can also support you to nurture your relationship with them and turn them loyal customers for years.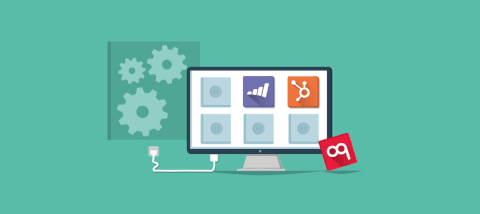 i
Image source: dribbble.com
15 Really Effective Marketing Automation Examples