Today, we are very excited to unveil our new targeting engine for all customers.
All your on-site campaigns (surveys and notifications) can now be targeted in a more elaborate way which includes user profile, behavior, and intent data. The targeting screen (second step in campaign creation) on your dashboard is now split into 3 broad categories:
1. Where to show? (Session Level Targeting)
2. Whom to show? (Traffic Segment Targeting)
3. When to show? (Event Trigger Targeting)
Underneath is a quick guide on each of these sections and samples on how to use some of the key components therein.
1. Where to show? (Session Level Targeting)
A user's activity in any session is a clear indication of his/her intent. Using this section, you can now target users who have expressed their intent in a certain way. E.g. users who have visited certain pages, or have performed more than x number of search queries in a session, or have certain cookies planted in their browser, etc.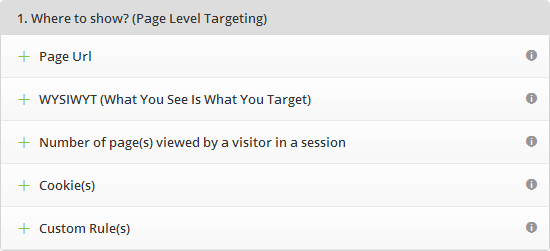 Page URL Targeting
Here's how an e-commerce store typically configures an on-site promotion to display when a user visits product pages of product-1 OR product-2.
Another example – let's say you are an online travel website that allows users to book flights. You'd like to display dynamic on-site promotions/offers to users searching for flights based on the sector they are searching flights for. E.g, in the screenshot below, ALL users performing flight searches FROM NYC to any destination BUT Boston, will get to see a pre-configured offer or message.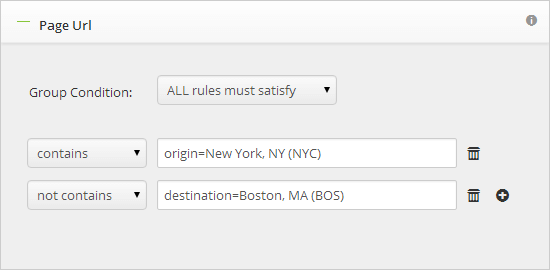 WYSIWYT – What You See Is What You Target
WYSIWYT (pronounced /ˈwɪz.i.wɪT/) – What You See Is What You Target is a cool new way for marketing teams to build dynamic rules without having to need their developers for any kind of data integration. E.g if you had to run a promotion on product pages where the product price is greater than $50, you can now do that without needing your developer. Check out this cool explainer video on the feature!
To use this feature you specify the URL of that page on which the variable, you intend to use for targeting, could be found.

2. Whom to show? (Traffic Segment Targeting)
Now, we let you build segments on clickstream information of users. That is, all the data that you see inside Google Analytics can now be used to create a segment of users and target them with specific messages. And the great thing? You don't need to have Google Analytics on your website, WebEngage tracks, and stores all this data for you. These are the options within traffic segment targeting: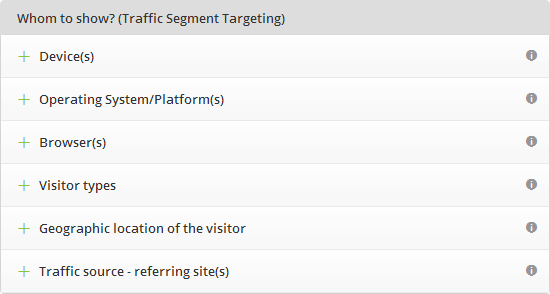 Device, Visitor Type & Referrer (Traffic Source)
Here's a scenario – you run an SEM campaign, for the keyword, say, "shoes". You want to target users who were acquired by this campaign AND are repeat visitors. Underneath is how can achieve the same. Simple!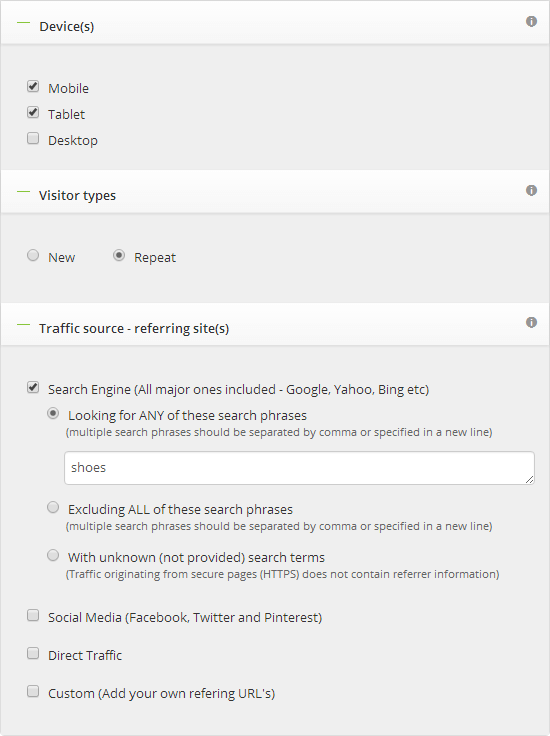 3. When to show? (Event Trigger Targeting)
You are gonna love this! In layman's terms, we "keep an eye" on what the user does while (s)he is on a particular page on your website. E.g, we track the amount of time a user spends, or, the quantum of scroll done on any page, or, whether a user is about to leave your website altogether!
Well, there's more… We now let you pass your own events so that you can use them to target users. E.g. you could use events like user logged in, added to cart, visited pricing page more than 5 times etc as a criterion to target customers with specific messaging.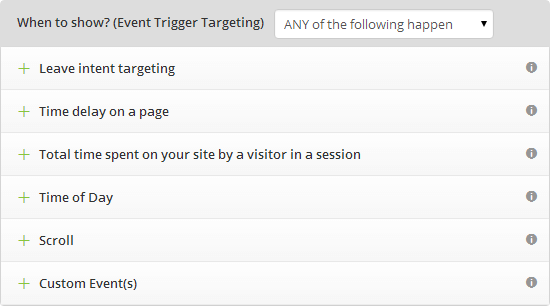 Leave Intent Targeting
Are you struggling with a high bounce rate and cart abandonment rate on your website? Wait no further and try this hot selling stuff from us. We give you a unique ability to present modal overlays to users who are "about to leave" your website. We do this by tracking the cursor movement and display pre-configured overlays just before the user tries to close or switch tabs. E.g you could use this feature to display an overlay like the one below for users trying to abandon your site with items in their cart.
Custom Event Targeting
This is the new stuff we have introduced. Any user action on your website can now trigger a push message on the web. To be able to use events, you need to pass data to WebEngage via the JavaScript SDK. If you are an existing customer, the SDK already sits on your website. You need to use our track method to pass events
Underneath are a few sample use-cases around how you can use event targeting.
Sample 1: Targeting users with an on-site message as soon as they add an item to their cart.
Sample 2: Targeting users as soon as they log in to your web application. However, the message should ONLY pop for Premium users (we call these as attributes for events).
Sample 3: Targeting users who added any shoe worth more than $150 to their cart AND are leaving your website without completing the transaction.
This change is a step in the direction of WebEngage 2.0 – a multi-channel engagement suite that allows you to segment users and engage with them via email, on-site messages (our current stuff), in-app messages, push notifications, and text messages. We have brought in the concepts of users and events into our engagement module. We'll maintain (and enrich) the profile of all users on your website/app and maintain his/her activity trail so that you can create meaningful segments for engagement. If you are an existing customer, please pass this documentation to your developers to start using the user and event modules in your dashboard.
We'd love to hear your feedback on this change.
Aside, if you have built some interesting use-cases using our targeting options, and, you'd like to get featured in our case-study section, please get in touch with us.