This is a UI/UX update to an already existing feature in WebEngage related to configuring the various channels of engagement – Push, In-app, SMS, On-site, Web Push and Email. We've enhanced the user experience of all these pages to make it simple for new users to get onboarded quickly and for existing users to make changes to their existing configuration.
Let's cover the changes on each of the channels one-by-one:
Push
In this section, you will be able to change the credentials you use for sending Push notifications for both Android and iOS.
Additionally, under iOS, you can specify the the authentication type relevant to you – Certificate based or Auth Key based. Please note that only the Certificate based method of authentication was previously available on WebEngage. We've now added the Auth Key based method of authentication.
In-app
This section provides you with a master switch to show or hide your in-app notifications. If this switch is toggled off, WebEngage will stop displaying your in-app notifications in your Android or iOS app. However, you will still be able to create these notifications. And as soon as you toggle the switch on, your in-app notifications will start getting displayed again.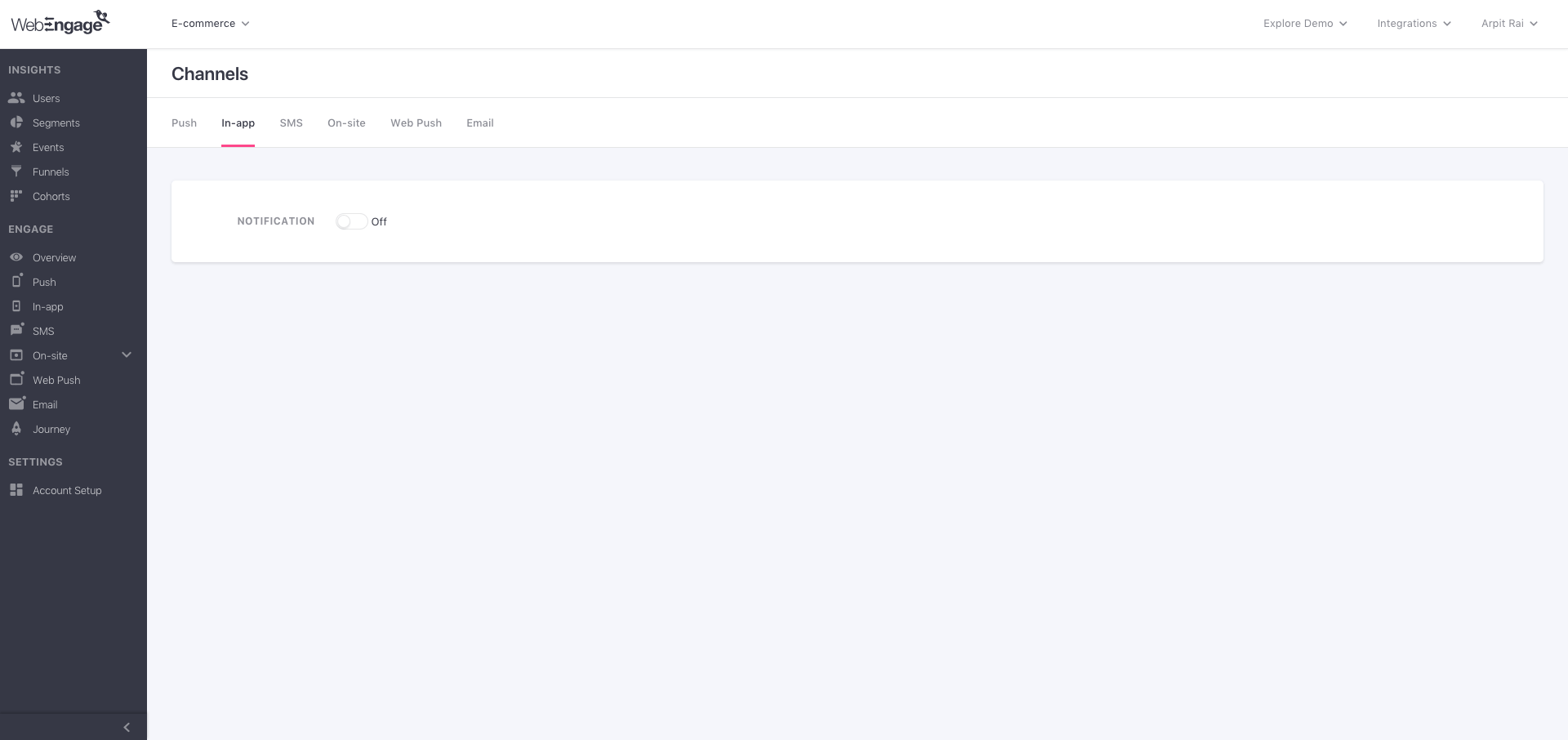 Email & SMS
Any Email or SMS campaign you create on WebEngage gets sent through the Email Service Providers (ESP) or SMS Service Providers (SSP) you have added to your project on WebEngage. This section enables you to add, remove or modify a ESP/SSP. Both the Email and SMS sections work in a similar manner.
As you can see in the screenshot below, the first section below has details of the all the ESPs you have already added to your project. The next section shows you all the available ESPs on WebEngage that you can add to your project.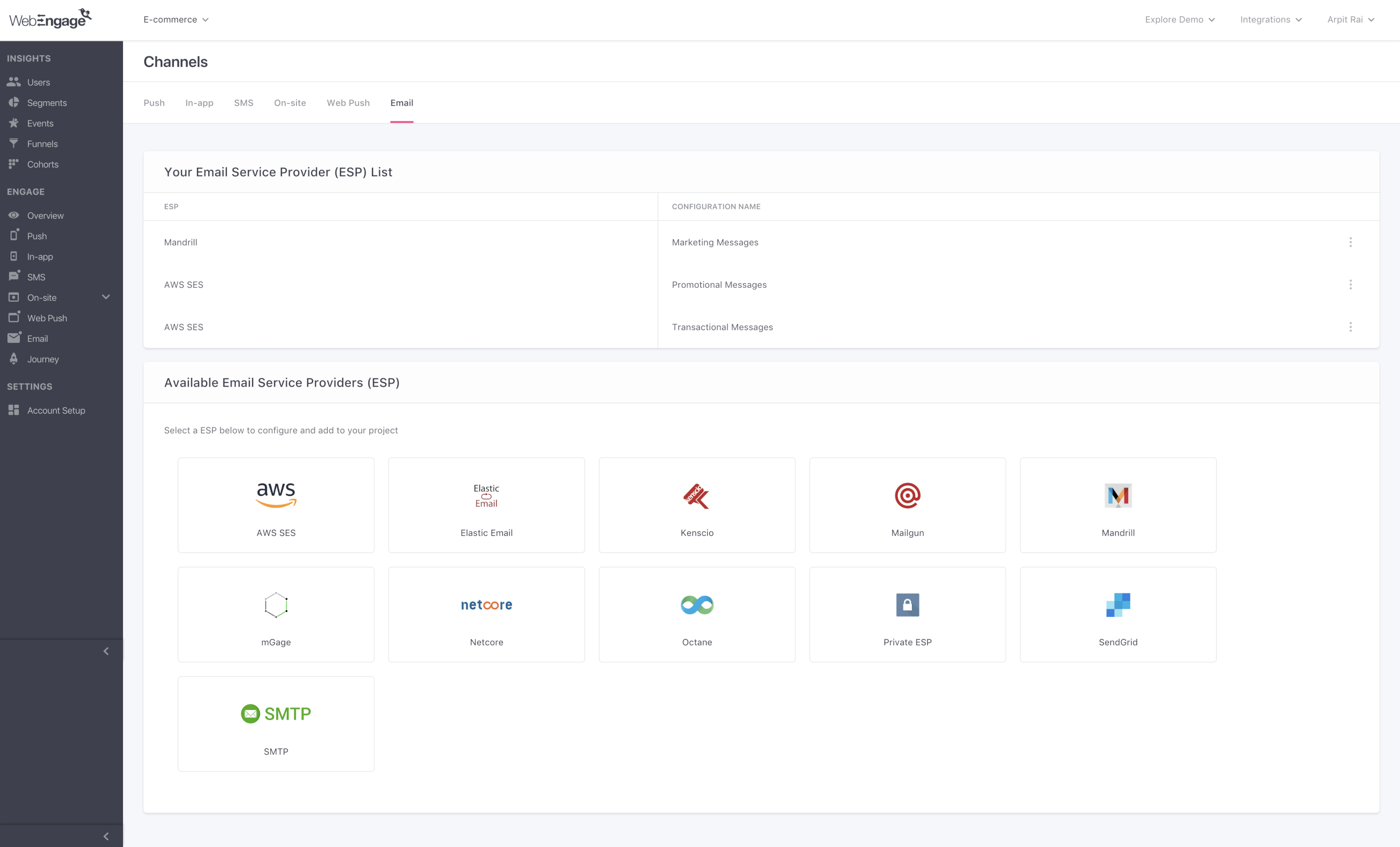 On-site
Just like the In-app section, On-site section provides you with a master switch to show or hide On-site Notifications, Surveys and Feedback. Toggling the switch for On-site Notifications and On-site Surveys works exactly in the same manner as In-app notifications. On the other hand, toggling the switch off for On-site Feedback will result in the feedback widget being hidden from your website. Toggling it back on will start displaying the feedback widget again on your website.
Web Push
We have highly simplified the Web Push configuration process so much so that a new user only needs to click twice in order to get the entire Web Push infrastructure running which involves showing the prompt asking users to opt-in to web push notifications, recording the users and the devices that they have opted-in on etc.
Based on the opt-in type you choose (1-step or 2-step), the configuration options on the screen will change accordingly. The entire Web Push opt-in process is highly customizable on WebEngage. If you prefer to not use our default settings, you can change any or all of the settings – when to show the opt-in prompt, to what to show in the opt-in prompt, whether acknowledgements should be sent to a user on successful opt-in etc.
In the screenshot below, you can see the various options that show up when 2-step opt-in type is chosen. You can only see the Configuration section in the screenshot below. The other sections are collapsed and can be expanded by clicking on the title of the section.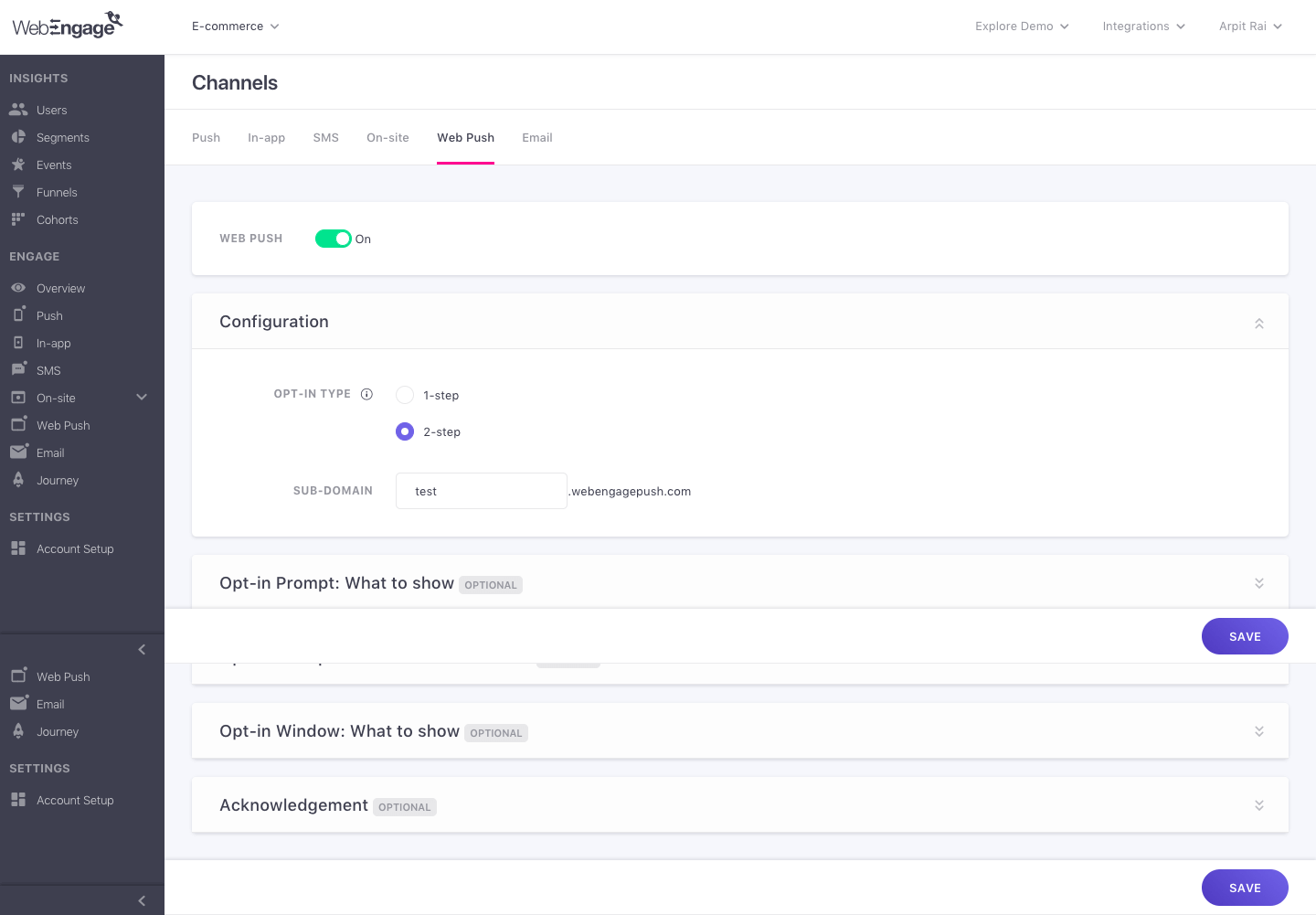 Try out our new feature and tell us what you think of it! Or request a demo from our Success team to learn more about this feature.