There are enough tips and best practices to increasing newsletter opt-ins out there to keep you busy reading for months.
People say:
"Changing the color of your opt-in button will increase conversions!"

"Putting opt-in forms all over your site will increase conversions!"

"Making people feel stupid for

not

opting-in to your newsletter will increase conversions!"
But are these strategies really worth your time?
Are these small changes to your opt-in forms actually the reason for your current conversion rates?
I bet not.
I've tried all of these strategies across multiple sites and have seen them only slightly increase conversion rates at best (and most of the time they actually lower them).
The real influence behind newsletter opt-in rates is how well your offer fits with your target audience.
At Leverage Creative Group, we've seen this time and time again with our clients.
Once we identify audience segments and design a lead magnet (or other offer) specifically designed for them, opt-in rates go through the roof.
We implemented this for a New York Times best-selling author earlier this year and he saw a 198.45% increase in his monthly opt-ins in just 7 months.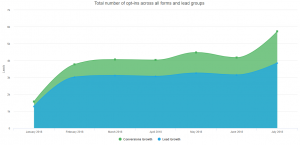 Here's exactly what we did and how you can implement this on your site:
Step 1: Identify blog posts on your site with the most traffic.
This is pretty self-explanatory.
Just head to Google Analytics -> Behavior -> Site Content -> All Pages to see which posts have the most traffic: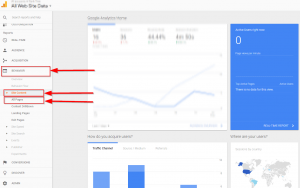 Make a list of all blog posts with significant traffic (this might mean 100 visitors or 10,000 visitors depending on the size of your site).
Step 2: Categorize each post by user interest.
Now, it's time to put on your marketing hat.
Look through each post on your list and think about the user's intent when they land on that post.
In other words, what are they interested in and what are their desires?
The fact that they're reading a certain post gives you a clue…
If they're reading your post on link building, they're probably interested in SEO.
If they're reading your post on walking a dog, they probably own a dog (and want to learn training tips).
If they're reading your post on how to teach yourself anything, they're probably interested in personal development.
And so on…
So, just think about broad interests your blog speaks to and categorize your list of blog posts accordingly.
User Interent Grouping Examples
A marketing blog could group posts by:
SEO

Paid Traffic (Facebook Ads, PPC, AdWords, etc.)

Automation

Analytics
A mental health blog could group posts by:
Anxiety/Stress management

Positive thinking

Motivation
Step 3: Create lead magnets and opt-in forms designed specifically for each interest category.
Here's where you make the magic happens 🙂
Think about specific problems and desires for each visitor category.
Then, with those problems and desires in mind, create an irresistible lead magnet tailored to each audience segment.
This can be something as simple as a short checklist, a PDF version of a blog post, an eBook, or a workshop recording.
Just make sure your lead magnets:
Are highly relevant

Speak directly to that specific group of users

Solves a specific problem that group has
Once your lead magnets are ready, simply create opt-in forms for each that highlight the pain-points they solve (keep reading for an example).
This creates an automated funnel that 1) converts casual blog visitors into customers and 2) automatically segments your visitors based on their interests.
Those are two incredibly valuable things. 🙂
How We Implemented This with Our Author
Our New York Times bestseller teaches writing on his blog.
So, we created lead magnets based on blog post categories for people interested in:
Writing fiction

Writing nonfiction

Improving their craft (grammar, word choice, editing, etc.)
Then, we placed an opt-in box and exit intent pop-up on every blog post that promoted a lead magnet based on its category.

We use ThriveLeads to implement this, but there are tons of other great lead generation tools you can use.
Here's a list of our favorites.
Step 4: Monitor and test.
These probably won't convert at 5% – 10% right off the bat, so it's vital that you constantly monitor results and test variations of each opt-in form.
I recommend spending time testing copy variations (like positioning, headlines, pain-points, etc.) instead of testing button colors.
People will opt-in because of your offer, so give that your full attention. 
You Can Increase Monthly Newsletter Subscriptions Without ANY Extra Traffic
Once we did this with our author, he saw a massive 198.45% increase in monthly opt-ins.
That resulted in literally thousands of new subscribers every single month.
You don't necessarily need to spend more on ads or create new SEO content to get more opt-ins (even though those things obviously help).
Focus on optimizing your current lead magnets and opt-in forms to speak directly to the desires of specific visitors.
When you do, you could see a 2% sitewide opt-in rate rise over 5%.