If Rudolph, the Red-Nosed Reindeer, was an outdated marketer at Santa Claus & Co., the Christmas carol dedicated to his 'very shiny nose' would be something like:
Rudolph, the Red-Nosed Reindeer,
Had a Christmas campaign to run.
And if you ever saw him,
You would say he doesn't know how it's done.
All of his direct competitors,
Used to laugh and mock his campaigns.
(Only if poor Rudolph,
knew about marketing automation)
Okay, that was good!!
With barely a few days left for Xmas, any marketing manager with a brilliant campaign idea and without a marketing automation suite will feel like poor Rudolph. After all, launching full-blown last-minute Christmas campaigns without automation won't be anything like…well, Christmas. It'll be tedious, time-consuming and daunting.
So should you discard any last-minute marketing ideas because "It's quite late for a campaign"? Maybe not.
Because, believe it or not, you can execute a targeted and personalized Christmas multi-channel marketing campaign in just a day. How?
Table Of Contents:
STEP 1: CREATE CUSTOMER SEGMENTS
STEP 2: CREATE CUSTOMER JOURNEYS FOR EACH SEGMENT
STEP 3: PERSONALIZE THE CAMPAIGNS
STEP 4: ANALYZE THE PERFORMANCE OF EACH CAMPAIGN & OPTIMIZE
Joy to the world because Marketing Automation Tools are here! You can launch a complete holiday marketing campaign while having your eggnog. All you need to do is integrate your website/mobile app with the tool, and have a marketing campaign plan in place. And rest will be covered in this blog- from the execution to the analysis part.  
ALSO READ: 6 Great Tips to Increase E-commerce Sales this Christmas Holiday
STEP 1: CREATE CUSTOMER SEGMENTS
The first step towards executing a kickass marketing campaign (be it any!) is customer segmentation.
It means clubbing your customers together into homogeneous groups based on their behavioral history, preferences and demographic data. This enables you to create targeted Christmas campaigns with relevant communication.
Check out this comprehensive blog to learn more about the 'Segmentation of Holiday Shoppers' (below).
Suppose Rudolph from Santa Claus & Co. decided to save his 'very shiny nose' with the help of a marketing automation suite like WebEngage. He will need to start off with creating the following segments of users:

STEP 2: CREATE CUSTOMER JOURNEYS FOR EACH SEGMENT
Once the segments are in place, Rudolph (and you) can start creating user journeys for each segment. This can be done seamlessly with journey mapping tools like WebEngage Journey Designer.
It's a drag-and-drop workflow builder which allows marketers to create intuitive customer journeys, backed by customer data. With this tool, you can orchestrate multi-channel/multi-device marketing campaigns without any dependency on anyone. Check out this  Explainer Video for a detailed understanding of it works
Moving on, as each customer segment created by Rudolph posed a particular challenge, he used his pro-level marketing skills to come up with the respective solutions to drive the conversion rates: (below).

Hence, Rudoplh (and you) will need to create three separate customer journeys to tackle the respective challenges and increase your holiday season conversion rates. Take a look at these three sample journeys:  
Journey for First Time Shoppers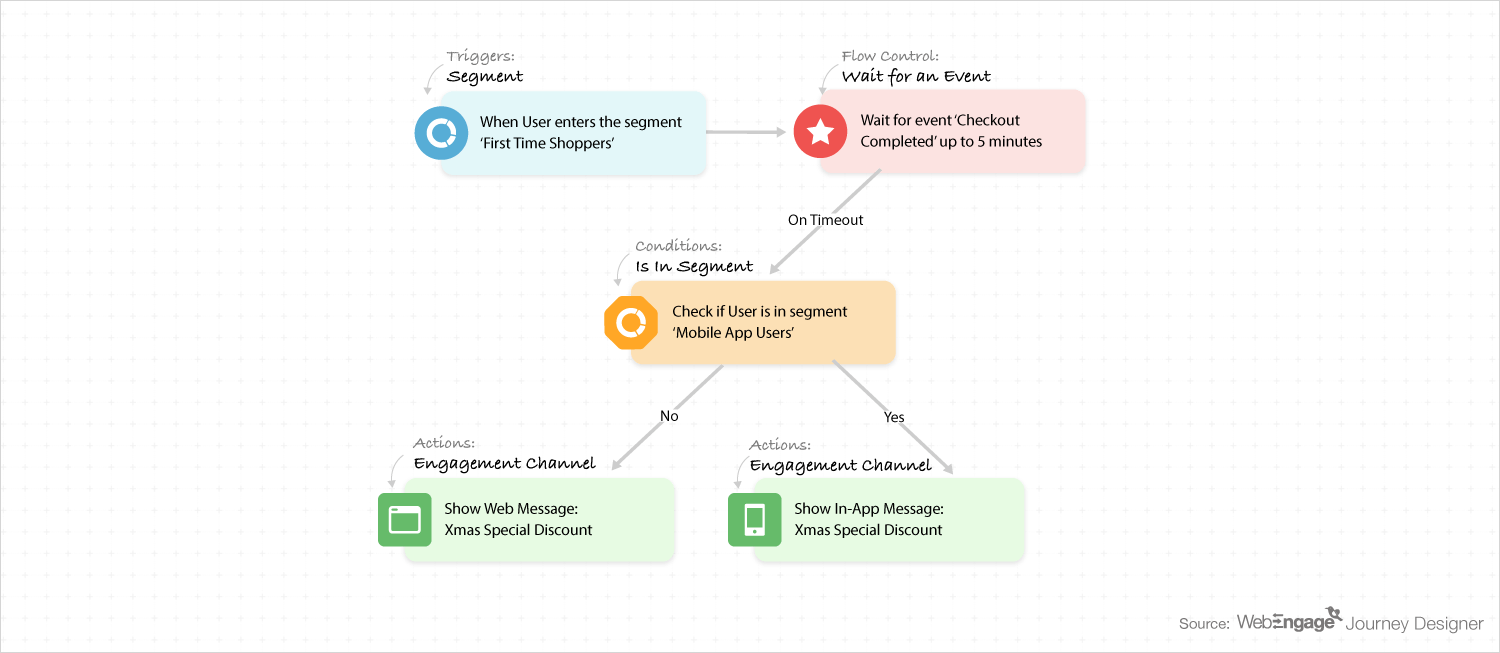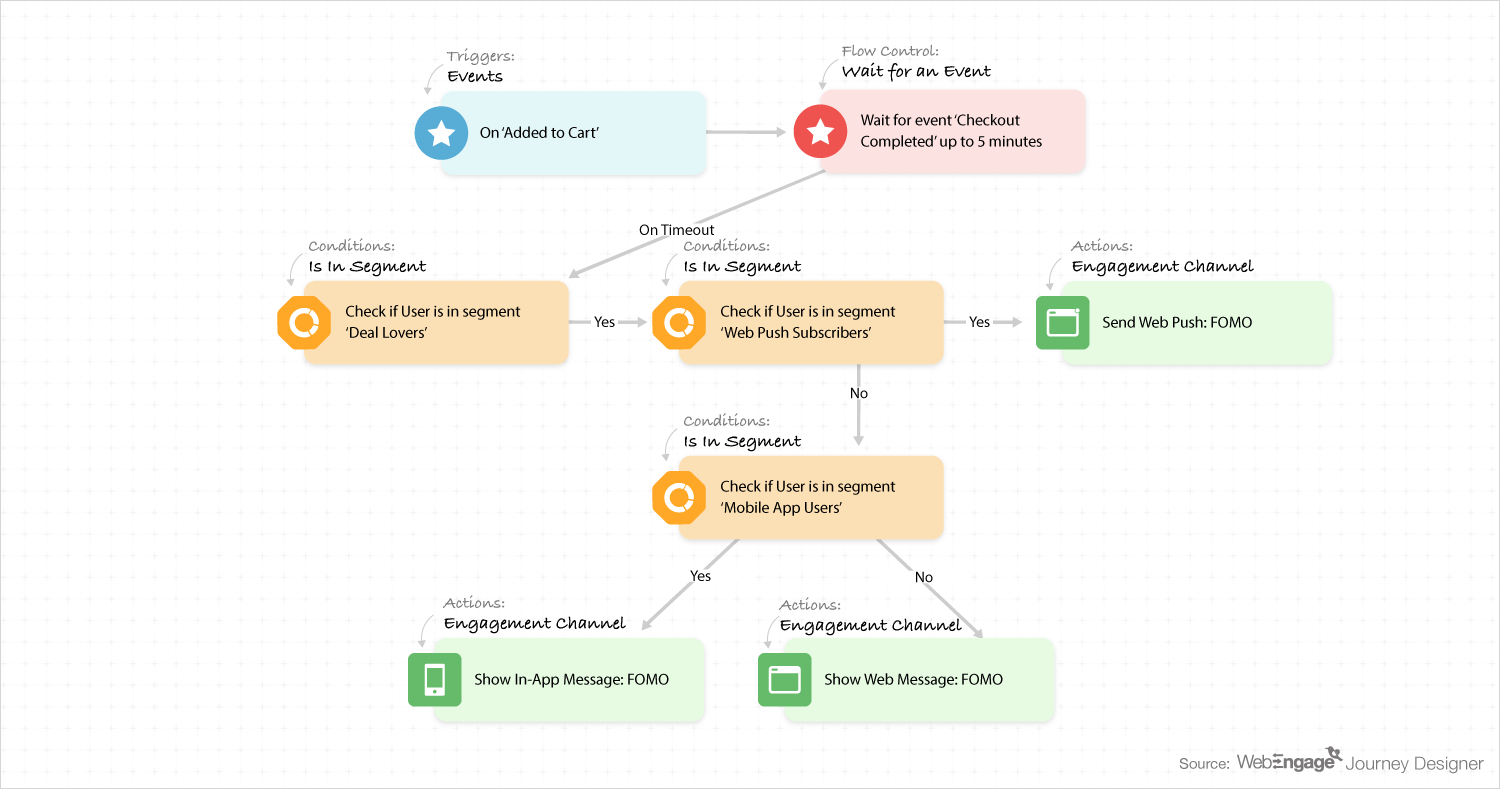 Journey for High-Value Customers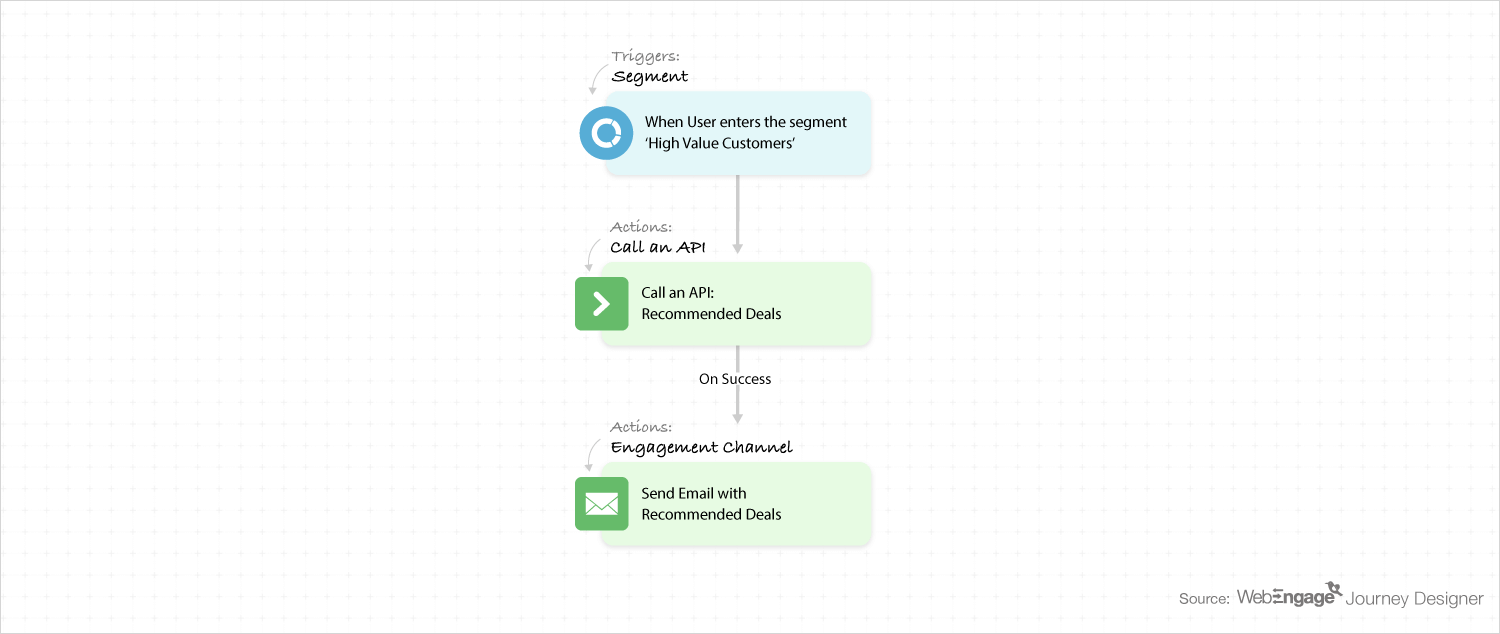 STEP 3: PERSONALIZE THE CAMPAIGNS
If you want to enter the Santa's list of 'Thoughtful Marketers' then personalize your messages. And yes, by personalization, we mean personalizing your message for every channel, not just for emails, in your Christmas campaigns.
Based on the above-mentioned user journeys, Rudolph (and you) sought to engage with each customer segment through multiple channels like email, on-site notification, web push and in-app messages. To guarantee high user engagement and promising conversion rate, Rudolph (and you) should use different levels of personalization based on the available user and event attributes.
For instance:
Zero Personalization for First Time Shoppers
As this segment targets only new (and anonymous) users, showing a generic on-site notification or an in-app message triggered at the right time can do the trick for your first-time buyers.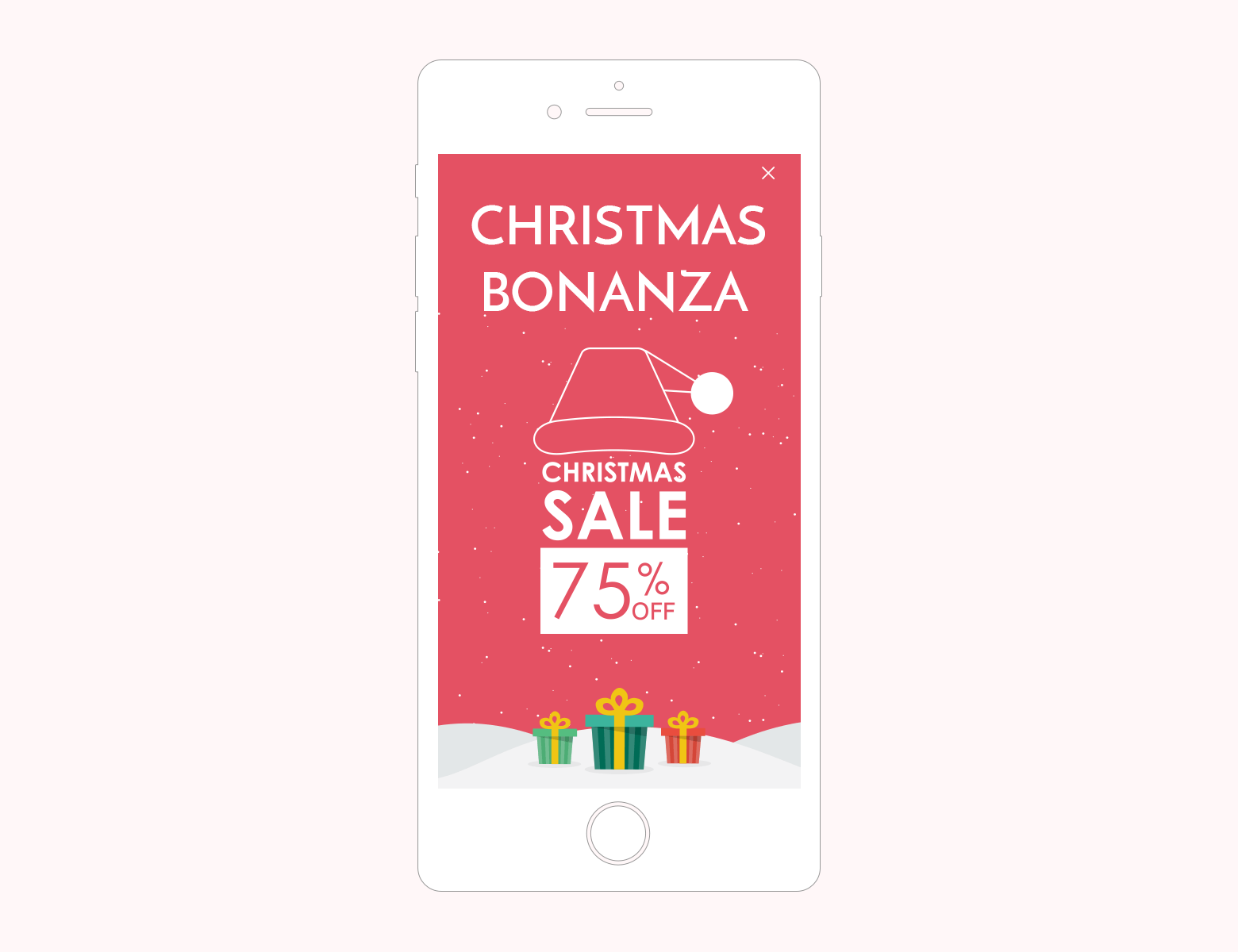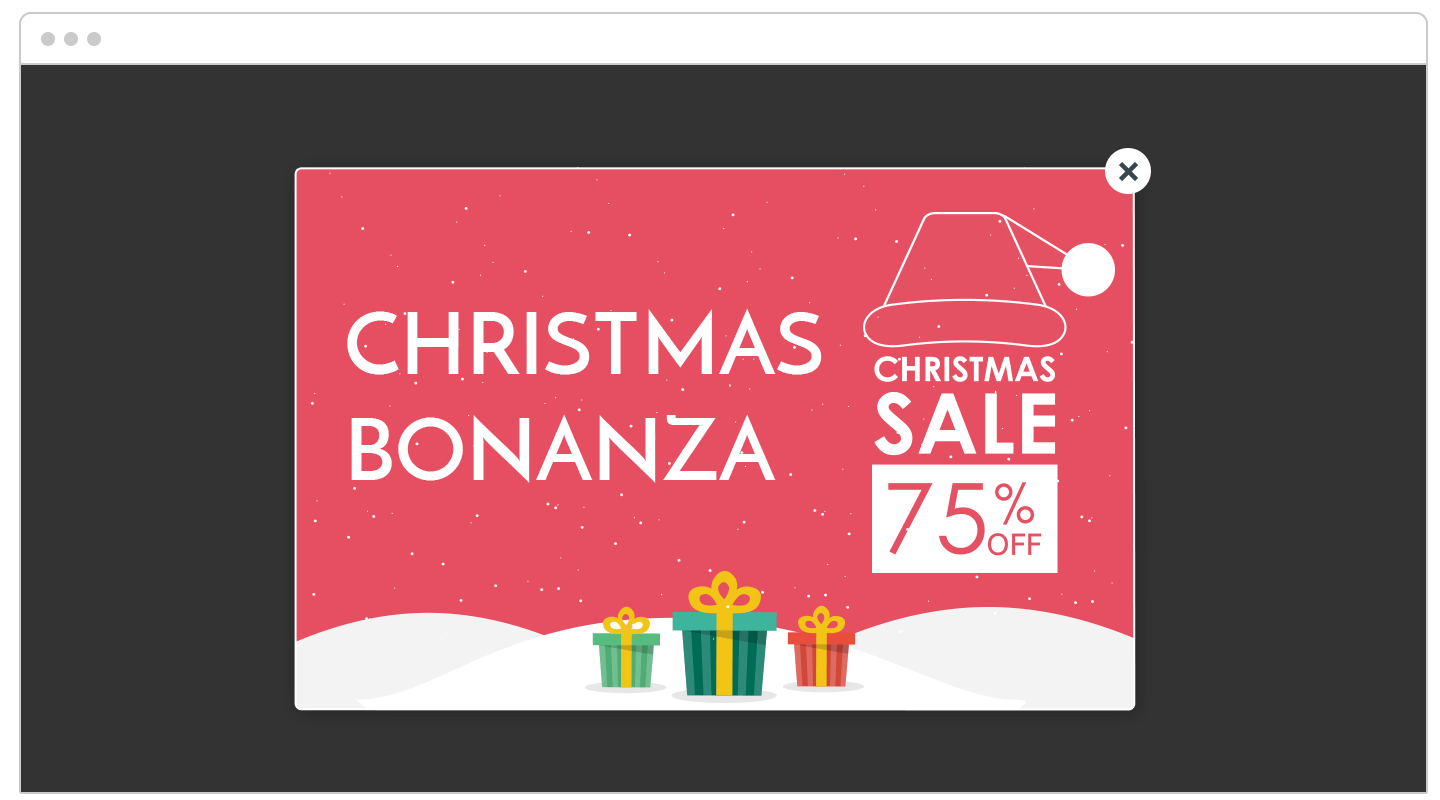 Basic Personalization for Deal Lovers


This elementary level of personalization is done by using user attributes (example: first name, last name, email id, etc.) and event attributes (product category, product name, last transaction value, etc.) without breaking into a sweat.


Hyper-Personalization for High-Value Customers
This level of personalization is every marketer's dream come true. Pulling out customer's behaviour data via API and using it to make personalized as well as relevant recommendations is what makes hyper-personalization our personal favourite.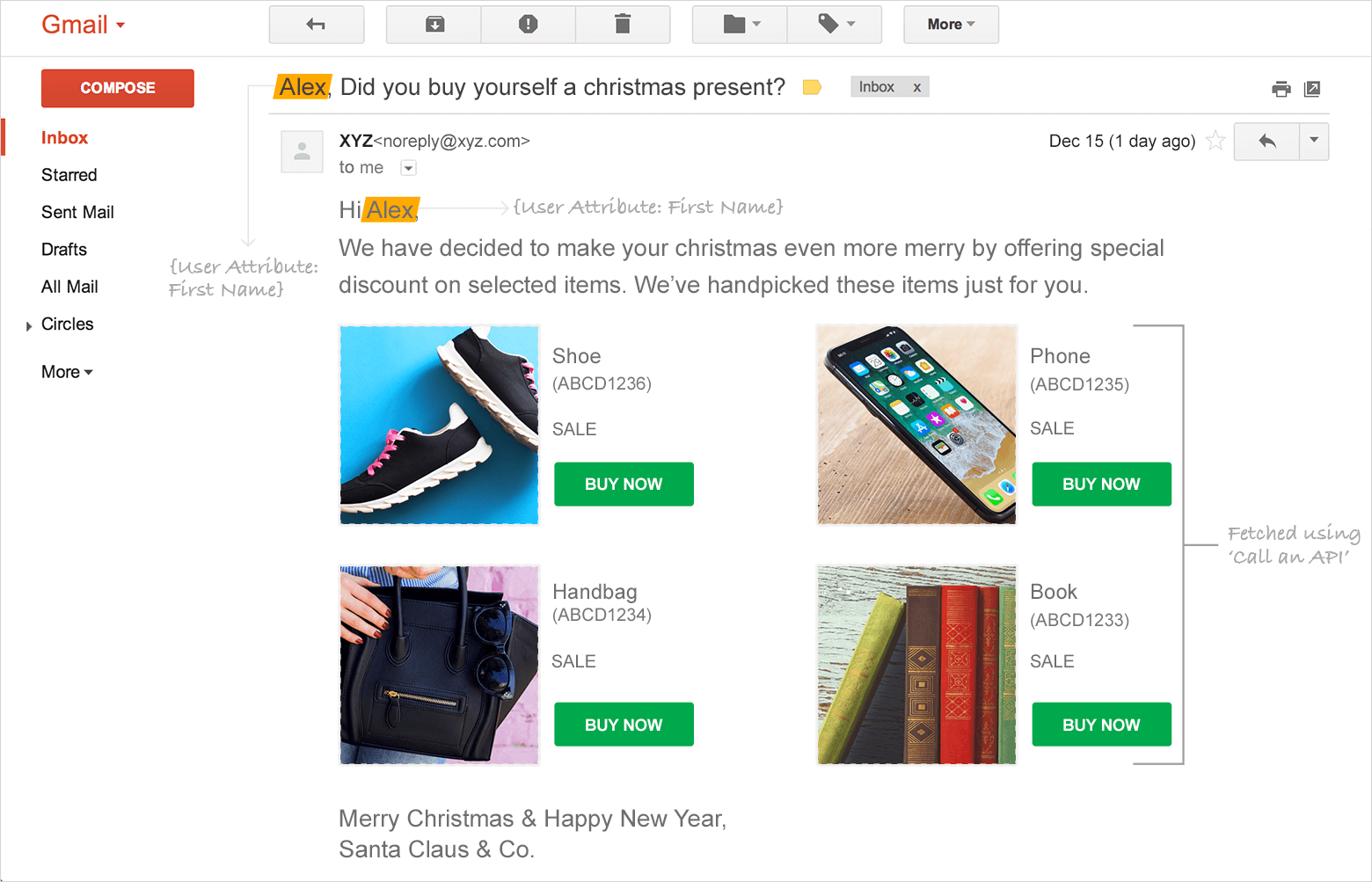 ALSO WATCH: [Webinar] Level-Up To Hyper-Personalization For Increased Conversion
STEP 4: ANALYZE THE PERFORMANCE OF EACH CAMPAIGN & OPTIMIZE
Once the multi-channel user journeys are up and running, Rudolph (and you) can sit back and enjoy the eggnog. Why? Because everything is automated 🙌🏻 .
Do you know what else is automated? Campaign analysis!
To analyse the performance of last-minute Christmas campaigns, Rudolph (and you) can keep a close check on the following metrics:
Total click-through-rate (CTR)

Total conversions (% and number)

Engagement rate per channel

Total unsubscription
Based on the analytics, Rudolph (and you) can make necessary modifications in the journey, content, graphics, etc. with no extra effort.  
Now that Rudolph, the red-nosed marketer of  Santa Claus & Co., has mastered the art of marketing automation, he is not afraid of executing last-minute Christmas campaign ideas. Then why should you be hesitant?
Be a boss and execute last-minute marketing campaigns with WebEngage. Schedule a FREE and personalized demo to learn more about how marketing automation can help you skyrocket your business. We promise that WebEngage will fit your business like a pair of snuggly socks.
Here's wishing you a Merry Christmas and a Happy New Year!
Be A Boss And Execute Last-minute Marketing Campaigns With WebEngage