New marketing channels are emerging all the time. From Snapchat to chat bots, the modern marketer's to-do list continues to grow.
How can marketers best engage users on these new and emerging channels? Let's take a look at four of the most prominent emerging marketing channels today and learn how to cultivate a growing base of raving fans on each channel.
1. Instagram
2. Live video
3. Smart voice assistants
4. Messaging apps and chatbots
The 4 new and emerging marketing channels to watch
Where should marketers focus their user engagement efforts first? There's no one-size-fits-all answer – it depends on your industry and your audience. Here are a few marketing channels currently making waves, plus tips on engaging users on the hottest marketing channels.
1. Instagram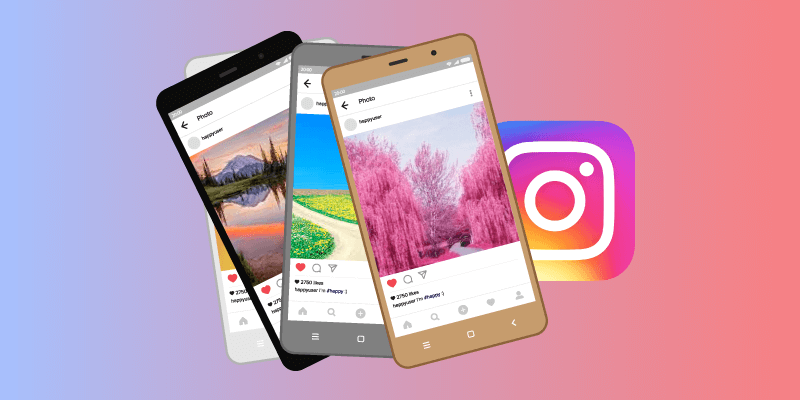 Instagram is growing at an impressive pace, hitting the 800 million monthly user mark in 2017. It may not be the newest kid on the block, but Instagram is definitely a channel that marketers should be paying attention to.
As of January 2018, 35% of adults in the U.S. use Instagram, according to a Pew Internet survey, including 30% of men and 39% of women. Nearly two-thirds (64%) of people between the ages of 18 and 29 use Instagram, and they're spending more time in the app compared to the time they spend using Instagram's biggest rival, Snapchat (32 minutes vs. 30 minutes among users under 25; 24 minutes vs. 20 minutes among users 25 and older).
Industries that should be using Instagram
What brands should be using Instagram? While any business in any industry can benefit from a smart Instagram engagement strategy, the platform proves especially fruitful for visually-oriented industries. Here are a few key industries that can successfully leverage Instagram, with examples of brands that are doing it right:
Restaurants: Restaurants like Six Thirteen leverage Instagram by posting impressive photos of delectable dishes, timed just right to tempt users at peak hunger time. Food bloggers like @restaurantgroupie and @restaurantcravings are plentiful on Instagram, too, making the platform especially well-suited for influencer marketing campaigns. Contests, such as Dunkin' Donuts' Go Getter awards, are also proven engagement-boosters.
Fashion: Fashion brands are a natural fit for Instagram's emphasis on rich visualizations. Brands like Nike boost engagement with powerful images of real people and celebs alike sporting their Nike gear. Vans leverages user-generated content to promote the brand as not just a shoe, but a lifestyle, while Lululemon taps into cause marketing and global events by getting involved with International Women's Day.
Retail: Retailers leverage geotags to grab the attention of local shoppers with promotions and discounts. Retailers like Sephora use shoppable posts to eliminate geographic barriers and sell directly to their audiences through the platform. Entertainment brands, real estate companies, companies in the education vertical, and many other industries also can easily find a niche audience on the platform.
How to engage users on Instagram
Hone in on your target market: Start with personas. Listen in on the conversations happening about industry-relevant topics. Then, dig into the data to find out which of your target market personas are engaging in different types of conversations on Instagram – and when.
Nurture relationships with influencers: But don't neglect the power of micro-influencers; a large pool of micro-influencers can have an impact equivalent to that of a few "big" influencers. Many brands opt for a combination of the two to cover all the bases, but what matters most is how well an influencer's audience aligns with your brand's target audience.
Hold contests and giveaways: Not only do giveaways and other contests generate engagement, but they're also useful for cultivating user-generated content – another way to build that network of micro-influencers and brand ambassadors.
Strike while the iron is hot: Instagram's algorithm is based on a combination of factors, including the number of engagements a post receives within a time span. Post when your audience is online to get more engagements in less time for better organic visibility.
2. Live video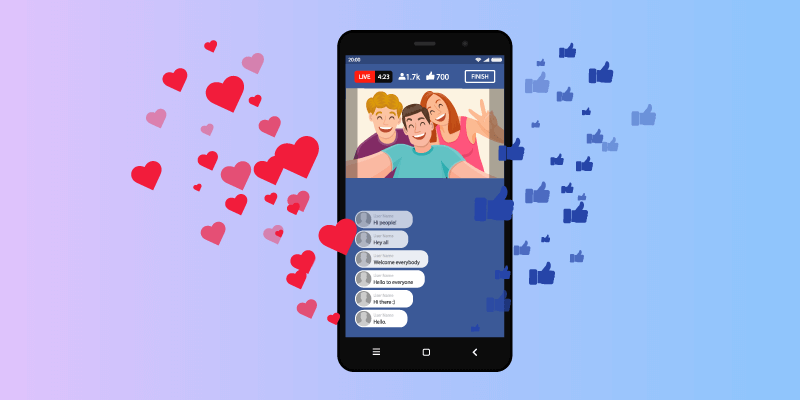 Before video, images were the holy grail of getting better engagement on Facebook, but live video is what's making waves today. A Livestream and New York Magazine survey found that 80% of brand audiences say that they would rather watch a live video than read a blog post, and 82% prefer watching live videos to reading ordinary social media posts. If that's not convincing enough, 92% of mobile video consumers share videos with others.
How to get live video right
There are lots of things that could go wrong in a live video, and there's no option to leave those mishaps on the cutting room floor. Practice is key before going live, but that's not all you can do to make impressive live videos to engage your audience:
Promote live broadcasts ahead of time: If you know you'll be going live on a certain day at a certain time, make sure your audience knows it's going to happen and how they can tune in. Better yet, make it official. If you're using Facebook Live, for instance, create a Facebook event so your audience can RSVP.
Actually, engage with your viewers: Call viewers out by name as they comment and respond to their questions in real-time. It helps to have another team member who can monitor and bring your attention to important comments and questions. Starbucks created an interactive experience in this live video by asking viewers to share what they look forward to most during the holidays and selecting responses to feature on the live mural.
Minimize distractions and optimize lighting: Unless you're going live on a whim, you'll have time to set up your space ahead of time, in a Martha Stewart-like fashion. 67% of viewers say quality is the most important factor in a live video stream, so minimize distractions, eliminate ambient noise, and make sure your space has adequate lighting.
Encourage users to watch the replay: Users watch live videos three times longer than they do videos that are no longer live (replays), but total views of archived live videos often exceed live viewer totals. Don't neglect to engage users watching your replay, and encourage them to like, comment, and share your video even after it's no longer live.
Make your videos easily shareable: Videos are shared 1200% more times than text and link content combined. Users can share videos native to social networks like Facebook, but what about videos you've posted on your website, such as archived lives? Install share buttons to make sharing simple for every viewer on all the popular platforms.
3. Smart voice assistants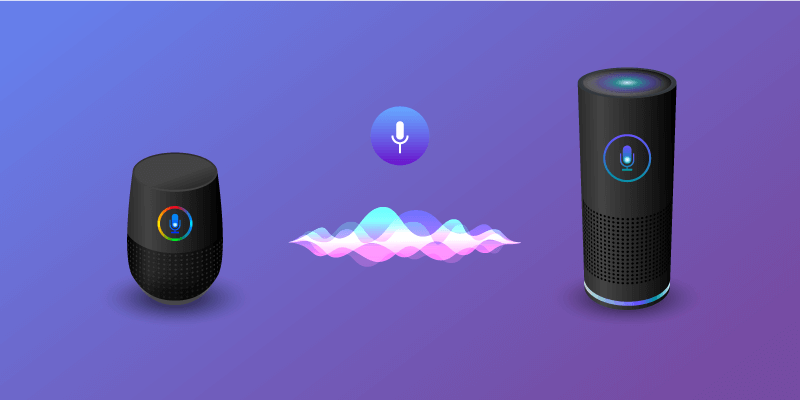 More and more households are using smart voice assistants like Amazon Alexa, Google Home, and, of course, the popular Siri. Consumers are using these devices to consume a variety of content, from the news and weather reports to their favorite podcasts. As CNBC reported, James Poulter, Head of Emerging Platforms and Partnerships for Lego, told the audience at the Advertising Week Europe conference in London that audio and voice content will be paramount for brands by 2020, as it's becoming a "primary access point for people in the home around content."
What that looks like may vary. Some brands are opting for long-form audio content like podcasts, which are easily consumable through smart voice assistants. Others are tapping into the widespread adoption of these devices by creating "skills," which are voice-based interactions or capabilities that "enable customers to create a more personalized experience" by prompting the device to carry out certain actions or providing information in response to a query.
There are tens of thousands of skills already in Amazon's Alexa Skills marketplace, ranging from the simple (ordering a pizza, renting a movie) to the complex (developing workout routines or meal plans).
Zyrtec, for instance, created AllergyCast, a skill for the Amazon Alexa platform offering weather and pollen reports as well as a personalized "Allergy Impact score" to estimate how those conditions are likely to make allergy sufferers feel that day.
How to engage users through smart voice assistants
Develop an audio or voice strategy: If your brand isn't already delivering audio content in some form, now is the time to start developing a strategy, whether that means creating audio content that can be consumed through smart voice assistants or developing interactive skills to engage users. Toyota, for instance, fosters brand loyalty by making it possible for owners of certain models to ask Amazon's Alexa to lock or unlock their doors, or even start their vehicle.
Solve a problem: Don't just create a skill for Amazon Alexa because it's the cool thing to do — find a need and fulfill it. Cater to consumer habits; users tend to use smart voice assistants for the same types of tasks in various time blocks throughout the day. Find out what your audience is looking for and give it to them. Think information about upcoming events, getting customer support, and practical tips to make their lives easier. U.S. Bank customers, for example, can ask Alexa to check their account balances, and Prudential Retirement customers can monitor their accounts, loan balances, and more – all with simple voice interactions.
Focus on building brand loyalty: Consumers tend to do the same thing repeatedly out of habit. One of the best examples of this is Domino's Pizza, which allows customers to build new orders from scratch, re-order their Easy Order, and even track the status of their delivery with Amazon's Alexa. Build brand loyalty by keeping it simple and memorable.
4. Messaging apps and chatbots
There are several popular messaging apps, from WeChat, to WhatsApp, to Facebook Messenger. Brands can engage with users in two main ways: through live operators who can answer customer questions in real time, or through chat bots, or automated assistants that respond to customer queries from a bank of predetermined responses based on the user's message. Mastercard, for instance, has a Facebook Messenger Bot allowing consumers to check transactions and even make purchases with the Masterpass program from Subway, Cheesecake Factory, and other partners.
According to Drift's 2018 State of Chatbots Report, 15% of adults in the U.S. have engaged with a company through a chat bot at least once in the past year, a figure that will continue to grow as chat bots get more sophisticated and consumers seek convenient ways to find answers and interact with brands.
How to engage users through messaging apps and chatbots
Leverage the power of AI to create personalized experiences with users: Today's consumers prefer a highly personal experience and expect brands to cater to their specific needs and interests. Fortunately, AI is making chat bots more human-like by the day, allowing them to interact with consumers at scale and engage in conversations that mimic authentic human-to-human interactions.
Educate users: Released a new feature? Let your users know through a chat bot. Offer tricks and hacks to help your users get more from your products or services, or send reminders to users who signed up for an upcoming event. Segment your audience to avoid sending irrelevant messages to users.
The rapid pace of technology means new marketing channels are always on the horizon. Leverage these channels and develop innovative ways to engage with your users to keep up with the pace of change and maintain a competitive edge.
In-App Messaging Gives As Much As 53% Higher Customer Retention
Retain your customers using the best marketing channel for your business