Nisha, who heads the talent acquisition team at WebEngage, announced with utmost pride, "Folks, we hit a century! Please join me in welcoming our 100th employee, Anshuman Mishra, to the fam!".
Yes! This week marked the joining of our 100th employee. And Engagers (as we call our employees) are excited about it.
Before we unveil our quest for a hundred employees, let me introduce you to our very special, 100th Engager.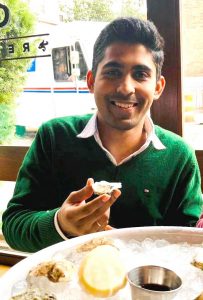 Anshuman, an FC Barcelona fan, has joined WebEngage as the AVP – Partnerships. He's spent his life across various parts of India building sustainable partnerships ecosystems and mobilization projects across multiple verticals. He'll now be leading all the facades of channel sales and partner networks here and will be our liaison for partner organizations.
We had nearly a dozen folks joining us last month too. What makes us happy is the fact that we could see the graph going up constantly. We see this as a sign of growth and we know that we have earned it, it wasn't merely a miracle.
Our tiny team has done many wonders through these (almost) 8 years – we moved from a mini shared space to our own office, opened one in Bangalore too; we started off as a push notification platform and transformed into a full-stack marketing automation platform, our clientele tripled, over 200 million messages are now delivered via our platform every day; we now track over 3 billion events and engage with 110+ million users every day.
Moreover, we've carved out 5 new teams and about 17 new roles. We also saw a 100% revenue growth last year. Oh, I almost forgot the ratings that we've gained from our customers on some of the most renowned product review platforms like G2Crowd, Capterra, and others.
Our clientele that has only kept growing in the past couple of years, our partners that constantly enable us to expand, our investors who never fail to trust us, our readers who stick with us and of course, the crazy bunch of employees who make the strides – we're grateful to everyone.
"Ankit and I are extremely proud of the team we have built. We are reimagining user engagement for the new age consumer brands. Having a 100 men and women driven by that cause everyday will help us accelerate and accomplish our mission faster. We have been highly capital efficient and at the same time maintained our market leadership. Meeting both of these objectives is not a mean feat. I thank the entire team for our dream run this far and I look forward to our 10x journey from here. Onwards and upwards!" says our CEO, Avlesh Singh.
We did have hiccups throughout the journey. Some weeks were exhausting, some deadening, but together we made it here. Every person today is extremely special and thrilled to be here.
Unlike many startups, we took our time to reach where we are today.
What took us so long?
We're about three months away from turning 8. And in the past couple of months, we had a bunch of people ask us why didn't we have even 100 employees yet.
We don't hire EVERYONE: We're finicky about choosing our folks. A lot goes into picking up each new Engager. We don't look for a specific age or years of experience or gender. You can be a fresher and we'd offer you right away. While you can come with vast experience and we might not have you onboard. We look for people with the zest to learn, those who put their heart into what they do and wish to make a mark.
We're building a FAMILY: Engagers are a huge part of our growth and culture. When we hire, we first tell you to make yourself at home. We eat, dance and work as a family. Openness and authority towards what you do steeps in our ethos. We have folks who've been with us since the inception and they're no less than a family.
Our interview process is UNIQUE: Our interviews have been talked about in the industry. Trust us when we say that. We have designed our interviews in such a way that the interviewees don't feel examined but empowered. Every interviewee walks out with learning to recount. The process is fast, unbiased and customized based on different roles.
"At WebEngage, we have always tried to keep a beginner's mindset. We modify our processes to match the current industry trends – recently we've added a lot of our team members in the interview process primarily to avoid any bias, giving candidates a better and more transparent experience throughout the interview process. We're also focusing on bringing gender parity. Mid of 2018, women employees made up to just 10% of the team. Today the number has reached to 19%…yes it is a bad number but we aim to better it this year." says Nisha Nair, our Lead – Talent Acquisition. 
We emphasize in-house talent GROWTH: Most of our Engagers belong to the age group of 25-35. And we can undoubtedly say that those in their early 20s have outgrown the seniors. They take time and we give it too – a bunch of Engagers has moved up the ladder and become team leads today. All this because we believe that if you have it in you and are willing to take things up a notch then we go out of our way to make sure that you gain maximum growth at WebEngage. 

A longstanding employee, also the one who massively contributed to building our product, joined the tribe as a fresher, grew into a senior developer and gradually stepped out as an entrepreneur
That said, we have ambitious growth plans and have been increasing the strength of various teams viz. sales, marketing, tech, and more. We fully expect our growth cycle to continue, with widening clientele with massive goals, in turn, necessitating even more employees and skill sets to meet them.
I consider myself lucky to work here and I'm looking forward to everything that's in store for us. There's no stopping here, we're going to make it more grandiose hereon.
Here's to all those who made this possible and to the next 100! 😉