Customer Profile
Shine.com is India's most innovative and fastest-growing recruitment portal. Launched in 2008, within a short span of 5 years, Shine.com has crossed the 1.3 crore candidate landmark and has more than 2 lakh jobs onsite. The company is a part of HT Media Limited, one of India's largest and most respected names in the media industry, with its footprint across print, digital, and radio.
The Objective
Through the marketing efforts, Shine was able to attract visitors to the website and achieve a signup. But the users either had an incomplete or an outdated profile on the website thus rendering the job matches useless both for the job provider and seeker. The team at Shine had one major objective:
Always keeping the candidate profile updated on the website.
The WebEngage Effect
Shine had been using SMS and emails as the medium to reach out to their customers with the message to update their profile. It had its limitation in terms of conversion and cost-effectiveness. Shine was looking for a way to remind the customer to update their profile while they were on the website as this was way more logical and effective and we were just tailor-made for the task.
WebEngage offered an effective proposition that targeted logged-in users with appropriate messaging in real-time. Asserting the importance of an updated profile and asking users to complete tasks to increase account usage. This keeps their profile updated.
The notifications were created with a specific combination of UI design for push messaging popup and targeting rules to identify whom to show these messages.
Users targeted for a specific campaign was urged to click on CTA within the popup to navigate the user to the respective landing page.
The Process
Shine.com created a popup with a message asking users to complete/update profile details to increase their chances of getting noticed by recruiters.
The messaging had a CTA button with the landing page as the profile details page
Targeting rules excluded visitors on the registration page
Customs rules included visitors with 'LastProfileUpdateDate' less than a date
Here's a step-by-step guide on how Shine.com set up this campaign:
1. Create Notification > Choose a Layout: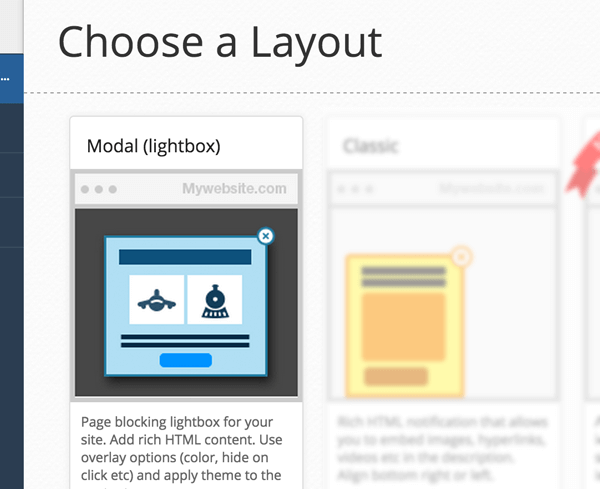 2. Create Notification body:

3. Create/ Choose Theme:

4. Setup Targeting Rules:

5. Use tokens to personalize notifications
The notification contains the name of the user and the exact number of days for which (s)he hasn't updated the profile. It makes the notification personalized and even more effective. Doing this through WebEngage is a piece of cake. You just need to pass the data back to WebEngage. Through the use of tokens and our Dynamic Notifications, we personalize it for every single user.
The Result
Through these notifications and intercepts, Shine managed to get 8% more users to complete their profile. Given the nature of the business, where recruiters pay more for updated profiles, we made a significant contribution to their bottom line.
Boost Your Customer Engagement Like A Boss