Customer Profile
Goibibo is one of the leading travel aggregators in India. Goibibo's mobile app has constantly ranked number one under the travel category, in India. The company's hotel booking volumes grew by 5x in 2015 – out of which 70% of bookings were made through the Goibibo mobile app.
Goibibo is part of the ibibo Group which also owns India's No. 1 online bus ticketing platform – redBus.in. In addition to that, the ibibo Group has also launched a carpooling app, ibibo Ryde. It's a subsidiary of the multinational media company, Naspers.
The Objective
A large number of people who use online travel agencies (OTAs) exhibit the following behavior:
1. Search for a few flights or hotels.
2. Gather some insights on prices.
3. Leave without making a booking or clicking on any of the search results.
For marketers like us, this is a set of users who have shown interest in making a purchase but haven't made a transaction yet.
The Marketing Team at Goibibo wanted to engage these 'search abandoners' with hyper-personalized communication, aimed at retaining them and eventually motivating them to purchase.

The term search abandonment is usually used in the context of search engines (i.e web search abandonment or SERP abandonment). However, in the context of online travel agencies (OTAs), search abandonment/ booking abandonment refers to a user behavior described above; wherein a transaction is not performed (post doing a search) within a specified time frame.
A study conducted by Google reveals that 69% of leisure travelers worry about the possibility that they're not finding the best prices or making the best decision.
Most OTA users are found to be in a dilemma induced by the infinite choices and undifferentiated offerings presented by the travel industry. Generally, OTA users abandon the search for a combination of the following reasons:
Dissatisfied with the search results
Looking for lower prices
Doing research
Complicated checkout process
Technical issue
Casually keeping a tab on prices to book later
No flights on Preferred time of travel
No flights by a preferred airline
The WebEngage Effect
In an industry flooded with undifferentiated offerings and too many service providers, delivering customer delight to brand agnostic and price-sensitive buyers becomes a priority.
Further, online travel agencies have offerings in high involvement categories (e.g. honeymoon packages, family vacations) and low involvement categories (e.g. flight tickets, weekend getaway trips). While the low involvement categories contribute greatly to total transactions, they are not as profitable as the high involvement categories.
But both the categories described above i.e High Involvement Users and Low Involvement Users, have different needs and thus, require different engagement strategies.
For example, when dealing with High Involvement Users customer engagement can happen over a period of time through occasional campaigns and nudges. But for Low Involvement Users, effective customer engagement needs to happen over a short period of time.
This is one of the reasons why the communication in such cases requires high responsiveness to user behavior, or in other words, needs to be hyper-personalized.
Using the user's first name in your message is the most basic form of email personalization. And hyper-personalization by leveraging your user's behavioral data and preference has the potential to take your basic emails to the next level. Using basic html templating one can dynamically change the email's content, making it relevant for each user.
Sounds like a daunting task, right? But with the WebEngage Personalization Engine, creating contextual relevance at a large scale became a piece of cake for Goibibo.
Delivering hyper personalization at a large scale with the WebEngage Journey Designer
In the travel industry, email as a channel influences customers as the last interaction before a purchase. This is why Goibibo sought to increase the effectiveness of their emails via hyper-personalization, using the WebEngage Journey Designer.
The Journey Designer is a drag-and-drop tool which allows marketers to create a custom user journey/ workflow using Triggers, Actions, Conditions and Flow Controls. [click image to enlarge]
Here's how they went about it:
The Journey begins when a user searches for a flight or a hotel on their app and/or website. A window of 30 minutes has been created within which the user is expected to make a purchase. If that condition is not fulfilled, then an email is triggered, containing details based on the user's behavioral history.
However, before the search abandonment email is sent to the user, the Journey will check for the following conditions:
Has the user provided a valid email address?
If no, then since the user can't be reached via email, no communication is sent to them.
Has the user already received a flight search abandonment email for another search result, made previously?
If yes, then this user too will not receive any further communication (because we don't want to spam the user, right?).
Here's what a hyper-personalized email looks like for a user who has searched for flights from Mumbai to Delhi: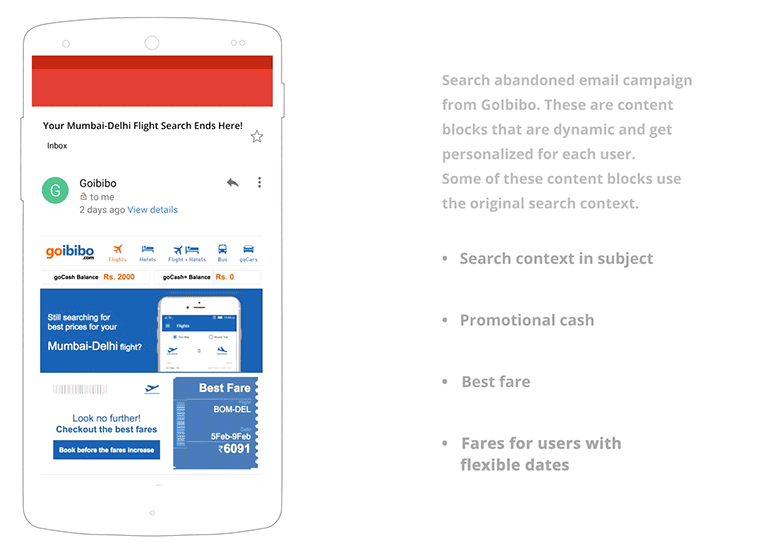 But that's not it. Using the Journey Designer you can also run multivariate tests to find out which copy works best for converting your users. And Goibibo did just that:
The Result
As a result of Goibobo's effective copy and with help from the WebEngage Journey Designer, they experienced a growth of 11% in their conversion rates!
And as per the statistics collected by the Journey they ran, 55k users booked their tickets within the first 30 minutes of searching for a flight. While 6K abandoners were converted after they received the hyper-personalized emails.
The sheer volume of transactions translated into a few millions of additional revenue for Goibibo!
Personalization Hyper-Personalization Is Your Answer To Fantastic Conversions