Customer Profile
Taulia Inc., the financial supply chain company, provides cloud-based invoice, payment, and dynamic discounting management solutions. Many MNC's use Taulia's software to send purchase orders, receive their suppliers' invoices for approval and offer them faster payment options. The San Francisco-based company is listed in the Top 20 ERP Solution Providers 2015 by CIOReview.
The Objective
Ever since its inception, Taulia's vision has been to fundamentally change the way businesses partner with each other. Through its Dynamic Discounting solution, Taulia simplifies invoicing by facilitating suppliers accelerate invoice payments with buyers.
Dynamic Discounting works on the simple premise of offering early payment discounts on approved invoices that are awaiting payment. Simply put, the early you pay the more you save.
There is little use of knowing how to use a treadmill; the benefit comes from using it. Similarly, to reap benefits of dynamic discounting, suppliers need to accelerate invoice payments from buyers in the first place.
Using Taulia's Dynamic Discounting software suppliers can choose to accelerate payments in exchange for discounts. Everything is easy and simple, but there is a catch – raising an invoice for payments is considered to be a clerical job. Most suppliers usually have non-decision makers administer this process. The key hindrance for promoting the dynamic discounting feature is the unavailability of key financial decision-makers to accelerate payments. Thus, Taulia looked to accomplish one major objective:
Taulia wanted to rope in more financial decision-makers representing suppliers to its software to encourage the acceleration of payments.
The WebEngage Effect
Businesses always aim to increase working capital by collecting receivables quickly. To promote the use of dynamic discounting, the product manager at Taulia planned to notify users (suppliers) about the benefits of accelerating invoices and thus invite key financial decision-makers to its software.
Displayed on Taulia's Homepage, the notification urged users to sign up multiple decision makers (cash managers, Treasurer, Finance Personnel, etc.) to Taulia's software.
As a means to direct users to register it had a call-to-action button that upon clicking opened a new window for registering new users.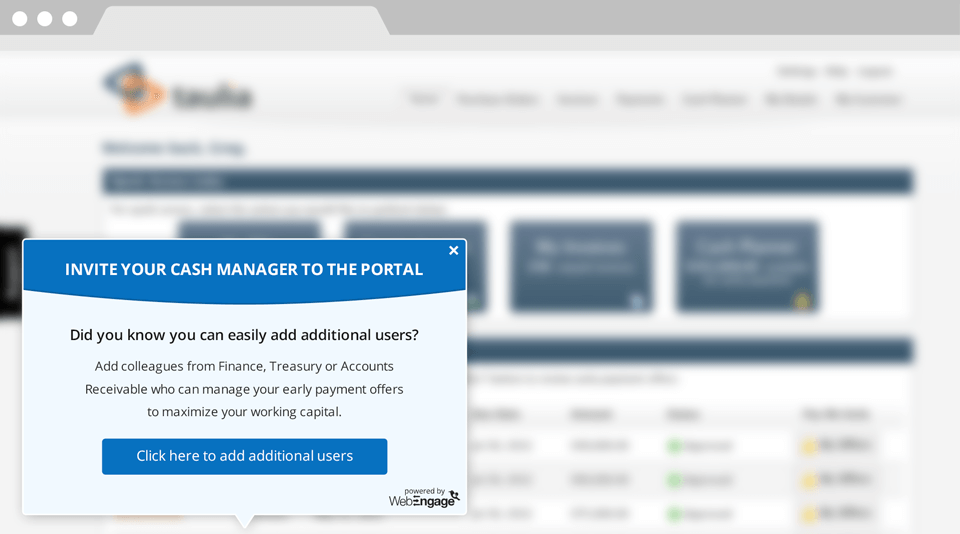 The Process
The solution was simple, nudge existing users with a message to sign-up more users with an onsite notification.
WebEngage provides a wide range of onsite notification layouts to choose from, for instance, 'modal lightbox', 'box', 'call-out', 'banner,' 'sticky header,' 'sticky footer,' etc. The choice of these layouts is a function of the use-case in consideration.
Here, the callout layout met the purpose; it is used to highlight a particular section, button, a new or existing feature on a site.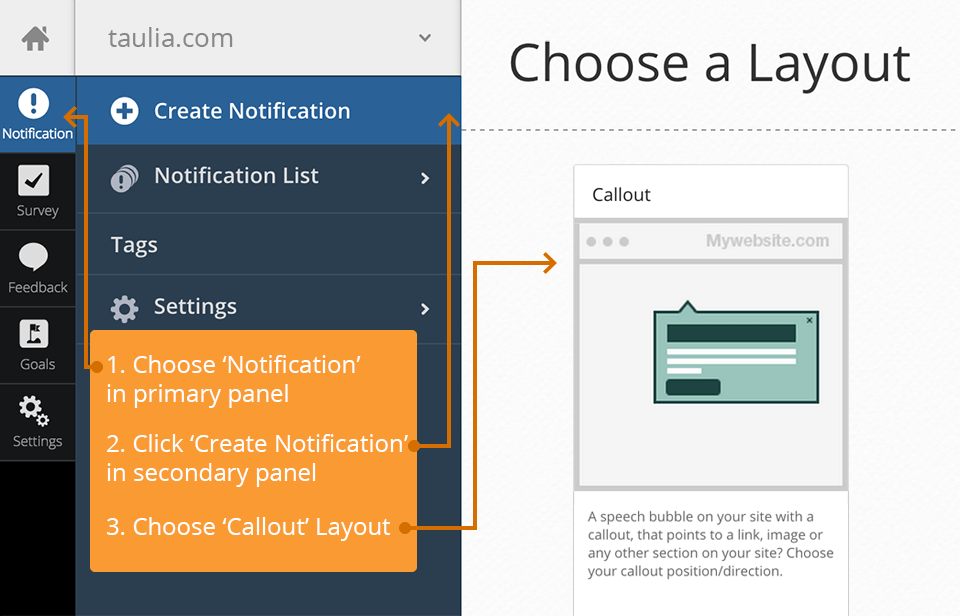 After having selected the layout fitting the use-case, the next step is to put in details for each element of the notification. Here elements include title, supporting text, call-to-action URL, and a call-to-action button. Then comes setting targeting rules (rules defining when it appears, who sees it, etc.) that trigger notification into action.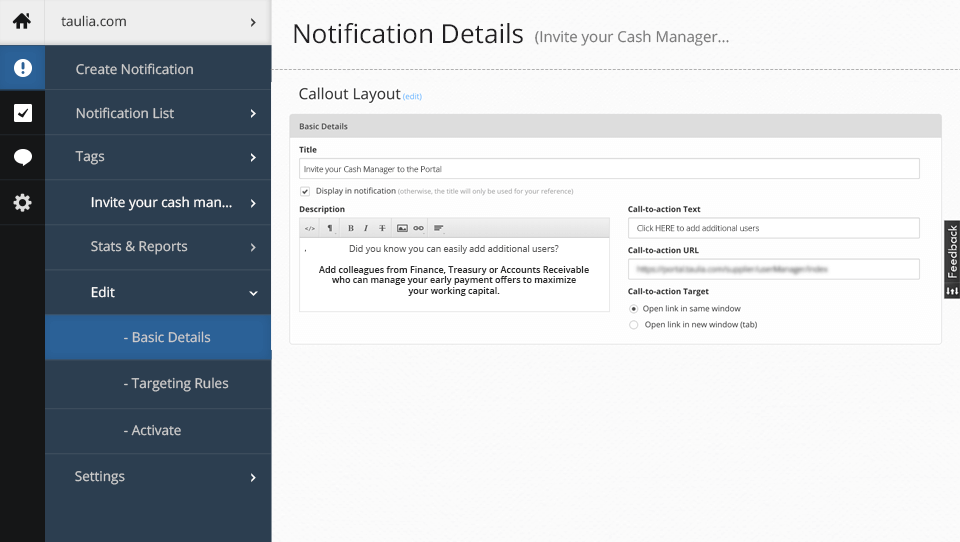 Alongside the above options, WebEngage also allows for setting the appearance of notification matching site UI/UX.
The Result
Within two weeks of running this notification, Taulia on-boarded '37' key financial decision-makers representing suppliers on its software.
The average MoM(Month-on-Month) increase was 5%, on this baseline, after using WebEngage the MoM increase in total discounts captured jumped to 17%. That's a whopping 240% upsurge in the monthly increase in total discounts. [Total Discounts- Gross Discount Amount captured in Taulia's Dynamic Discounting software]
Given the nature of its business and the attached gainsharing contracts, this acted as a major boost to meet the desired KPI's.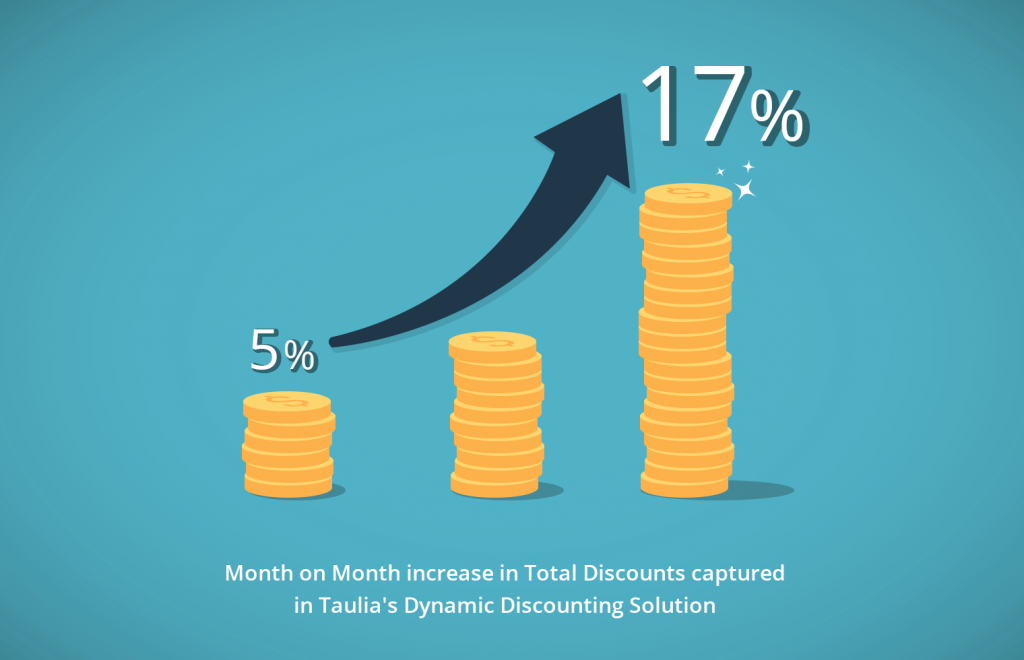 Wondering How Your Business Can Also Achieve Awesome Results Like Taulia?