Customer retention is the most important investment any brand can make. As shoppers keep getting smarter and competition gets fiercer, discounts and promotions are no longer a guaranteed way to attract new customers. More importantly, these aren't sustainable ways to get existing customers to come back.
This is what makes a solid retention strategy so critical to every brand's success. Most businesses are currently operating with an imbalanced marketing budget, favoring acquisition tactics that bring short-term wins and long-term costs. However, Harvard Business Review reports that increasing retention rates by only 5% can result in up to a 95% increase in profits.
The trick is knowing how to do it. Luckily, there are four guiding principles every business can follow to build a successful retention strategy.
The 4 principles of an effective retention strategy
No matter which industry you're in, there are four key factors you need to consider if you want to be able to effectively retain your customers.
1. Understand your customers
If you want to encourage your customers to come back to your store, you need to understand what makes them tick. Ask yourself who your best customers are, how they buy, and how they engage with your brand to identify how to cater to your most valuable shoppers.
2. Build a great customer experience
Once you know who your customers are, you can start tailoring your customer experience to fit their needs. From the first interaction they have with your brand to the post-purchase communications you send out, your customer experience is defined by every touchpoint in the customer journey. Each of these interactions should be optimized to ensure your best customers are always happy with the experience you're providing.
3. Encourage repeat purchases
If customers enjoy your brand and the experience you're providing, they're more likely to think of you first when they need to make another purchase. You can encourage repeat purchases through communication and incentives that focus on building one-to-one, emotional relationships with each of your customers.
4. Encourage customer referrals
The final piece of the retention strategy puzzle is customer referrals. Referrals are a great way to start building one-to-many relationships between your brand and prospective customers. You can effectively encourage customers to share your brand with prospective customers using tools like email marketing and social media.
The best way to build a successful retention strategy
While there are a number of different ways to start improving your customer retention, a rewards program is undoubtedly the best and most effective.
Whether it's with points, referral campaigns, or VIP tiers, reward programs give you the ammunition you need to build lasting relationships with customers that are more profitable long-term.

The proof for the success of reward programs is all around us. Take Mpix as an example. Since the launch of their program last year, Mpix has experienced a dramatic increase in customer retention. Let's examine how they've employed each of the four principles of retention into their program.
Mpix rewards customers in ways that make sense
As a photo printing and home decor brand, Mpix operates in a highly visual industry. Not only do their products look great in someone's newsfeed, but they're also injected with personal connections and memories that prompt customers to want to share them with others. In that same vein, Mpix knows that their customers are likely to spend a lot of time on social media, sharing and engaging with fellow shoppers and other visual brands.

This understanding of how their customers engage with their brand is what prompted the decision to reward customers with points for following Mpix on Facebook, Twitter, and Instagram, as well as sharing products and experiences on any of these channels. Through each of these actions, Mpix places an emphasis on celebrating visuals, design, and each customer's personal style, empowering them to put their own twist on their experience with the brand.
This structure resulted in them getting 70% more Instagram followers since their program launched — a clear indication that they understand who and where their customers are.
Mpix makes their program easy to find and explore
The best reward programs are always built with the customer in mind and seamlessly integrate into the rest of the brand's customer experience.
Mpix is no exception. After experiencing exciting growth, they wanted to recognize their customers for helping them succeed and launched Mpix Rewards to do just that. In order to make sure that each of their valuable customers could benefit from the program, they wove it into the fabric of their existing onsite experience by including a link to a dedicated program page in the navigation bar, customizing their program's various design elements, and including a fully branded rewards panel for customers to engage with.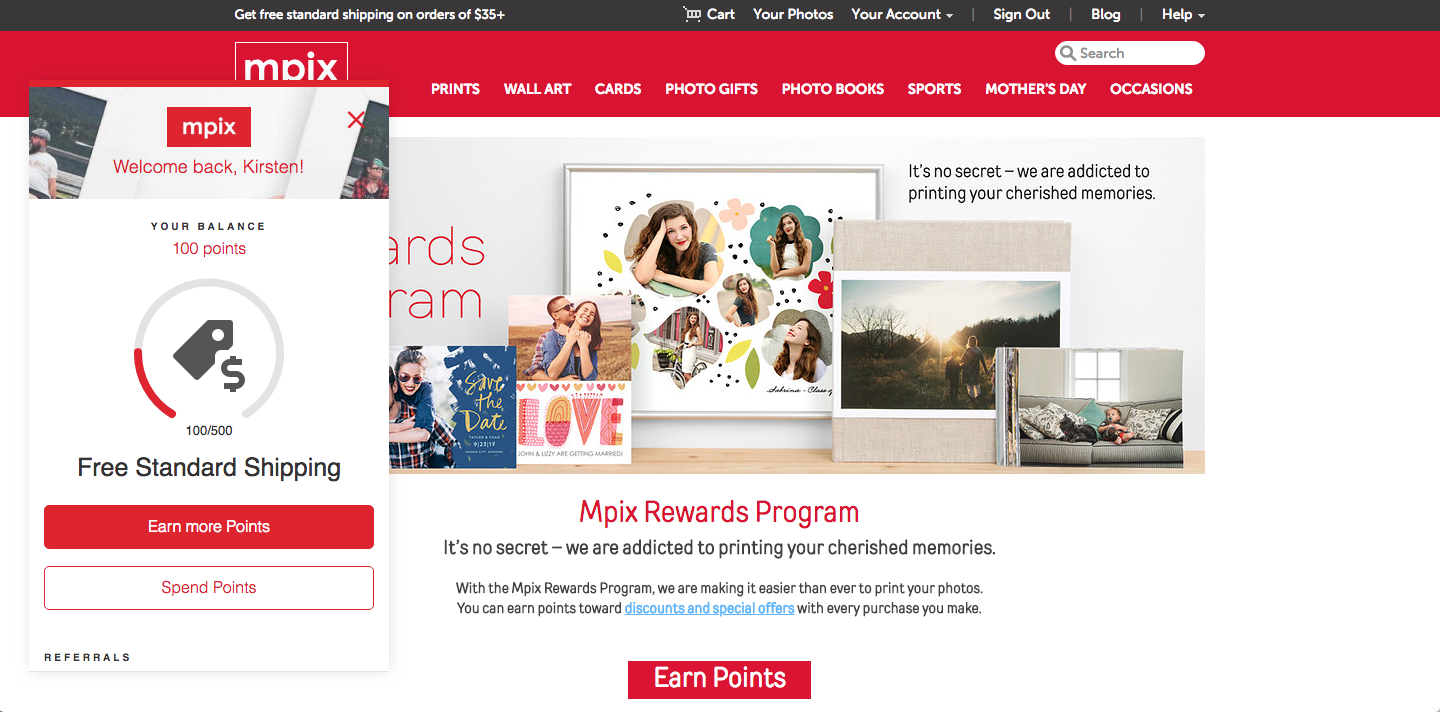 Each of these features was meant to create more touchpoints in their customer experience that delight and invite shoppers to get more out of each interaction with the brand. No matter when or how customers come in contact with the rewards program, Mpix has made sure that it fits into the rest of their experience without dominating or detracting from the other elements they know and love.
These considerations have made Mpix Rewards fun to explore, adding another dimension to Mpix's already fabulous customer experience.
Mpix motivates customers to come back with elite status
The Local-Ladder Effect dictates that we always like to know where we stand in relation to our peers, and this knowledge pushes us to stay ahead of them every step of the way. This concept of competition plays heavily into the success of any VIP program, making it an extremely motivating tool to encourage repeat purchases.

Mpix motivates their customers to climb the rewards ladder with three prestigious tiers: Silver, Gold, and Platinum. Accompanied by product-inspired imagery, each of these levels communicates an increasing sense of luxury that helps customers understand their position in the program.
This structure encourages an ongoing relationship between Mpix and each of their valuable customers that have created a 55% increase in order value for program members. With this level of brand appreciation already evident, it's safe to assume more of these profitable repeat purchases are in Mpix's future!
Mpix makes customer referrals a priority
Referrals are one of the most effective forms of marketing. They're personal, trustworthy, and are often made on one-to-many channels like Facebook and Twitter.
Click To Tweet
As we mentioned earlier, Mpix already caters to customers who are comfortable sharing their lives on social media. This makes a referral program the perfect complement to their rewards program. As a member of Mpix Rewards, every customer has been given a unique referral link that can be shared with friends and family. Every successful referral results in a reward for both the sender and the receiver, creating value on both sides of the interaction.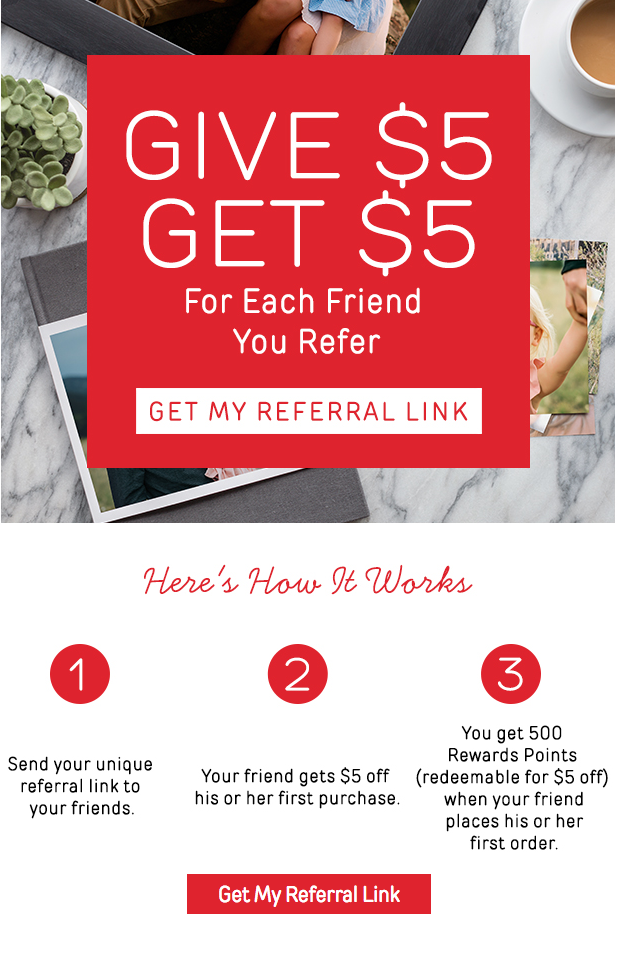 Mpix has also made great use of email marketing to keep customers informed of the benefits of their referral program. With messages focused on how the program works, how to use it, and where to find it, they've taken advantage of every resource available to them to motivate customers to get involved.
This 360-degree approach that unites their social media, onsite, and email campaigns brings their whole customer experience together in a way that keeps customers engaged, informed, and excited to share the brand with friends. By harnessing the sharing power of their engaged members, they have significantly expanded their marketing reach with zero increase in ad spend.
Mpix puts the emphasis on the customer and retention
At the end of the day, the most successful retention strategies will always focus on one thing: the customer.
Rewards are intended to make customers feel valued and appreciated at every touchpoint in the customer journey, and making this the focus on your retention campaigns will do wonders to improve your success.
Mpix is a fantastic example of this principle at work. Not only does their program increase repeat purchases and referrals, but it also adds value to every part of the customer experience. Through effective branding, VIP treatment, and rewarding the right customer actions, Mpix Rewards is now so inherently tied to every part of their experience that they can't be separated. This rewarding customer experience is the ultimate goal of any retention strategy, and is most definitely something customers will want to experience again and again.
5 Ways For Effortless Customer Retention