If you've got a video you're ready to start marketing, marketing it across some of the most revenue-driving channels is crucial to its success. But what channels are those? And how can you set yourself up for success on each?
According to the marketing experts at Gartner, over 90 percent of marketers struggle to seamlessly connect more than three channels throughout the customer journey. And that's rough, because it's estimated it takes somewhere between six and eight customer touchpoints to generate a viable sale.
Unless you're reaching customers at a far greater rate than the average, your sales are probably struggling.
That's OK! We're here to help! We've outlined six crucial touchpoints you need to start taking full advantage of, along with some tips about how using video can help you close more sales.
Let's get started!
1. Social Media Ads
2. Facebook
3. Instagram
4. Twitter
5. Email Promotion
6. Search Ads
7. Push Notifications
8. SMS
9. Chatbot
Social Media Ads
If you're not advertising on social media, you're missing out on a huge opportunity to reach a highly engaged, highly targeted audience. And if you're not using video, your audience is likely scrolling right passed your ads without even noticing.
Just take a look at the stats: 46 percent of consumers watch more ads on social media than on TV and 73 percent of consumers are impacted by a brand's social media presence when making a purchase decision. If you want people to buy from you, you've got to advertise to them where they spend most of their time. And that's on social media.
Use short, fun, and attention-grabbing videos on social media. Avoid telling long or complicated stories and instead aim to immediately draw the viewer in during the first two or three seconds of your ad. Bright colors, bold text, and close-up shots of happy faces along with your product or service will help usher users through the buyer's journey.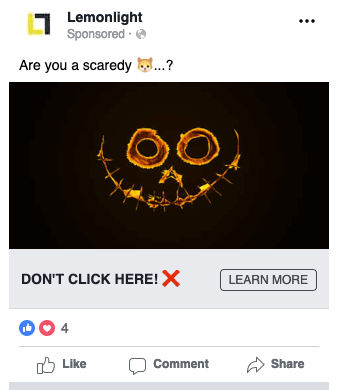 (Source: Lemonlight)
Facebook
Advertising your video on Facebook means paying a relatively small amount to increase your video's exposure, spreading your brand's awareness and engagement to your exact target audience. Facebook facilitates this all through their intuitive ads platform, which helps you set up your campaign, pick your video placement, and launch your ads in a matter of minutes.
Instagram
Instagram's user-base is growing exponentially, easily surpassing a billion monthly active users in June. It's become the gold standard for positive user experience, borrowing the best parts from other platforms and merging them all in one place, like Instagram Stories, which feature Snapchat-style daily disappearing video, or the newly launched Instagram TV, which functions like YouTube for content creators.
Instagram's user-base is growing exponentially, easily surpassing a billion monthly active users in June. It's become the gold standard for positive Customer experience, borrowing the best parts from other platforms and merging them all in one place, like Instagram Stories, which feature Snapchat-style daily disappearing video, or the newly launched Instagram TV, which functions like YouTube for content creators.
Twitter
With so much text, so many links, and random retweets dominating most Twitter feeds, video helps brands stand out among the noise, captivating users for longer and having a greater impact on top of funnel analytics. Tweets that include video are six times more likely to be retweeted than Tweets with images. That means videos on Twitter can help spread your message further and wider.
Email Promotion
Sure, we all delete tons of emails on a daily basis. But think about the ones you open. You're drawn in with an enticing subject line, you spend a while taking in the content, and if it features a good deal or quality information, you click, you engage, or you purchase. This is the mother lode when it comes to digital marketing.
Not only that, it's almost a required touchpoint if you want to reach users at every stage of the buyer's journey.
Despite email being one of the oldest forms of digital marketing, average open rates continue to improve, reaching 24.88 percent in 2018, a .3 percent increase over 2017. And thanks to its low cost, email is still the king when it comes to ROI, averaging $44 in ROI for every $1 spent.
After spending a pretty penny to create video content, you can't miss using email to distribute it to your audience. Embed an image or GIF with a play button in order to drive users to your video landing page and include a call-to-action there.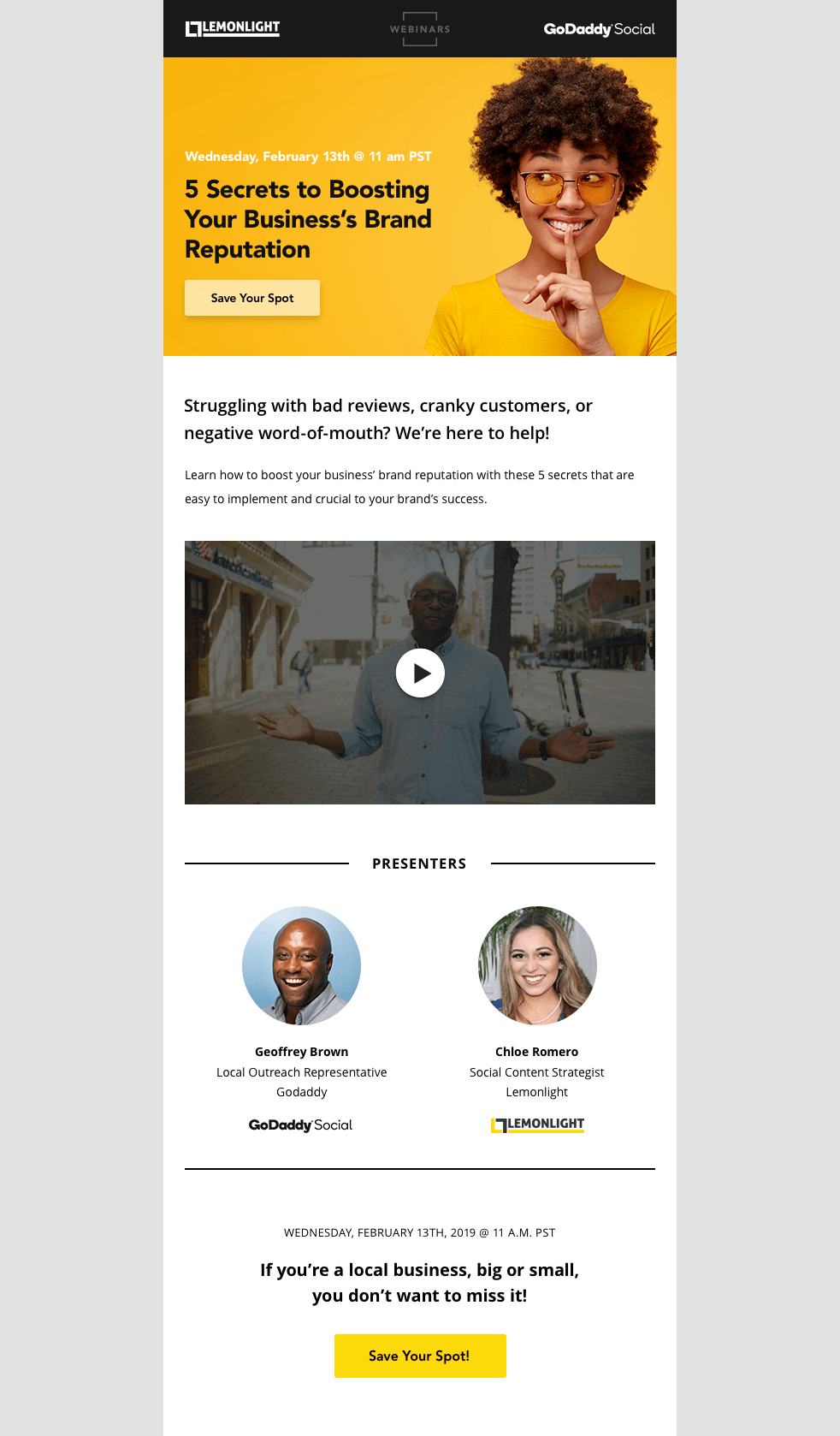 (Source: Lemonlight)
Search Ads
Search ads are not exactly video-friendly, but they are one of the most cost-effective ways to reach the exact audience you want to reach. By targeting specific keywords, you can reach an audience that's either ready to buy or deep in the research stage of the buyer's journey. Just remember: the more enticing you make your ad, the more likely searchers are to click.
But how can you market videos on a platform that only allows for text? Simple! Embed the exact keyword you're targeting in your text ad copy, include a mention of video if it makes sense, then drive users to a landing page that includes your video. There, you can communicate the exact message you want to, along with other vital information about your product or service.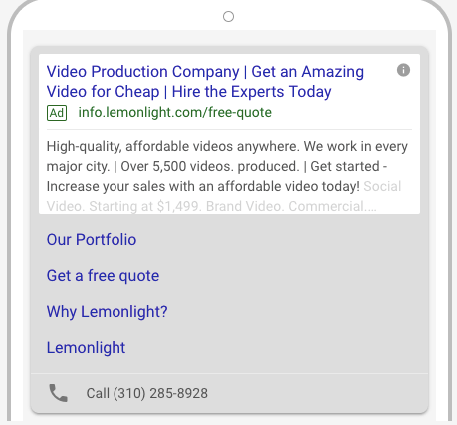 (Source: Lemonlight)
Since including video on a landing page can increase conversion rates by as much as 80 percent, this is an essential place to embed your video for optimal results.
Use videos here that directly relate to your product. Show how it's used, its best features, or post an explainer video to answer all of your user's primary questions.
Push Notifications
This is one of the most untapped areas marketers should take advantage of (pun intended!) Fifty-two percent of smartphone users have push notifications enabled on their phone, and their engagement rates are crazy high, ranging anywhere from 12 to 40 percent, depending on the industry.
If you've got an app and aren't sending push notifications, that means you're losing out on a ton of app traffic, as well as an amazing opportunity to deliver personalized, customized, valuable information to your users.
Use video in your push notifications to drive engagement up even further. Adding video gives you the chance to say more with your notification than you could simply using words, plus enhances the user experience and makes your notification infinitely more memorable.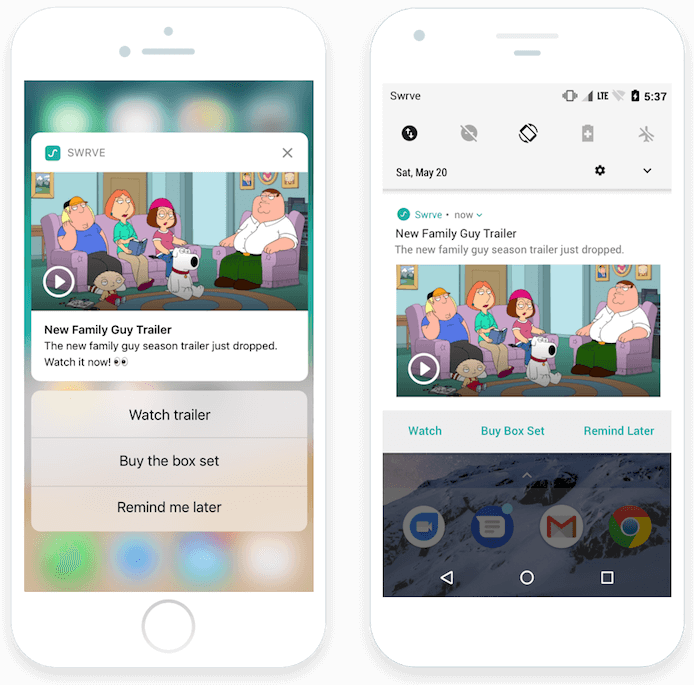 (Source: Swrve)
You can include any rich media, like plain images or GIFs, but including more educational video content, like tutorials, how-to's, or FAQs videos like we produce here at Lemonlight can be the thing that helps convince users to make their purchase.
SMS
How often throughout the day are you without your phone? Likely, it isn't often. That's what makes text message or SMS marketing such an amazing tool in every marketer's tool belt. Open rates for text marketing messages average about 82 percent, ensuring your marketing message gets read, as long as you don't send too many texts or start to spam your users with irrelevant content.
Like push notifications, you can send rich media through your text messages (technically, these are called MMS, multimedia messaging service vs. SMS, short message service). Though current click through rates are about 36 percent, including media like video can drastically increase this number, especially if you have something of value to offer.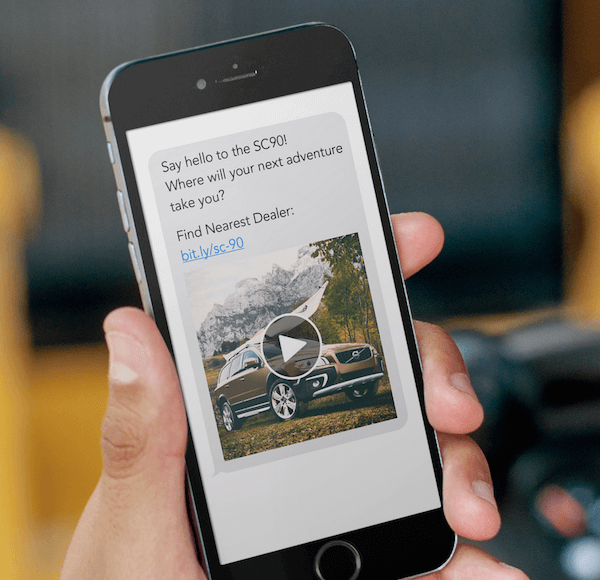 (Source: US Short Code Directory)
If you've got promo videos, product videos, or special event videos, send these via SMS to those who've opted in to receiving your text messaging. The more timely or exclusive you make your offer, the higher your chances of piquing user interest.
Chatbot
From Facebook Messenger bots, to website bots, to Slack bots and more, chatbot technology has come far in the last few years. And although chatbots might not make you feel warm and fuzzy inside, they are pretty awesome when it comes to engaging users: the click through rate of chatbots can range anywhere from 15 to 60 percent.
The best part? Chatbots are totally automated technology you can essentially set and forget. Whether you're using them to answer common user questions, communicate important information, or just engage previously unengaged users, a chatbot could open the door to huge gains in brand awareness, brand recognition, and brand recall.
Use videos here that will engage the user. Teasers or trailers, explainer videos, promo videos, and even brand videos can provide fun content and can set the stage for a conversion, however you define that.
You Can Use Videos And GIFs In Personalized Emails
(Source: Lemonlight Facebook Chatbot Example – sponsored ad with chatbot automated video message)