Marketing automation is still in its nascent stage and complex enough that even vendors of automation systems sometimes find it difficult to run their own marketing operations on their own platforms. However, this has not stopped companies from using various marketing automation tools to optimize their business.
What is marketing automation?
At a fundamental level, marketing automation refers to a category of software that automates, streamlines and measures workflows and marketing tasks so that brands can boost operational efficiency and up their revenue faster.
Based on the latest stats by emailmonday, nearly 51% of companies worldwide are using marketing automation while 58% are planning to adopt the technology soon.
A report released by Salesforce titled State of Marketing (2017) states that 67% of marketing leads are currently using some type of marketing automation platform. The biggest growth in usage is seen in areas like Internet of Things (IoT) and artificial intelligence.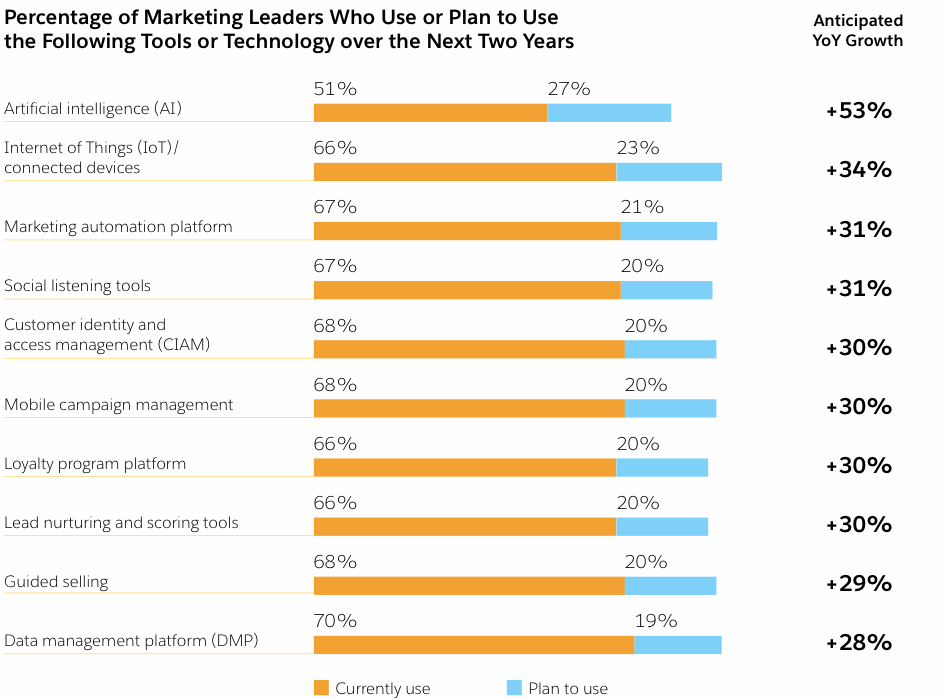 MarketsandMarkets, a market research firm, once estimated that marketing automation software revenues would grow from $3.65 billion in 2014 to $5.50 billion in 2019.
The benefits of using marketing automation are humungous, with 91% of users agreeing that marketing automation is crucial to the overall success of their marketing efforts.
Achieve 22% Uplift In Repeat Purchases
See How Chaayos, an offline cafe chain, improved its customer retention using marketing automation.
We'll now list some of the important reasons why your business needs a marketing automation platform.
1. Huge time saver
Ehsan Jahandarpour, a startup coach and growth hacker, and Brian Downard, an online marketing and lead generation consultant, published a great infographic on how marketing automation saves both money and time.
Here are some excellent takeaways:
You can boost your reply rate by nearly 250% by automating your outreach efforts and follow-ups
Automating your ads and social posts can save you over 6 hours every week
Setting meetings or client appointments using automated tools can save you 80% more time
You don't have to get into your workspace every morning and dive into a tool that schedules your posts for the entire day on social media or ship one-off emails. With marketing automation, it's possible to schedule everything you require in advance. This will free you up to concentrate on other important marketing activities. After all, the idea of "setting it and forgetting it" can help you to loosen up a bit.
In addition, all-in-one marketing software like Hubspot will save you energy and time jumping from one platform to the other. When you're repeatedly flipping between tabs to set up a campaign or track its performance, you're draining a lot of energy than you think.
2. Adds value to your CRM
While marketing automation software and CRM software are greatly different, they can help you achieve more out of your marketing efforts.
CRM software is used more for sales and is contact-focused. This type of software saves the basic contact information like name, contact number, address, and all your conversations. On the other hand, marketing automation software is more focused on marketing.
Besides saving contact information, marketing automation tools give you insights on the location of your contacts in the marketing funnel, the resources they use, the web pages they interact with besides enabling you to establish processes that will perform important tasks automatically based on the interactions.
When combined, marketing automation software and CRM can be of immense value to you. You'll enjoy the benefit of viewing the sales and marketing activities of your contacts all in one place, giving you a comprehensive picture of the relationship a person shares with your brand. This makes your outreach efforts a cakewalk.
For instance, when you integrate your CRM with marketing automation, you can send targeted emails to your contacts in your system. However, in the absence of the integration, you'll have to upload your contacts from your CRM database, which drains time and money, while increasing the risk of user errors. You may miss out on a lucrative sale if you accidentally mistype the email address.
3. Get big picture data
While dealing with the issue of increasing your ROI and ensuring success, you got to have direct access to your important marketing KPIs. If you use multiple tools, you'll spend a huge amount of time switching platforms and find the task of tying your metrics to your campaign absolutely onerous.
A marketing automation tool enables you to tag your entire marketing activities with the associated campaign and also allows you to have a better picture of your traffic, clicks, conversion rates and more all in one place. Powerful, multi-functional tools like Hubspot give you a bigger picture of your data and how things work together, instead of forcing you to switch platforms.
Add to that, you can access reports and look at the performance of various metrics in real-time.
When using a specific tool designed to track the impact of your marketing efforts on your sales, you can see the red flags and poor performance, and change your strategies immediately.
4. Allows personalization
Marketing Land recently released a report, which states that personalized emails deliver 6 times higher transaction rates; however, 70% of brands do not use them.
With a great marketing tool, you can easily personalize content to your personas. For instance, in many automation tools like HubSpot, InfusionSoft, WebEngage, and Marketo, you can include personalized tokens (like the recipient's name) into an email blast. Your emails will look more personal by incorporating such elements. It will appear as if they were sent particularly for them instead of a huge list.
And when one of your contacts gets an email that looks more personalized, it's likely they'll open and engage with it.
Take it this way-will you click through an ordinary newsletter or an email as though it was meant only for you? Let's say you receive an email with your name along with a line of text saying, "We thought you'd love these tools since we noticed you just downloaded our offer#1."
It's highly likely that you'll go for the latter.
Marketing automation not only makes such personalized workflows easy to set up but also delivers incredible results.
Let's face it; there are simply too many ways to reach your target audience online. You can use banner ads, SEO, social media, remarketing, and many other techniques to build your brand. And it's challenging to keep up with all of these opportunities in the absence of a marketing automation tool.
At the end of the day, your marketing efforts have to reach the right person with the right message and at the right time. It's about personalizing your content to cater to the needs of your personas or/and provide the solutions when they want it the most.
5. Customer acquisition and lead nurturing
A study by Regalix in March 214 showed that the main benefit for digital marketers from automation software was enhanced lead management and nurturing.
If you run a business that mainly depends on leads for sales and not mere customer response, you'll notice that marketing automation tools are a necessity. These tools can find users in the farthest reaches of the online world, some of who might be prospects and give you an opportunity to touch base with them.
For leads that you've already acquired, automation software will keep your brand right in front of them and lead them further down the sales funnel. Frequent lead nurturing is seen as the most vital component in implementing a marketing automation strategy, with analytics and data a close second.
The possibilities of nurturing your leads with automation tools are literally restricted by your own imagination. The trusted online marketing firm, eZanga, used automation tools to suggest specific content to users who subscribed to their mailing list. As a result, the company witnessed a surge in their blog traffic, according to Venture Harbour.
Here's an example of one of their emails: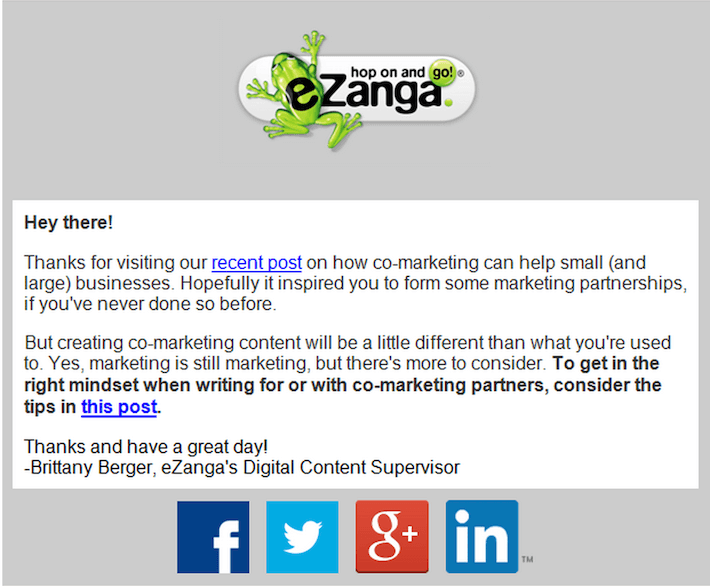 6. Smarter re-engagement and increased campaign efficiency
It's a known fact that marketing automation can work well when it comes to driving engagement. But what happens when your prospects fail to engage, and instead, disappear into the wind? What happens when they slowly start fading away and lose interest? Before you lose hope, it's useful to observe that marketing automation can also be used to re-engage customers the same way as it is to entice and engage them in the first place.
The first way you can achieve this is by smart segmentation. Most email lists are unsegmented, generic, and so broad that your customers see the exact same messages, no matter how much effort you invest to differentiate your audience. To make your emails effective, you can segregate your list based on the level of engagement-fully engaged, semi-engaged and least engaged.
The other technique to segregate your list is to use an amalgamation of demographics and behavior. For instance, you can craft unique emails for people who are semi-engaged based on their latest purchase, location, gender, and their average spends.
According to Kissmetrics, 60% of an email list consists of customers who never engage. And segmented email campaigns enjoy higher open rates of 14.32% compared to the non-segmented ones.
The other technique is to use automated triggers. These types of campaigns have a lot of value than generic emails and make a lot of sense. More than 75% of email revenue is generated by automated campaigns and not the usual "batch and blast emails."Using marketing automation software, you can monitor the links that are clicked when your emails are sent, which will help you to determine the future course of your emails.
Let's say a customer opens an abandoned shopping cart email but does not purchase. Your next email should be closely linked to the abandoned link that may help the customer to make a purchase. You could include things like an exclusive discount or free shipping.
A marketing automation tool can help you launch a killer re-engagement campaign by addressing all of the above issues and more as mentioned below:
It removes duplicates of a contact in your database
Manage your unsubscribes/opt-out contacts
Help you to view the type of bounced emails
Identify contacts who have never opened an email
7. Understand customers and their behavior
The most important change in the marketing landscape over the last several years is that the customer is no more a demographic or a profile or a target audience, but an INDIVIDUAL. And with social media turning out to be the hubs of major conversations, it's important to know each and every one of a specific individual customer.
A 2016 report by Freely states that the most important goal for 82% of marketers is not lead generation but engagement.
Your customer may be using Facebook daily but Twitter rarely. Do you know the reason behind this? The same customer may love to visit restaurants but despise the idea of cooking.
Now has that got anything to do with your offers? On weekends, the same customer is a Giant Slalom, the adventurous snowboarder, and not Sally the Manager. Each and every information you collate adds to the bigger picture. And this helps you understand your customer better.
How and when your customer makes a Facebook post can up your sales opportunities than merely sending them hundred event invitations. With the right approach, you can use marketing automation to understand customers and talk them in a language that best resonates.
By understanding their behavior, you can integrate workflows that use other channels (for example, social ads) along with email. You can trigger retargeting ads using marketing automation tools when contacts enter specific workflows. Content marketers can also create content based on customer behavior, and personalization platforms will show specific pieces of content to visitors based on IP address.
8. One-to-one marketing for B2C companies
Marketing automation makes it possible at critical points in real time with your consumers throughout their lifecycle. Marketers basically rely on email to reach their audiences, and marketing automation helps to optimize the processes and take the campaigns to an entirely new level.
Here's how marketing automation can help B2C companies:
Provide Multi-Channel programs
Customers love personalized messaging and interaction, and marketing automation allows you to deliver on this expectation. These tools add an extra level of engagement and harness the power behind user behavior to leverage on contact behavior and web-based triggers.
Test and refine messaging and programs
Marketing automation tools rely on education and experimentation so as to continuously perform at the crescendo. An example of experimentation includes A/B testing. Testing various incentives and messaging against different types of audience and segments assists you to hone in on exactly what fits for a particular consumer profile.
Once you have this understanding, you can optimize messaging and programs across numerous campaigns. Such programs also use multi-branch testing to find the best course of action and pull in the suitable messaging. The campaigns normally include retargeting programs, multi-step campaigns, and win-back programs.
9. Follow up with leads instantly
According to a study by Harvard Business Review, your potential customers are 7 times more likely to make a purchase from you if you respond within an hour following their enquiry. The same study discovered that 63% of firms take more than one hour to respond to enquiries.
An easy route to make your investment on marketing automation software to pay for itself is to incorporate a system for responding to leads within an hour once they contact you.
Here's an example on how Marketing Automation Insider responded to an enquiry from Venture Harbor.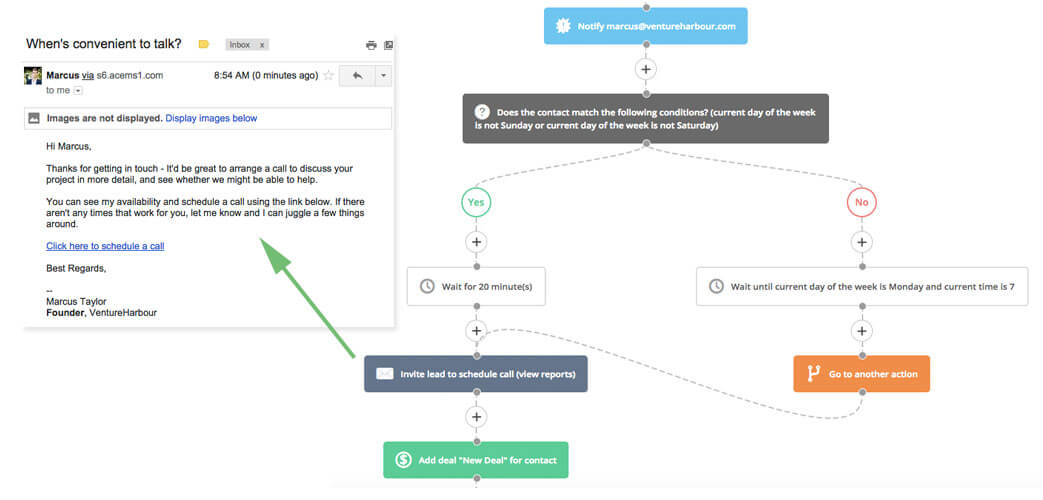 Here's the exact breakdown:
Leads enter the sequence after enquiring from the website of Marketing Automation Insider
The support team is notified immediately about the lead
An email is sent inviting the lead to discuss the project or schedule a call
The deal is included into the CRM system
As you can see, marketing automation allowed the company to respond in less than 20 minutes and make a sale.
10. Consistency
You can rest easy with marketing automation software knowing that your audience on the internet will receive the same and consistent experience depending on their actions.
For example, when a visitor subscribes to your blog, you can set up an automated workflow that sends a welcome email recommending content along with a follow-up offer. Based on the set up of your blog, you can also have your new posts sent to your subscribers automatically as soon as they are published. You don't have to give a thought of manually sending your subscribers and email with the new article.
This ensures that when a user enters a workflow, he'll get an optimized messaged.
It also helps you maintain consistency on social media. For instance, if you're manually posting to Facebook or Twitter, you may remember to post on certain days, but on some days, other work may take priority. If you have tweets scheduled or automated posts, your account remains updated; so visitors know that you are an active business.
An inconsistently updated or stale social media account may give out signs to your prospects of a poorly managed customer communication, or worse, does not give importance to the followers.
Summing up
Marketing automation tools are a must if you are seriously attempting to grow your online presence and gain more followers on social media that ultimately convert into sales. It provides process key metrics, analytics, and handles all your marketing efforts in an optimized way that would be relatively expensive if left in human hands. After all, spending just $199/month on your favorite marketing automation tool to generate an extra $5,000/months seems sensible enough.
Create That 'Aha' Experience For Your Business
7 Techniques To Personalize Your Communication