Customer Profile
Bajaj Finserv, a part of Bajaj Holdings & Investments Limited, is an Indian financial services company focused on lending, asset management, wealth management, and insurance. It is engaged in life and general insurance businesses through its joint ventures with Allianz SE namely Bajaj Allianz Life Insurance Company Limited and Bajaj Allianz General Insurance Company Limited.
The Objective
The influence of digital channels is on a rise across all types of financial buying. Whether it be gathering information during the pre-purchase stage, comparison of alternatives or even the final purchase digital has emerged as a dominant channel.
BCG estimates that by 2020, three in four insurance purchases would be influenced by digital channels during either the pre-purchase stage, purchase or renewal stage.
For Bajaj Finserv it was no different, they registered monthly traffic on-site to the tune of ~1 million. A large chunk of visitors came to look into particular sections of the website but only to leave without sharing any information. Meaning most of the site visitors were anonymous, unidentified.
The marketing team at Bajaj Finserv thus had one aim –
They wanted to make the most of the traffic on the site, convert them into leads to be fed into the sales funnel.
The WebEngage Effect
To make visitors take desired actions on the website, the marketing team at Bajaj Finserv deployed a comprehensive campaign using WebEngage.
The campaign was designed for a segment-specific set of visitors based on their behavior. Bajaj Finserv targeted them with relevant messaging, guided them to relevant pages, thus optimizing the conversion funnel. Here is how they did it:
Generating Financial Services Leads with Onsite Retargeting
A tried and tested approach to attracting eyeballs, thus customer interest is highlighting the benefits of your product. Using onsite retargeting, a set of visitors on the website were targeted with relevant promotional messaging.
In this case, we used WebEngage's targeting rule builder. Returning visitors on the site were shown notifications based on their previous interaction during the last site visit.
E.g. all visitors who visited home loan pages in their last visit when returning, are shown a message prompting them to Apply for Home Loan.

We crack this by dropping cookies in the web browser and tracking users using them.
Also, we used URL targeting that ensured notification is only displayed on the homepage. We also used time delay targeting that defines a minimum barrier/threshold time after which a notification triggers into action.

Guiding users to the next step in the decision-making process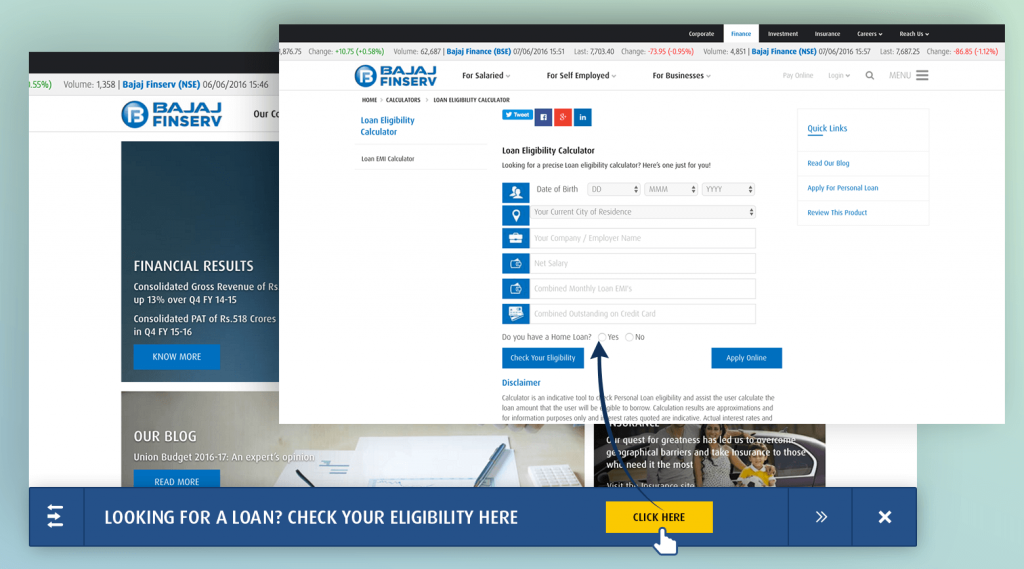 During the pre-purchase stage prospective buyers invariably take actions critical to the completion of the final purchase. In the application for loans, checking loan eligibility is one such critical step.
Using sticky-footer-notification, a micro-segment of visitors were targeted with a message to check their eligibility. As you must be expecting, this micro-segment of visitors had already depicted interest in taking a loan.
Marketing financial services during the pre-purchase phase
Customers buying financial services want to mitigate the risk of post-purchase dissonance. They want to ensure they are making the right choice. This means, they try to look for all the information there is before buying.
One way to assist their decision-making process is done via supplementing customers with content that helps them make the right choice. Bajaj Finserv did exactly that using onsite notifications.
Visitors on the site looking to calculate interest rates were nudged to know more about the benefits of investing in FD. Upon clicking the CTA (know more), visitors were redirected to the blog enumerating seven reasons to invest in FD.
The Result
Equipped with WebEngage's hyper-targeting capabilities, the campaigns run by the marketing team at Bajaj Finserv turned out to be incredibly fruitful.
After using WebEngage, monthly leads for one of the financial services products shot up by 29%. The effect of the increase in leads captured reflected in business numbers; the month on month loan disbursal increased by an impressive 9%. Assisting the right set of users, at the right time encouraged them to act and convert into customers.
Ramp Up Your Lead Generation And Enjoy Faster Growth