Customer Profile
BoxMySpace is an on-demand storage platform for consumers and businesses. It provides safe and secure storage options for consumers looking to rent space to keep their stuff while they are away or if they just want to create more living space for themselves. It also provides warehouse storage for businesses on a pay per use flexible storage model.
The Objective
For all innovation driven startups creating awareness and acceptance of new products is a daunting task. In the initial stages, most of the marketing dollars get spent in creating buzz around the product. Once done right, interested prospects naturally land on the website.
For BoxMySpace, a large part of traffic on website remained anonymous. In essence,
BoxMySpace looked for a solution to convert anonymous users on site into contacts and nurture these contacts to push them lower down the conversion funnel.
The WebEngage Effect
It is estimated that only 2% of site visitors are identifiable, that is, a large chunk of visitors are anonymous. Moreover, it is only logical to make the most out of the site traffic, convert them into leads and nurture them through email drips.
Broadly speaking, visitors on a site have two kinds of purpose – either they want to know, or they want to buy. Underlying the purpose is their awareness; whether they are aware of a solution that meets their need or not.
Through right marketing communication, this awareness gap can be bridged. Lead nurturing aims to do exactly that.
Lead nurturing focuses on developing relationships with buyers by listening to their needs and providing them with relevant information and answers they need.
BoxMySpace devised a comprehensive lead nurturing campaign that began with capturing leads on the site.
To begin with, they deployed a website survey on the site. URL based targeting ensured that the survey is shown on key landing pages. Additionally, a time delay of few seconds made the survey non-intrusive to the user experience.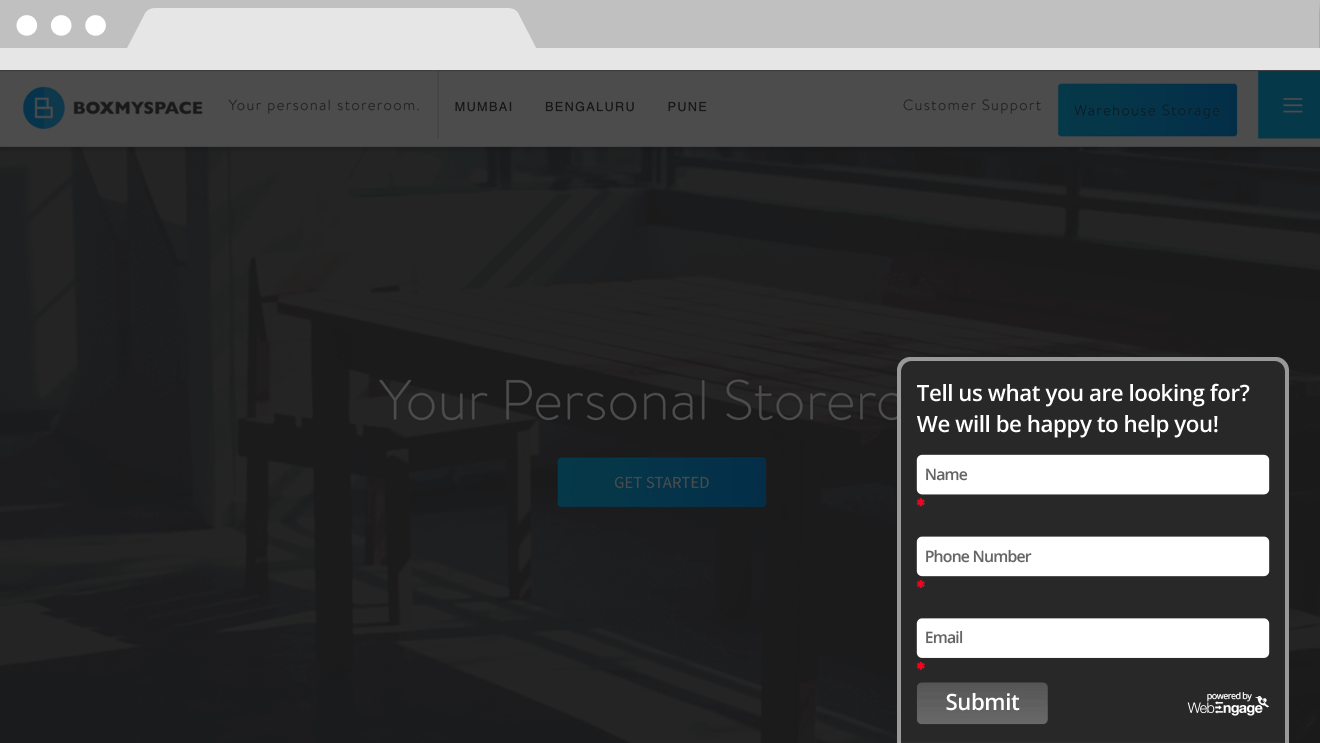 Furthermore, using WebEngage's Journey Designer, BoxMySpace created an automated workflow for nurturing leads collected through WebEngage surveys.
The aim was to convert marketing leads captured through the website survey into sales qualified leads.
BoxMySpace's Lead Nurturing Journey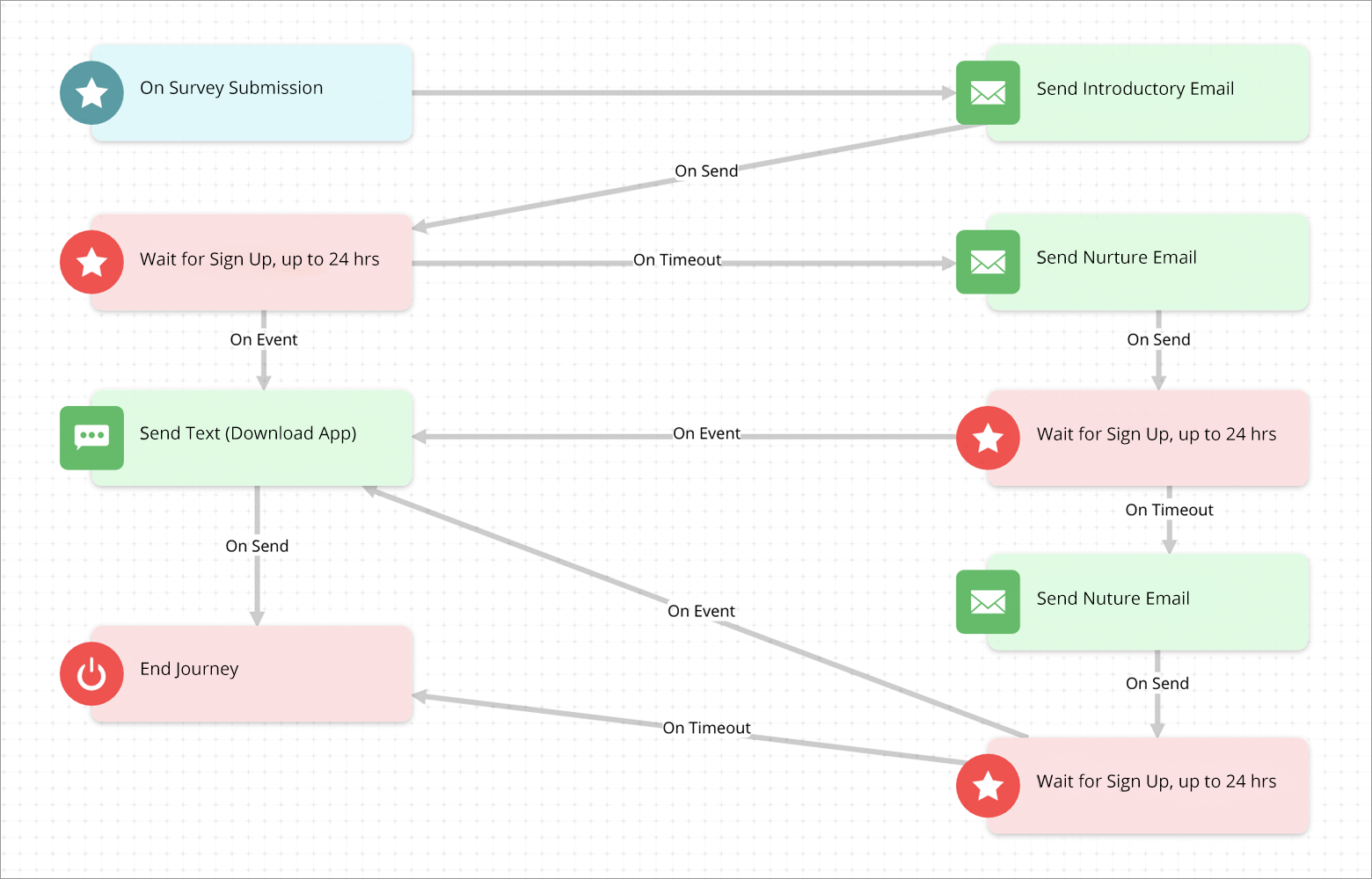 The event of survey submission triggers an automated introductory email sent to the user. The user is now a part of a list of contacts for BoxMySpace.
After sending the introductory email; the system checks for the occurrence of event 'Sign Up' for up to 24 hours.
All the users who have not yet signed up receive the first nurturing email (targeted email).
The nurture emails would contain links to blogs and case studies that promote the benefits of on-demand storage. For instance, success stories of existing clients using storage space rental services, self-storage solution case study, how temporary storage solution is cost effective, among others.
The users who have done the event 'Sign Up' receive a text message urging them to download the 'BoxMySpace Mobile App'. The sending of the text ends the journey for them.
Consequently, depending on user actions the automation engine takes the requisite actions of sending emails, text or ending the journey for users.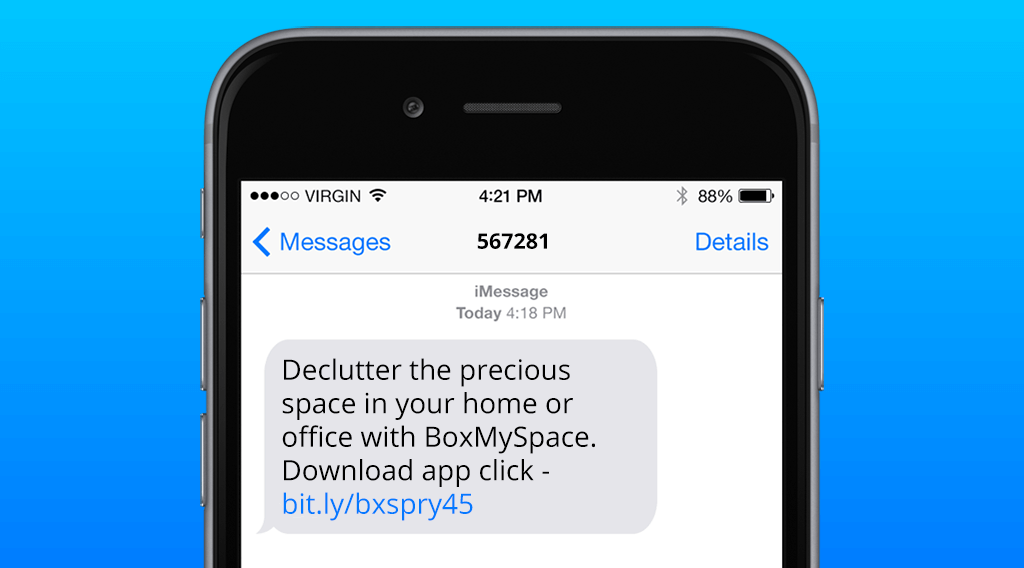 The Result
The results were phenomenal, the response rate for the lead generation surveys (averaged across multiple campaigns) stood at an impressive 4.7%.
Moreover, within the first six months of running lead generation survey on its website, BoxMySpace cumulatively captured 1.2k leads. And, automating the lead nurturing process immensely helped them in converting cold leads to sales-ready leads translating into more revenue.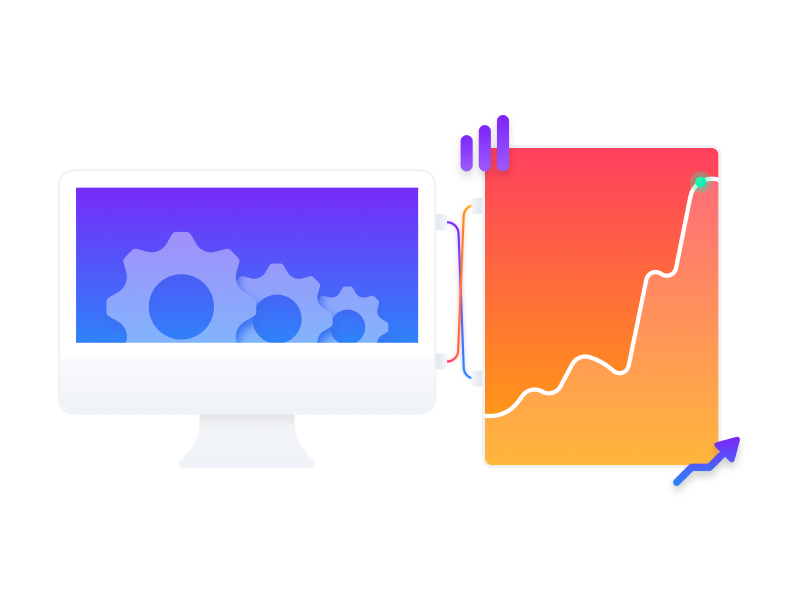 i
Image source: dribbble.com
Uplift Your Lead Generation And Enjoy Faster Growth