Customer Profile
Founded in 2013, American Swan is an International online Fashion & Lifestyle brand that combines Urban American Lifestyle with a quintessential Youth-oriented Fashion: its Spirit, Energy and Authenticity. The brand offers an invigorating twist to the genre of preppy fashion, offering an authentic casual wear range to the youth who seek occasion-led collections.
The Objective
In e-commerce terms, 'Shopping Cart Abandonment' refers to online shoppers leaving your website after adding, at least, one product to their cart.
Cart Abandonment is a major challenge for most online retailers. Baymard Institute pegs average Cart Abandonment Rate at 68.55%, meaning out of every 10 carts created only ~3 lead to sale.
The Product team at American Swan wanted to understand User Behavior while abandoning the cart. Users either abandoned purchase on cart page or payment page. Thus, the product team had two major objectives:
Identify abandoning customers and seek feedback before they abandon the cart.
Understand the reason for abandonment and take remedial actions.
The WebEngage Effect
Statista in its research on Cart Abandonment curated a list of 14 major reasons for customers abandoning checkout before completing a purchase.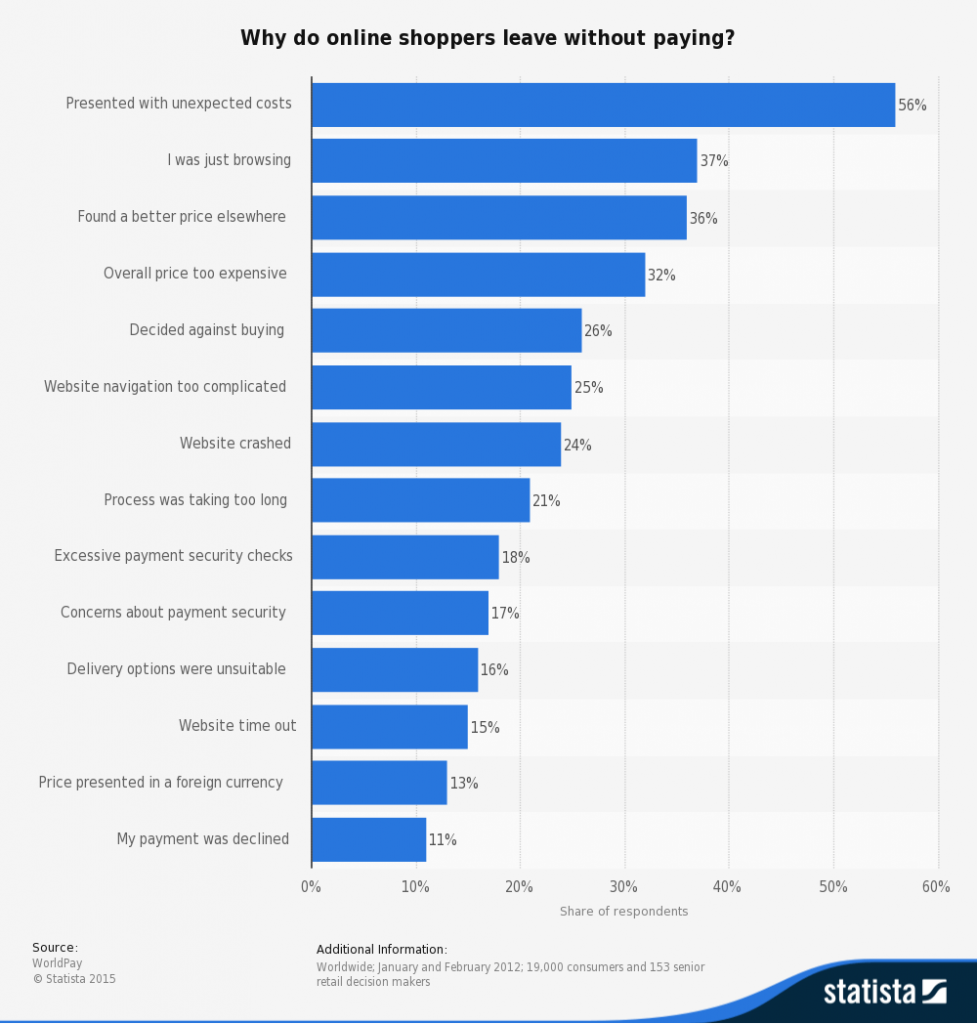 Essentially these reasons are generic; for a site in particular, reasons for cart abandonment can be a combination of these or something new altogether.
The best way to unearth reasons for abandonment specific to your site is to ask your customers. Think of nudging users with an intercept to fill a simple survey just before they are about to abandon the cart.
Product team at American Swan did something similar when they devised a campaign on their checkout page, nudging customers to fill survey just before they abandoned the cart.
"WebEngage's  leave–intent feature clubbed with survey provided the exact solution we were looking for" – Product Manager, American Swan
They set up the campaign using two rules to trigger the survey into action- Page URL and Leave-Intent Targeting.
Setting up Page URL in targeting rule builder makes sure that the survey is active only on specific pages. In this case, all pages that are part of the checkout process for American Swan.
Leave-intent tech (also known as exit-intent) monitors cursor movement. A survey pops up on screen as soon as the cursor moves beyond browsing area (to close/switch the tab/browser). We have seen some great results reining in cart abandonment using leave-intent tech.

The Result
The Survey ran for two weeks, capturing 31k unique views and 2.6k responses, on the whole, registering response rate of 8%.
The result made things strikingly clear, pointing towards improvement in UI/UX, validity of Coupon Codes, etc. The survey results provided valuable insights, such as:
People who stated reason for abandoning as "just surfing around" had very high cart values.
Required refinement in onsite messaging to reduce ambiguity.
Incorporate necessary tweaks in UI/UX based on customer feedback.
Overall, WebEngage helped American Swan optimize their conversion funnel. They were able to figure out lapses in UI/UX and subsequently fix them. The insights gleaned and subsequent implementation led to 20% reduction in Cart Abandonment Rate.
Your Business Has The Potential To Beat Abandonment