Some say that emails are old-school. Some expect emails to die soon. Some are annoyed every time they get another marketing email in their inbox.
Hate them or love them, emails are alive and kicking! Email marketing is one of the biggest ROI drivers in the hood. In addition, emails can be even more cutting-edge and dynamic than any other marketing channel. 
Nevertheless, too often things are moving in the wrong direction. Just take a second and check your inbox. Do you see endless rows of dry as dust, useless emails? I bet you do, just like me.
The truth is that one-size-fits-all email marketing strategy should be history by now. Consumers prefer content which talks to them about the services or products they're really interested in. And more than that, people prefer advertising which speaks to them about them.
The whopping 72 percent of people feel frustrated when marketing content they consume, is not personalized. Here comes the personalized marketing that preaches delivering fitted messages to certain customers.
What makes emails cutting-edge, personalized and effective? First is adopting videos and GIFs in your email marketing. If effectively planned and executed, video email marketing strategy can be a powerful tool for tapping your target audience.
Chanty uses videos and GIFs in email marketing, demonstrate a few examples of how other companies adopt them as well, uncover some pitfalls of this process and share a bunch of truly useful resources.
Are you ready to become an email rockstar? Let's dive in!
Table Of Contents:
1. Sure-fire benefits of emails containing GIFs and videos
2. Tricks to use personalized GIFs and videos in emails
3. How to create a GIF in ten minutes
4. Building your GIF from pictures
5. Building your GIF from video
6. Building your GIF with professional tools
7. How to create videos (almost) effortlessly
8. A few final touches before emails fly every which-a-way
Sure-fire benefits of emails containing GIFs and videos
Short videos and especially GIFs can be cute, funny and shareable. But our question is, what benefits do GIFs and videos deliver to business? Turns out they bring many fruits. Let's do the math:
Easy-to-consume and eye-catching

: Marketers know how it's tough to catch someone's attention today. GIF and video content is ahead of the game because it's way more interesting, dynamic and enjoyable in comparison to static text. Therefore, GIFs and videos are likely to make more impact on prospects and customers.

Sells, but not salesy

: GIF and video format is a perfect way to convince, as it can act like creative visual call-to-action.

Saves time:

GIFs and videos make complex thing easy to understand and, as a result, give more information on a product in less time.

Tinder explains its main features
Fosters customer loyalty: By just adding a hand-picked GIF that perfectly suits the context, you can build trust and user engagement with your brand. As wise men say, a little drop of personalized approach never killed nobody.

Drives people to your YouTube channel

: Facebook page or corporate Instagram account. GIFs and videos can help you do some cross-channel marketing. Just reach out to email subscribers who haven't checked your YouTube channel yet. Embedded video, an image that looks like a video or animated compilation of different videos—they all are a great way to get more eyeballs on your social channels.

Convinces:

Why not add video testimonials or case studies posted on your website to an email? This kind of content might work especially well as welcome email or near the end of the sales cycle.

Sets up for the friendly spirit in cold emails

sent to super valuable prospects. Personal, videotaped email might break the ice between your salesperson and a corporate decision-maker in a big company.

Makes customer's life easier

: GIFs and videos are the perfect software tutorials and new feature demonstration. Just make a one-minute video solving a customer's issue. There is an ocean of tools on the market to do it quickly. For example,

Soapbox

is a free and handy Chrome extension that enables users to record, edit, and share video-explainers in the blink of an eye. Striving for a shorter format? Screencast your tool features and import footages into a GIF format file with

Recordit

. instead of text, GIFs and videos. 
Tricks to use personalized GIFs and videos in emails
Now it's time to grab some useful strategies on implementing GIF and video content in your email marketing:
Test [VIDEO] in the subject line and learn whether or not your audience is potentially interested in getting emails that include a video.

Produce GIFs and videos for specific segments. Consider creating content with a specific segment of your target audience in mind and their unique challenges. Although this approach requires more time and creativity, relevant and personalized GIFs and videos pay off with higher user engagement.

Add a person's name in your subject line, email body, GIF or video. It is the easiest, yet effective way to grab their attention.

Creating a video, use any other relevant personal information like lists of already consumed products or services, job title, etc. That makes your emails more credible and noteworthy.

Insert a bold call-to-action into your GIFs and videos. Keep your emails actionable. You want your clients to take action, not just read through the email, don't you? So, place the download button or the contact form at the end of the video.

Create a sense of urgency. Yeah, you should fight dirty. GIFs are a great method to emphasize urgency. But resist the urge of using those annoying, glittering and flashing elements from the '90s. Adding a little piece of animation is enough.

Headspace is creating a sense of urgency with the sweet 'melting' animation

Don't forget to add a bit of fun and design. GIFs and videos have an emotional impact. They can bring people joy, laughter or whatever else you wish. There is an example of a sweet GIF from Dropbox:

I'm already in love with this Dropbox's dancing man
Introduce yourself to a client. After doing a small research on a prospect, create a personalized video to picture the value that your product will bring to them. It's a good start for nurturing human connections between you. The power of personalized videos can also help your sales reps convert prospects in an easy and engaging way. Just turn on your webcam and record a short video to follow up.


SaleCycle

introduces its sales reps in a memorable way
How to create a GIF in ten minutes
If you need just a mood GIF (not branded, not calling to action), try to explore Giphy, Tumblr or Reaction Gifs. If you are not satisfied with ready-made GIFs, here are two ways to create them yourself:
Animate a series of pictures

Convert an existing video
Building your GIF from pictures
If you've chosen the first option, collect three to ten images which, for instance, demonstrate different products from your online store. Then, use a free online tool to turn them into an animated GIF: GifMaker, EzGif, MakeAGif. These don't require any technical knowledge.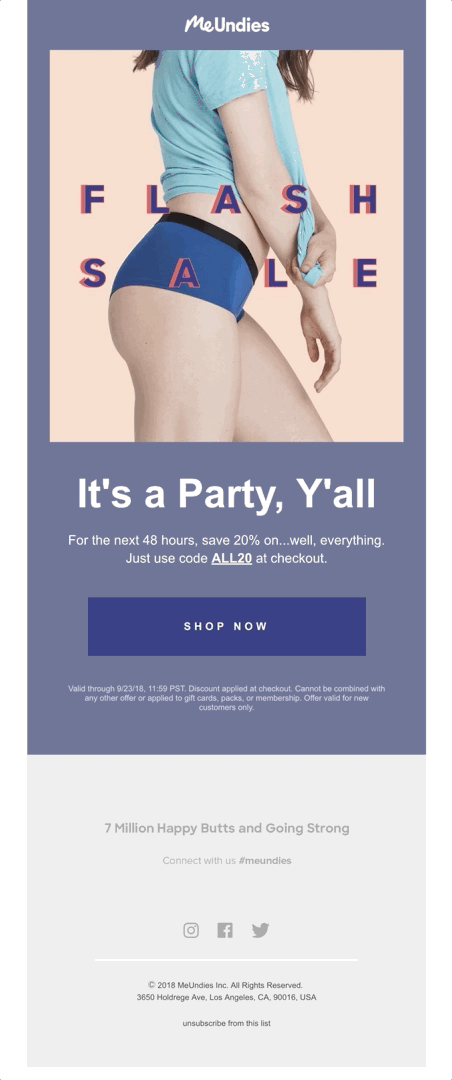 MeUndies showcase their products on sale
Building your GIF from video
Choose an existing video or shoot a short one. Then, convert it into an animated GIF using free online tools like EzGif and Giphy. No technical knowledge needed as well, just an ability to click buttons.
Building your GIF with professional tools
Having some basic Photoshop design skills, you can use it to create lovely GIFs. To be honest, that isn't a ten-minutes approach. Here at Chanty, we've found Photoshop GIF animation a little bit harsh. Therefore, our designers use Adobe After Effects (which requires more skills, frankly speaking). This ends up with a sample GIF project that looks like: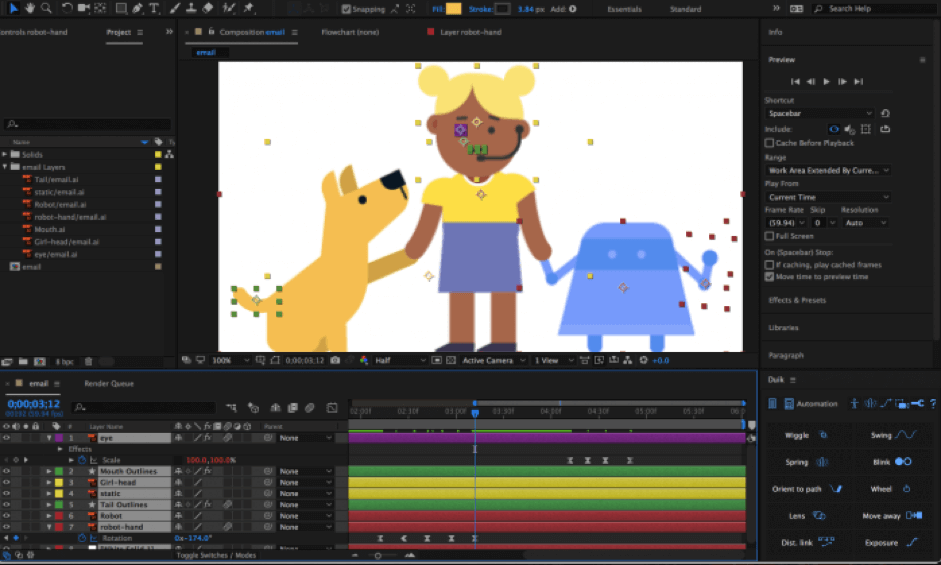 Chanty GIF creation in After Effects
How to create videos (almost) effortlessly
Many marketers who embedded video in emails saw increased CTR and improved behavior factors, increased time spent reading the email, and increased sharing and forwarding. Impressed? Just go for it.

There is an ocean of free and paid video editing tools varying from no-brainer to Hollywood-level. Test the following ones to start making your videos today:
What about video plus customer support? Hell to the yes! Produce personal or FAQ videos to respond to your audience and support tickets. Being a startup focused on customer success, here at Chanty we've tried many tools. The most reliable ones are: Soapbox, Recordit, Bonjoro, Animoto and Lumen5.
A few final touches before emails fly every which-a-way
Make sure a message is clear without GIF or video because things happen to embedded media. What can go wrong? The ability to view embedded content is turned off by default in many email clients. What's more, emails containing videos can end up in spam folders.
But don't give up easily. Simply put an animated GIF in your emails that visually recalls video and redirects users to the page containing the original video.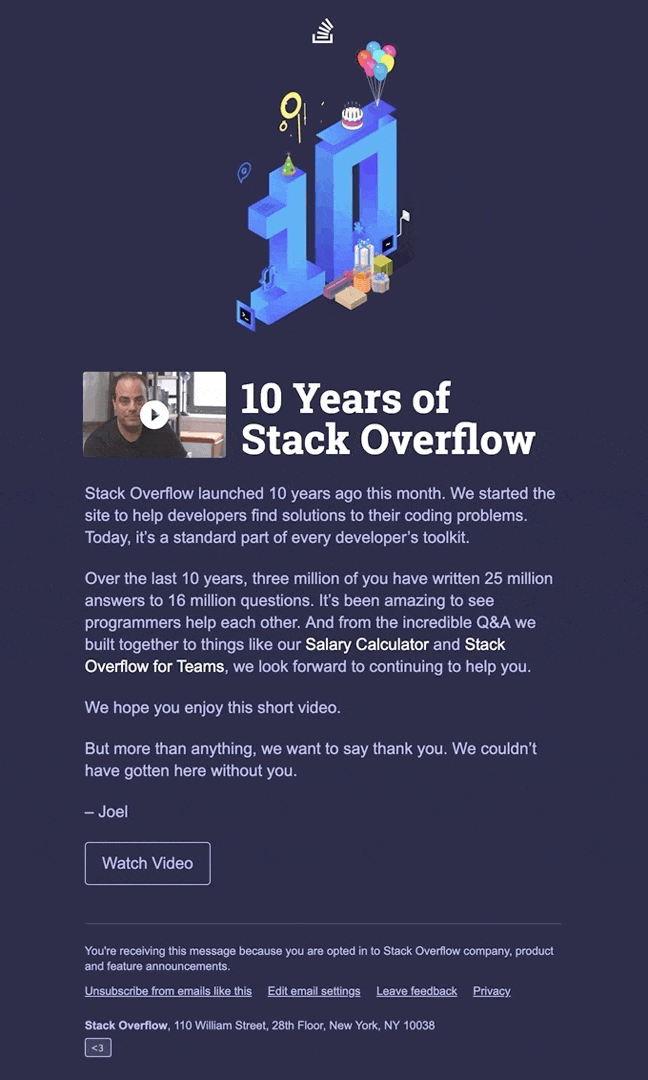 Stack Overflow's 'fake' embedded video
And the last but not least: 42% of email is now opened on a mobile device. As a result, it's become crucial to beat sluggish internet speed and mobile limitations by keeping emails small in size. The majority of marketers agree that email with media content should be around 100KB.
Wrapping up
Digital marketers are always chasing something extraordinary to draw attention to their emails. Using personalized GIFs and videos in emails is today's upbeat trend in online marketing. Everyone is buzzing about it for a reason: GIFs and videos can serve business goals whatever they are.
Experience their benefits personally following the strategies and hacks discussed in the article. From creating an idea to implementation, this guide will help you start using GIFs in your emails today.
Here we've put together the steps for you to take first:
Define the target audience and their needs

Set your goals and pre-plan your campaign

Always add personalization

Be aware of technical limitations
No matter how you prefer to work with GIFs and videos in your email—a funny emoji to bring a smile or detailed product demonstration—you'll definitely catch attention and convert it into desired business objectives. Just give people something exciting to look at in an ocean of dull emails.
Some digital marketers have already turned to personalized videos and GIFs. Let me know in the comments if you had experience in producing such content and mixing different strategies and tools.
Use Hyper-Personalization To Increase Email Conversions By 11%
See how Goibibo, a large OTA company, leveraged Hyper-Personalization.