Customer Journey Mapping for the Hospitality Industry
(Part I)
The hospitality industry, with a global industry revenue of US $550 billion in 2016, is engaging with customers like never before. With weapons like multi-channel Marketing Automation at their disposal, hotels are turning no stones unturned in making the stay of their guests a unique experience. After all, keeping them engaged and interested is a crucial part of their customer retention strategies.
Before you start bestowing 'the most amazing experience' on your hotel guests, it is highly imperative to understand the Hotel Guest Lifecycle.
Robert King explained the basic model of a hospitality guest lifecycle which is given below. It covers everything from on-site (when the guest is a prospect) to post-checkout (when he/she is on the verge of churning).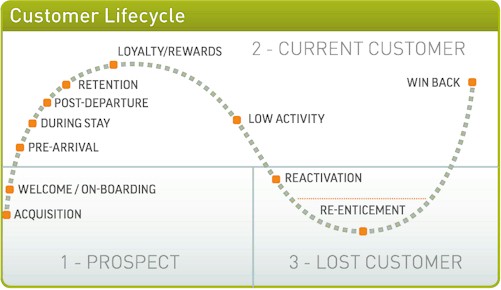 Since we'll only talk about the Hotel Guest as a Current Customer in this blog, allow me to explain the different customer touch points in the hotel industry:
Acquisition

or successful reservation of a room via hotel website or travel portals. At this point, the customer shares all the necessary information like date of check-in, type of room, additional services, etc.

Welcome/ On-Boarding

along with

Pre-Arrival

engagement during which the customer is kept occupied to build relationship and loyalty.     

Check-in and During Stay

when the customer is at the peak of engaging with the hotel services. If he/she is happy and satisfied with the stay, then he/she might be receptive to the upsell and/or cross-sell offers.

Check-out and Post-Departure

engagement which, based on the customer's overall experience, he/she will share the feedback which will either highlight the USPs or the loopholes of the hotel.

Retention and Loyalty/Rewards

in form of membership and loyalty program, special discounts on the next stay, upgraded services etc.
If you want to keep your guests interested and involved with the brand at every stage mentioned above, you'll need to dedicate an engagement strategy for each touch-point to improve your customer retention rate. And this blog will highlight the strategies from the stage of welcome and pre-arrival to check-in.
But before we address the HOW, let's understand WHY engaging during this time is important.
Why is customer retention important? And factors influencing customer retention in the hotel industry
Gone are the days when Hotels were comfortably competing with the likes of their own. Today, businesses like a peer-to-peer marketplace for homestay (Airbnb) and budget hotels (Oyo Rooms) are giving these hotels a run for their money.

Due to the increased sources and channels of discovery (both online and offline), hotels are doing everything under the sun to boost their recognition and sales. They are splurging on paid campaigns, SEO, affiliate marketing, social media campaigns, traditional marketing, etc. This is only making the competition among hotels ever more intense.

With the plethora of lodging options available right at the fingertips, customers are now more prone to Post-Purchase Dissonance or Buyer's Remorse. Hence, communicating the USPs right from the start of the customer journey is necessary. And doing this post-reservation is crucial.

The spectrum of lodging options clubbed with competitive promotional offers is contributing to the drop in customer loyalty towards a particular brand and increase in the need for efficient customer loyalty and retention marketing strategies especially drafted for hotels.

Impeccable customer engagement has been marked as the ticket to success for these hotels. According to

Gallup's 2014 Hospitality Industry Study

, it has a crucial impact on the hotel guests' well-being which ultimately helps these hotels boost their overall growth and bottom-line. If a guest is happily engaged, he/she is more likely to convert into a Brand Ambassador who will not only refer the hotel to others but also be less price-sensitive.

Now that you have gained insights on various factors influencing customer retention in the hotel industry, let's proceed to understand how you could engage with hotel guests and build a connection with them with the help of a simple use-case.
How to improve customer retention?
Use-Case
A new hotel guest onboard through the hotel website. With email id and phone number available, interact with him using multiple channels.
Solution
Right after the customer has successfully booked the room, immediately send an

Email

with booking confirmation and other details like check-in and check-out dates, invoice, contact information, etc. You can also include an

Off-site Survey in this email which will gather information about the trip, preferences, additional services, etc. For instance:

A: What is your purpose of the visit? (Business/Leisure)
B: What is your mode of traveling? (Airplane/Train/Car)
C: What are your diet preferences? (Vegetarian/Non-Vegetarian/Vegan)Desirable outcome: Sending a booking confirmation email with all the necessary details can make the check-in process quick and easy. Besides, the survey asking about the guest's preferences will help provide personalized services to him/her.
A couple of days before the arrival, send a Booking Iteration Reminder in form of a Text Message. Ask the guest if he/she would like to alter or cancel the booking for the minimal cancellation fee. Moreover, you can also inform him/her about the premium level upgrade which can include additional benefits like free WiFi, hotel cab service, exclusive discounts at spa and salon, etc.Desirable outcome: Reassuring guaranteed money back or nominal charges on booking modification is the best way to reduce Post-Purchase Dissonance or Buyer's Remorse.
Moreover, send an Email with information on activities and events happening around the city (during the guest's stay) and/or notable place to visit. Cross-sell services like Hotel Cab, ticket reservation with additional charges, etc.Desirable outcome: As mentioned earlier, engaging with customers to uplift their well-being is the best way to keep them satisfied. And this can be done best by suggesting recreational activities based on their preferences and purpose of visit.
Just a day before the arrival, send a Booking Reminder Email. At this point, cross-sell other hotel services like airport pickup, dinner reservation, spa appointment, etc. You can send send a reminder link on email which you get from an appointment scheduling software. In addition, upsell and offer to upgrade the room and/or in-room services.Desirable outcome: Since the hotel guest is all set for the trip, he/she will be more receptive to any cross-selling as well as upselling offer.
Lastly, send a Text Message providing directions to the hotel (or Google Maps link) and a soothing 'looking forward' message. If the guest has opted for an airport pickup service, share the car as well as contact details of the driver.Desirable outcome: Making the hotel guest feel welcomed and well informed right before they check-in can make him/her feel valued. Besides, this can also help create a positive attitude towards the hotel and its services.
Do it with JOURNEY DESIGNER
Did you know that, for the above-mentioned use-case, you can use WebEngage Journey Designer to create the customer journey workflow in no time? This is how it would look like.
We'll kick-off the journey with a Trigger

which is an event or condition that sets off the Actions in the flow. Since the use-case is for all the new guests who successfully booked the room, we'll select

Segment

as the Trigger. This means that, when a hotel guest enters this dynamic rolling segment, the campaign will start for him.

The Trigger is followed by an Action

which is a campaign element that sets-off when the Trigger is true. As per the use-case, we'll use

Send Email

and

Send Text

as engagement channels. Moreover, we'll tailor their content with the highly dynamic and granular

Personalization

feature. In simple words, user attributes and behavioral attributes (Events) like first/last name, email id, booking reference number, check-in and check-out dates, etc. will be used in the message.

Adding a Flow Control

regulates the workflow of the journey. Since the use-case requires the Actions to go live only after a particular calendar date and time, we'll use

Wait For Date

element. As you can see, we have repeatedly used it for different time frames and connected it to the Actions 'On Send'.

End Journey

element will be included at the end of the journey to conclude the workflow unconditionally.
Want To Upsell Like A Pro?
Use Small Data for Personalization and follow these 5 steps