With over 1.5 billion monthly active users, WhatsApp is the most popular mobile messenger app worldwide, confirms Statista. And the stat itself speaks volumes about the effectiveness and opportunity that your business has to intensify your user engagement across channels.
Like every new feature and engagement channel that's added in WebEngage, we consulted the product and marketing folks (who currently use WebEngage) to understand what's the next important channel or feature to aid them in executing powerful user engagement. And decided to add an important channel of engagement alongside our existing channels viz. email, web and mobile push notifications, in-app messages, SMS, web overlays, and Facebook.
Introducing automated WhatsApp messaging on the WebEngage dashboard!

1. WhatsApp for Marketers: Why use WhatsApp as a channel of engagement?
WhatsApp has quickly emerged as the go-to messaging app across the globe. And unlike other channels, WhatsApp is a platform where your users are most active – talking to their friends and family. Here are a few reasons why companies around the world are excited to add WhatsApp marketing as a part of their user engagement strategy:
1. You can communicate with highly engaged users
As of August 2019, WhatsApp had more than half a billion daily active Status users worldwide, up from 450 million global DAU in the second quarter of 2018. WhatsApp Status is nothing but the Stories feature that's available on other social apps like Instagram and Snapchat. Along with this, WhatsApp also remains to be the most downloaded app preceding Facebook and WeChat so far.
2. You can send multimedia messages
WhatsApp is a chat app that not only allows text-based messaging but a myriad of things that you can send to your users. These include:
Text messages
Photos and videos
Documents
Location
Voice messages
GIFs
Emojis
3. Your messages are secure and safe
Along with the end-to-end encryption provided by the platform, WhatsApp has implemented a layer of manual checks, to ensure the outbound messages from businesses are spam proof and contain only important or relevant information. This empowers you to send relevant, no-frills communication to your users.
4. You can personalize your WhatsApp messages
Although these are automated messages that you'll be sending out to your users, you can use personalized messages. If you're an e-commerce company, you can send an automated message with the exact details like the order number, product details, delivery status, etc. immediately after your user completes a transaction.

5. You can have instant, two-way conversations
WhatsApp being a chatting platform, naturally makes way for instant, two-sided conversations between you and your users. A classic use case would be seeking feedback about the latest hotel booking a user did on your website or mobile app.
6. You can do cross-border, multilingual communication
You can use WhatsApp to communicate wherever your users are across the globe (in over 180 countries). WhatsApp also allows messages in about 65 languages.
Interestingly, you can also localize your WhatsApp messages. Message Templates sent to a user will be localized according to the device locale settings. You can optionally specify a fallback locale for displaying the message if a translation does not exist. Parameters like currency, and dates and times can be localized on WhatsApp.
7. You can create a powerful cross-channel user engagement strategy
WhatsApp almost completes your mobile marketing strategy which includes channels like in-app messages, push notifications, SMS messages, etc. Allowing you to deliver cross-channel experiences to your users.
Karthickeyan
Head of Digital Marketing, K7 Computing
At K7 Computing, we had a hard time figuring out ways to retain users and get them to renew the product subscription. WebEngage's cross-channel engagement has helped us a lot in terms of engaging and retaining our customers effortlessly. Now we're keen on exploring WhatsApp for communicating with our users. Using it as an engagement channel sounds quite interesting!.
Get Started With WhatsApp For Your Business
WhatsApp for your business: Top 10 use cases
WhatsApp can be used to communicate with your users across industry verticals including eCommerce, fintech, foodtech, edtech, cab-hailing,  and others.
Here are the top 10 use cases which can be solved using WhatsApp messaging.

Getting started with WhatsApp on the WebEngage dashboard
Before you start sending automated WhatsApp messages through the WebEngage dashboard, you need to take care of a bunch of prerequisites as mentioned below.
A. Prerequisites for sending automated messages on WhatsApp
Have a WhatsApp Business account
Having a business account on WhatsApp makes you a verified business user and adds credibility as you get a business profile on WhatsApp. This means that even if your users don't have your WhatsApp number saved in their phones, your business name will still appear to them. WhatsApp Business makes interacting with users easy by providing tools to automate, sort and quickly respond to messages.
Solicit WhatsApp Opt-Ins from your users
You must explicitly collect WhatsApp business opt-ins from your users before you start sending automated messages to them. You can collect opt-ins through different methods. If a business is found to be violating Facebook's user opt-in policies then there is a chance that they might suspend your WhatsApp business account.
– Show a web pop-up on your website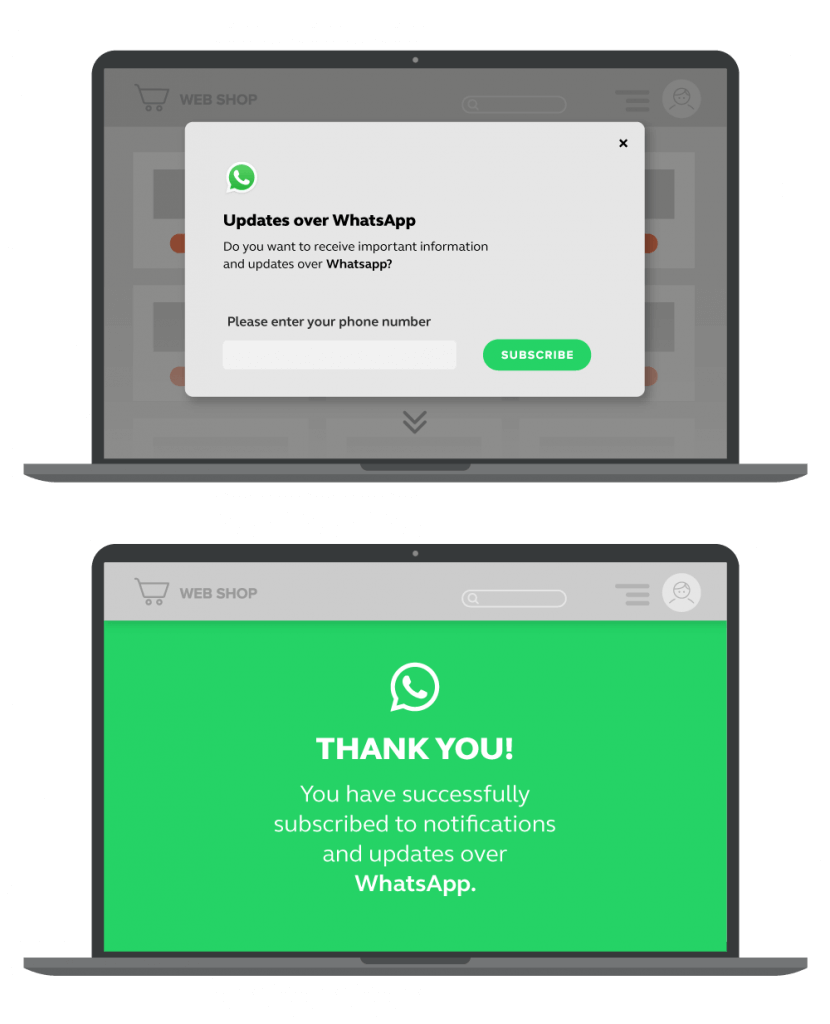 – Create a form or a landing page (and share the link in emails, social media, SMS, etc.)
– Add a checkbox in your existing checkout flow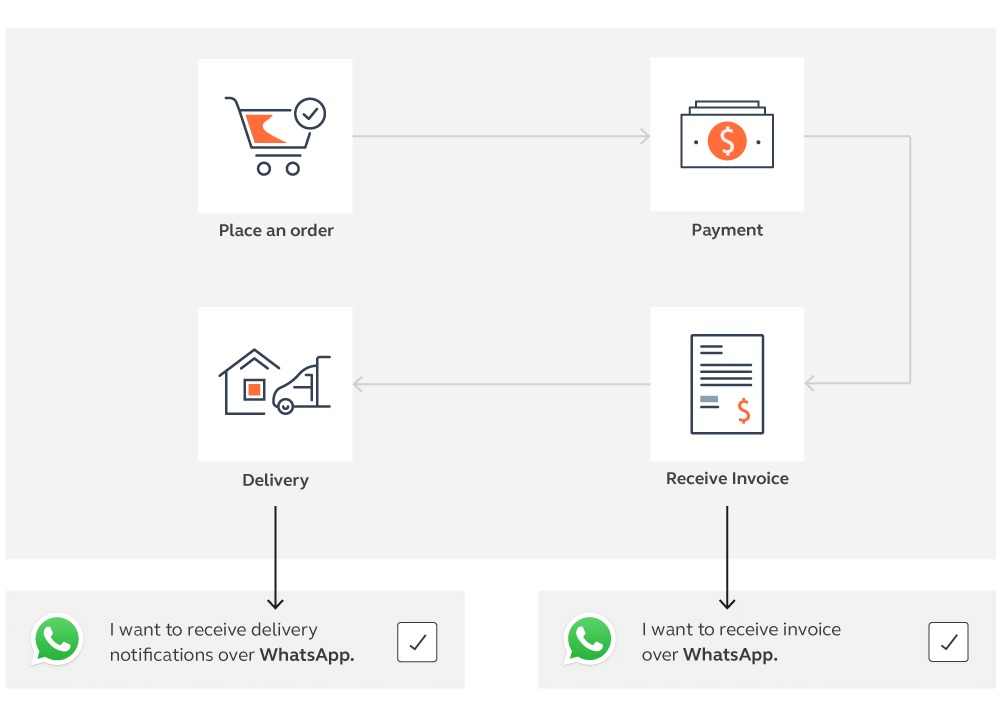 Capture your user's country code
Businesses also need to capture the country code in addition to the user's phone number. If country code doesn't exist, then WhatsApp will try sending your communication by appending the country code of the business's phone number.

Integrate a WhatsApp Service Provider (WSP)
Just like you need to configure an ESP for sending emails or an SSP for sending SMS messages, you need to integrate a WSP to send out your WhatsApp messages using WebEngage. Currently, you can integrate Infobip on the WebEngage dashboard. We'll be adding more WSPs soon! Refer to our product documentation for more details.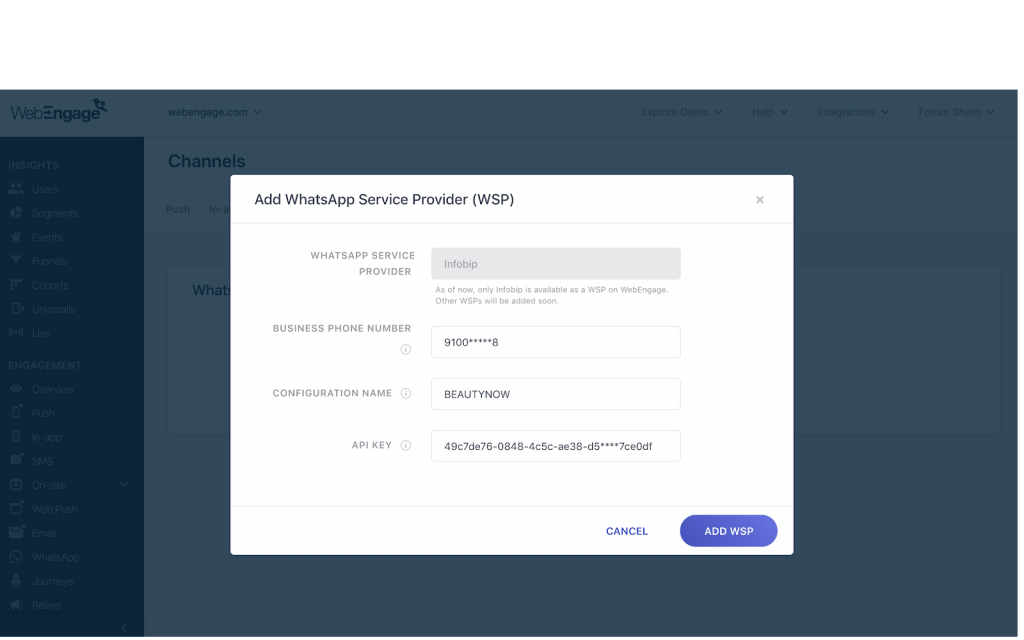 Add whitelisted WhatsApp templates on the WebEngage dashboard
Now that you're ready with your reachable audience (opted users), sender platform (WSP integration on the WebEngage dashboard) and other prerequisites, you can start creating your message copies by including personalization tokens and relevant content.
However, here's the most important part of creating your WhatsApp messages. What's important is getting these messages whitelisted by Facebook.  The best way to get your templates approved is to do it with the help of your account manager at the WSP (Infobip as of now) that you'll be using.
Once you have the templates approved, you need to copy and add them on the WebEngage dashboard under Channels>WhatsApp>WhatsApp Templates.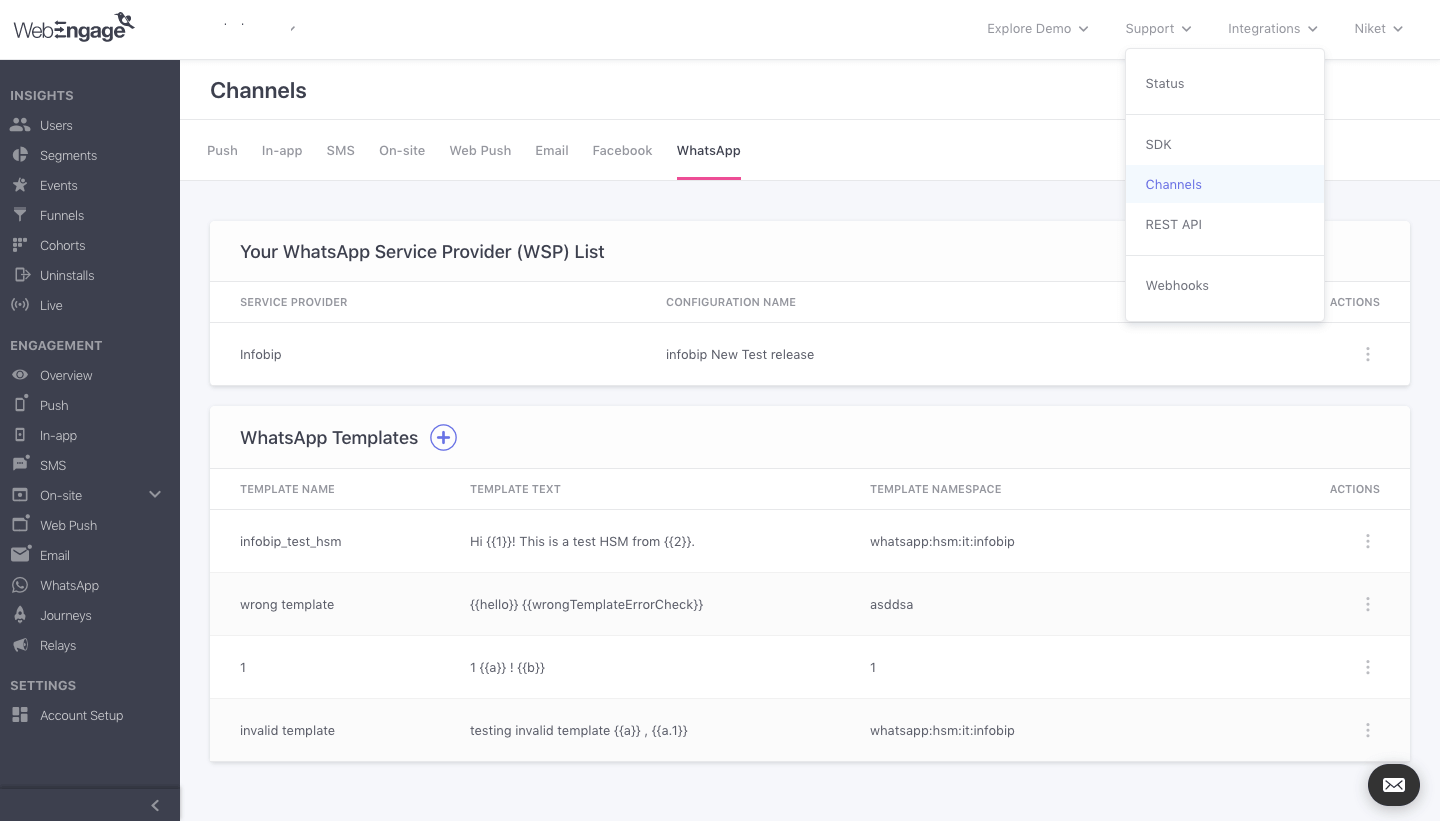 These templates will then be stored on the WebEngage dashboard and can be used when you create messages for your WhatsApp campaigns.
B. Creating a WhatsApp campaign on the WebEngage dashboard
Once you've got all the above-mentioned prerequisites in place, you can start automating and sending your WhatsApp messages using the WebEngage dashboard.
Creating a WhatsApp campaign through a channel or a journey.
Step 1: Go to WhatsApp under the channels list
Select the Type of Campaign that you wish to send. You can choose from one-time, triggered, recurring or transactional.
Step 2: Define the Audience
Give a unique name to your campaign and then select the user segments you want to target. One of the key differentiators of successful campaigns is that they're tailored to the behavior and preferences of a specific group of users. Thus, you can create highly contextual WhatsApp campaigns for a specific group of users by selecting a Segment from the dropdown placed beside, Send To, as shown below.
Step 3: Specify when to send
As highlighted in the video below, the next step of campaign creation allows you to specify when and how often you'd like the target audience to receive the Message and manage the role your campaign plays in your overall engagement strategy. Hence, When has been divided into two sections: Campaign Type & Schedule Frequency Capping & DND
Step 4: Create your message 
Just like other channels, the message creation interface comes loaded with intuitive features like Variations, Personalization and Message Preview – enabling you to create high impact messages in minutes.
You must choose a template from all the available templates which you would add on the WebEngage dashboard, earlier. The text will appear as it is like you would define it while getting your template whitelisted.
Next, you can define the values of your variables like the first_name and event_name, etc.
Check the preview, save and test your campaign. Move on to defining your conversion metric and launch your campaign!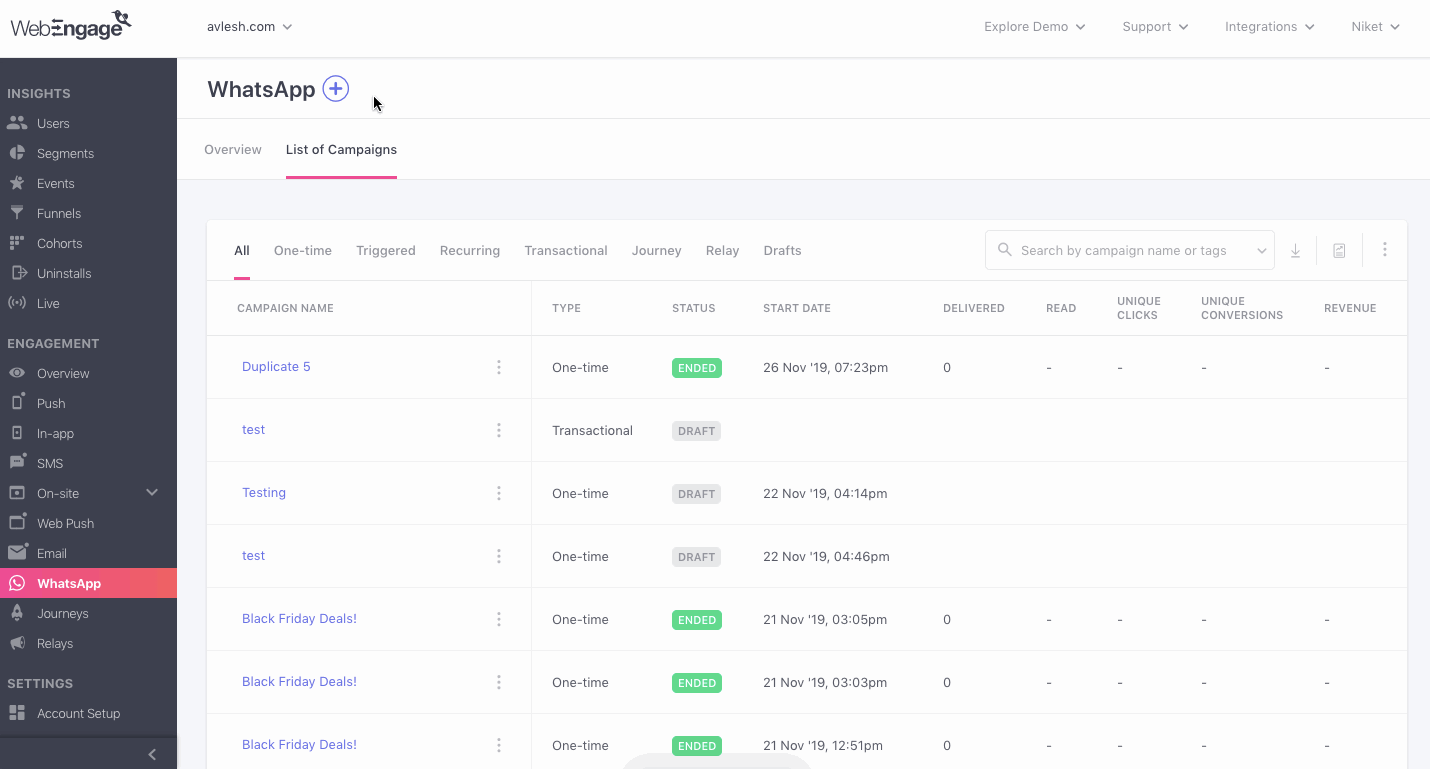 Measuring the performance of your WhatsApp campaign on the WebEngage dashboard
You can analyze the performance of each of your WhatsApp campaigns on the WebEngage dashboard by looking at the following metrics:
Delivered: The number/percent of messages delivered to WhatsApp
Read: The number of users who see your WhatsApp messages
Unique Clicks: The number of  unique users who click on the links that you add in your WhatsApp messages
Unique Conversions: The number of unique conversions that happen through your WhatsApp campaigns
Revenue: The revenue generated through your WhatsApp campaign
Additionally, you can get an overview of all your WhatsApp campaigns (shown below).  There's a lot more to analyzing your WhatsApp campaigns. Once you start using it, you can dig deeper.

Summing up
With over one and a half billion active users on WhatsApp, brands across the globe have actively started adopting and including WhatsApp as a part of their user engagement strategy. It facilitates two-way conversations and enables powerful cross-channel user experiences. Further strengthening your mobile marketing strategy.
Some of our existing clients have already started using WhatsApp alongside other channels available on the WebEngage dashboard.
Get Started With WhatsApp For Your Business