There's no denying it – consumer voice search numbers are on the rise. We all know about this popular study from Comscore estimating that 50% of all searches made by 2020 will be through voice. Google has also started to track voice search stats, giving definitive proof that people have started to use voice search to make shopping lists receive info about deals and promotions from brands, and to order stuff off the internet.
In other words, people have already started to shop using voice search, and it won't be long before you, as a business, will HAVE to adapt to this shift in user behaviour. The good news, however, is that you won't have to do too much if you want to optimize your business for the voice search revolution. But more about that later. Let's focus on how voice search will affect businesses in the next 3 years.
To ascertain how voice search will affect businesses in the near future, we also need to look at two things:
Where do the worlds of voice search and businesses collide?

What are the devices that will power users to affect businesses using voice search?
For the most part, these are the two things that will help us judge how voice search will affect businesses. Let us now answer each of these two questions in detail.
Where do the worlds of voice search and businesses collide?
Table Of Contents:
1. Business discovery
2. E-commerce purchases
3. The advent of other technology
4. Smart speakers
5. Wearable Tech and other Smart-Assistant powered devices
Business discovery:
While users are driving around, or just getting ready to head out to eat or shop, they tend to use voice search for searches instead of text. Cases like these, where users talk to their smart device and completely avoid using touch/display interfaces will affect businesses directly.
E-commerce purchases:

In the future, it will soon be possible for consumers to complete a purchase using nothing but voice search. Third party apps or other e-commerce giants might give users the power to completely go from product/service discovery to purchase using nothing but voice, and this will cause a need for businesses to be ready for a voice-first world.
The advent of other technology:
With the rise of products such as Apple Pay coupled with Face ID on the iPhone X, etc. we are already moving towards a scenario where touch and text input will be used lesser. Primitive ways of making quick purchases without using a smartphone or a computer have already started seeping into consumer households – take Amazon's Dash Buttons, for instance. All that a user needs to do is click a button, and the household item will be delivered directly to their doorstep. It will be only a matter of time before technology like this will become voice activated.
What are the devices that will power users to affect businesses using voice search?
Smart speakers:
Alongside the rise of voice search in smartphones, there has also been an increase in the production and purchase of voice-enabled smart devices like smart speakers and wearable tech in the recent past. Two of the leading sources of consumer voice searches have been Google Home and Amazon Echo. It is estimated that 500,000 Google Home devices were shipped during 2016. Amazon sold an estimated 4.4 million units of the Amazon Echo during the first year of sales.
Wearable Tech and other Smart-Assistant powered devices:
Surveys report that 56% of online grocery shoppers already use or plan to use voice search enabled smart assistants or speakers to make their purchases. Increase in the purchase of wearable tech and the difficulty in using text inputs on these devices will increasingly contribute to the prominence of voice search in the coming years.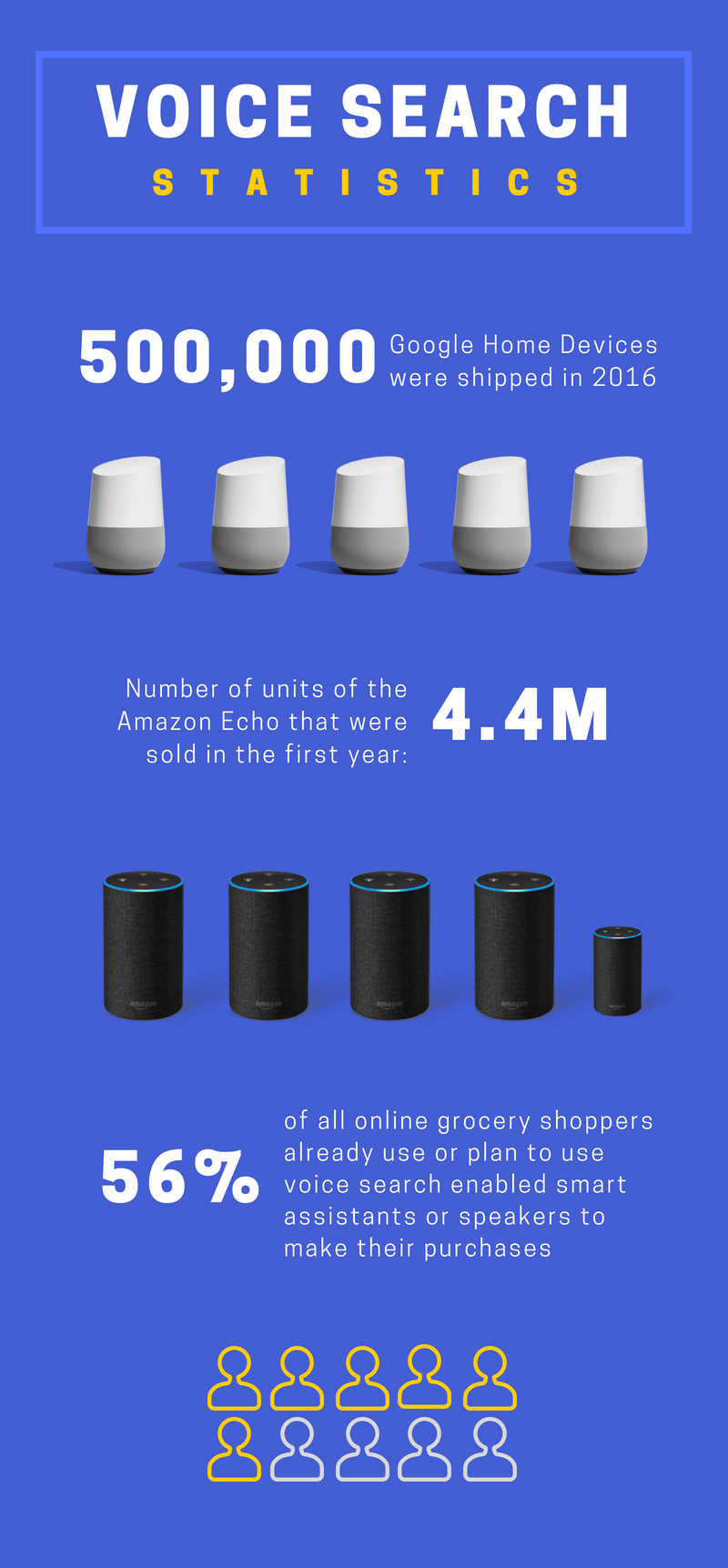 How will voice search directly impact the way businesses operate?
At this point, it goes without saying that voice search will demand businesses to change their SEO strategy, while also presenting them with several opportunities to expand their business' marketing. These are some of the major things that will occur in the near future owing to the rise in voice searches:
Partnership opportunities:

Walmart is already

partnering with Google

to enable voice-based shopping. More opportunities such as this for letting businesses allow transactions and sales from customers to take place using voice only might pop up in the next few years.

Focus on digital marketing spends:

Businesses that want to leverage voice search to improve their online marketing will end up spending more on digital marketing and reworking their SEO for voice search soon.

FAQ Strategy:

Since voice searches greatly involve questions, there is bound to be an increase in search queries that start with 'who', 'what', 'when', 'where', and 'why'. To tackle this, businesses will shift to a strategy that involves them adding a lot of FAQs to their resources/websites to let users get the right answers concerning the business.
What should businesses do to prepare for the voice search revolution?
Different smart devices use different sources to get their business and listings data. Google Home, it goes without saying, uses Google My Business for its listings, Apple Watch and Siri use Apple's MapConnect, and while it is still not clear where Alexa pulls its data from, it is widely agreed that it is from either the repositories mentioned above, or from one of the four major data aggregators.
Consumers are not going to stop checking out business location alone, either. They're going to want data about your business hours, how expensive it is, and what the reviews of the business are like.
If businesses want to stay ahead of the curve and optimize for the voice search revolution, they will undoubtedly have to do these things:
Get listed on all major platforms online. If you feel like it's going to be difficult to manually list your business with rich data on every single platform, then you can use a

listings management tool

like Synup to get the job done.

Maintain a good online reputation. You can work on improving your online star ratings by using a review generation wizard as well.

Work on your business

website's local schema

and build content to improve your chances of getting on

position zero of Google

Get your website's

local SEO

done right in order to improve your chances of ranking higher on local searches

See how your business is showing up on voice searches by using a

voice readiness test tool

. This will help you gauge how customers will find about your business on voice searches, and spot incorrect/missing data on your business listings
This is pretty much all that you need to do in order to make sure you are ready for voice searches. In the coming years, we are bound to see several changes in the voice search realm, ones that concern smart assistants like Siri, Cortana, and Alexa, as well as chatbots for businesses and third-party apps that can change the game for businesses.
Make sure that you keep yourself in the loop with rising voice search trends and changes in local SEO to keep your business optimized for consumer discovery and e-commerce transactions.
2019's Most Talked About Martech Trends
3 trends everyone talked about