Ho..Ho..Ho..
Less than a month on the calendar, you can hear the bells ringing if you listen carefully. The most lovable guy from our childhood is back on his sleigh with his buddies. It's Christmas time!
And, it's also sale time all over. Deals, offers, promotions and loads of Christmas marketing tips. Colorful flyers, mails and the big revenue pie, for the grabs. This post is about helping you have a bigger bite of that pie.
In this post, I would cover 6 tips for boosting your online sales this Christmas that has seen upto 37% jump in sales for many e-commerce websites.
Table of Contents:
1. Create a 'Christmas deals page'
2. Set up your marketing
3. 360-degree content campaigns
4. Make sure your website is fast loading
5. Divert traffic from home page
6. Be transparent with your terms
1. Create a 'Christmas deals page'
Highlight the products or categories that will have the most jaw-dropping deals from your site, this Christmas. Include links or snippets to relevant blog pages to increase user engagement on your page. Create a page of high quality and benefit from it while creating search ad campaigns (explained consequently).
2. Set up your marketing
Email marketing: Create an email marketing campaign with a buildup leading to the Christmas day sale. Assign emails to be sent at regular intervals to build the mood and one final mail just before the sale starts.
Google ads: Once you create a dedicated deals page for Christmas sales, you will have a quality score better than many who have not. This will help you reduce costs when it comes to bidding for the coveted keywords.
Social ads: Focus on Pinterest along with Facebook and Twitter. These three social platforms come to the top of the list because of two reasons: traffic and visual appeal. Create beautiful looking GIFs and target them towards your desired audience.
3. 360-degree content campaigns
On your blog, create content (videos, infographics and posts) with Christmas as the central theme. Some suggested topics might be, gifting ideas for family members, fashion trends for the festive season, celebrate a gadgety Christmas and alike.
Promote this using the loyal social media following you have and also include snippets in the email campaign. Keep in mind, that all your outreach channels (social, emails and website) should speak the same language and tone. Build a brand dripping in Christmas festivities.
4. Make sure your website is fast loading
Nothing irritates more than a morosely loading website. In times of a sale, that maybe the biggest bet you took to lose. To make sure you are doing things right, ask your visitors about it. Run a survey on your product pages asking if the website loads fast enough or not and you'll have a clear idea. Something like this:
5. Divert traffic from home page
If you are an e-commerce portal boasting a loyal audience, more often than not, people will land on your homepage searching for deals and offers. Tell them, there are deals and there will be more during the Christmas sales campaign. Divert them using a large banner on your homepage or with a little nudge (this is where we can help you).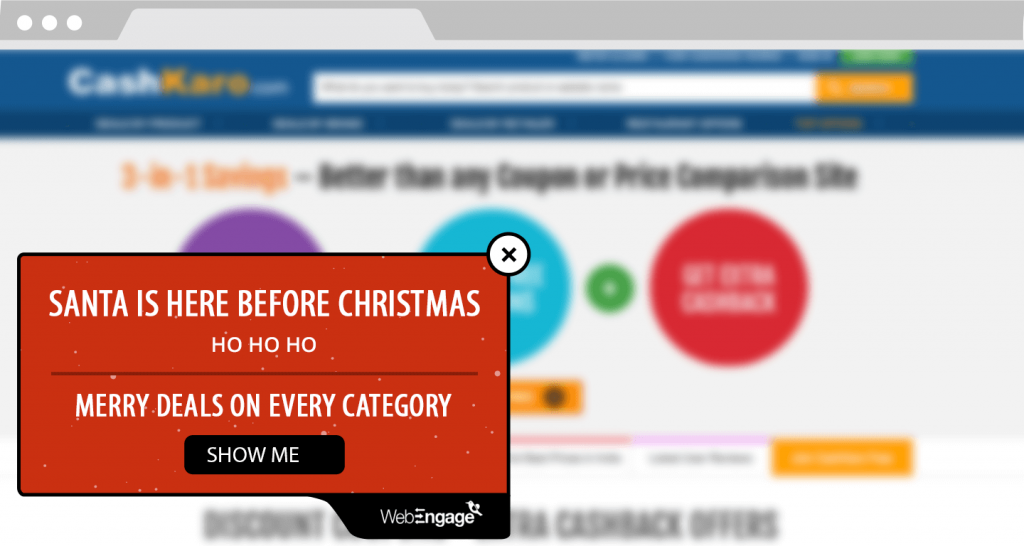 6. Be transparent with your terms
It's Christmas, and everybody understands that you won't be able to service the orders via your one-day delivery. This does not irk them. What irks them is, them expecting it and you mentioning that you cannot, under asterisks in small fonts.
Run a footer, making it clear that you won't be able to do it and at the end you might lose on few orders but will have great customer loyalty and satisfaction.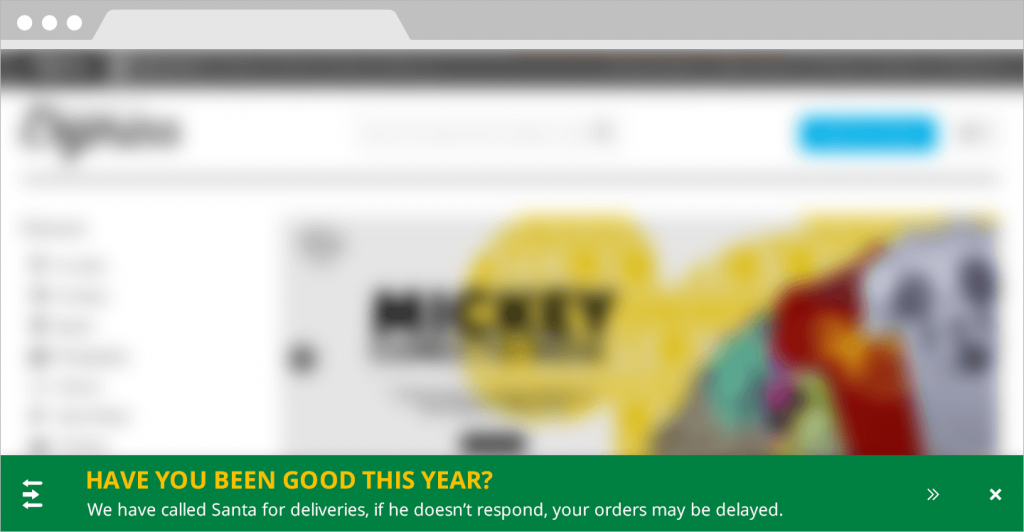 More than mere Christmas sales ideas, I tried to present you an assortment of off-site and on-site marketing and product fixes you must do and can do, given the time left for the festivities to start. For all we know, festivals bring happiness to different people in different forms, we wish it comes to you in forms of a much bigger GMV.
That's all folks! Wish you a Merry Christmas and a fantabulous year ahead.
Happy Marketing!
Convert Your First Time Visitors Into Buyers
Use these 4 brilliant strategies