Welcome to WebEngage! You're now one step closer to becoming a Retention champion! Please press play to listen to the audio version of the blog.
Did you know 75% of your loyal customers are prone to recommend your brand to friends and family? For any size business, there are three essential goals – sales, customers, and leads. You need to take care of your customers to build and successfully run your business. Read along to find out hand-picked retention marketing strategies to win your customers' loyalty!
Too many businesses underestimate the importance of customer loyalty. Loyal customers help your business grow, expand, and tap into new markets. Moreover, customer loyalty also helps you with customer retention and acquisition. In addition to this, it improves your brand's image and helps you generate higher returns.
This is why you must focus on retention marketing strategies to win the trust of your customers and turn them into loyal customers.
So, let's look at four of the most effective and powerful strategies to win your customer's loyalty. Let's dive in!
1. Provide excellent customer support
2. Engage strongly with your customers
3. Streamline your customer experience
4. Personalize your communication
1. Provide excellent customer support
Did you know that 60% Americans are willing to pay more if the brand provides customer support? So, if you want to win customer loyalty, you must provide good customer service. That will encourage your customers to stay with you for a longer amount of time. And, poor customer service will drive away 23.5% people. As a result, your customers might even switch to a different brand.
Zappos has mastered providing excellent customer service. For instance, they helped a couple get back their expensive jewelry. The husband mistakenly packed it in one of the boxes to be returned to Zappos. After learning this, the representative handling the case tracked down the box. And helped the couple by delivering it personally.
Moreover, brands can also use social media to provide exceptional customer service. Starbucks is one of the best examples. They leverage the power of social media and are known for their prompt responses.
They invite their customers to ask the brand any questions or doubts about stores, contests, or products. As shown below, they always ensure to reply to their customers immediately.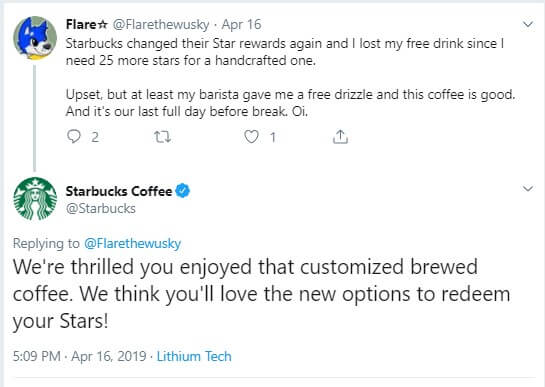 Image Source – Twitter
2. Engage strongly with your customers
If you want your customers to be loyal to your brand, you need to increase your user engagement rate. You need to think of 'out-of-the-box' ideas to create engaging content for them. However, there is no one single way to engage with your customers.
JustFab, a clothing brand from the UK, organizes a giveaway to engage with their customers. The winners get to enjoy the incredible sights from the South of France for three nights. The post on Instagram includes the steps consumers need to follow to enter the contest, and when the winners will be announced.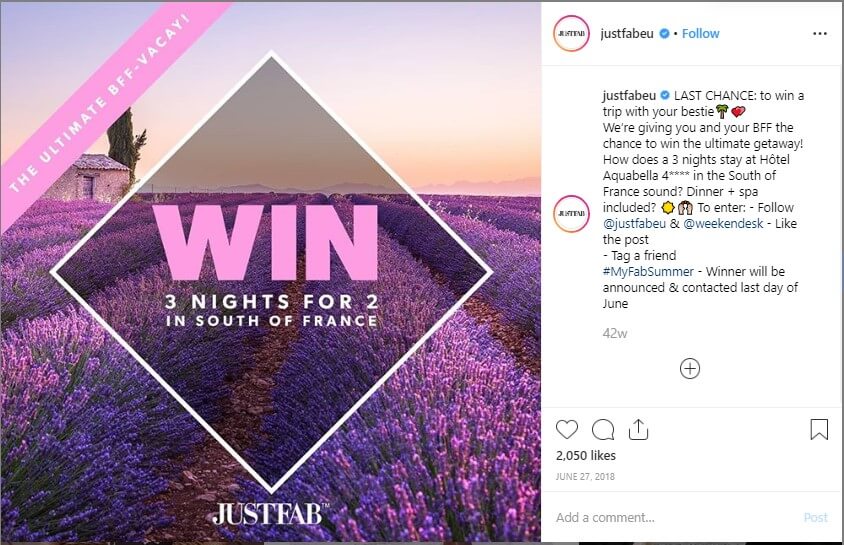 Image Source – Instagram
Offer special promotions
One of the best ways to increase customer loyalty is by offering real value for their money. You can organize special promotions or discounts and enable your customers to get high-quality products at discounted prices.
In addition to this, you can also provide discount vouchers. In fact, 61% consumers state that they would be loyal to a brand if they could use discounts and coupons. You can also provide personalized recommendations to your customers since 38% of companies provide personalized offers and promotions to their customers.
As per Salesmate, when you have a first-time customer, you can offer a 10% to 20% discount on their next purchase. According to a Marketwired report, there are 54% more chances that you will get the customer back again if they came back for a second purchase.
This tactic will not only help you win customer loyalty but will also help you with customer retention.
Uber is a perfect example. They offer exclusive deals to their customers to increase their loyalty.
Image Source – Frequent Miler
Similarly, Pottery Barn Kids provides exciting offers to its customers.

Image Source – Pottery Barn Kids
3. Streamline your customer experience
Gamification of customer experience can be difficult to pull off, but it is worth it in the end. Consider introducing a sense of progression whenever a customer interacts with your brand. This way, you can tap into that primal part of the human brain that thrives on the feeling of instant gratification.
Award badges or special promotions to customers who achieve a certain milestone or complete a particular task while using your product. The video gaming industry is already known for employing such a concept.
But you can expand the concept to work for your brand as well. Companies like Fitbit have achieved good success by introducing similar aspects to their products.

Image via Develop Good Habits
Pace up the end-to-end process
Depending on how your business operates, this could require a lot of time and effort. The key here is to reduce the number of steps needed to complete a transaction from start to finish. That includes everything from the first time you catch a customer's eye to the post-sale service.
Regardless of whether you're a brick and mortar business or an e-Commerce one, streamlining your customer journey is the way to go. Each extra step in the journey increases the chances of your customers walking away. Eg: Reducing the steps involved in the check out process while making a transaction on any online portal.
So, how do you go about it then? One emerging trend is relying on automated CRM tools. They're capable of organizing your entire sales process and making engaging your leads and customers easier. But the biggest benefit is how well it helps you manage your relationship-building activities.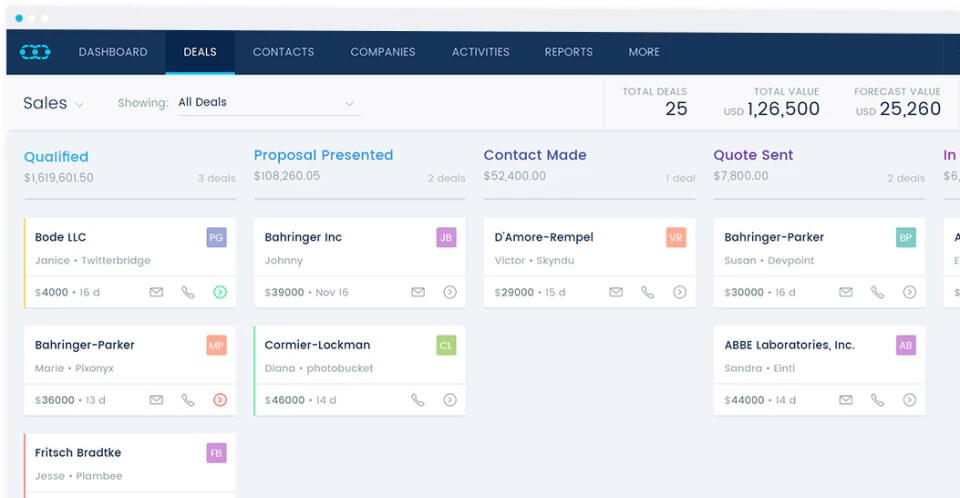 Image via Salesmate
Fast food giants like McDonald's have attempted to improve the sales process with the addition of self-service ordering kiosks. This allows them to drastically cut ordering wait times without increasing their staffing requirements.
When it comes to online shopping, platforms such as Amazon introduced features like 1-click ordering. This allows existing customers to purchase items with a single click. It's facilitated by using the billing, delivery, and payment information that was already linked to their respective accounts.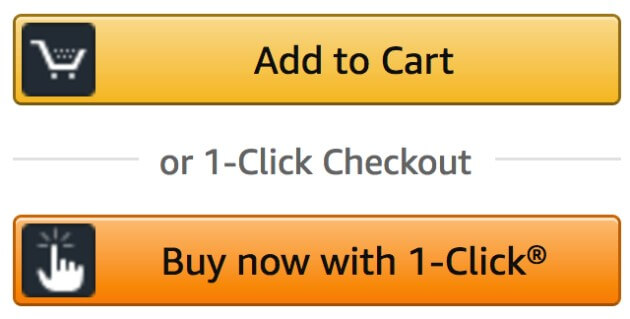 Image via Amazon
4. Personalize your communication
Personalized communication with customers is an efficient methodology to win customer loyalty. Numerous promoting automation tools such as WebEngage or braze will facilitate brands during this process.
Marketing automation becomes more effective if brands focus on these three aspects:
Verified Data: Collection of the customer's data from verified sources which leads brands to correct understanding of their customers' behavior.
The right way of communication: Brands can choose the appropriate methods for each customer so they can provide a more personal feel.
CreativIty: Delivery of message should be in a non-robotic way which generates a great feeling among the customers.
Ulta Beauty is a brand that goes the extra mile to surprise their loyal customers with gifts on their birthdays.
Final thoughts
The best part of these customer loyalty strategies is that they are effective for small startups and big Fortune 500 companies. However, you need to keep in mind that these strategies cannot generate the desired results overnight. As with any marketing strategies like building links or creating a new content marketing campaign, you'll need to be patient to see any visible impact.
Do you know any other super effective strategies to win customer loyalty? If so, please feel free to share your ideas in the comments.
See How Chaayos, An Offline Cafe Chain, Improved Its Customer Retention