Even if you are doing everything right, you can only convert around 2% of the visitors on your ecommerce website. A majority of marketers are well aware of this fact and still spend most of their time and money on customer acquisition marketing. Only 18% of companies focus on retention whereas 44% focus more on acquiring new customers, according to Invesp.
Marketers believe that getting more customers is the most effective way to boost your ecommerce revenue. They tend to forget that there are two other methods that come under retention marketing:
Increasing the number or frequency of purchases

Increasing the amount or value of the purchase
According to the Invesp report cited earlier, the probability of selling to an existing customer is 60-70%. But if it's a new customer, the probability drops down to 5-20%. Let's take a closer look at how retention marketing can help to boost ecommerce revenue.
1. Send out highly personalized email recommendations
2. Work with influencers to re-engage existing customers
3. Revamp your loyalty program
4. Re-engage customers through social retargeting
5. Reward your loyal customers for brand advocacy
6. Re-engage customers with attractive and limited-time offers
1. Send out highly personalized email recommendations
Personalized product recommendation emails can increase your click-through rate (CTR) by more than 300%. A higher CTR means that your recipients are engaged and there is a higher chance of getting them to convert. In other words, personalized recommendation emails can not only convert but also retain your customers.
Personalization ensures the relevance of the subject matter. In the case of emails, relevance is the key to achieving a high click-through rate.
Product recommendations can be of different types based on different scenarios. You can recommend your new products, complementary products, best sellers, etc. based on their browsing or purchase history. You can also remind your customers about an abandoned cart.
Amazon regularly sends out product recommendation emails personalized according to the product categories and product types that a customer often buys.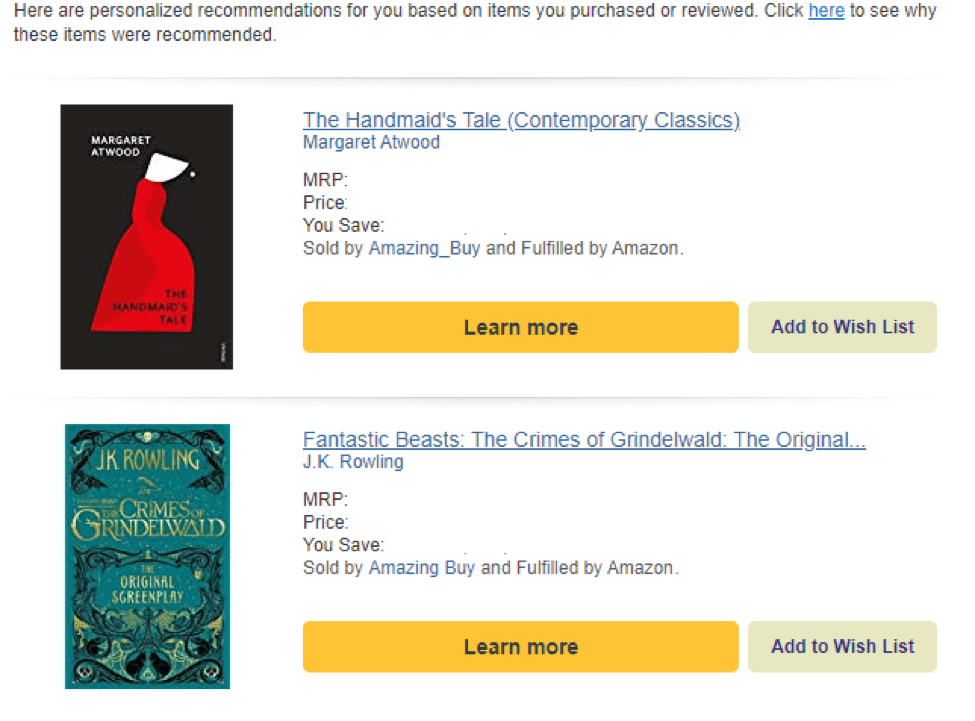 EyeBuyDirect.com got a 175% increase in email CTR and a 30% increase in conversions after adding personalized product recommendations in emails.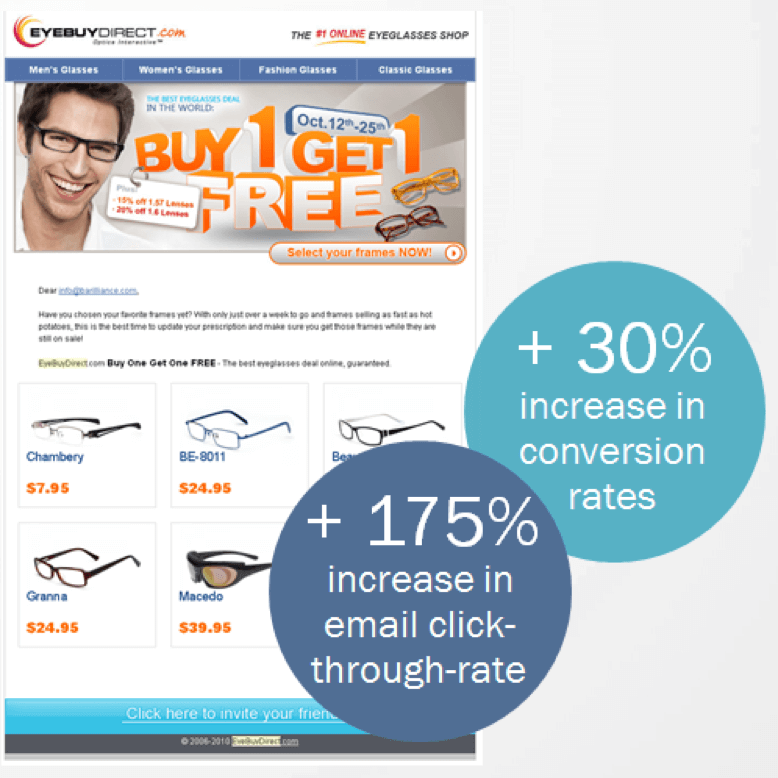 Just automate these recommendations and relax. There are many email automation tools like SendGrid or Bronto, which can do this for you according to your pre-set commands.
Remember, you should never go overboard with cross promotions. Your recommendations should benefit both sides. You shouldn't only focus on selling your products and flood your customer with recommendations. You also have to make sure that the products are highly relevant and valuable for the customers. You can use your data to get a better understanding.
2. Work with influencers to re-engage existing customers
Influencers are generally more powerful than celebrities at engaging an audience. According to a study conducted by Collective Bias, 30% of consumers are more likely to purchase a product recommended by a non-celebrity blogger than by a celebrity.
You can leverage that power on social media to re-engage your existing customers. Do your research and check your customers' profiles on social media to understand their likes and preferences. Most importantly, understand who they follow.
Based on all this data, find one or more suitable influencers and get them onboard. Platforms like Grin can help you track individual influencer performance. So you can understand which influencer is working best for you.
Influencers can restart the conversation with your inactive customers. They can organize giveaways, post engaging videos, answer questions to keep the brand talk going, etc. Based on their responses in the comments, you can even get insights into why your customers are inactive.
Influencers not only create user engagement but also generate direct sales. 74% of people choose brands based on others' experiences shared on social media. Influencers are a bit like everyday consumers, so the brand experiences they share tend to be considered as trustworthy.
They create compelling content that can influence people's opinions and decisions about brands. They can even influence your existing customers to find new ways to enjoy your product, which is an excellent way to retain them.
For example, James of food_feels is popular on Instagram for aesthetic food blogging. Nespresso partnered with him and gave him the freedom to do something different with their product. He showcased his unique beverage experience and came up with a recipe that could entice people to use the product in a completely different way.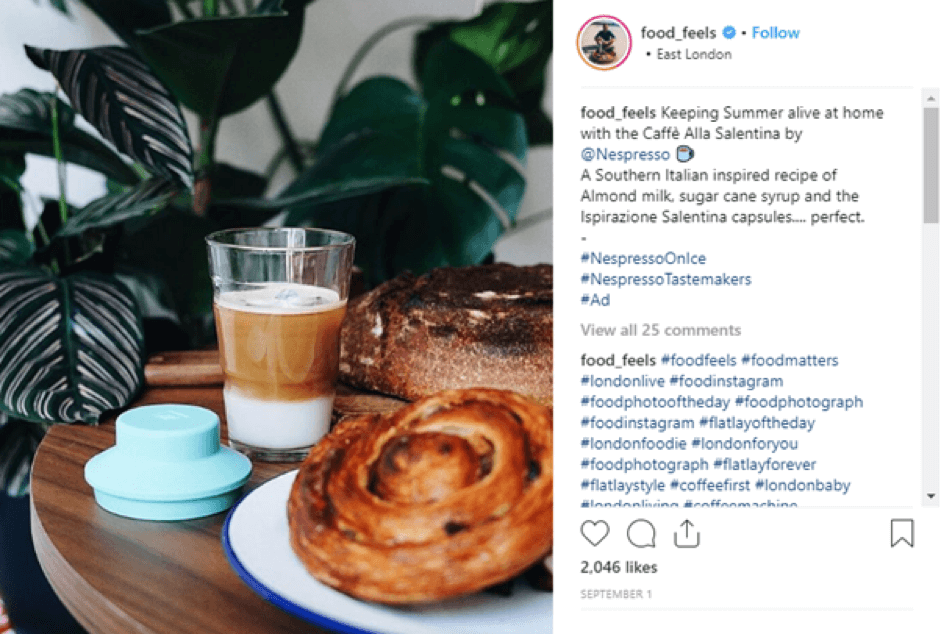 Image Source: Instagram
3. Revamp your loyalty program
A loyalty program can help you turn your seasonal customers into lifetime customers. Loyal customers are your source of continuous cash flow and they boost ecommerce revenue. If you haven't invested in your loyalty programs in a while, then now is the time.
There are different types of loyalty programs. You can charge a lump sum amount for a membership or yearly subscription. After spending some money on such programs, customers might not be too keen on switching to a different brand unless it's really necessary.
For example, Amazon Prime charges $119 per year for membership and provides perks to their members like free express deliveries. Customers will not get perks like free two-day shipping anywhere else without a subscription or extra payment. Therefore, members tend to purchase from Amazon as they have already paid for such perks.
Credit card companies have a handy point system as part of their loyalty program. For every dollar they spend, they often receive a certain amount of points. The points encourage them to spend more.
Apart from these, loyalty programs can have offers and discounts which inspire customers to shop. Staying in touch with your customers and having effective communication at every stage are essential factors in creating a loyalty program. Many loyalty programs are there just for the heck of it and not very beneficial for the customers. Therefore, it's also very important to see that the program is really beneficial for your customers.
The Starbucks Rewards program is one of the best loyalty programs in the retail sector. First of all, they have an easy user interface for better communication and access to the reward program. Also, the benefits are planned in a very detailed manner to benefit the customer. The rewards range from free coffee, free refills, and free food, to other items like beans, tea, K Cups, etc.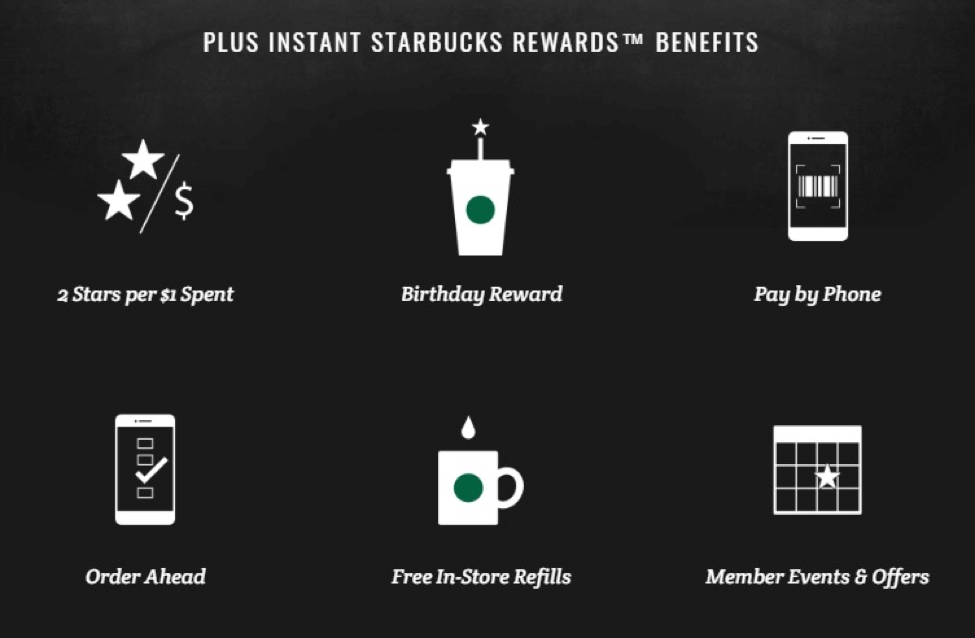 Image Source: Starbucks
4. Re-engage customers through social retargeting
Use data from visitors or your existing customers for retargeting your customers on social media or wherever they go. When a visitor visits your site and does something like saving or adding a product to their cart, you can use this information in your retargeting campaign. Then you can show them relevant ads based on their activity on different social platforms or wherever they visit after visiting your website.
This is a very effective retention marketing tactic which boosts ecommerce revenue. Vedia, a Swiss online retailer worked with Criteo to leverage Facebook Dynamic Ads to re-engage their past visitors.
They retargeted visitors across Facebook with personalized product recommendations. They managed to get a 15% higher click-through rate on Facebook and 15% more sales across campaigns.
Even Udemy retargets visitors who were only a few steps away from converting with relevant Facebook ads. Here's the remarketing ad I received after I checked out a digital marketing course on their website. They've even sweetened the deal with an attractive discount.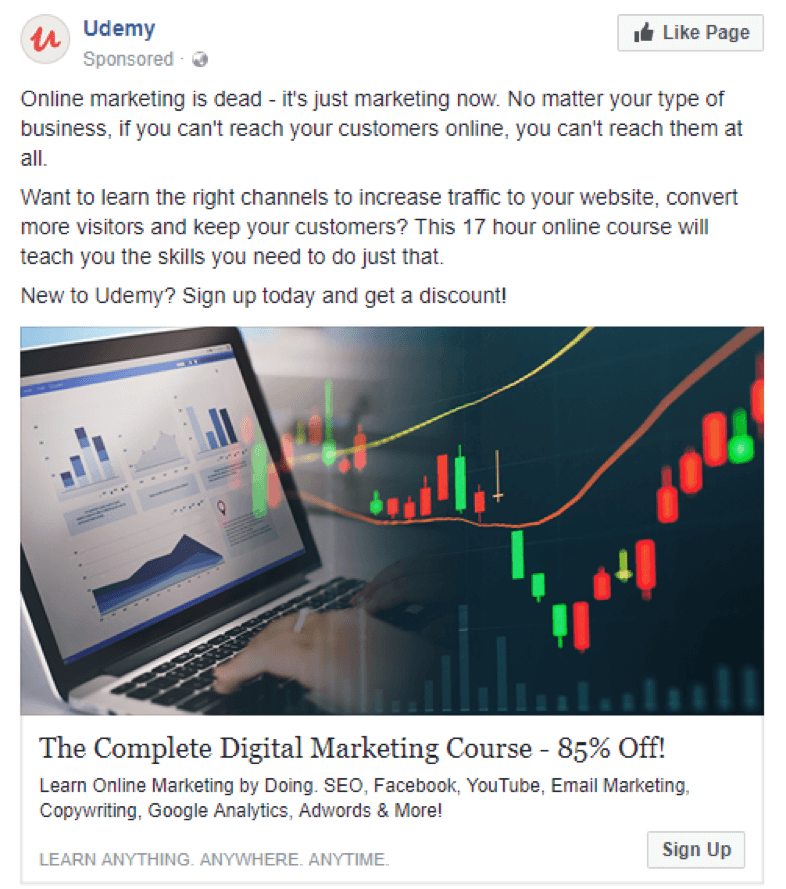 Image Source: Facebook
5. Reward your loyal customers for brand advocacy
Your loyal customers are your best marketers. You really cannot thank them enough for their advocacy. However, you can always encourage them with rewards.
The benefits of rewards are twofold. First, the reward will make them happy and they will keep coming back to your shop. Second, if the reward is directly linked with the referrals, you get new visitors and customers.
See how PayPal directly connects rewards with referrals.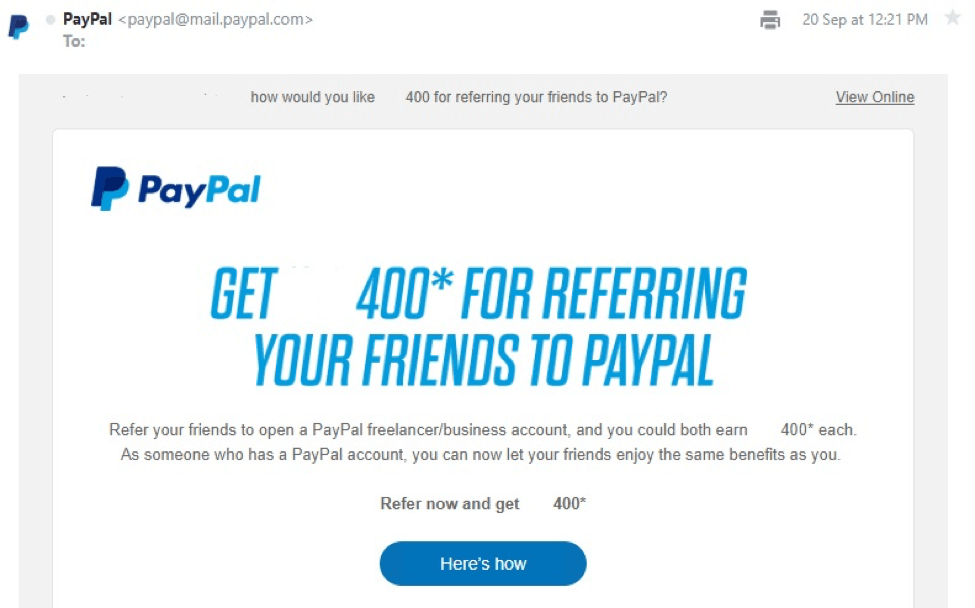 Image Source: PayPal
6. Re-engage customers with attractive and limited-time offers
Create exciting offers to get back your inactive customers. Make sure the offer is for a limited period so that they act promptly.
See how FirstCry created a lucrative offer for their customer who has been inactive for a while. Also, if you notice the copy, you will see how they make the customers feel special by using phrases like "exclusively for you."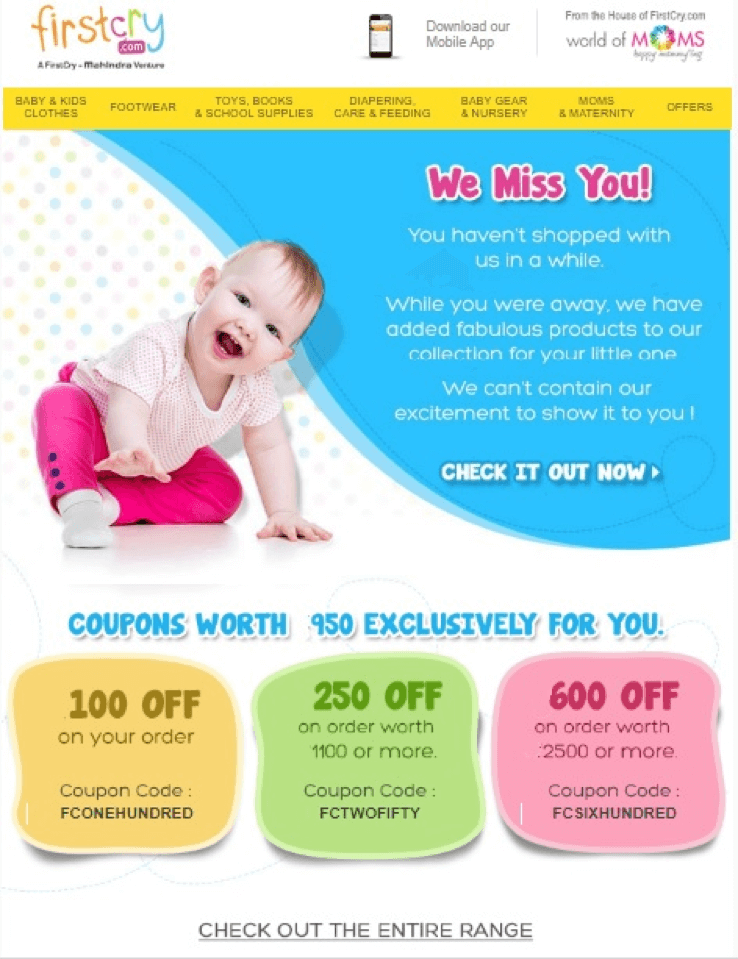 Source: FirstCry
Bottom line
Retention is the most effective way to boost ecommerce revenue. Retention demands a smaller investment and saves you more money over a period of time. Therefore, it automatically boosts your revenue. Instruments like upselling, cross-selling, and loyalty programs can help you engage your existing customers and boost your ecommerce sales.
Deliver great customer service, and use email marketing, and powerful social media influencers to keep your customers glued to your brand. Do you have more retention marketing ideas that can boost ecommerce sales? Feel free to share them in the comment section below.
6 Best Practices For Customer Retention: E-commerce