We are living in the era of the 'Evolved Consumer', where consumers actively seek information to make informed decisions and don't place their trust implicitly in brands. User Behavior today is heavily reliant on Reviews, User Generated Content & Influencers. So how do you make your brand stand out and get noticed?
By providing highly targeted, customized and hyper-personalized experiences. That is what Hyper-Personalization is all about. 
What is Hyper Personalization?
Hyper personalization is a more advanced next step to personalized marketing where it leverages artificial intelligence (AI) and real-time data to supply more relevant content, product, and service information to every user.
In this blog, we will learn how brands like Amazon, Starbucks, Netflix & Spotify are fully embracing hyper personalization. Also, find industry-specific data points that can be used to create effective hyper-personalized campaigns for your business.
Table of Contents:
What is the difference between Personalization & Hyper-Personalization?
Personalization is the incorporation of personal and transactional information like name, title, organization, purchase history etc. to your communication. Hyper-personalization goes one step further and utilizes behavioral and real-time data to create highly contextual communication that is relevant to the user.
For example: Sending an email to a user with their first name in the subject line is a typical example of personalization. A good practice, but not engaging enough to capture a user's fancy.
Hyper-personalization is more advanced. For example, a user browses for green shoes on your app, spends around 15 mins and leaves without purchasing. A quick analysis of the user reveals:
An affinity for buying discounted goods

Prior search and purchase history for 'X' footwear brand

Maximum purchases happening on a Sunday from 6-9 PM in the night

Push notifications having the highest user engagement in the past
Now, a hyper-personalized campaign would send a push notification to the user's mobile device advertising a flash sale on X brand's green shoes on a Sunday, preferably between 6-9 PM.

The need for Hyper-Personalization
How brands are using Hyper-Personalization
Top brands like Amazon, Spotify & Starbucks have moved on to a stage of predictive personalization, where AI & machine learning analyze a whole host of factors to power their recommendation engine. By and large, most businesses that are dabbling with personalization generally don't venture beyond segmentation. 
Let us take a look at how some of the biggest names in business have achieved incredible growth trajectories with hyper-personalization.
---
Brand: Amazon
Channel: Email
Amazon is the king of 'Me-Commerce', with their recommendation engine powering 35% of conversions. Let us see how Amazon creates a unique, hyper-personalized experience for consumers:

I was scouring Amazon for Olive green running shoes but happened to leave my search mid-way. Soon after, Amazon sent this email:


The email goes one step beyond the regular personalization tactic of including my name.
Breakdown:
Amazon has access to data points like Full name, Search Query, Average time spent on search, Past purchase history, Brand affinity, Category browsing habits, Time of past purchases, average spend amount, etc. Using this, they could create a profile and use that to craft a highly contextual email highlighting Olive green Puma shoes (Olive green was part of my search query & I have purchased Puma footwear in the past).
Amazon's recommendation engine algorithm is called 'item-to-item collaborative filtering'. It suggests products based on 4 data points:
Your previous purchase history
The items that you have in your shopping cart
Items that you have rated and liked
Items that have been liked and purchased by other customers
Compared to other E-Commerce brands, conversions from Amazon's on-site recommendations are 60% higher.
Stay Updated!
Subscribe to our newsletter to stay updated on the latest in B2C marketing
---
Brand: Starbucks
Channel: Push & In-app Notifications
Starbucks has seriously upgraded their personalization game with the use of AI. Using real-time data, the system can send over 400,000 variants of hyper-personalized messages. Offers doled out are unique to each user's preferences, based on their activity and past purchases.

The Starbucks app interface is personalized for each individual user
Starbucks Loyalty program is incredibly successful, boasting of over 13 million users.

The app pushes Food and beverage suggestions

personalized for each customer

with an AI-based algorithm. It analyses past purchase history, tastes and preferences to come up with recommendations for each individual customer.

Starbucks engages loyalty program members with personalized

games

on email and mobile.



Starbucks app sends in-app transaction message with reward details:

Starbucks informs users about closest stores that accept Mobile Order & Pay option
Results:
→ Increase in marketing campaign effectiveness by 3X
→ 2X email redemptions
→ 3X increase in incremental spends via offer redemptions
→ 24% of total company transactions happening via mobile app
---
Brand: Spotify
Channels: Email
With over 140 million active users, Spotify is the clear leader in the music streaming app industry. With over 5 billion streams, their Discover Weekly feature has been a massive hit. It studies individual music choices and cross-analyzes this data with the preferences of other users who listened to the same songs to create a highly-personalized playlist for each user.
With their Live Concert feature, Spotify sends information via email about live events of their favorite artists along with an option to buy tickets. The content is personalized based on the music preferences of each individual user.
Breakdown:
To identify a song's popularity, Spotify looks out for the number of times a particular song has been streamed, and how many people are adding it to their playlists. Say if X & Y both like the same song (based on stream count/playlist addition), then Spotify will recommend different songs from both X & Y's playlists to each other. Further, Spotify's AI-enabled recommendation engine analyses songs and listening habits of its users and suggests similar sounding music to matching user profiles.

---
Brand: Netflix
Channels: Email, Push Notifications
Streaming behemoth Netflix boasts of over 103 million users on its platform. This incredible success is largely because of providing their users a highly personalized experience. More than 75 percent of site activity is driven by their personalization engine. With Netflix, the personalization begins right from the homepage.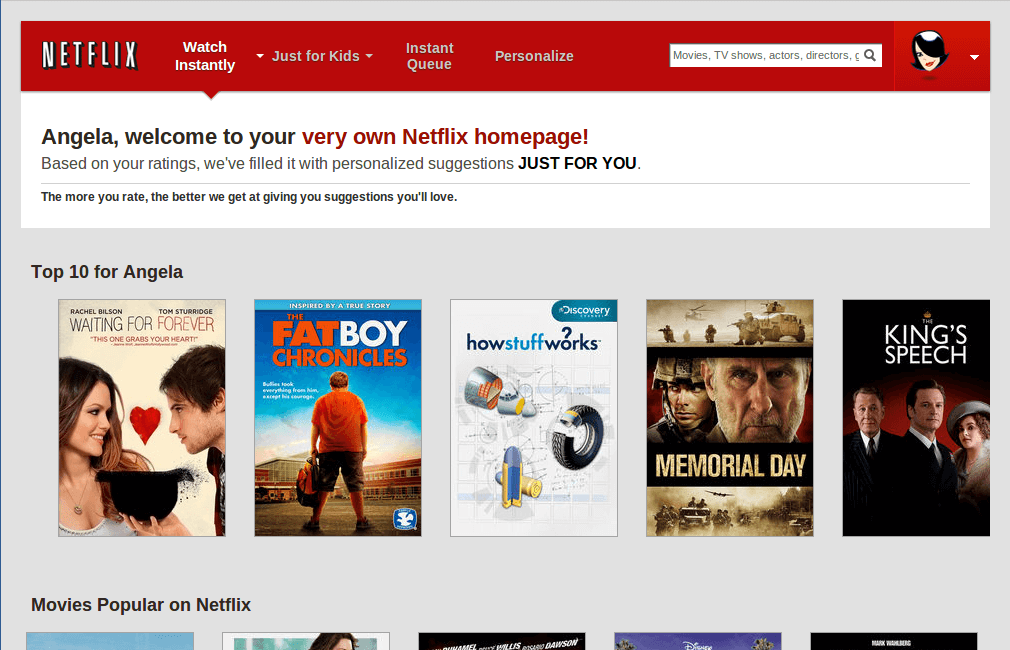 Breakdown:
Netflix users can assign a star rating to the content denoting their like/dislike. This, coupled with the stream count of the content and the individual user profile helps the algorithm predict content that would be favored by users. By successfully combining behavioral attributes with predictive learning, Netflix sends recommendations to their users about content.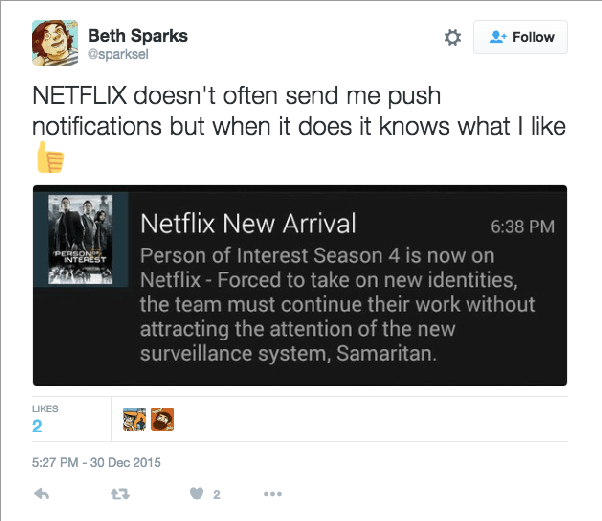 ---
How can you start off with Hyper-Personalization?
Every customer-facing business invariably collects data about users at multiple points. We list down some common data points for different industries that you can use to get started. 
ECommerce
Online Streaming
Hospitality
Fintech
Travel
| User Attributes | Behavioral Attributes | Past Purchase Data |
| --- | --- | --- |
| Age | Brands Viewed | Average Spend |
| Location | Price Filter/Sort applied | Discount Coupon Applied |
| Gender | Browsing time | Color Preference |
| Premium Membership Status | Preferred Message Medium | Quantity Purchased |
| Device | Product viewed | Purchase Date & Time |
| OS | Added to Cart | Device used for purchase |
| Name | Abandoned Cart | Size Preference |
| | Sizes searched for | |
| | Search Query | |
| User Attributes | Behavioral Attributes | Past Purchase Data |
| --- | --- | --- |
| Age | Search | Add to cart |
| Location | Media Category Filters | Date & Time of Purchase |
| Gender | Media Type Filters (Audio/Movies) | Subscription Renewed |
| Member Classification | Trailer Played | Device used for purchase |
| Device | Add to Watchlist | Payment Method |
| Operating System | Reviewed/Rated | Artist/Movie Preference |
| Name | Stream Count/Frequency | |
| | Language Preference | |
| | Add to Playlist | |
| User Attributes | Behavioral Attributes | Past Purchase Data |
| --- | --- | --- |
| Age | Search | Money Spent on Accomodation |
| Location | Hotels Viewed | Dates of Booking |
| Gender | Area Filters | Payment Method |
| Membership Status | Hotel Price Range | Purchase Time |
| Device | Hotels Reviewed | Device used for booking |
| OS | Checkout Completed | Room Size/Details |
| Name | Discounts Availed | No. of rooms booked |
| | Number of guests | Hotel Booked |
| | Guest details | Brand Preference |
| | Nature of stay | |
| | Added to Cart | |
| | Cart Abandoned | |
| User Attributes | Behavioral Attributes | Past Purchase Data |
| --- | --- | --- |
| Age | Add to cart | Insurance purchased |
| Location | Search | Insurance renewed |
| Gender | Applied for Quote | Card Purchased |
| Income Level | Request for Callback | Card Renewed |
| Device | Newsletter Signup | Premium Paid |
| OS | Claim Requested | Recharge Completed |
| Name | Claim Settled | Wallet Recharged |
| Member Status | Applied for Card/Insurance/Loan | Amount of Recharge |
| | Email Click | Service Provider details |
| | Notification Click | |
| | Offers Utilized | |
| User Attributes | Behavioral Attributes | Past Purchase Data |
| --- | --- | --- |
| Age | Flight Searched | Flight Booked |
| Location | Flight Selected | Amount Spent |
| Gender | Date Range Filter | Frequented Origin + Destination |
| Membership Status | Origin & Destination Filters | Preferred Mode of Transport |
| Device | Add to Cart | Time of Booking |
| OS | Travel Package Click | Device used for booking |
| Name | Checkout Completed | Mode of Payment |
| | No. of Travellers | Offers Availed |
| | Route Preferences | |
| | Flight/Train Time Filters | |
| | Message Interaction | |
| | On-Site CTA click | |
| | In-App Message Click | |
You can identify events that will act as triggers to execute campaigns with customized content. Let's consider an example from the E-Commerce industry:
Trigger: Abandoned Cart (User adds product to cart, doesn't proceed with purchase)
User attribute: Name, Premium Membership Status, Preferred Message Medium
Behavior attribute: Product Viewed
Past purchase data: Discount Coupon Applied, Device used for purchase, Favored Purchase Day
Using WebEngage's marketing cloud platform, you can create a personalized message (personalization tokens based on data) advertising a discount on the product that was viewed + added to cart (if the user has used a discount coupon in the past). The message can be sent to the device used for purchasing in the past, and an additional offer of faster delivery can be pushed if the user is a premium member (think Amazon Prime account holders). Using historical data analysis, you can also find out which channel of communication had the maximum engagement in the past and employ that in your campaign. By checking the user's purchase data, the campaign can be sent on a particular day of the week that has yielded good results in the past. That is a properly hyper-personalized campaign.
Summing it up
Brands are jostling in the "Attention Economy" for capturing the only currency that matters, Attention. Hyper-personalization can help your brand stand out and increase engagement and conversions with your target audience.
(Measure your mobile marketing efforts with the help of these effective mobile app metrics)
i
Image source: dribbble.com
Use Hyper-Personalization To Increase Email Conversions By 11%
See how Goibibo, a large OTA company, leveraged Hyper-Personalization.