How to create a win-back email campaign? Well, your relationship with your customers has its ups and downs. Like any relationship, they're excited to read emails and check updates at the beginning. After some time, they get bored and forget your brand altogether. This isn't something new.
In fact, Marketing Sherpa found that at any given time approx 75% of your email subscribers will be inactive. In addition, an average email list decays by 25% every year.
So why do customers disengage? Survey says that some might feel overwhelmed by the number of emails you send. Others aren't impressed when emails aren't optimized for mobile. Or you might not be sending targeted emails. Your competition or a user's change of location could also be a factor.
Whatever the case, a dead email list isn't good for your brand. Inactive subscribers mean lower engagement rates, which hurts inbox placement. In short, your promotional emails might end up in the spam folder.
But it's not a hopeless scenario.
You can launch a win-back email campaign to re-engage with your inactive subscribers for one last time.
But before getting into the framework,
What exactly is a Win-back email campaign?
Win-back email campaigns are series of highly personalized and targeted emails, sent to dormant or churned customers. The objective of win-back email campaigns is to win those lost customers back by getting them to interact with your curated emails, call-to-actions and other communications.
You might ask here that since the user has already abandoned your website, why bother bringing them back?
A very common fact about user acquisition vs retention debate is that it always costs more to acquire new users than to keep them. Hence, it'll be far less costlier to rekindle these users than to acquire new.
The Win-back email framework – A 4-part email sequence
By following this 4-part email sequence, you'll be able to create an effective win-back email strategy by nudging your users in 4 different ways. This will increase the likelihood of them returning and reengaging with your brand, at some or the other stage.
So let's have a look.
1. Remind your users of your existence
The 1st mail in your win-back email campaign should talk around reminding your users that you exist. Remind them of their past interaction with your brand, past purchases, etc. Say you miss them and try to re-establish an emotional connection. You don't necessarily have to sell here. Rather give some updates regarding your platform or any new products added.
2. Offer incentives
In your 2nd mail, try bringing the above context of reminder here (for those who didn't take any action in your 1st mail) and tag an incentive to it – a bundled offering or a discount. This will be the most potent email in the entire sequence; hence, your incentive need to be really compelling and relevant as per the past behaviour of your customers.
3. Press them for Feedback
At this stage, you can fairly assume that your users, who are still in this segment, do not want to continue their association with your brand. Now, underlining this assumption will be important in your 3rd mailer as depending on the way you frame this context, it might compel your users to give you a feedback on why they want to dissociate with you. Which is why you're writing this email in the first place.
And once you've underlined it, only then bring the context of feedback. Throw in some emotional words like, "we want to get better" or "you can help us at least serve others better" and ask for a feedback. It'd also be ideal if you keep your feedback questionnaire crisp and concise.
4. Last chance email & unsubscribe
Finally, when all is said and done, in the 4th mail, make a last-ditch attempt to get them back by saying something like "how sorry are you to see them go and if there's still something that you could do to get them interested again", then acknowledge their intention of dissociating with you, by saying something like "you understand and respect their decision" and then finally give them the unsubscribe CTA. It'll be good if you also assure them that after unsubscribing, they won't receive any communications from you.
5 Email Marketing Psychology Hacks To Boost Your Engagement & Sales
Tips to create Win-back email campaigns
Now, let's explore the different elements of an effective win-back email and check out some examples:
1. Look at your data
Look at the behavior of your current customer and divide them into segments. Find out how often they view your emails or visit your website.
A/B test different versions of your win-back emails (or any email campaign) and observe the differences between the groups. Which email subject lines are more effective? When is the time of the year that most subscribers aren't active? Are subscribers checking out their emails or push notification history?
Study the user data to understand how to engage with your customers. For your mobile heavy users, you'd also need to know about the mobile app metrics you need to be tracking to measure success.
 You can also ask them to answer your survey to help you understand their wants or needs.
 2. Brainstorm attention-grabbing subject lines
The subject line matters a lot.
It determines the success or failure of your campaign. After all, you can only win back subscribers if they open your email, right?
In fact, a study found that 35% of recipients open emails based on the subject line alone and personalized email subject lines boost open rates by 50 percent.
Here are some great examples of effective subject lines from iContact: 
Long time, no see

Let's stay together

You + us. We miss that

Breaking up is hard to do (so let's not)

Don't be a stranger

Hey stranger (optional- how have you been?)

Will you open up to us?

Do you need some space?

Are you giving us the cold shoulder?

Let's catch up
A good tip is to make subject lines short but attention-grabbing. Litmus found that 47% of emails are opened on mobile, so long subject lines won't be entirely visible to these types of users. And keep it at 50 characters at most.
3. Write great copy
Your subscribers clicked your win-back email? Good job!  
The next step is to write a copy that can convince them to return. Here are some examples of the different things you can write about:
i. Problems and solutions
People don't disengage without a reason.
You may send too many emails every day. Others might not want to see promotional messages, first thing in the morning.
That said—you need to identify the problem of each user. Use this opportunity to send a survey to learn how you could improve your email marketing strategy.
Creased Jeans asks disengaged subscribers why they don't open their emails. This is followed by the request to answer a survey, which can be used to better understand the customer.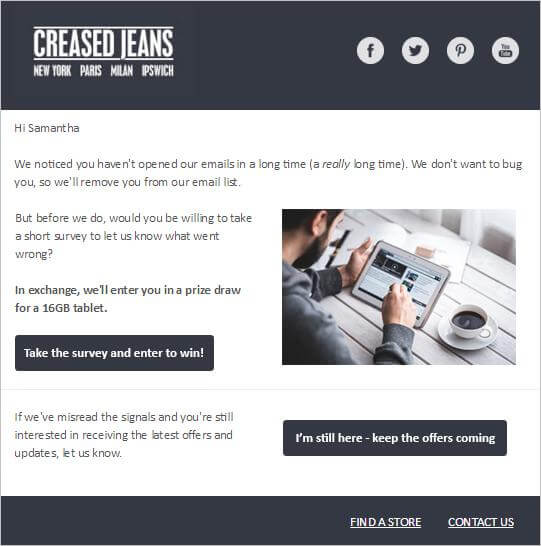 If too many emails are the problem, L.L. Bean lets subscribers easily adjust their email preferences.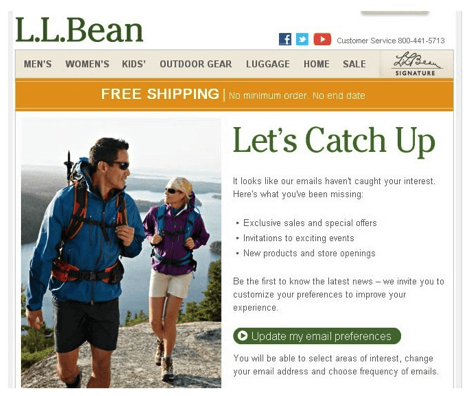 As a marketer, you need to find the problems of customers and offer solutions. That way, you can come up with win-back campaigns that will effectively improve your engagement and CTR (click-through rate).
ii. Benefits
Win back customers by reminding them of your value or benefits. This could include features of your products and services or personalized accounts.
SurfStitch's email reminds subscribers of the benefits that they might have missed. Not only does it have a short and concise copy, but the email's design allows each benefit to stand out.
In addition, if subscribers want to adjust their email preferences, they can simply click the CTA at the bottom.
If you're dealing with long-time customers, you definitely have to make an effort to win them back. After all, it's a lot easier to sell to past customers.
In fact, a study by Harvard Business Review found that customer acquisition is about five to 25 times more expensive than getting current customers to spend more.
TeeSpring wins back customers by telling them the number of products they sold and the amount of money they made through the platform. These numbers can definitely make anyone stop and stare.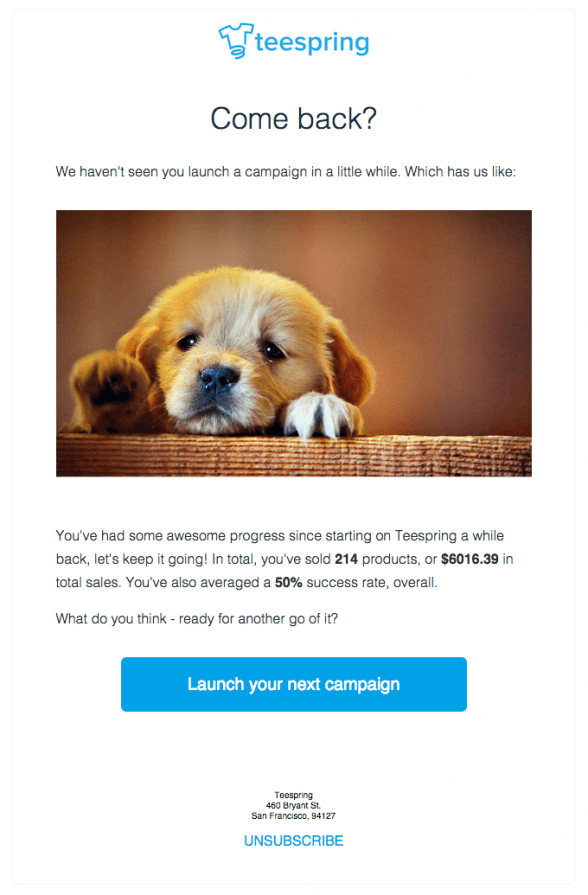 Meanwhile, non-profit organizations can win back donors and volunteers by letting them know that their contributions matter.
For example, the Asthma Foundation's email says, "Your generosity matters".  It also has a"Donate Again Now" button which is a small and simple way to ask for donations.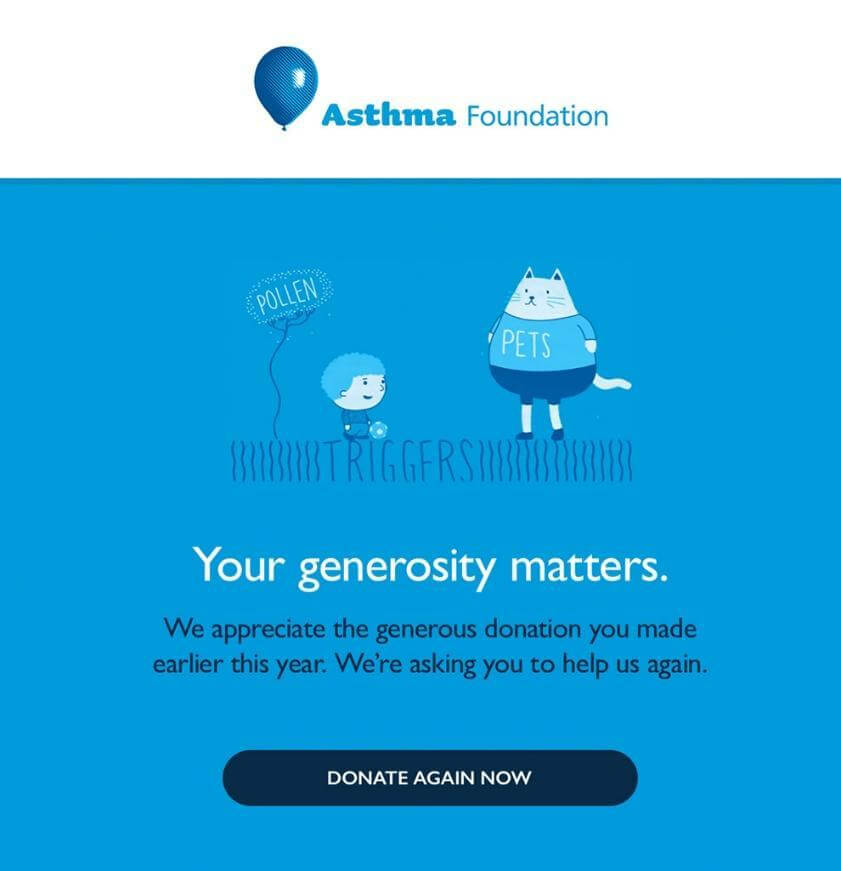 iii. Updates and new offerings
If your product or services have evolved over the past year, you could give disengaged customers an update. Provide information about your new features or how you've improved your e-commerce store experience.
Path shows their new features through great visuals. It also has an "Update Now" button that not only wins back customers but also lets them try out the update.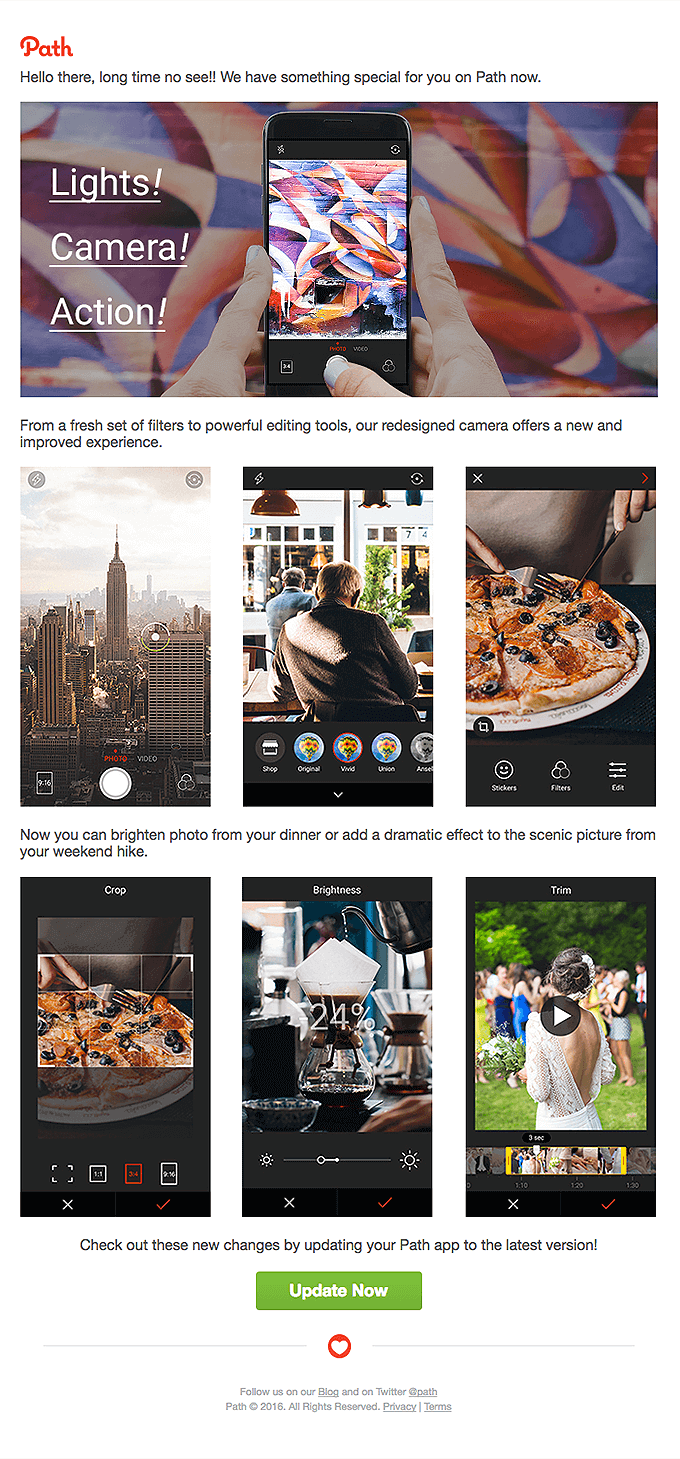 Lowe's win-back email highlights how they improved the user's e-commerce experience. For example, they "tossed receipts" and let them "track their purchases through a MyLowe's card". It doesn't seem like a big deal, but it might push subscribers to check out their store.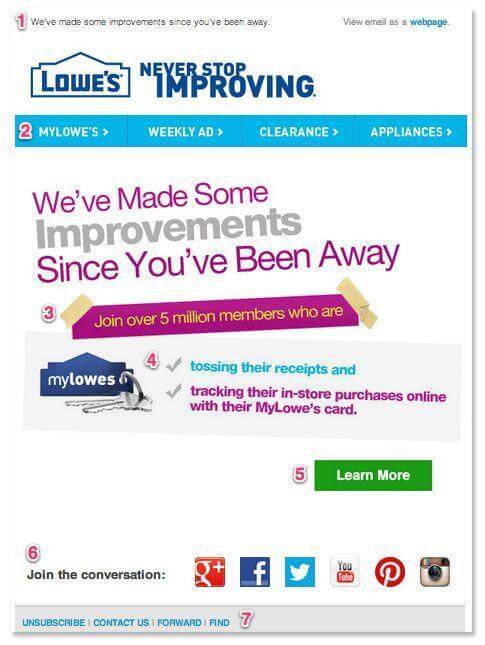 4. Add compelling CTAs
The success of your win-back emails depends on your click-through rate.
You need to make people click the button and act. You don't want to seem too annoying or promotional, so only place one CTA.
In addition, inactive subscribers won't quickly make a purchase. So, the CTAs of your win-back emails could be about adjusting email preferences or browsing your website.
Here are some brands with great CTAs:
Jet has a big blue-green button, which clearly stands out from the email's all-violet layout. They also offer free shipping on orders above $35 and free returns within 30 days.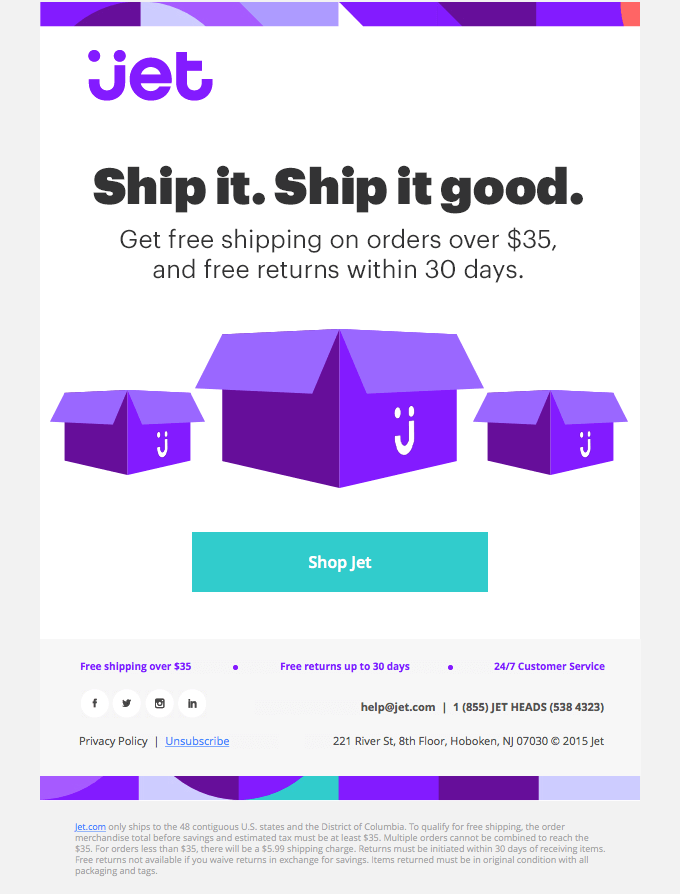 Even those who don't usually buy will think twice before clicking the back button.
Grammarly's win-back email has a giant red "GO!" button. It's very noticeable and easily encourages users to try their product again.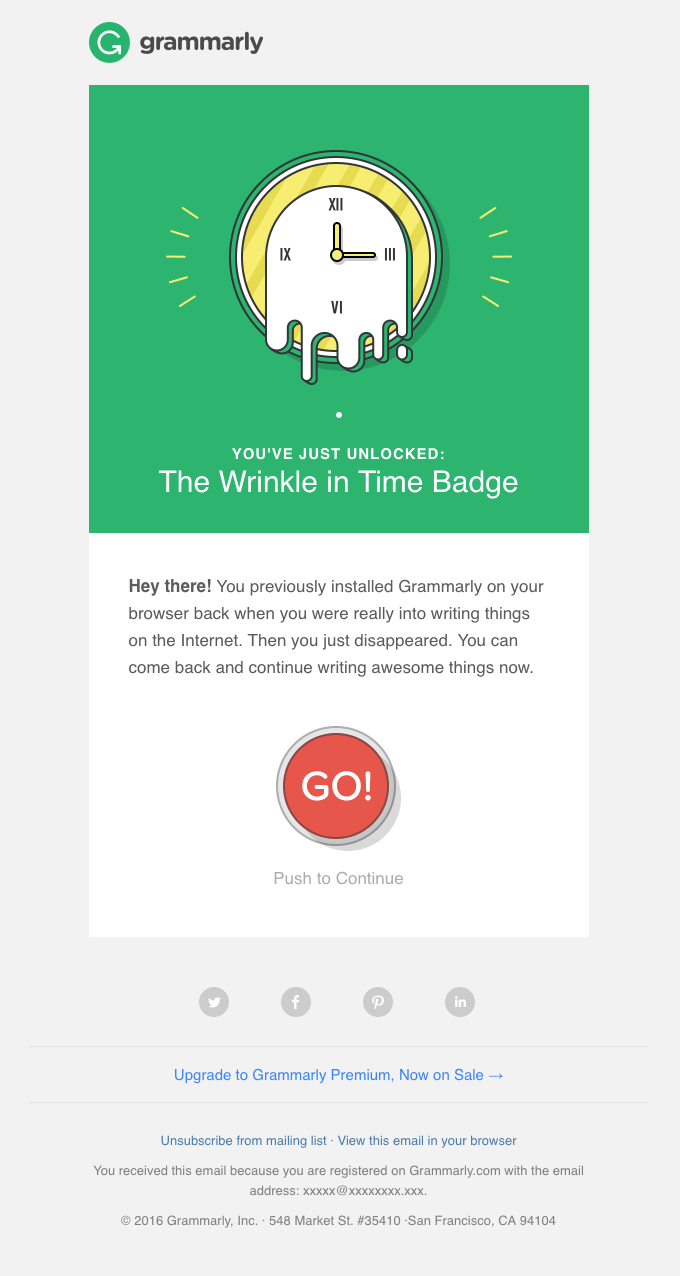 Paul Mitchell begins their email with a heart-wrenching 'We hate goodbyes'. This is followed by a big sad face made up of their own products and a simple but hard-to-miss CTA.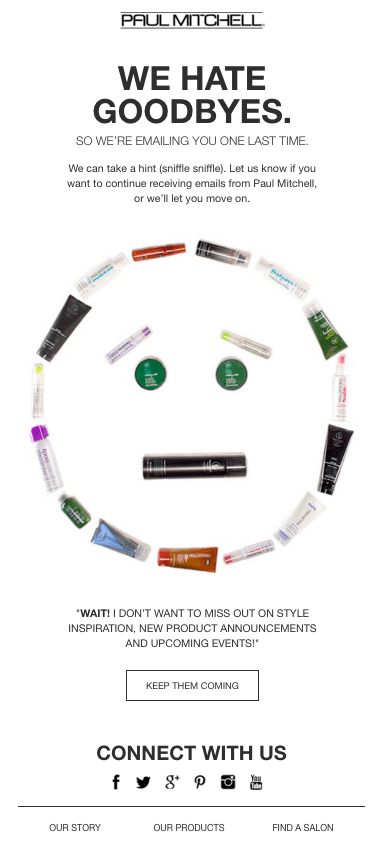 5. Tempt them with a good offer
Of course, you can win back subscribers through surprises and rewards.
A study even found that win-back campaigns that gave dollars off, instead of percentage discounts, received better results.
Joy's email offers $5 off with a 7-day deadline. It's not a lot of money, but the limited time encourages customers to act.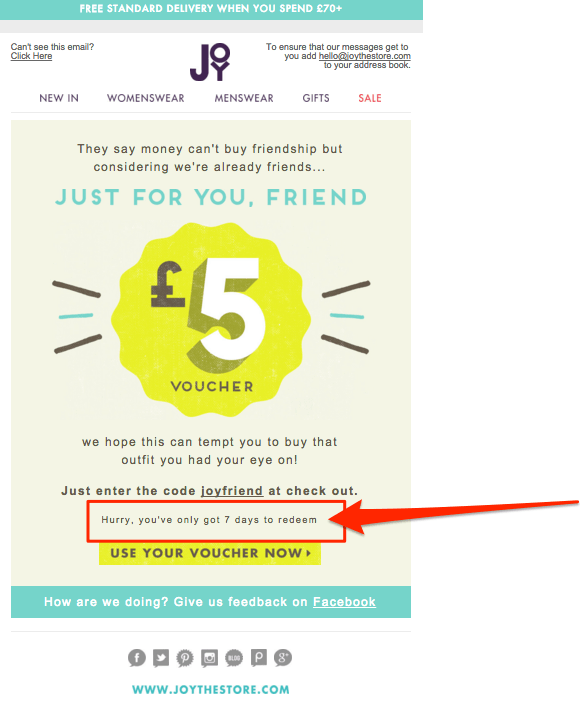 You can also offer rewarding options to trigger their emotional instincts.
Birchbox offers editor-selected samples that customers can get once they check out.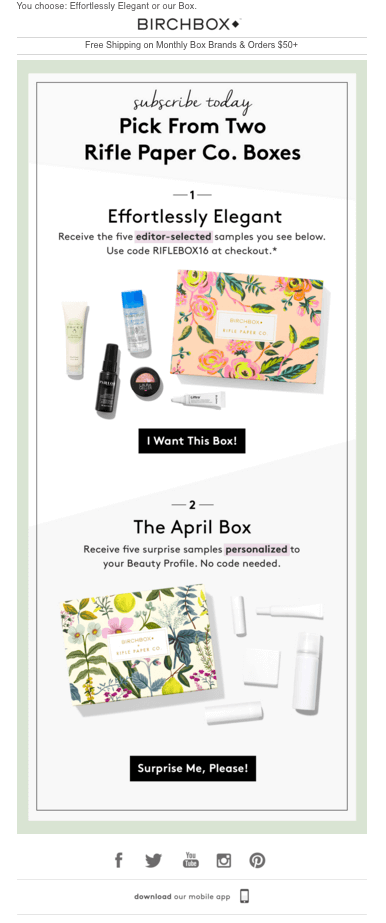 6. Use great design
Design can significantly impact the viewer's perception of your win-back email.
Urban Outfitters' design is great, and it definitely stands out from all the marketing emails that you receive. The copy also has a mix of humor and emotional appeal, which lets them connect with their young audience.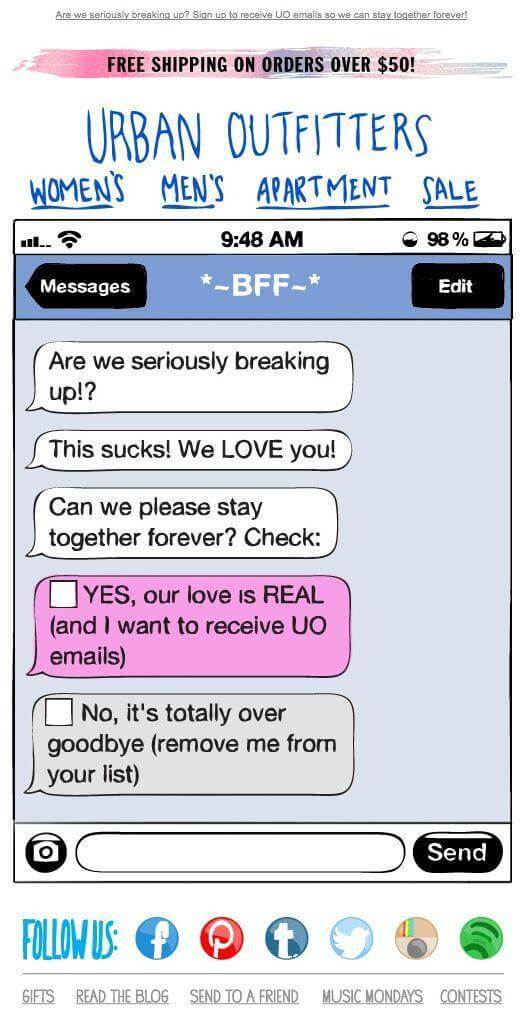 To have a good design, you need to make use of colors that are associated with your brand  (according to Hubspot, 80% of consumers believe that color improves their recognition of a brand). You can also read about the different color meanings to pick color combinations that would suit your campaign.
GoPro's color palette uses cerulean, blue and white. This color combination is used in their win-back email.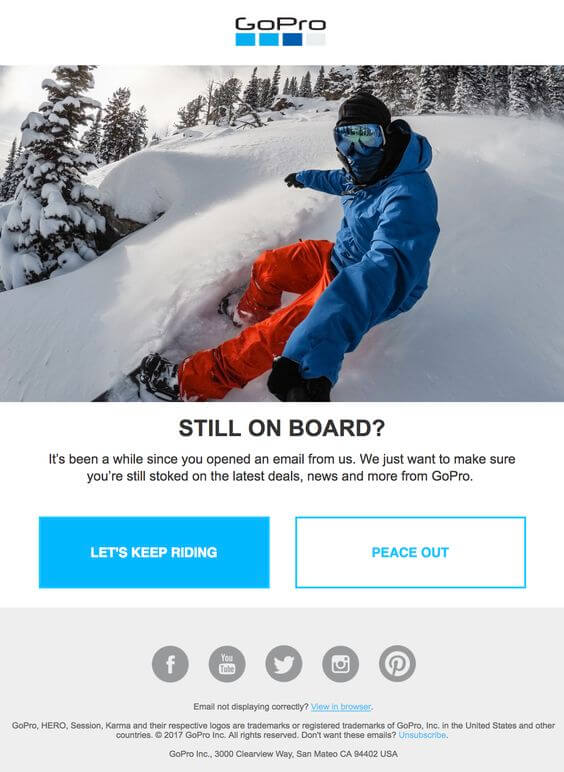 Most win-back emails use a one column layout like GoPro.
It's ideal because it's very simple and it's easy to view, especially on mobile. In fact, mobile accounts for almost 40% of all email clicks, so you need to have responsive design at all times.
7. Know when to give up
Sometimes a breakup is inevitable, no matter what you do. That said—you want to cut ties gracefully and end the relationship in good terms.
Bonobos' final email has a simple goodbye and a basic CTA for customers who want to subscribe again.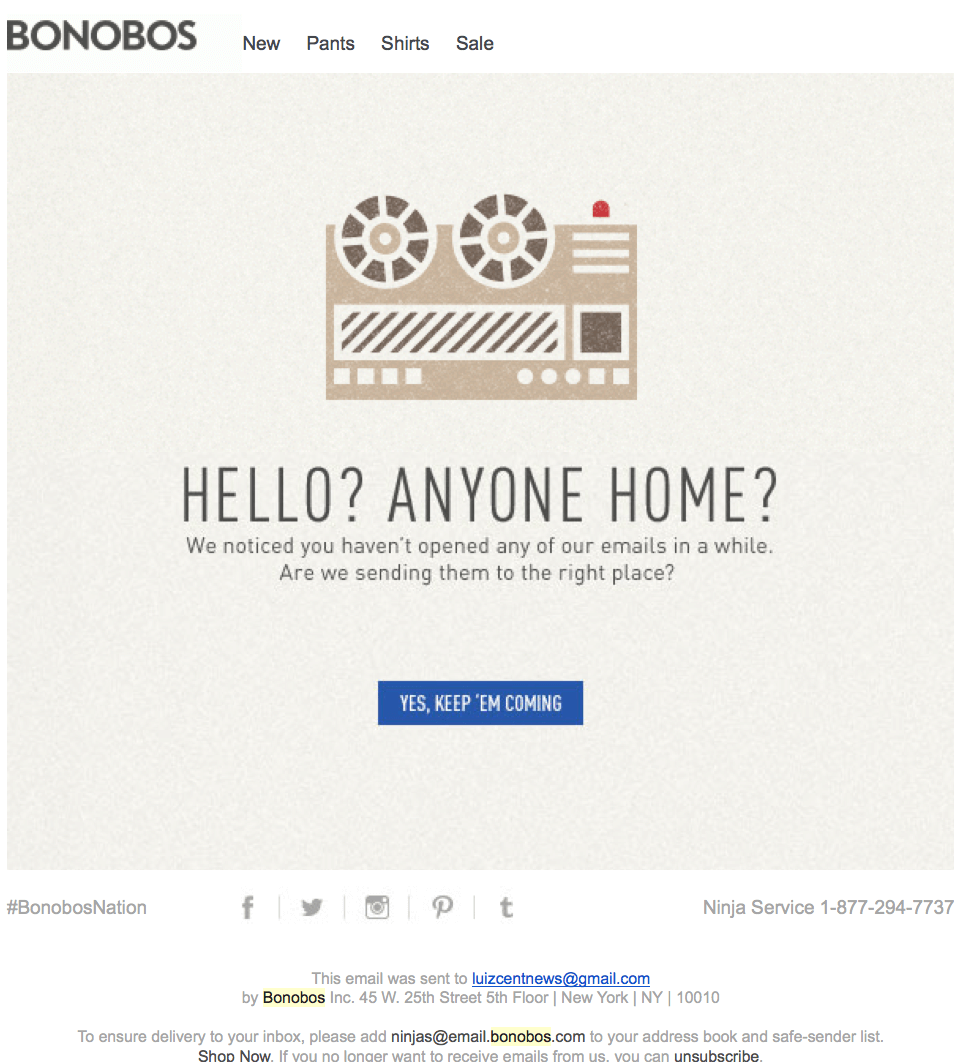 If the end result is losing a customer, that's okay.
At the end of the day, you'd rather have customers that engage and communicate with your brand, instead of those that simply ignore it.
In addition, if you continue to keep uninterested subscribers, your email marketing results might not accurately portray the effectiveness of your strategy in increasing sales and conversions.
Some businesses prefer to keep old subscribers no matter what. But the last thing you want is to be marked as spam. 
Once a lot of customers mark your emails as spam, then the Internet Service Provider (ISP) might automatically send your marketing emails to the spam folder. In contrast, if enough people are reading your emails in their Inbox, your email placement and deliverability will improve.
The bottom line is knowing when it's time to say goodbye. And don't be too clingy.
How will you win back your subscribers?
Creating win back emails isn't easy, but hopefully, this article helped you figure out how to create a win-back campaign that would work best for your business.
Let's recap.
Segment your customers and look at the data. A/B test each email to understand your customers better.
Always have a killer subject line. You can't start winning customers back if they don't click your email. Don't forget to include a great copy and highlight the benefits of subscribing to your business.
Include a compelling CTA. You can also use this opportunity to help subscribers adjust their email preferences. In addition, a small discount or free shipping can encourage them to engage or make a purchase.
Don't forget to have a good layout that makes readers stop and stare.
Whatever you put in your win-back emails, know when it's time to give up. Sometimes breakups are inevitable and the last thing you want is to get marked as spam.
Remember: The win-back email campaign is the last chance you have at re-engaging and winning back your customers. The more you highlight your value or offer, the higher the chances you have of encouraging customers to return.
This is tried-and-tested wisdom, and there's more where it came from. At WebEngage, we help our customers win back users day in and day out. Not just for email but other channels as well. If you want to see us in action, pop in for a free demo of our platform.

Nothing's Better Than Triggered Email Marketing
6 reasons why it works