So you've built your website, designed your products, and established your brand. Your e-commerce platform is ready to launch! But now you have to ensure that you market your e-commerce business to your audience effectively.
The best way to market your e-commerce business is, of course, through email. Did you know that email marketing has the potential to earn you $38 for every $1 that you spend? When your followers or supporters are able to see your product, reach your website, and place their order entirely online, they're far more likely to actually become customers instead of just window shoppers.
There are a few things that every e-commerce businessperson is already aware of: that email is vital, that social media is a useful marketing tool, and that your online presence, persona, and brand are crucial to drawing in your target audience.
Now, however, it's time to break down email marketing into three easy strategies that you can use to maximize your e-commerce sales.
Segment your supporter population.

Use visual storytelling techniques.

Promote retention, not recruitment.
What does an association software company know about e-commerce, you may ask? Well, here at Fonteva we're experts in helping organizations sell online. E-commerce is a vital part of raising non-dues revenue for us, which includes everything from event tickets to online learning opportunities.
If you're ready to dive into these 3 best email tips, let's get started!

1. Segment your supporter population.
The first part of any successful email marketing campaign is knowing that you're sending the right emails to the right people. You wouldn't send the same thank-you email to a long-time dedicated customer as to a brand-new one, so don't send them the same updates and newsletters.
Mailchimp has documented some impressive findings: segmented email campaigns have an open rate that's 14% higher than non-segmented campaigns, a click-through rate that's 100% higher than non-segmented campaigns, and lower bounce and 'unsubscribe' rates. You can't ignore those numbers when planning your email campaigns!
Different groups of people respond better to different communication strategies. Instead of sending one generalized email to your entire subscriber list, break your subscriber list down into different segments.
A segment is a section of your supporter community that all have something in common, like a purchasing habit, demographic indicator, or region.
When you separate your whole population down into more similar sections, you can more effectively target your emails to those sections because you don't have to worry about advertising to everyone.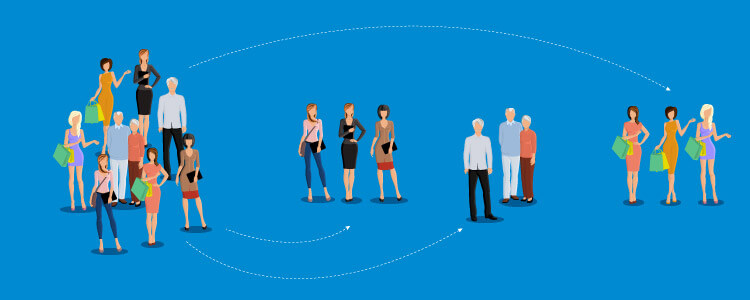 Think about your target personas. What types of people are they? Where do they live? What are their buying habits? Common segmentation dividers include:
Age.

Gender.

Region.

Purchasing habits.

History of engagement with you.
Depending on your business model, you should consider investing in either constituent relationship management or membership management software. Software that allows you to create customizable profiles can help you segment more effectively.
Once you have these groups separated out, you can think about the techniques that can help you convert these people into customers most effectively. To get you started, here are some valuable segmentation strategies:
Segment your population by purchasing history.

For those that have purchased more than X amount of items, or spent more than $X on your products or services, consider sending them a birthday or end-of-year discount with a specific code just for them. By rewarding them for being a loyal customer, as well as showing your appreciation for their business, you can increase their dedication to your brand.

Segment your population by engagement history.

Target individuals who made a purchase once, between six weeks and three months ago, and send them follow-up emails with messages like, "We Miss You!" or something similar. This tactic informs them that you care about their business enough to follow up with them, and perhaps encourages them to return to your store.

If you provide a physical good to your customers, segment by region.

Pick different regions, and target people living in those regions with deals on free shipping. Make it clear that the free shipping won't last forever, and they must act soon to receive this deal. The combination of free stuff and urgent language will encourage them to convert into customers from your email.
In addition to offering deals, segmentation is a useful strategy for when you want to build real relationships with your customers. Don't just send them messages about purchasing: send them newsletters or updates about things that they might be interested in, like any corporate philanthropy that you might engage in or any new products you'll be rolling out in the future.
2. Use visual storytelling techniques.

Odds are that you've seen first-hand the success that Instagram can bring to e-commerce providers through advertisements. It's not just the popularity of the influencer that causes the success—it's the combination of powerful images and quality captions that converts viewers.
Images don't have to be saved exclusively for Instagram, though! Don't be afraid to include rich content in your emails to draw the eye and spark the interest of your viewers.
Emails with video clips have a 300% higher click-through rate than text-only emails, and emails with any type of graphic have a 26% higher open rate and a 4% higher click-through rate. Visual interest is imperative for improving the efficacy of your email marketing campaign!
Examples of useful images include:
High-quality images of individuals using or wearing your product.

Well-made testimonial videos of people explaining why they like your product.

Well-composed images of the product itself.
When you include images in your email marketing campaigns, you achieve two things.
First, you're able to demonstrate the value that your product brings to those who purchase it. People are much more willing to buy something that they know other people have purchased before and enjoyed.
Second, you break up the text of your email and make it more readable to anyone. Instead of having to carefully read every line of text to understand what you're selling and why someone should buy it, you can grab their attention with your images and make them want to read the text of their own accord.
Think about it: when you open an email and see a massive block of text, are you going to dive in headfirst? No. You'll probably skim the first line and then delete it if it doesn't immediately grab your interest.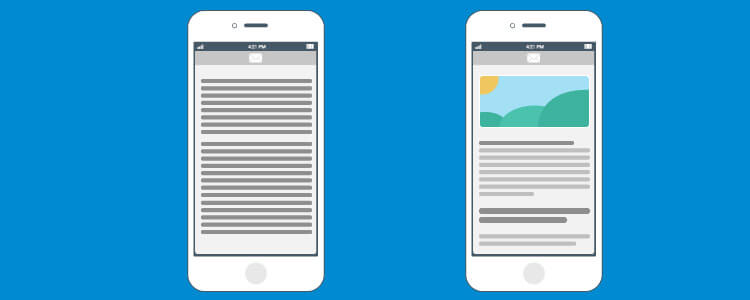 But if you open an email and are immediately greeted by a brightly colored, engaging, well-composed image that makes you want to know more, you'll read the text just to find out what's going on. That's the reaction that you want to create with your email marketing campaign for your e-commerce store.
3. Promote retention, not recruitment.

Did you know that the conversion rate of your e-commerce website, even if you're optimizing everything you do, is probably only around 2%? That's a scarily low number, especially if you're new to the game and only pulling a few hundred visitors a month.
Instead of focusing so hard on how to broaden your customer base by attracting first-time buyers, pivot your strategy towards retaining your existing customers.
Your chance of selling products to an existing customer hover between 60 and 70%, but your chances of converting a new customer are much lower—think between 5 and 20%. While finding new customers is nice, it shouldn't be the sole focus of your strategies.
While there are a thousand ways to improve customer retention for your e-commerce store, we have some tried-and-true tactics that we like to stick to. Let's break down two of our favorite strategies: targeted product recommendations, and community building.
Targeted product recommendations.
Have you ever used a personal shopper? If you're the average shopper, the answer is probably no. But one way that your e-commerce website can add value to your customer experience is by offering a comparable service!
Consider Amazon as an example, that tycoon of e-commerce: after you make a purchase, you immediately get an email that says something along the lines of, "Thank you for your purchase! Have you considered buying something like…?"
The recommendations are based on your previous purchase history, as well as similar purchases made by other shoppers. While you might not have the same level of automation and processing power as Amazon, you can do the same thing for your own e-commerce offerings. Which products are normally purchased together? What are your most popular items?
Personalized product recommendations have higher purchase and conversion rates. While you don't want to bombard your customers with emails, which might cause consumer fatigue and cause them to ignore your messages, you can send them a follow up weekly or monthly recommending products that might be in their wheelhouse.
Some subject lines for emails like these include:
Hey [name]! This [product name] has your name on it!

[Recommended product name]—get it before it's gone!

[Product name or category]—top picks just for you, [name]
These types of emails have a way of catching a reader's eye. The combination of personal recommendations and personalized communications will help you retain your consumers and build their brand loyalty.
Community building.
Your brand, as well as your website's branding through colors and logos, is crucial to connecting with customers. It helps them recognize your product or page out of the bunch! But that's not the only way to build loyalty to your e-commerce brand.
While your business and product are great, they're not the only thing that draws your customers back time and time again. The other half of the equation is the community that you build around your product and brand.
Think about a brand like REI. Yes, they're an outdoor gear and clothing store with an e-commerce aspect. But the brand loyalty that they cultivate doesn't come from their cute logo featuring trees and a mountain. It comes from the community that they build of nature-loving hikers.
They offer adventures, classes, and events where like-minded individuals can meet up and go camping, hiking, canoeing, and more—all through programming scheduled and organized by the folks at REI. That community-building aspect promotes brand loyalty more than any advertising ever can.
If REI's success hasn't convinced you, how about some statistics? 80% of marketers say that building a community drives more traffic, 53% of Americans are more loyal to brands when they're part of a brand community, and 64% of companies indicated that having a community improves their decision-making process.
While we're not recommending that you take your e-commerce shoppers out on a hike (unless you want to!), we do recommend that you create a community around your brand that connects individuals with others like themselves and inspires them to reach out.
Some fun community-building exercises include:
Create a

membership program

and offer webinars, regional meet-ups, and discounts to those who join. Members will get to interact with other members, which deepens their connection to both each other and your e-commerce brand.

Create

a fun name or hashtag

for people that use your products, and encourage your customers to use it on pictures or posts including your products. YouTube influencers and musicians do this particularly well—just look at the Grateful Dead's following, the Deadheads.

Offer a

forum

on your website, where people can ask questions, make recommendations, and share stories about themselves and your product.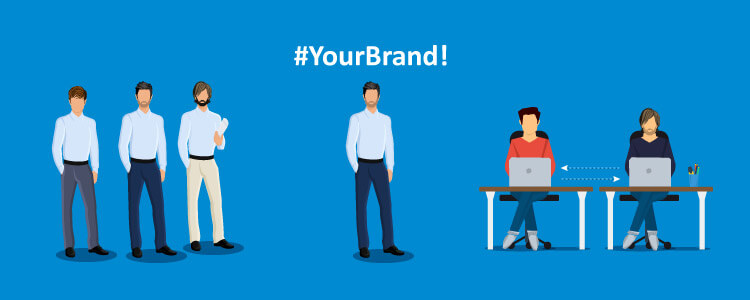 Building a community around your brand is a key strategy for increasing retention rates. Now, all you have to do is send informational emails about your new community-building strategies, and encourage customers to participate! Don't forget to segment your emails, so that your customers get the most relevant ways to join, straight to their inbox.
Email marketing can be a super useful tool for maximizing your e-commerce sales. Use these three tips to help you gain, retain, and engage supporters beyond just the first purchase.
Targeted Email Marketing Boosts Online Conversions By 20%
See how different brands use it.