If you are looking for ways to automate your digital sales process, I have just the information you need!
Table Of Contents:
1. Finding prospects
2. Scoring leads
3. Outreach emails
4. Reporting
5. Final stage
Selling in the digital world used to be a tedious task back in the days when people relied on spreadsheets and notepads for everything. Thanks to technology, we can now automate the entire sales process without affecting the quality of marketing efforts.
In a recent survey, HubSpot found out that 42 percent of marketers now believe that automation is a top priority in business. If you are a savvy decision-maker, automation should be your most important priority as well.
Don't listen to people who keep saying that email is dead, because the oldest and most effective means of communication can't be declared unimportant yet.
HubSpot found out that 42 percent of marketers now believe that automation is a top priority in business.
Click To Tweet
We have outlined the key components to automate your sales process and get more time to focus on sales goals in this guide:
Finding prospects:
One of the essential parts of automating your sales process is to find prospects who will truly benefit from your company and its products. These prospects can be decision-makers at other businesses or individual customers.
This process is not the easiest, because identifying a prospect is a time-consuming endeavor.
The best way to go about it is to handle the process manually so that you can ensure that every person on your list of prospects is hand-picked and chosen for the task.
Manual identification also makes it easy to get qualified prospects regarding detail.
If you don't have the time to handpick your prospects, there are plenty of tools out there, making it easy to automate the process. Search the internet for the best tool that can help you speed up the process in little time.
Some tools identify prospects who are decision-makers in their companies, along with their email IDs and social media profile links.
You can also find tools to identify B2B prospects and use LinkedIn to build a list of prospects. 33 percent of marketers find this to be very effective.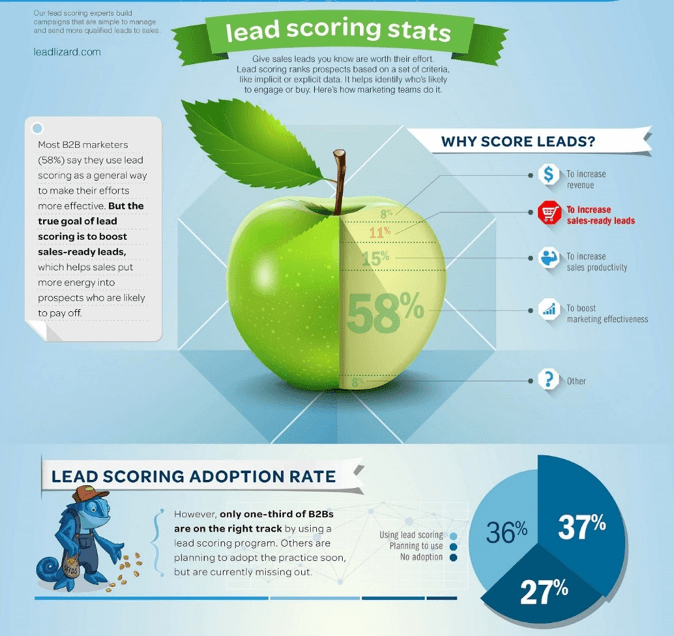 Whatever you choose, you must remember that this step does not work entirely on its own. Some kind of human intelligence is included in one part or the other, to weed out the irrelevant information and stay focused on the strong prospects.
Scoring leads:
When you have a list of prospects for outreach, the next thing you want to do is to stay on top of the list and be connected with everyone.
However, this is where you will find your human strength depleting because it is impossible to keep up with so many people. An automated system is the best answer to your question because you can stay connected with people and interact with the most important leads.
Tools that can automate lead prioritization are lifesavers because they choose the right leads for you. You set the rules; the tool performs all other repetitive tasks.
The lead scoring platform will analyze all the leads based on your rules, and prompt you with those that matter the most.
When you contact a lead, you will be informed of their history as well as their past communication with your company. Prospect tracking and lead scoring also inform you about the stage of the lead within your sales funnel.
You can customize their experience with your company by adjusting your language and product to pitch.
When you see how the leads interact with your web properties, you can remove any roadblocks and change anything that hinders a smooth movement in the sales funnel. Like they say, "don't let the revenue slip through the crack!"
Outreach emails:
There is a lot to say about personalization and its effectiveness in lead scoring, but when it comes to emails, you can't send one personalized response to a large number of leads.
This is where your lead scoring efforts can be extremely beneficial. You are wasting your time if you are sending highly-personalized emails to leads that are not as far into the sales funnel as others.
The best way to convert more leads into customers is by identifying the ones who are deeper in the sales funnel.
This is where email templates show their magic. A good sales automation tool has many email templates that are ready for you to use in sending personalized emails to strong leads.
You just have to choose a template and make it your own. You shouldn't neglect the use of email templates.
Otherwise, you would be sending the same emails as your competitors, and that would not look good if you are a prospective customer choosing between two brands.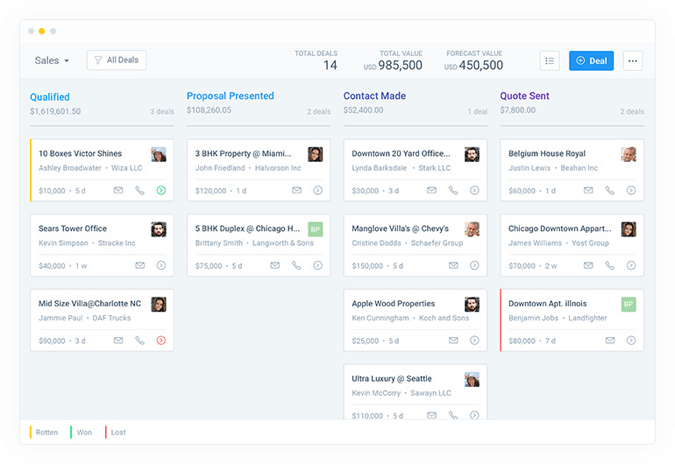 A good sales automation tool also has many sales pipeline templates, making it easier to choose one and kick-off! Templates are an integral unit of sales automation because they are designed by the best in business to help you achieve your sales goals.
Reporting:
Reporting is vital for your sales process, and it helps your business improve. You can't distribute leads at random, but you can form an organized way to get more leads to get more customers.
However, if your team is spending too much time making reports and not focusing on improving the sales process, you might face a loss.
Automated sales tools are a great help to eliminate the repetitive labor of making sales reports. This cuts down on the time used by sales reps to create the same report every day/week.
A good automated CRM software can jump to tasks and take care of this job for you.
With mobile synchronization, sales representatives can punch in their daily progress reports directly from the field! It saves time and energy because you no longer have to wait to report until you walk into the office.
Final stage:
When you have sealed the deal, you have to overview and make sure there are no loose ends in the whole process. This includes contracts and their payments and detailed reports to describe the process if the higher management inquires about it.
A modern sales professional is both good at selling and analyzing the numbers through reports.
When looking for a sales CRM system, keep in mind that you must work with a tool that can easily sync with other means of technology you have in your company.
Make sure that the system is fitting the needs of your company and bringing a positive change to your lead scoring program. Moreover, don't confuse expensive with effective.
Look for a tool that can scale to the needs of your company, rather than putting a dent in your wallet.
Automation in digital sales can be a wonderful experience for your team and open new avenues for sales numbers.
Make sure you describe the way you work in your company and get a tool that makes you do lesser repetitive tasks every day.
Cost Effective Hacks To Increase Sales With Marketing Automation
Go through these 4 steps.