A single tool that automatically analyzes your customer data, derive insights from them, act on those insights in real-time, and streamline your workflow consistently doesn't sound too good to be true at this point of time. All thanks to the advent of marketing automation.
From customer acquisition to retention, marketing automation optimizes all of your communication efforts by reducing repetitive and time-consuming tasks, thus freeing up time and resources to focus on more pressing matters that hamper company growth and productivity.
Table Of Contents:
1. Why existing customers?
2. Aligning marketing & sales
3. Exceptional onboarding
4. Personalizing content
5. Building relationship
6. Collecting feedback
7. Re-engaging inactive customers
8. Providing stellar customer support
To give you a clearer picture, it helps you design a closed-loop marketing campaign by integrating and collecting insights from your CRM, lead management system and analytics platform. Marketing automation takes care of all the legwork for you – data analysis, audience segmentation, personalization, execution, analysis and reporting, leaving you time to plan targeted campaigns for your prospects and existing customers.
Why existing customers?
Well, in this day and age, your business needs to be customer-oriented to survive in the highly-competitive market. Today's empowered customers are armed with the right resources to help them make an informed purchase decision and if you're not their first choice, that means your competitor is. Fighting for prospects' attention and eventually, their business, is a costly activity with no sure-shot strategy or tricks.
However, retaining your existing customers by delivering value at every step of the way and not to mention, an expeditious customer support is completely in your control.
Retention is the key to a sustainable growth model. Your loyal customers are worth up to 10 times as much as their first purchase – they are committed, willing to re-purchase, and they are more likely to pay premium prices for superior services and support. There's no training cost associated, and on the top of that, they bring you similar quality customers by referrals. Also, their valuable insights and feedback will help you refine your product and services.
Then again, customers do evolve, their needs change with time. Their expectation from your product will change as time passes on and you need to reinforce your value constantly to keep them hooked.
After a one-time purchase, your strategy should be to help them steer the next decision in your favor by delivering value-based offerings based on previously-defined customer segments.
The most efficient way to predict your customer behavior is to map out the entire customer journey. It helps you refine the whole process, pinpoint the loopholes, detect opportunity areas and plan timely campaigns.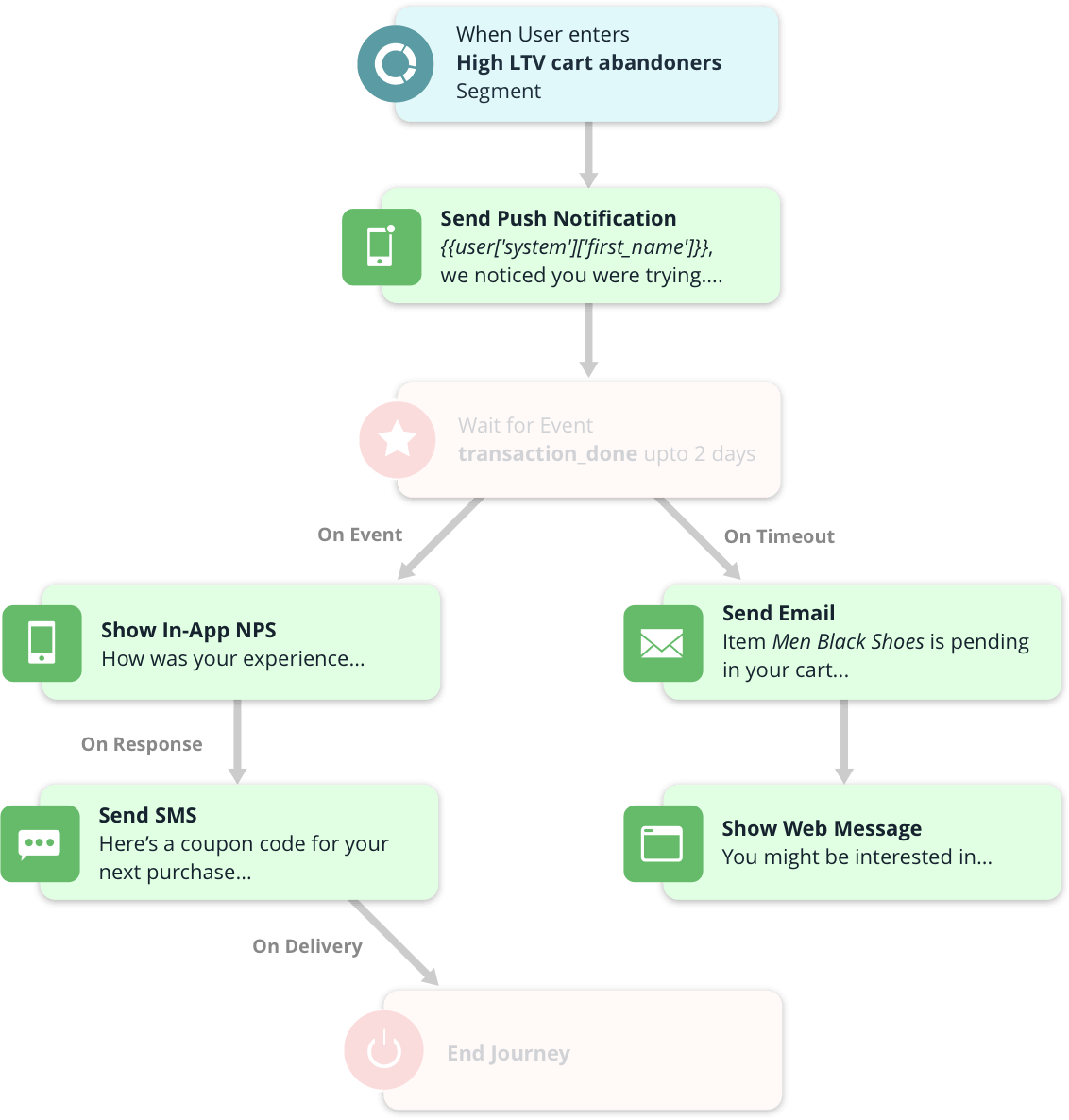 Marketing automation tools lets you design the customer journey for better understanding of the buyer intent, and to help you reach out to your customers with appropriate content at the right moment, delighting them and guiding them through the sales funnel in this process.
Here's how you can operate the entire customer journey to educate, delight and support to turn them into loyal brand advocates:
1. Aligning marketing & sales
Oftentimes piping hot leads end up in the 'no man's land' and get edged out due to the disparity between your marketing and sales team. Marketing automation simplifies the lead assignment process by capturing the leads, segmenting the qualified leads based on their scores and routing them to the appropriate marketer/sales rep for the next steps.
This process ensures that every MQL/SQL is accounted for and taken care of. By sharing the resources and inside knowledge, both of your marketing and sales teams will be equally empowered to work towards the common goal and provide the best possible experience to the customer.
2. Exceptional onboarding
In all probability, onboarding marks the first direct interaction between your leads and your team, so make it count.
Segment the leads by their engagement history, interests and behavior and create customized welcome journeys for them.

Automate your welcome messages across all channels and make those dynamic to ensure the relevancy of these messages.

Have all your documentation and resources ready and provide those to the customers as and when required.

Track the usage and behavior pattern to detect problematic areas of your website.
For instance, it has been reported that real-time welcome emails with offers tend to have higher transaction rates and revenue per email than those without. Hence, you can automate the welcome messages with customized offers to start off on the right foot.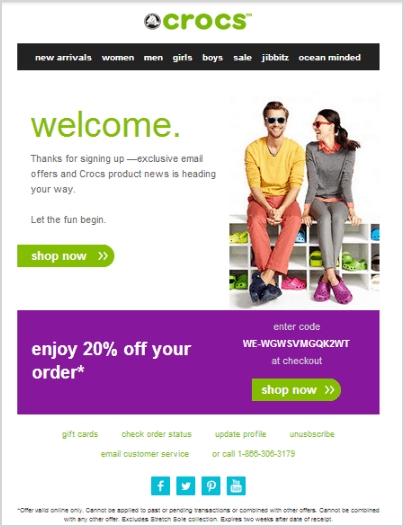 Source: VerticalResponse
3. Personalizing content
Marketing automation tools allow brands to be up close and personal with the customer by studying their behavior and actions to encourage a more authentic and free-flowing two-way conversation. This is the distinguishing factor that paves the way for 1:1 customer relationship.
Segment your customers based on their demographic, needs, budget, usage, etc and deliver granular, targeted content. This practice warms them up considerably and boosts top-of-mind awareness, increasing your chances of retention.
For example, data mining will give you the probability of a customer's repurchase based on their transactional history. Based on this information, you can plan a cross-channel campaign with timely message, setting the mood for up-selling and cross-selling. This brings us to the next point –
4. Building relationship
That's a no-brainer!
Marketing automation helps you design retention campaigns across customer lifecycle stages with RFM (recency, frequency, monetary) analysis to provide tailored content at the optimal moment.
Sending mass marketing email is a thing of the past. To earn customer loyalty, you need to visualize the whole journey, and keep delivering value consistently, even after purchase to develop a longer and smoother relationship with the customers to increase CLV.
Here's how you can get started –
Track the actions of your leads across the website – page visits, sessions, bounces, content downloads, etc.

Score each lead and reach out to the most engaged brand evangelists with special discounts,

referral programs

, loyalty campaigns.

Take a note of the low-score customers and create recommended offers for them. For example, send a 'Miss You' email for customers who haven't been around for a long time.

Personalize emails to engage with customers whose birthdays are coming up and surprise them with time-bound, FOMO-inducing birthday discounts. Case in hand – Nike's birthday wish email.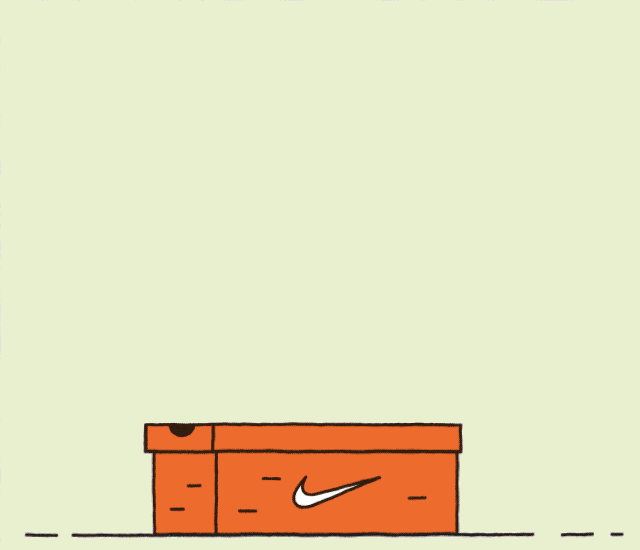 Source: Really Good Emails
5. Collecting feedback
Instead of waiting for customers to complain publicly, seek feedback actively to increase good-will and to detect at-risk accounts.
Automate Net Promoter Score surveys to every customer after a certain period of time to stay at the top of the game. If someone's dissatisfied, personally reach out to them and try to mitigate the risk as fast as possible.
You can even automate post-sales feedback interviews with new customers to find improvement areas and to encourage them to come back.
6. Re-engaging inactive customers
Sometimes even the most loyal customers defect for the tiniest of reasons. To gently remind these customers, or to reactivate old accounts, you need to have an automated practice in place that'll nudge them towards taking a guided action.
For example, if a customer has downloaded your app but haven't made any transactions in two weeks, you can automate outreach emails/in-app push notifications to notify them of
a great offer that they may be missing out on,

send them a time-sensitive deal, or

remind them of unused points piling up in their account.
Abandoned shopping cart is a chronic pain that affects all e-commerce businesses. Through marketing automation, you can implement a cross-channel cart recovery campaign to increase conversion rates.
Blackmilk Clothing knows how to re-engage prospects, for sure. All you require is a bit of creative writing, an eye-catching subject line and/or relevant image. Just add the personalization points and automate the journey.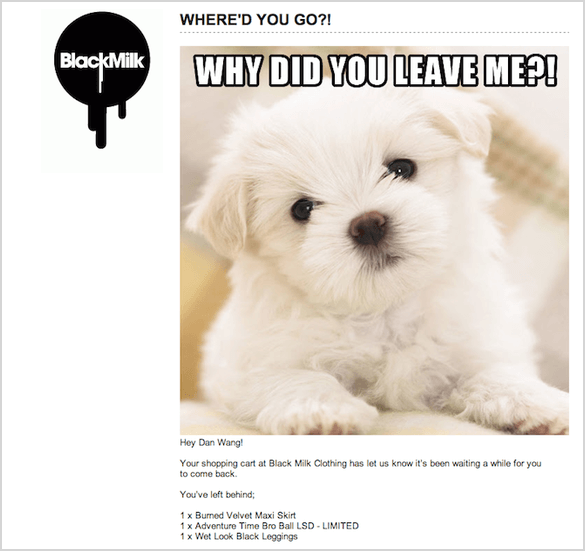 7. Providing stellar customer support
"82% of customers have left a company because of a bad customer service experience." (source).
Your customers expect fast and accurate response to their queries, and frankly, they deserve it. When you have a huge user base it becomes difficult for your customer success team to respond to all of their queries immediately and to keep an eye out for any issue the user may be sharing elsewhere. This is where marketing automation steps in.
Arrange for a

live chat support system

to respond to visitors and customers to reduce the initial response time. Set an automated response whenever your team is not online.

Automate

outreach

and

follow-up emails

for your sales reps.

Social integration tool

will help the team scan the web for brand mentions and sentiment analysis of the customers. Even if a customer is just venting, a timely and helpful response will reflect positively on your brand and impress the customer.

You can check in regularly to track customers who are fading out and/or looking for fast query resolution. This will help you detect the customers who are close to churning, so that you can immediately flag the user and engage them at the right moment.
Glossier uses its Twitter handle for good – to resolve queries, give away suggestions or detailed skincare routine (as demonstrated below). With social integration tool you can track specific keywords/ brand mentions or direct tweets to respond in real-time.
@glossier Apply Solution after cleansing, and feel free to follow up with serum > moisturizer > sunscreen

— Glossier (@glossier) March 10, 2018
Wrapping it up,
It's a straightforward equation – if customer loyalty is the objective, retention strategy is the way to go. Focus on end-to-end customer experience, engaging/re-engaging the loyalists and providing value throughout the customer journey.
A sustainable and healthy relationship with the customers is only possible when you start considering each of these leads as individual entities with unique challenges and needs, and engage with them accordingly. It's not an easy feat, but with marketing automation, you can simplify the whole process, work smarter, reduce wastage, save time and increase productivity.
10 Ways You Can Convert Your Visitors Into Loyal Customers