In spite of the social media platforms boom and lots of improved online marketing tools, email is still among the most effective ways to generate leads. An email marketing campaign is simple, easy to understand, and gets in direct contact with the final user.
But, this doesn't mean that any email campaign will be a success. Just like all marketing tools on the market, emails have specific requirements to generate leads in an effective manner. Based on our experience in the niche, we narrowed it down to five methods that help generate the most leads in email campaigns.
#1: Targeted engagement
#2: Provide value
#3: Start and end right
#4: Use incentives
#5: Newsletters, product launches & feedback
#1:   Targeted engagement
It's important to know where your leads come from, because each email chain has a different typology. For instance, your main source of leads could be organic traffic that land on your site, but it may as well be a social media platform (such as Instagram or YouTube).
Once you know the source, you will be able to customize the email content in order to fit the readers' needs and wishes. A successful email campaign will target specific audiences because this is the only way to make the reader feel heard.
Keep in mind: If the email reads like it was written with the individual reading it in mind, the chances of success will be significantly higher!
Many business owners will argue that email customization and super-targeting is a highly time-consuming task that may not be worth the effort, but there are amazing tools that can do this job for you. A good ERP system will have several segmentation features, but there are also specific tools that analyze your leads sources.
An example of well-targeted emails comes from the big companies (Airbnb, Netflix, Women's Health, and so on), where each client receives emails according to their current stage of collaboration (onboarding, subscribing for a service, follow-up, trial ending, and even leaving). It's not just about using the name, it's knowing what the client is thinking and expecting from you.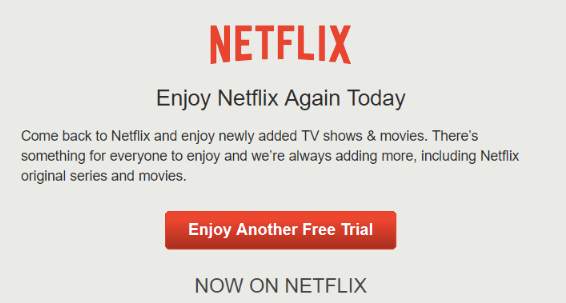 Source: https://www.mailcharts.com/emails/323a4650-6331-8617-9dec-f5de178fbdf2
#2: Provide value
To make sure the targeted audience will actually open, read the content, and click the links in the email, you must provide valuable information. In translation, your email should connect to a problem the reader has and provide an interesting solution via the services and/or products your company offers.
If you've done the segmentation part of the job right, you should already have an idea of the targeted audience's problems. As a result, it should be easy to find a way to connect with the reader, by relating to their needs. Once this step is accomplished, you can be sure of the reader's attention and you can make a pitch towards your site or landing page, where a possible solution awaits.
Here's how Pinterest does it: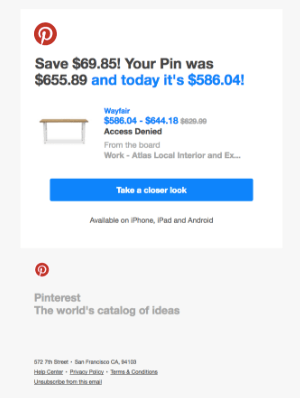 Source: https://neilpatel.com/wp-content/uploads/2017/06/pinterest-cart-abandonment-email.png
They are not just reminding the client that they have a product in their cart or on their wish list; they also notify the user when the product's price gets lower! This way, Pinterest creates value for their customers and keeps them interested in the sale.
#3: Start and end right
By this step, you should already know the main needs of your target audience and you should know how you can help. However, if you don't know how to start and end your email, you may lose real leads!
For example, it is very important to start with your best information. Just as media catches your eye with bombastic titles and impressive snippets, your email should have a strong subject line and the big news in the first paragraph. If the reader wants details, they will continue reading the email or visit your site.
Check out this example from Trello – first sentence gets you right to the point of the whole email: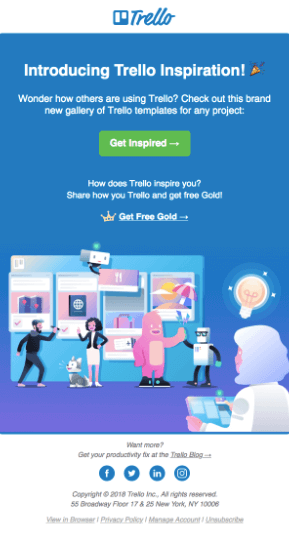 Source: https://reallygoodemails.com/promotional/announcement/introducing-hundreds-of-trello-sample-boards/
It's important to keep the content simple and short. The format should be clean, uncluttered, and easy to browse, which is why you shouldn't use more than two different typefaces. Also, we found that compelling images (graphs, charts, any relevant photos) create more engagement, so make sure to use them!
Finally, to impress the reader with your professionalism, you must know how to end the discussion, and this includes the email signature. The end of the email is just as important as the beginning because it sets the tone for future conversations. For instance, you can choose to end with a formal sentence, but in many situations, a casual closing may bring customers closer to the company.
Quick tip: After studying millions of emails, marketing specialists found that the ideal length of an email body is in between 50 and 125 words. Also, the subject line should be three to four words. So, when it comes to content, less is definitely more.
Another finding shows that emails written in the third-grade reading level have a higher open and response rate, and that it helps to include one to three questions in the content.
#4: Use incentives
Given that everyone who owns an email address gets way too much spam, the open rate in email campaigns is never 100%. But you can give it a boost by using incentives.
For instance, including something like 'Free shipping for orders over $100' in the title, may increase the open rate with as much as 40 to 50%!
Here is the example of a subject line with incentive from BookIt:

Source: https://sendgrid.com/resource/examples-of-the-best-email-marketing-campaigns-of-2018/
Quick tip: This method is extremely useful when you launch a new product or service, as people will be more tempted to open the email.
#5: Newsletters, product launches & feedback
Keep in mind that your customers are bombarded with new emails every single day. Therefore, if you want to keep a long-lasting relationship with their inbox, you have to pace your campaigns. Only send promotional emails when something important happens (product/service launch, sales, new collaborations, and so on).
On the other hand, you should maintain a constant presence in your clients' inbox, with newsletters. The rule here is to establish an acceptable rhythm and respect it. For instance, if you promise to send a weekly/monthly/bi-monthly newsletter, send it as promised! It will show you follow-through with promises. If you want to learn a bit more about newsletters, here you can find some effective examples and guidelines.
Finally, a wildly effective (yet overlooked) way to learn more about customers is through feedback. Use the email to ask existing customers for feedback on their most recent purchase or on your company's relationship with them (remember; one to three questions only!). This way, you will gain inestimable insight into your audiences' needs and preferences!
Overall, emails are a fantastic way to keep in touch with current customers and generate new leads as long as you know how to use the written word in an easy-to-understand and breezy manner.
Targeted Email Marketing Boosts Online Conversions By 20%
See how different brands use it