Unsure which marketing automation tools to add to your stack? Need a push notification tool or a micro-segmentation tool or a chatbot tool (or maybe all three)?
You're not alone – it's a challenge.
In WebEngage's Marketing Automation Survey, they found that online lead generation, multi-channel engagement and product discovery are the top 3 challenges marketers face.
When it comes to choosing a marketing automation tool and making a purchase, WebEngage found that setup and license costs play a huge role in a marketer's decision to use marketing automation technologies in their business.
Additionally, several marketing automation tools are difficult to use or lack essential features, which prevents marketers from adopting them even when they know it'd help increase sales.
In my conversations with B2B marketers, I noticed marketers also struggle building a simple marketing automation system that brings in customers and clients on autopilot. That's why I'm going to show you the simplest way to get started with marketing automation; the exact system old-school growth marketers use to increase sales without breaking the bank.
Once you setup this simple system, you'll be able to…
attract a constant flow of qualified prospects into your business

build your credibility and trust through education-first marketing

deepen your relationship with leads with personal touches

convert leads into customers

and advocates for your products
…all without wasting your budget on newly-minted growth hackers or unnecessary tools.
Step 1 – Inviting prospects into your business
Step 2 – Introducing prospects to your products and services
Step 3 – Advancing the sale with hands-Off, personalized touches
Step 4 – Converting leads into customers and advocates
Step 1 – Inviting prospects into your business
Some of the most successful growth marketers use education-first marketing to attract their ideal prospects into their business, so the first step in creating a strong foundation for your marketing automation system is to find a way to show prospects that you can help them.
You should demonstrate to your prospects that you can solve their problems by publishing a digital or physical book, creating a frequently updated blog filled with infographics, videos and long-form articles or hosting an in-person and online event.
In fact, there's no shortage of ways to educate your prospects; however, the most cost-effective method old-school growth marketers use today is a content hub, where prospects can find answers to their most pressing questions, as well as tools they can use immediately.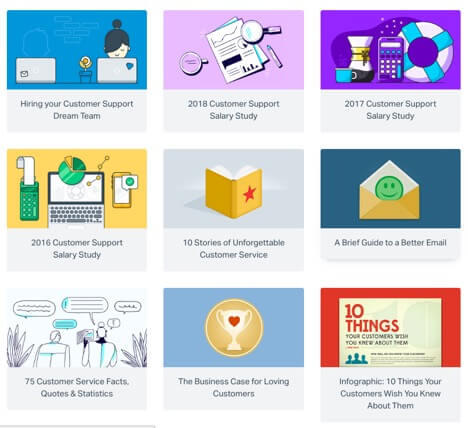 The easiest way to create the material you need to populate your content hub is to answer 15 questions your prospects are asking, and then 15 questions they should be asking, but are not. That'll give you 30 distinct pieces of educational content you can use to attract your prospects.
You should provide your content in text, audio or video format, if possible.
Personally, I prefer to start with text because it can be outsourced to freelance copywriters on Upwork, for example. You simply compile your questions and ask a freelance copywriter to provide detailed answers to each question based on their research.
You'll then repurpose that content into audio, video and infographics when the time is right.
Now that you know how to get the content created for your hub, let's dive into the technical details of getting it published so that your prospects can access it from anywhere, at anytime.
You really only have two options here, a paid content management system or a free one.
Since, I'm all about stretching your budget when it comes to setting up your simple marketing automation system that you can build on later, I'd suggest you go with the defacto free content marketing system, WordPress, which powers more than 20% of websites.
It's easy and affordable to hire a WordPress developer on Upwork or Fiverr to setup your content hub in just a couple of hours, assuming you have all your assets and content handy.
If you don't want to use WordPress for any reason, here are some popular alternatives to WordPress, including Drupal, Joomla and Jekyll; anyone of these is sufficient to get you started on your way to setting a simple marketing automation system that boosts your sales.
Step 2 – Introducing prospects to your products and services
You've got your content hub setup and it's attracting potential customers into your business.
Your prospect are visiting your site and finding answers to their most important questions.
You've shown them that you understand their problems, you've got the expertise they're looking for and that you can help them achieve their desired results faster with your unique solutions.

However, that doesn't mean everyone who visits your content hub will be ready to make a purchase decision immediately after consuming most, if not all of your educational content.
In fact, according to Smart Insights, only about 3 percent of your potential customers are ready to make a purchase decision at any given time; the other 97 percent need more time to decide or aren't convinced your solution is the best one for them or simply want additional information before they move forward.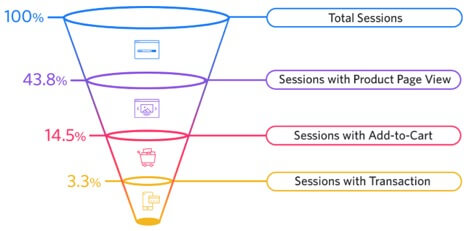 That's why old-school growth marketers always find a way to introduce potential customers to their products and services and that's exactly what you're also going to do next.
I've found that the most effective way to turn prospects, who are casually interacting with your business, into qualified candidates, who know about your products or services to actually make a well-informed purchase decision, is to offer them a taste of what they'll get as customers.
You should offer your prospects a free 14-day trial if you sell software and memberships, a 30 minutes consultation if you sell professional services or a small sample if you sell consumables.
We'll take a look at some low-cost marketing automation tools you'd use for this process, but first here's an example of how a growth marketer who sells subscription software introduces his product to casually-interested prospects who are visiting his content hub.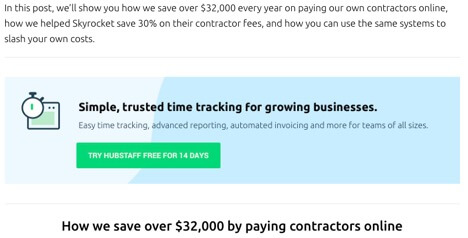 As you can see, this growth marketer is offering prospects a free 14-day trial of his subscription software so that qualified candidates can take the software for a test-drive and decide if this particular solution satisfies their unique needs.
Here's another example of how another growth marketer who sells professional services introduces casually-interested prospects to her done-for-you services.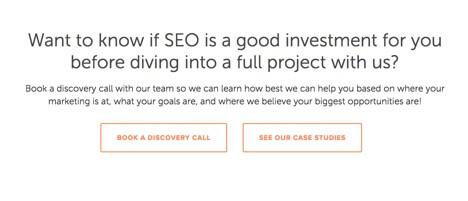 In this case, she's offering prospects a free, no-obligation discovery call with her so that qualified candidates can get answers to their unique questions about her services.  
Now, here's one affordable tool I'd recommend you add to your marketing automation stack to make this process as seamless as possible, assuming you're using WordPress as your content management system as suggested earlier.
OptinMonster is one of the most powerful conversion optimization and lead generation software used by many smart marketers to make targeted offers to their website visitors.
One feature that will prove useful to you, for the purpose of introducing your product or service to prospects in the manner described earlier, is the option to add an attention-grabbing, full-screen welcome mat to every single page on your content hub.
Another feature of OptionMonster you should experiment with is the slide-in scroll box form, which you can use to present targeted offers to prospects as they move down a page or as they're about to disengage and leave your content hub.
OptinMonster has a WordPress plugin, great documentation and exceptional customer support, so your WordPress developer should be able to integrate it into your content hub fairly quickly.
Step 3 – Advancing the sale with hands-Off, personalized touches
At this point,  your content hub is up and running, prospects are already finding your detailed answers to their questions useful and valuable. And those who are strongly considering your product or service have accepted your free trial or your free consultation or your free sample.
Your qualified candidates can make a purchase decision soon, all by themselves.
Still, life usually gets in the way and your leads may postpone their decision. Or they might decide to keep shopping and comparing alternatives. Or they simply need to get buy-in from other stakeholders, like bosses and colleagues, friends and family.
Old-school growth marketers expect this behavior from sales qualified leads and have contingency plans for moving the sale forward without being too pushy and annoying.
That's why they always have an automated follow-up system, so here's how you can also use marketing automation tools to advance the sale with hands-off, personalized touches.
If you ask any underperforming marketer why he doesn't have a follow-up system, you'll hear something along the lines of "I don't know what to say or send to my sales qualified leads" or that "I've sent emails, but my leads are not responding, they don't open or respond to emails."
The easiest solution to this problem is to send them the same educational content that got them interested in your business initially, but in a different format. So, you'd repurpose all your answers from your content hub into video, infographic or audio, even a PDF and send it to them.
This works because people have different learning and buying modalities and one of these formats will eventually give them the confidence to get over the fence and make a purchase.
I'm sure you can find a freelancer on Upwork or Fiverr who can convert your content into different formats, so I'll not get into the details here. Instead, let's take a look at two marketing automation tools you should use to send the right content, to the right person, at the right time.
The first marketing automation tool I'd recommend for this process is Moosend, an email marketing and automation platform that's used by thousands of growth marketers in different industries, including e-commerce, professional services and software as a service.
You'd be pleased to know that Moosend has a wide variety of responsive newsletter templates to choose from and in case you don't find anything that meets your exact needs, you can customize any of the templates to your liking using their intuitive campaign designer.
Also, if you're ever short of messages you can send to both leads and customers, you'll find Moosend's marketing automation recipes very valuable. For example, there's a website re-engagement recipe inside Moosend for people who haven't visited your website for a while.
I'd also suggest you use SMS marketing as an additional method of staying in-touch with your qualified leads because it feels a little more personal than automated email marketing alone and using more than one communication channel means prospects are likely to get your messages.
For SMS marketing, I recommend SMS Warriors because their pay-as-you-go pricing makes it a no brainer to get started. You can send, deliver and manage high-volume SMS campaigns from wherever you are through their cloud-based, user-friendly web SMS platform.
You can also take advantage of SMS Warriors' powerful API and hire a developer to integrate SMS marketing into the simple marketing automation system within a few hours when you decide to go beyond the basics you've setup here.
Step 4 – Converting leads into customers and advocates
You're one step away from completely automating your sales and marketing process so that customers can get their hands on your product or service without you being present at all times to sell and take orders from them.
Your content hub is now attracting customers into your business, your lead magnet – free trial, no-obligation consultation or free sample – is helping you identify qualified candidates for your product or service and your follow-up system keeps reminding them of what you have to offer.
It's now time to automate the way you convert your leads into customers and advocates.
To convert your leads into customers, you'll need an order form that can automatically process payments and provide information as to how customers can access their product or service.
For a secure, high-converting order form, I usually recommend Samcart or PayKickstart as an alternative to hiring a developer to create a custom one because of how quickly you can get an order form ready to accept payments.
Both services allow you to give your customers the option to pay with a credit card or PayPal.
Additionally, both Samcart and Paykickstart makes it easy to set up split-payments so that your customers can spread their investment over several months, which will definitely increase your conversions as your product become more affordable, relative to paying full-price upfront.
To turn your customers into advocates, you simply have to deliver a great product or service and then ask everyone who's pleased with their purchase to give you a testimonial and referral.
To find out whether your customers are delighted with your product or service, you should use Retently to send them an NPS Survey shortly after you deliver your product or service.

Using Retently's multi-channel survey feature, you can send the one-question NPS Survey to your customers via email, text or your website to measure their satisfaction. You can even customize the open-ended question customers see after rating your product or service.
One more reason I recommend you use Retently to identify your advocates, and unsatisfied customers for that matter, is that they have native integrations with other sales and marketing automation software you're already using, including WordPress, PayPal and Stripe.
Your ideal next step
You now know how to setup a simple sales and marketing automation system that handles all the major activities of turning strangers into customers for your business. You have the foundations of the exact system that old-school growth-marketers use, so you can also…
attract a consistent flow of qualified prospects into your business using valuable, educational content you've published on your content hub in different formats

build your credibility and trust by offering your qualified candidates a taste of what they get when they decide to make an investment in your product or service

deepen your relationship with leads with a personalized, hands-off follow-up system that reminds your qualified candidates about the products and services you have

and you can also convert leads into customers and advocates without selling, taking orders and asking for testimonials and referrals in person
Go ahead, implement this system and be on the lookout for other sales and marketing automation tools that'll improve your customer's experience of doing business with you.
5 Key Components To Automate Your Digital Sales Process