Hello!
I am Avlesh, co-founder at WebEngage. Your favorite on-site survey, feedback and notification tool went through a makeover in March 2016 to become a multi-channel marketing automation tool by letting you engage via web, email, sms and mobile (push, in-app) channels. We posted it here, but I didn't reach out to you proactively because my team was building something even bigger. Once you finish reading this post, you'd agree with me that the delay in sending this communication was worth the wait 🙂
After 3 months of a rigorous build phase and successful pilots with over 2 dozen large customers, we are rolling it out for everyone.
Say hello to the Journey Designer!
What is the Journey Designer?
In layman terms, we have made marketing automation VISUAL. Yes! Visual, in terms of how you design your campaigns across user's lifecycle, and how you view/analyze data once the communication plan is rolled out for your users.
Journey Designer is a drag-n-drop marketing automation workflow builder.
It lets you plan your engagement campaigns across multiple channels. These plans could range from designing a journey to automate renewals for your insurance buyers, to, automating re-activations for users who haven't used  your app since last 30 days, to, automate retrieval of dropped carts on your e-commerce store, to, rolling out an on-boarding plan for users of your SaaS app. You'll see some of these use-cases as journeys in the later half of this post.
Here's a quick explainer video for the Journey Designer…
Re-imagining marketing automation …
We know how painful it gets to manage campaigns that span across users' lifecycle. With journeys, we are trying to address the pain of executing batch jobs to automate marketing tasks. It's time to do the new.
To simplify your task of rolling out an automation plan – our Journey Designer has 4 types of building blocks – Triggers, Actions, Conditions and Flow Controls. We have put together a Getting Started Guide to help you on-board WebEngage quickly and familiarize you with these terms.
Here are some sample journeys built using WebEngage.
User journeys for banking and financial services
Insurance industry, overall, struggles with low insurance renewal rates from buyers. Strange enough as it may sound, one of the biggest reason for this problem is that buyers don't get timely reminders from the insurer and they forget to renew. Here's a journey that solves that simple problem – very simply! Check out the enlarged image to see a true multi-channel communication with a users across multiple touch points.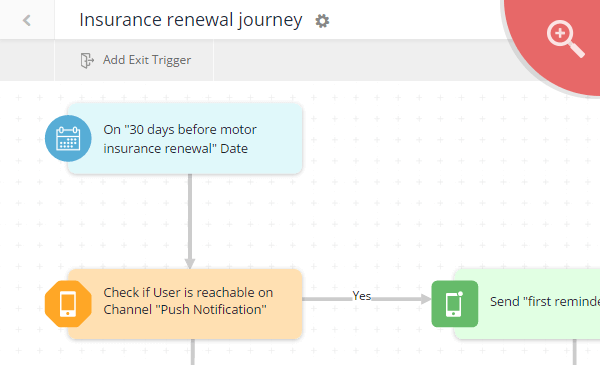 User journeys to improve retention for mobile apps
Bringing back users to your mobile app is always a challenge. Here's a journey focused on re-activating users in a certain cohort (in this case d30 to d90) who have turned inactive after their first transaction. Click on the enlarged version to see some creative usage of push and in-app notifications.
User journeys for e-commerce and travel apps to drive users towards the transaction funnel
For any transactional website or mobile app, there's a huge volume gap in users expressing an intent to buy versus those who go down the purchase funnel. "Added to cart", "added to wishlist", "hotels compared", "flight searched" etc are events that express user intent. Journey Designer lets you beautifully craft journeys on these intents and convert these users. Here's a sample for converting users "adding items to wishlist", into buyers.

User journeys to on-board customers for SaaS / B2B apps
A well designed on-boarding module can heavily boost conversions for a SaaS app. At WebEngage, we learnt it the hard way. Thankfully, you don't have to re-invent the wheel for your tool. Underneath is a quick sample of how you can easily design and optimize an on-boarding journey for your app.
While you are at it, here's a cool fact …
It ain't just about a nice visual designer, we made your marketing analytics real-time and visual too!
Once activated, here's a glimpse of how the stats for your journeys are presented – LIVE, real-time and visual! Don't miss the journey run that you can check for each user …
Here's how the final outcome of each journey looks like.

Hope you liked what you saw. We'd love to hear from you. Journey Designer is now available for everyone. Log on to your dashboard; or, sign-up to try it out for FREE.