We all have an app or two in our phones that we use every day. Mostly because these apps provide pleasant customer experience and you find value in using it. But what's even interesting is that these apps always leave a mark through their extraordinary onboarding experiences. Think of Airbnb, Uber and the likes.
Customer onboarding has been an integral part of the customer lifecycle in the B2C world for eons. However, the need for smooth, effective customer onboarding is even stronger for SaaS businesses.
In fact, about 62% of our customers said that they would stop using the product if they didn't easily understand how to use it or see value while using it. Customer onboarding determines whether a customer will stay or leave within the first few days of getting started with your product. 
About 62% customers say that they would stop using the product if they find difficulty in using a product or don't see value while using it.
Click To Tweet
What is SaaS customer onboarding?
Customer onboarding, in SaaS, is the process of nurturing news users and helping them get acquainted with your product/service. This stage comes right after the lead becomes a customer and gets started with your product. Usually, it involves transferring knowledge about your product through product tutorials, help documentation, and enhancing the user experience once they start using your product.
What is unique about WebEngage's SaaS customer onboarding?
At WebEngage, we go the extra mile to make sure that our customers receive value and achieve their desired goals using our marketing automation dashboard. We've revisualized the conventional practice of handling onboarding. Generally, customer onboarding is handled by customer success managers in most SaaS organizations. But we have introduced a team of onboarding specialists that aids the customers throughout the integration phase and ensures hassle-free, timed and extremely personalized customer onboarding experiences.
Our customers experience four distinct stages of the customer lifecycle with us: arrival, opportunity & closure, onboarding, and success & support.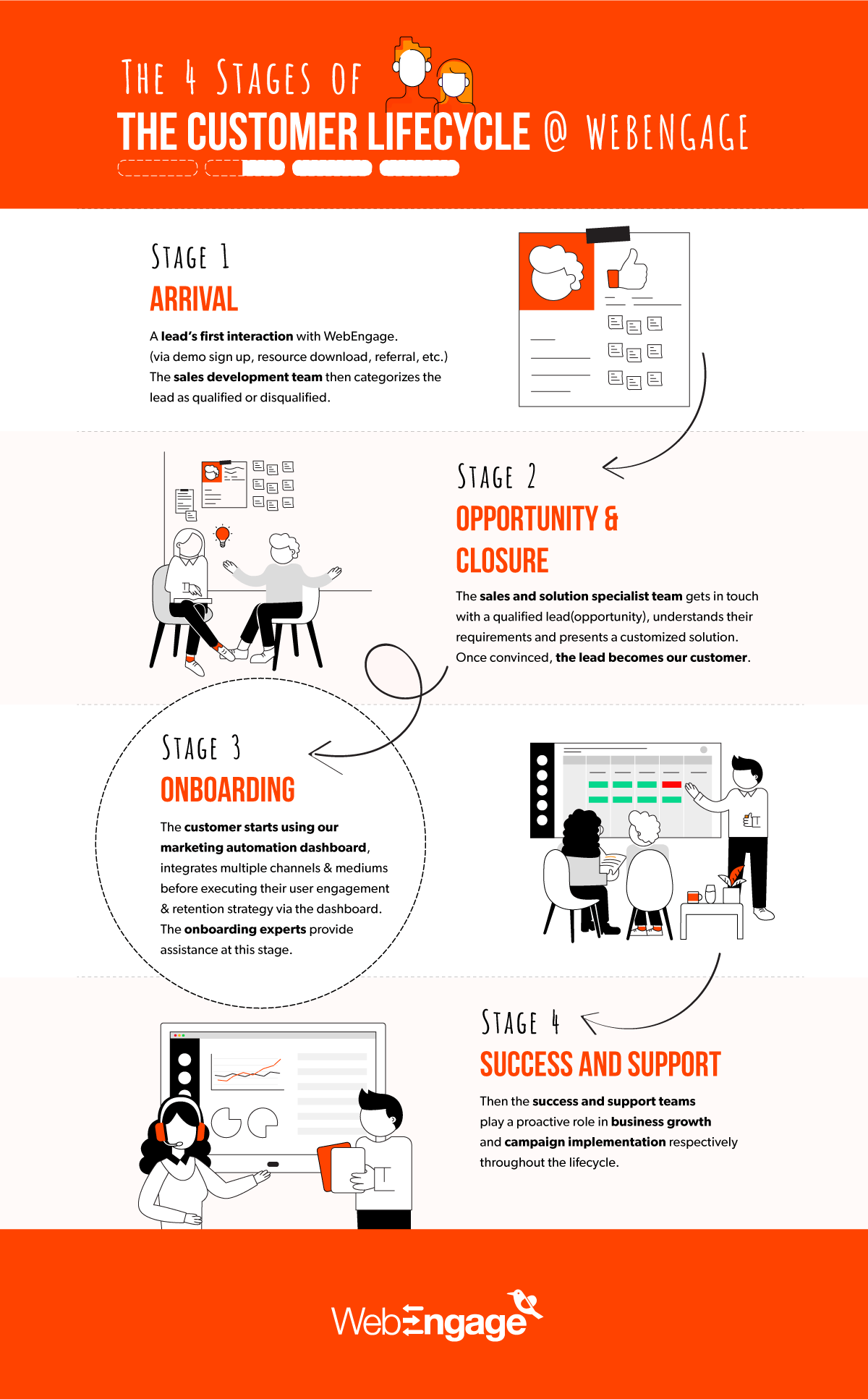 Benefits of SaaS customer onboarding
1. Lowered risk of churn
More than two-thirds of SaaS companies experience churn rates greater than 5%.
A customer's first interaction with your product is either love at first sight or never talking to you again. If your onboarding assistance is like the love at first sight for your customer then the customer
Already starts liking your product
Is excited to use your product
Is most likely to use your product for a longer time
And if they do that, chances of them running away to your competitors or moving away from you are minimal.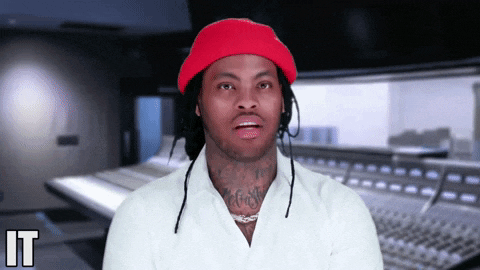 2. Deep-rooted impression
Proactively helping your customers in getting started with your product can be a great element. Maintaining the same level of assistance not only makes customers feel valued but can make them feel at ease while using your product. If done right, you certainly have the power to leave a lasting impression in your customer's mind. The trust factor automatically goes up.
3. Higher chances of retention and renewal
If your onboarding has been effective then your customer certainly
Knows how to use your product
Is aware of the latest upgradations
Enjoys using your product
Retaining these customers is easier and cost-effective rather than running around acquiring new customers. As existing customers spend 67% more on average than those who are new to your business.
4. Assured customer advocacy
If your customers are content using your product and have received valuable experience from you, they gradually become your fans. They become your top sources of referral. Your customers might even write great reviews about your products.
Recently at an event in Dubai, one of our customers dropped by to endorse our product and spread the word among other attendees at the event. Isn't that lovely?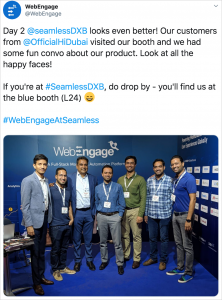 5 elements to ensure exceptional SaaS customer onboarding experiences
Providing irresistible customer onboarding experiences can be challenging. We've known our way by closely working with our clients and understanding how we can make it better for them. Here are some interesting ways that can help you better your SaaS customer onboarding experiences:
1. Have a team of onboarding experts
Deploying a dedicated team of onboarding experts to help customers get started with your product is a brilliant idea. It makes it easier for customers to understand your product better, frees up your customer success managers and helps them work on the customer's use cases simultaneously.
2. Set onboarding milestones
Defining milestones sets the expectations right for your customer. It helps you and your customer stay on the same page and streamlines the process. Having a basic, customizable framework would be a nice practice to solve this.
We've prepared a four-week onboarding framework for our customers. We customize this based on the customer's requirements.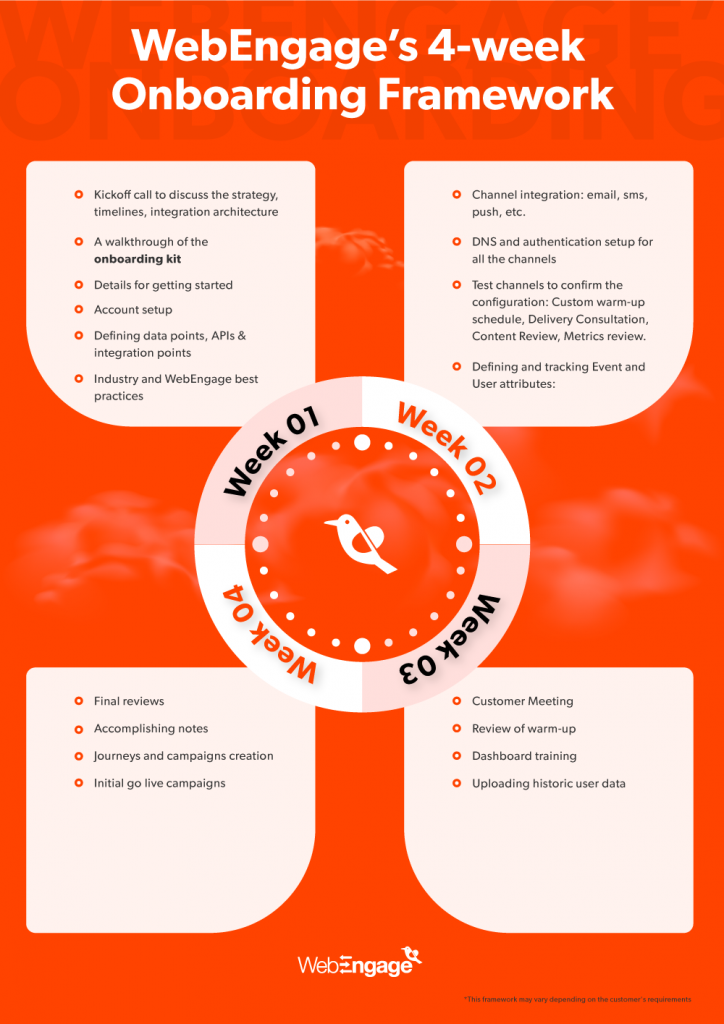 Don't forget to celebrate these milestones with your customers! 🍾
3. Customize the experience
We've heard and read a lot about the 'aha' experiences. But how do you create these aha experiences for your SaaS customers?
Dig deeper into the customer's business goals
Develop an onboarding process that matches the business goals
Customize the entire experience based on these goals
For instance, one of our e-comm clients had multiple apps in their business. So they were keen on integrating three apps into our marketing automation dashboard. To enable that, we worked around integrating one app after the other and testing each app before they went live with other channels.
4. Help your customers reap early benefits
Enabling your customers to reach an early value when they start using your product leads to trust building. You can start testing a few campaigns while you are assisting the customer in getting fully started with your product. This ensures that your customer's excitement doesn't go down until they use your product wholly.
5. Sought feedback constantly
Asking for feedback has always been beneficial. Taking feedback helps you build your product as well as keep your customer's requirements in mind. Run survey campaigns, send one-to-one emails or even meet your customer in person to take their feedback.
More importantly, don't wait for the entire onboarding process to end. Seek feedback after every milestone is completed. That'll help you enhance your onboarding experience through and through.
Now that we know the importance of SaaS customer onboarding and ways to improve it, let's dive into a case study on SaaS customer onboarding.
EazyDiner's onboarding experience: A success story
EazyDiner is an instant restaurant table booking platform founded in 2014 by a collective group of renowned and highly experienced chefs and hoteliers from across the world. It offers table reservation at 6000+ registered restaurants in Delhi NCR, Mumbai, Bengaluru, Pune, Chennai, Kolkata, Goa, Ahmedabad, Jaipur, Hyderabad, Chandigarh, Lucknow and Dubai on the EazyDiner app and website with guaranteed offers.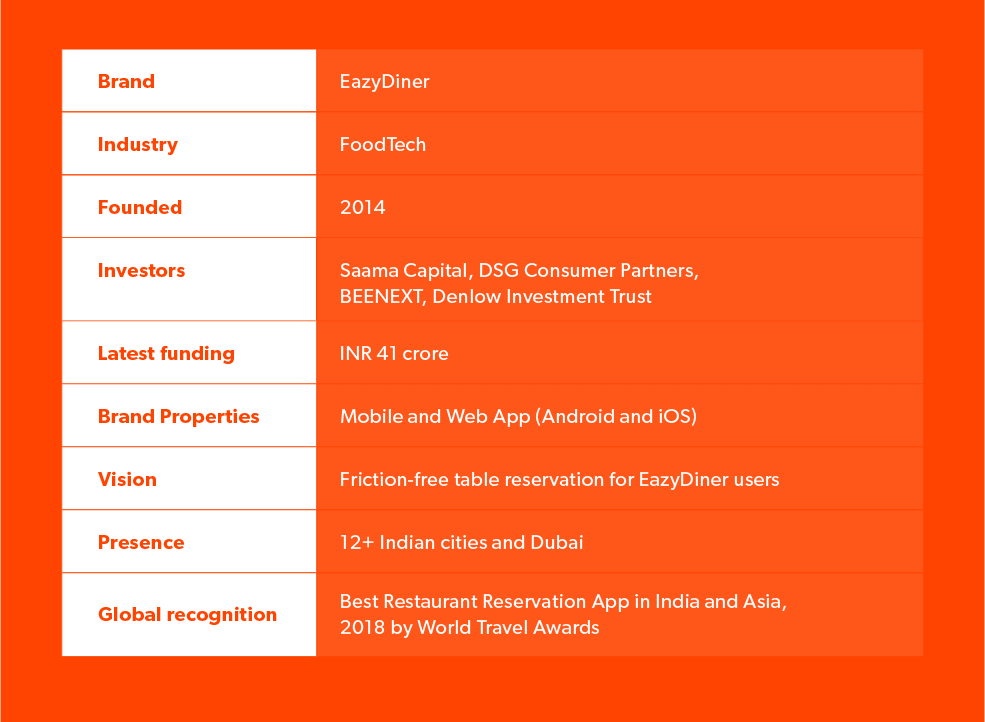 "About 20 percent of the seats in a restaurant go vacant everyday. On weekdays, this number shoots up to 50-55 percent", said co-founder & COO of EazyDiner, Rohit Dasgupta in an interview with Business Today.
Considering the facts, EazyDiner decided to serve as a curated guide to an extensive range of dining options, helping diners make reservations at restaurants within seconds while also aiding restaurants to be able to offer and take bookings effortlessly.
To enable this, EazyDiner tried a couple of marketing automation tools before switching to WebEngage. But they weren't really satisfied with the onboarding experience. And when the start is rocky, the experience that follows is bound to be unpleasant. So before joining hands with WebEngage, the EazyDiner team had specific expectations and challenges to be taken care of.
Integration and support: Integration was the most important part of the process as nothing moves forward unless the right channels, events, and platforms (like Google Analytics, CRM, etc.) are integrated into the marketing automation platform. So the EazyDiner team wanted to complete the integration process soon and without much hassle. But due to their past experience with other marketing platforms, they were skeptical about whether we will provide a simple process and adequate support.
Data was strewn across multiple channels and mediums: Since EazyDiner's user data was strewn across channels and mediums, sending out multi-channel communication was extremely challenging. They were also using various tools including the CRM and social media. Integrating data from across these touchpoints and mediums was extremely challenging. Additionally, push notifications are pivotal to their business – so EazyDiner wanted to have push notifications up and running without any glitches.
Timeline: The business is in its important growth stage – so the team didn't want to go through a lengthy onboarding phase. They were expecting to have the integration complete completed within 5-6 weeks.
Specific use cases: EazyDiner had a set of primary use cases – some also required specific channel/medium integrations.

Location-based targeting: A user looking for restaurants/offers in a particular area must get relevant communication about the restaurants in that area.
User targeting: Personalized communication must be sent to a set of users who did or did not do a specific event.
Multi-channel engagement: Depending on the user's past actions and behavior, relevant communication must be sent across multiple channels to create an omnichannel engagement.
Campaigns: Based on the use-cases mentioned above, EazyDiner wanted a no-frills and quick campaign execution that also helps them save their human hours. They aimed at having their integration done in such a manner that it helps them plan and execute their campaigns easily and strategically.
WebEngage at work
When the onboarding phase started with EazyDiner we stuck to a multitude of elements that ensured a customized, hassle-free onboarding experience for EazyDiner. Here's how we did it:
1. Aligned our team
Yes! We're talking about our team. As soon as EazyDiner signed up, we assigned an onboarding manager and a customer success manager to take care of the account. The managers conducted a kickoff meeting with the stakeholders at EazyDiner and deep dove into EazyDiner's use cases, expectations, and challenges.
2. Set the stage for EazyDiner's expectation
The managers then found the ins and outs of EazyDiner and promised an initial go live with a handful of use cases. So that EazyDiner can actually see if the integration is working fine and as expected. The onboarding manager also laid out a Scope of Work (SOW) which sets things clear and brings both the teams on the same page.
3. Defined the milestones and timelines
We mutually chalked out an onboarding plan that included deadlines for every particular thing. This helped in achieving the onboarding milestones and sticking to the turn-around time (TAT). The onboarding expert broke down the integration process into a four-week process.
4. Fused the user data into a single platform
We collated the user data from across the channels and mediums and stored it on a single platform i.e. our marketing automation platform.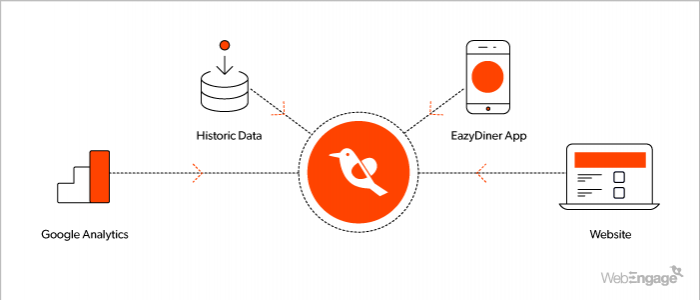 5. Provided dedicated human assistance
Along with the integration manuals, product tutorials, documentation, and educational emails, our onboarding manager played a proactive role in ensuring and aiding the EazyDiner team at every stage of integration. The manager provided one-to-one training and assistance.
5. Enabled real-time indication
We have a progress meter for each function of integration. The color of the success meters for every function changes from red to orange to green as the integration progresses from undone to in process to completed respectively.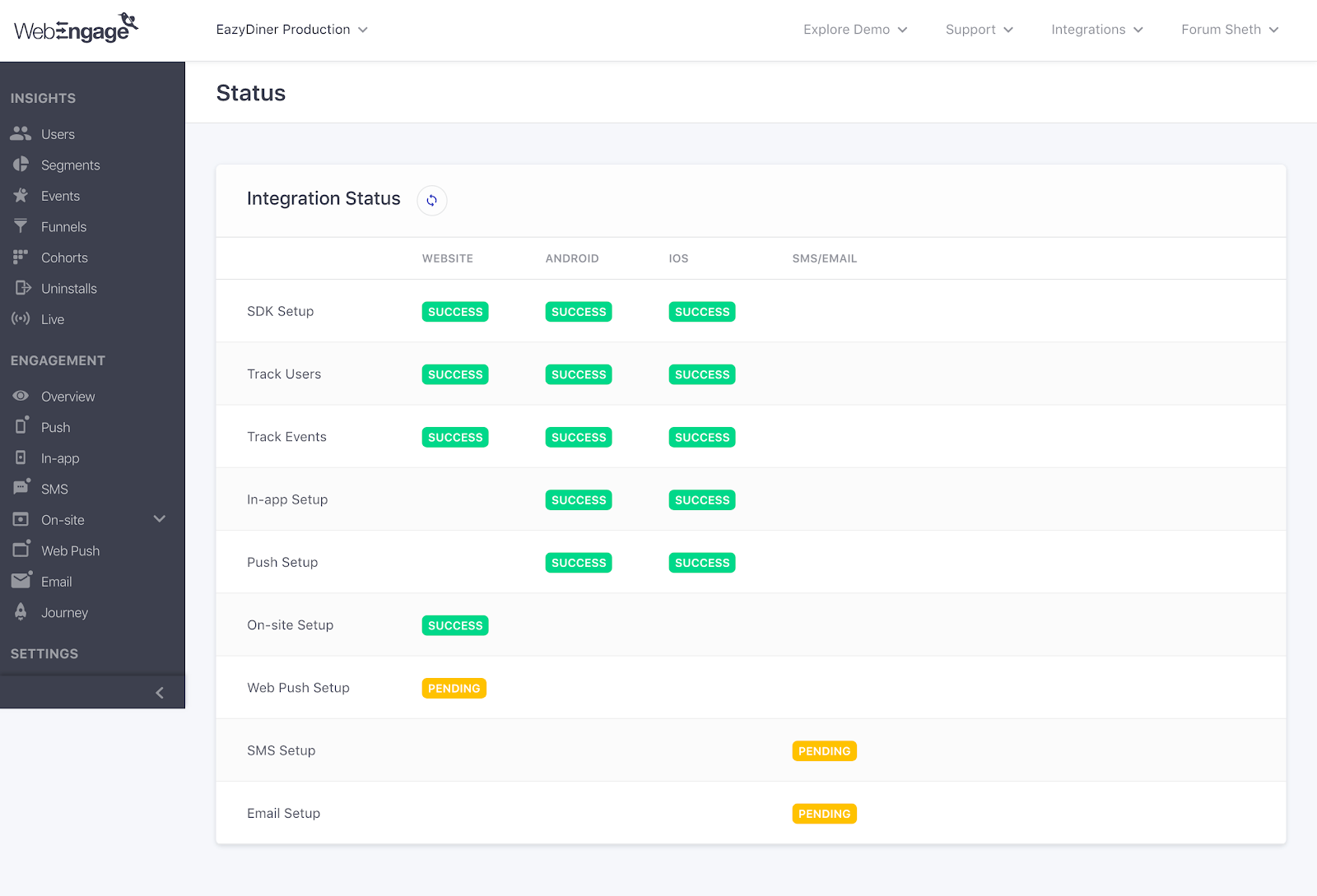 6. Solicited feedback at every level
For us, it's never too late to ask for feedback. So during the integration phase, our team sought feedback from the EazyDiner stakeholders on completion of every milestone. We made checkup calls to ensure that everything happened correctly and as expected. We do this regularly even after the onboarding process is over.
7. Simplified the use cases and introduced automated journeys
Location-based targeting: We enabled the geo-fencing feature to ensure that a user looking for restaurants/offers in a particular area gets exact communication about all the restaurants in that particular area.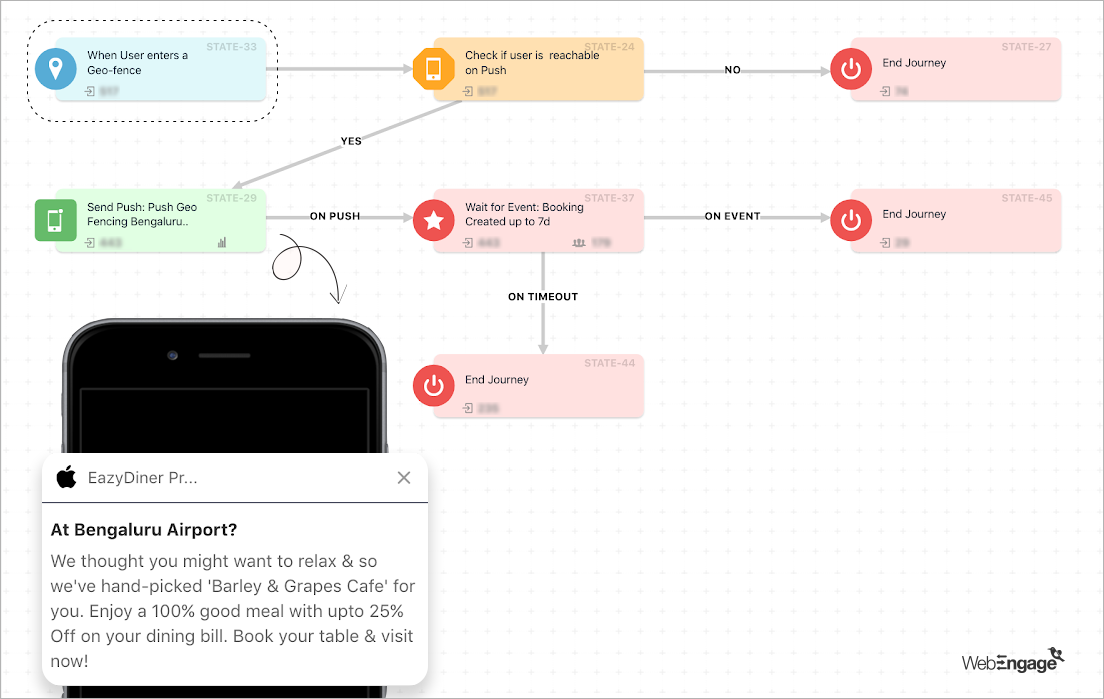 Segment-based user targeting: We recommended creating segments of users depending on their past actions and behavior. This helped them in deciding the next best communication and send it in a personalized manner.

Cross-channel engagement: Instead of sending messages on different channels in an ad-hoc or bulk fashion, we suggested creating cross-channel journeys – to help EazyDiner orchestrate their campaigns across channels throughout the customer lifecycle.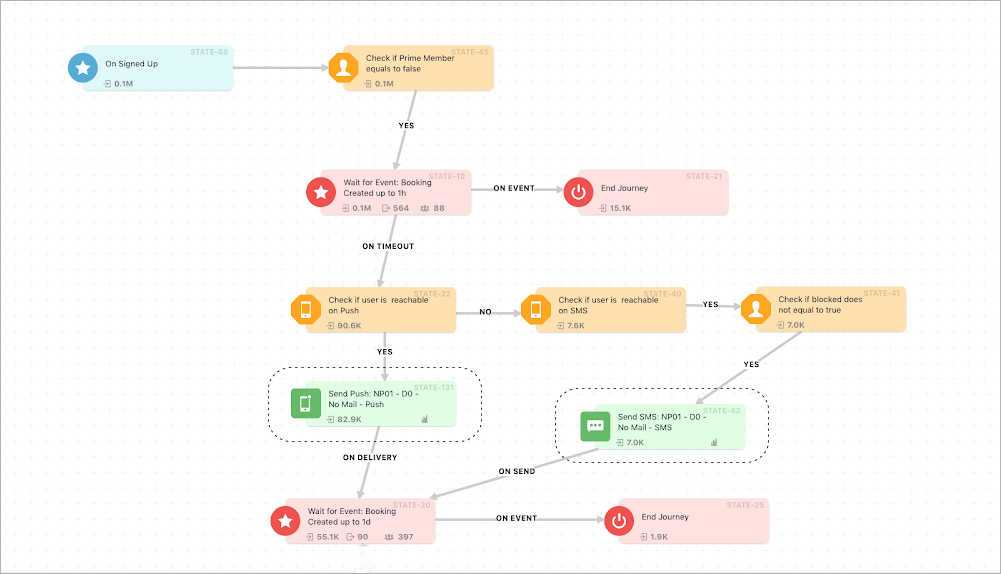 EazyDiner successfully completed their integration process with the help of onboarding experts at WebEngage. Today they seamlessly implement highly targeted campaigns across various channels using our marketing automation dashboard.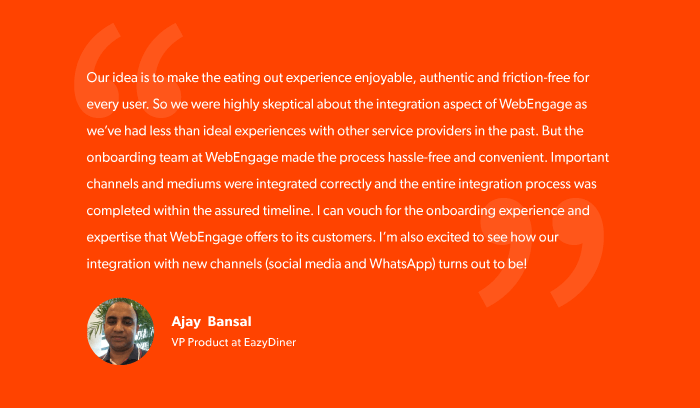 Summary
Customers have always been about experiences. SaaS customer onboarding, precisely, can make or break your customer lifecycle. Understanding a customer's requirements and providing relevant, customized onboarding plan and experience is key. Saas customer onboarding managers must strive to help customers achieve their desired outcome by making the most of your product. 
Get Your Copy Of The EazyDiner Onboarding Story