---
Marketing Automation 101 for Education Technology Businesses
This blog series is a one-stop guide for Education Technology Companies to teach them about the importance of a B2C Marketing Cloud for customer acquisition, engagement, and retention. In this post, we'll discuss why every edtech company, irrespective of its business model, needs a marketing cloud at every stage of its customer lifecycle. 
---
My memories of high school revolve around heavy books and countless assignments. Not to forget a typical classroom setup of a teacher, students, blackboard and a demanding study curriculum. Back in those days, 'education' and 'technology' were just fancy words I used to impress my teachers.
Today, Educational Technology (a.k.a EdTech) is one of the most lucrative sectors of 2020.
"EdTech is the next Fintech", David Bainbridge (TechCrunch)
So, what is Educational Technology?
Educational Technology is the study and ethical practice of facilitating learning and improving performance by creating, using and managing appropriate technological processes and resources.  
[Source: The Association for Educational Communications and Technology (AECT)]
In simple words, it's the practice of enabling instructions and/or learning through technology.
EdTech will continue to be the
most promising
sector. Here's why:
The global penetration of internet, digitalization, and smart devices is astounding (

see below)

.

And this has contributed immensely to the growth of educational technology worldwide. This evolution has enabled edtech companies to surpass the limitations of location and to connect (with) teacher and students anytime, anywhere.  
"Before the mobile revolution, it was next to impossible for companies to access school users (teachers and students) directly, without having to navigate the slow district bureaucracies."
Guido Kovalskys, TechCrunch

Customers are hungry for EdTech solutions.

From K-12 students to college graduates to professionals to adults who are continuing education, everyone is seeking to build their skillset. Thanks to our edtech startups and their innovative products, we now have online classroom setup, digital learning platforms, lessons over video conference, etc. at our fingertips.
Types of Educational Technology businesses
If you think that the sector of educational technology is one-track, you can't be more wrong. EdTech startups are exploring as well as expanding to multiple business models. Here are a few examples:
Website of a K-12/ College/ University
WHAT: An official website and/or mobile app of a K-12 School, a College or a University is a one-stop destination for all the related information. These platforms provide information about the offered academic programs, support online admission, give access to the student portal, etc.
EXAMPLE

: University of Oxford (www.ox.ac.uk/)

HOW IT WORKS

:
Massive Open Online Courses (MOOCs)
WHAT: A MOOCs platform enables anyone (with internet) to access online courses from any part of the world. These courses are designed by Universities and/or Teachers (Instructors). They upload their course material on a Massive Open Online Courses/Certifications Platform in the form of short lesson videos, assignments, reading list, etc. that is purchased by the interested Students. No wonder we all love them!
EXAMPLE

: Coursera.org, Udemy

HOW IT WORKS

:
Online Test Series Provider
WHAT: These providers create and sell mock tests to students who are preparing for entrance exams like GMAT, GRE, CAT, SAT, etc. These mock/exam test preparation platforms are generally designed (with the help of a Subject Expert Freelancer) and monitored in-house.
EXAMPLE

: Testbook

HOW IT WORKS

:
ALSO READ: How Testbook used WebEngage's Marketing Cloud to Reactivate 15% of Inactive Users
Hyperlocal Learning Platform
WHAT

: As the name suggests, these businesses connect Teachers and Students who belong to a small community or geographical location. In other words, it's a platform that introduces a teacher to a student around his/her neighborhood and vice versa.

EXAMPLE

: Cuemath

HOW IT WORKS

:
Challenges faced by EdTech companies
It goes without saying that every educational technology company, irrespective of its business model, faces basic challenges at every stage of its funnel. Here are some generic challenges for your better understanding:
For every problem, there is a solution. In this case, the solution is a B2C Marketing Cloud like WebEngage.
Why B2C Marketing Cloud is an answer to EdTech business problems
A marketing cloud is an all-inclusive platform which drives cohesive cross-channel communication, deep data-driven segmentation and hyper-personalization. And it ultimately results in customer engagement as well as retention.
For your edtech business, a marketing cloud solution can help you achieve the following:
And consequently, you and your edtech business can enjoy:
Increase in platform adoption

High rate of engagement as well as conversion

High rate of course completion

Increase in purchase of other courses

Positive feedback and word-of-mouth by Students/Teachers
Now let's further discuss how an EdTech Manager can send timely, personalized as well as relevant communication to Teachers through an all-inclusive marketing cloud.
Understanding the teacher lifecycle
Since the lifecycle of a Teacher varies for every edtech business model, we'll use the most familiar model in this post i.e. Massive Open Online Courses (MOOCs).
After going undercover and understanding how a MOOC platforms work for a Teacher, we've designed a Teacher Life Cycle for you (given below).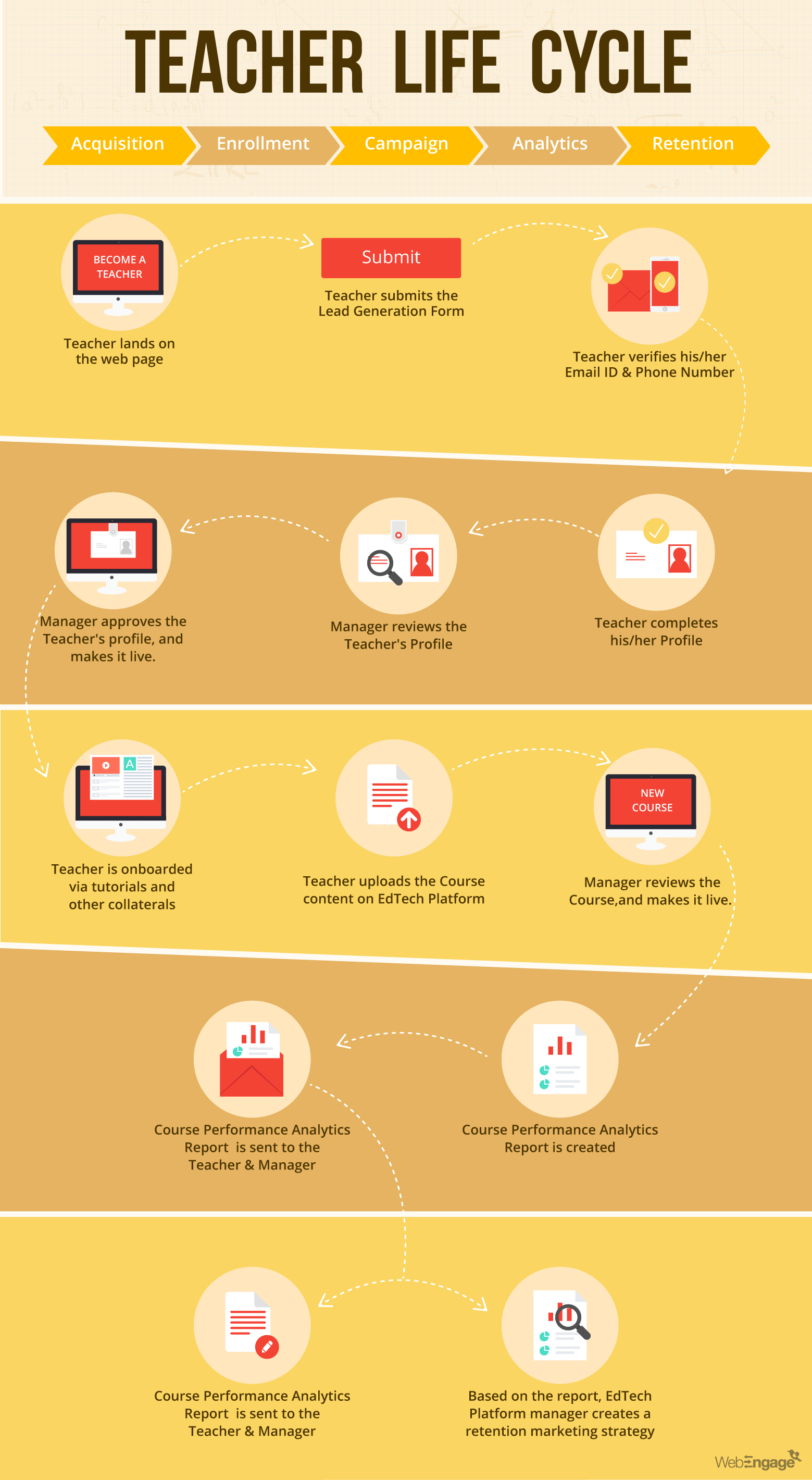 Now let's decode this life cycle.
STAGE 1: ACQUISITION
A Teacher lands on the lead generation landing page through multiple acquisition sources like social media, cold email marketing, display ads, search engine, etc. If interested, he/she signs up by submitting a lead generation form (like the one given below). And this turns the Teacher into a lead (or contact).
Once the Teacher's email ID and mobile number are verified, his/her Profile is created.
STAGE 2: ENROLLMENT
After the profile creation is initiated, the Teacher adds other information like personal details, work experience, educational qualifications, etc. Once he/she submits the complete profile, it is forwarded to the edtech Manager for review. On approval, the Teacher's Profile is made live on the edtech platform.
STAGE 3A: CAMPAIGN (ENGAGEMENT)
Next step is to onboard the Teacher, and educate him/her about the edtech platform. This is done by providing regular training and how-to's manuals. The Teacher is also assisted in uploading the course content. Once uploaded, the Edtech Manager reviews the course before making it live.
STAGE 3B: ANALYTICS (ENGAGEMENT)
Once the course is live on the edtech platform, a Course Performance Analytics Report is periodically generated. This report includes metrics like total enrollment, engagement rate, percentage of course abandonment, total course completion etc. This report is forwarded to both the Teacher and Edtech Manager for analysis.  
STAGE 4: RETENTION
Based on Course Performance Analytics Report generated in the previous step, the Teacher makes necessary amendments to the course content. On the other hand, the Manager plans and implements a targeted retention strategy to keep the Teachers from getting churned. For instance: if the Teacher is performing well, he/she is rewarded with Premium Membership (upselling). But if the Teacher's performance is below-average, then he/she is re-engaged via personal assistance and training program (cross-selling).   
Looks quite rudimentary, right?
If only it was as basic as it looks.
As mentioned in the Part 1/3 of this blog series, every step poses its own set of challenges to an educational technology manager which are given below:
With the help of 3 use-cases, we'll explain how an edtech business can use an all-inclusive marketing cloud solution like WebEngage to tackle almost anything with the help of a customer workflow.
Keep reading to know more.
ALSO READ: How Testbook used WebEngage's Marketing Cloud to Reactivate 15% of Inactive Users
USE-CASE 1
XYZ Edu wants to reduce the number of drop-offs after lead generation form submission by automating email id and mobile number verification.
SOLUTION
A customer journey workflow to automate email id and mobile number verification via hyper-personalized email and SMS.
Suppose Alex Cliff, a prospect teacher, fills up the lead generation form to sign up for XYZ Edu.
When Alex clicks on Submit, the event 'Signup Form Submitted' is triggered and Alex enters the journey. For the email verification of alexcliff@mail.com, a unique verification URL is fetched from the 3rd party tool via Call an API. And this link sent to Alex through email(s).
When Alex clicks on 'VERIFY MY EMAIL' and event 'Email Verified' occurs, she is pushed to the next step of mobile number verification i.e. (555) 555 111.
Like email verification, a one-time password (OTP) is fetched from the 3rd party tool via Call an API, and sent to Alex via SMS.
On verification, user attribute 'Verified User' will be updated as 'True' for Alex. 
USE-CASE 2
XYZ Edu wants to increase the engagement rate of Teachers during the onboarding process.
SOLUTION
A customer journey workflow to automate as well as personalize a drip email campaign, which is triggered based on Teacher's behaviour.
Suppose XYZ Edu considers every recent 'Verified User' as a new Teacher on the platform. Hence, a change in the user attribute 'Verified User' from false to true is the trigger for the journey. In simple words, any Teacher (in this case, Alex) who enters following segment will simultaneously enter the above-mentioned journey.  
Once in the journey, Alex will receive a string of personalized emails as per her engagement with the collateral. For instance: if Alex views the Onboarding Video sent via the first email (event: Orientation Video viewed), only then the Onboarding Ebook will be sent to her. Otherwise, a reminder to view the onboarding video will be dispatched again. You can observe the similar pattern for an email sent for Platform Tutorial.
USE-CASE 3
XYZ Edu wants to nudge Teachers who have not downloaded the monthly analytics report via multiple channels.
SOLUTION
A customer journey workflow to automate periodic along with personalized alerts to Teachers who have not engaged with.
Suppose XYZ Edu uses a third party tool to generate Monthly Analytics Report. As soon as the report is generated for a particular Teacher (in this case: Alex), the event Monthly Analytics Report generated is fired. After confirming that the Teacher is a Verified User, Call an API is used to fetch the unique URL of the report which corresponds with that particular Teacher. This URL is added to the email, making it hyper-personalized.
In case Alex doesn't download the report (event: Monthly Analytics Report downloaded) within 7 days of sending the first email, reminders via Email and SMS are sent to her.
If Alex still doesn't download the report in the next 8 days, 'Check User Attribute' is used to check her premium membership status.
If Alex is a Premium Users, an email for scheduling a personal assistance call will be sent.
If Alex is not a Premium Users, an email for upselling premium membership will be sent.  
Like the three use-cases explained in this blog post, we can create many such scenarios and have a solution for each one of them with a good marketing cloud in place.
---
Now It's time to focus on the MOST important vertical of any educational technology (edtech) business i.e. Students. For the convenience, anybody who falls under any of these categories will be addressed as a Student:
School/University Pupil

Competitive Exam Aspirants

Working Professionals who are continuing education
Before we proceed any further, let's say it out loud that it's the best time to be a Student.
"Why? "
The penetration of internet and smartphones has made technology a child's play for Students.

Educational technology has made global as well as home-grown subject materials available to anyone with an internet access.

Students have an easy access to their personal and/or parent's disposable income for education.

Education (both online and offline) has become not only affordable but also high on quality.
"Are these factors impacting businesses in the educational technology sector? "
Definitely!
Students' (and/or Parents') are expecting enhanced learning experience, value-added services, technology-enabled facilities, 24×7 offline and online support, etc.

The growing demand for edutech services has resulted in a number of edtech businesses mushrooming in this sector. Consequently, this industry is witnessing intense competition and low customer loyalty.

And as per the economics of supply > demand, edutech companies are forced to keep the course fees affordable or low.
"Then how are the edutech companies retaining customer, building their loyalty and making profits?"
By intertwining their platform with a marketing cloud like WebEngage.
Confused? Let me explain.
A full stack marketing cloud enables any edtech business to:
get a complete view of their customer base in form of a unified profile;

create real-time user segments based on various combinations of user and/or behavioural attributes;

launch a targeted, coherent as well as triggered cross-channel marketing campaign;

design and automate customer journey maps and communication workflows

receive rich and comprehensive analytics report on the periodic basis.
"I'm still confused! 😕"
Then let me explain with a used case of an exam preparation platform, XYZ Tests.
Use Case: How Test Preparation Platforms can master Student Engagement and Retention using a Marketing Cloud
Like any other exam preparation business, XYZ Tests has multiple challenges at every stage of its student lifecycle. But before we jump to them, let's first understand an elementary life cycle of a student.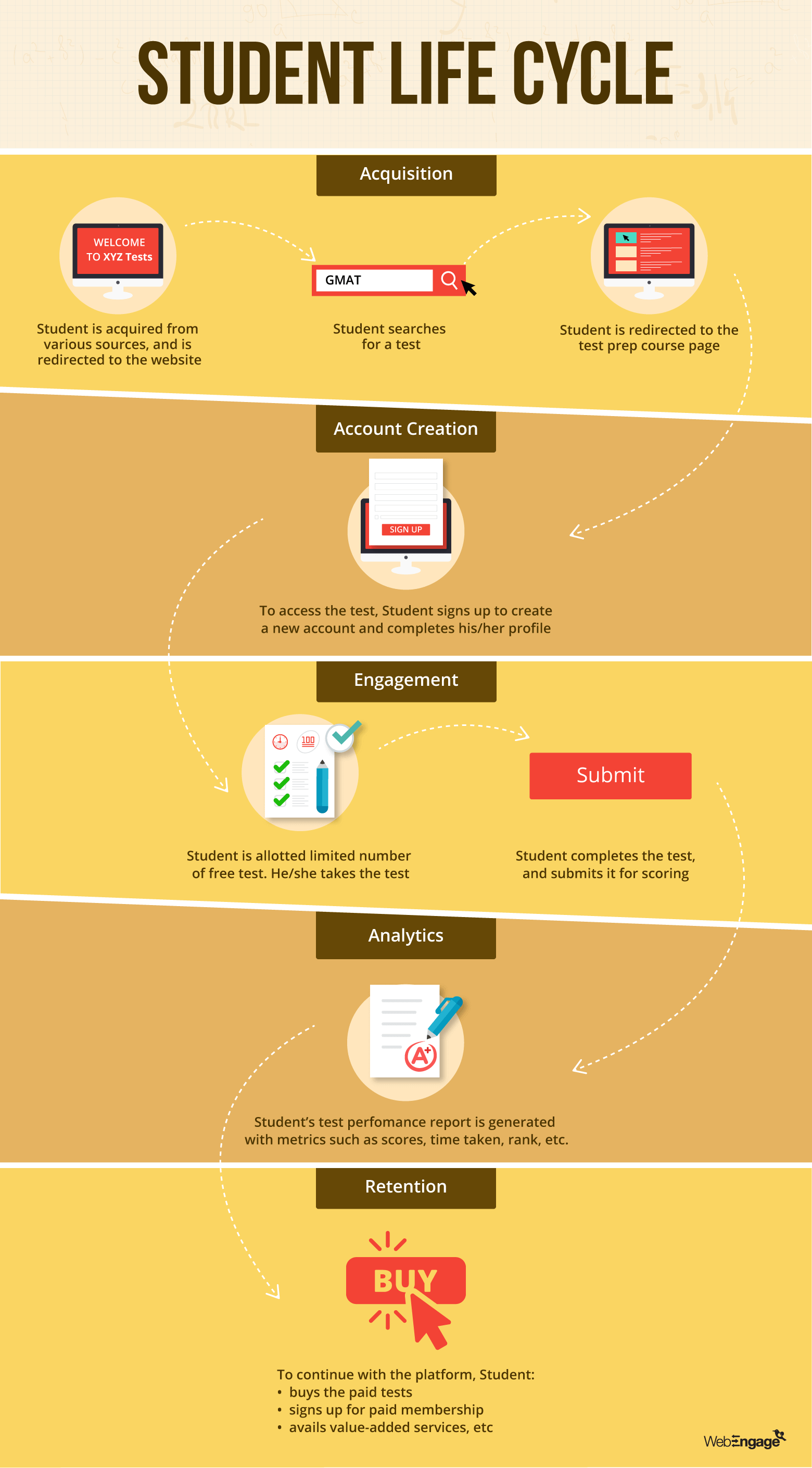 ACQUISITION
A Student's life cycle starts when he/she lands on the website of XYZ Tests via multiple sources like social media, display ads, search engine, word-of-mouth, etc. On the website, the student browses through various test prep courses until he/she finds a fitting one.
ACCOUNT CREATION
Once the student selects the test prep course, he/she creates a new account on XYZ Tests by filling up a lead generation form.
An account creation results in a generation of a Student Profile on XYZ Tests which contains exam-related information like:
Personal information (eg: Date of birth, location, etc.)

Educational and professional background

Exam(s) appearing

Date(s) of exam(s), etc.
ENGAGEMENT
Since XYZ Tests has a freemium subscription model, the student is given access to the limited number of free mock tests of his/her selected exam(s). The student attempts the mock test and submits it for scoring.
ANALYTICS
On submission of the mock test, a performance report is automatically generated. This report contains stats such as:
Rank / Percentile

Total number of attempted questions

Number of correct and/or incorrect answers

Time taken to complete the test

Correct Answers, etc.
RETENTION
Now that the student is converted and engaged, XYZ Tests retains him/her by:
Offering attractive discounts on paid tests

Introducing value-added services (eg: one-to-one career counseling, mock test analysis by subject experts, latest question bank, etc.)

Proposing the premium membership plan

Free test prep resources, etc.
Now that you closely understand the Student Life Cycle, it's time to unveil the potential problems attached to each stage.
Even though the above list of challenges is not exhaustive, it'll still give you a gist of how XYZ Tests can lose a high valued student at every stage of its life cycle.
"So is there one single solution for all these challenges?"
Of course, there is. It's called a marketing cloud solution. It can enable you to engage as well as retain your users without breaking into a sweat.
Don't scratch your head. I'll simplify this further with two generic use cases.
Use case A: Free mock test reminder
Suppose XYZ Tests wants to push a newly registered user to complete his/her two free mock tests before it could pitch paid subscription plans to him/her.
"Excuse me. Would sending a reminder email work?"
Sending JUST an email will definitely not work. You'll need to create a mix of multiple cross-channel, personalized and timely messages to achieve the desired goal.
And the best way to implement the above is by creating a customer journey with builders like WebEngage Journey Designer. With this drag-n-drop workflow designer, you can orchestrate a targeted and tailored cross+multi channel marketing campaign to engage your users at their moments of influence. Here's a video to explain how it works:
For this use case, the journey given below will not only identify the right set of newly registered user, but also send hyper-personalized messages triggered at the right moments.
When a Student signs up for XYZ Tests and completes his/her profile [Event: Student Profile created], he/she enters the journey.
If the Student completes both the tests [Event: Free Mock Test 2 submitted] within the 3 days of profile creation, he/she is asked to purchase a Paid Plan via a hyper-personalized email.
If the Student DOESN'T complete the Free Mock Tests within the 3 days of profile creation, then he/she is nudged to do the needful using multiple channels such as web push, email, and SMS.
In case the Student still doesn't attempt Free Mock Test 1 within the next 2 days, he/she is sent an SMS.
Use case B: Paid plan abandonment recovery
Suppose Alex (from the previous use case) is intrigued to find out more about the paid plans of XYZ Tests. He clicks on 'Gold Paid Plan', and he is redirected to the landing page.
If he clicks the 'BUY PLAN' button for Gold Plaid Plan, an event 'Interested in Gold Paid Plan' triggers. And Alex enters the journey given below.
If Alex doesn't log in [Event: Login successful], he'll be sent a web push notification after making a quick check whether he is reachable on a web push or not.
In case Alex logs in [Event: Login successful] but doesn't make the purchase within the next 30 minutes, he'll be sent a reminder either via SMS (primary channel) or Email (secondary channel).
WebEngage + Educational Technology
WebEngage is a complete marketing cloud that is built for scale and stability. This powerful tool can enable your EduTech business to launch cross-channel marketing campaigns supported by hyper-personalized messaging. Our flagship feature, Journey Designer, is the easiest customer journey workflow creator of them all.  
If you want to:
Onboard new users

Drive course completion

Send timely fee payment reminders

Drive teachers' and students' engagement…. and so on,
then use WebEngage NOW.
i
Image source: dribbble.com
Boost Your Student Engagement by 23%
See how Cuemath, India's Largest Math Learning Platform, did it.