What are Push Notifications?
Push notifications are messages that pops up on a user's mobile device in a heads-up manner are called push notifications. Push notifications help in delivering timely & relevant information to users even if the user is not active on the website or app.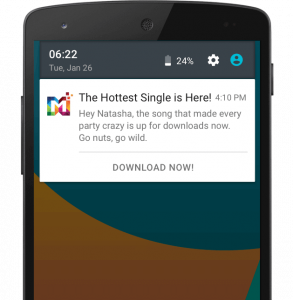 To understand what is a push notification and how it works, there is an important concept of push and pull protocols that we should be versed with.
(In case you're not interested in the technical side of push notifications, you can skip the first two topics)
Get Inspired By How Zivame Used Push Notification To Boost Conversions by a whopping 20%
Table Of Contents:
Push Notification Protocols – Pull vs Push
Basically, there are two common ways in which the information is transferred in this world and over the internet:

Receiver pull
The first type is when you request for the information. In real life, consider scouting for something on google. Here, you precisely know your information requirement and you request google for it. Google accordingly provides you the result.
Likewise, suppose you wish to watch Sopranos. To do that you request the content from HBO and HBO complies. (You have to although meet their condition but that's secondary to our discussion today.)
The point I am trying to make is that in both the above two instances, the client connects to the server and requests for what he needs. When his request is fulfilled, he shuts down the connection. These kinds of information transfers in the internet environment are based on pull protocol, and information delivered via this protocol are called pull notification or pull messages.
World Wide Web is based on HTTP which is a pull protocol. To load a page you type the URL on the browser which then initiates an HTTP request to the web server. The web server fulfills the requests and sends the content of the requested page on your browser.
Sender push
Now consider another scenario where you don't ask for anything but you still get an information because you allowed the publisher to do that.
For instance, recall the almost extinct RSS feed where once you subscribed to the RSS feed of the website, it could push information to your device whenever it chooses. You have activated the connection between you and the site. So, you get the feed even when you don't ask for it.
This is a communication type based on push protocol.
It "gets its name from its ability to push information to a user's desktop instead of waiting for the user to make a request." (Techopedia)
Email is sent using a push-protocol called SMTP. You don't ask for it but still you get it, don't you?
How do Push Notifications Work?
To understand how do push notifications work in action, let's get three basic terminologies right
Client app– The app which receives the push notification.
App server– To understand how to send push notification to the users who have installed your app, you have to create an app server. This server sends the message to the GCM (discussed later) which then transmits it to the client app.
Now, setting up the app server is secondary when you think of launching a push campaign. The things that matter are segmentation, triggered messaging, workflow set-up and hundred other things, building which would drain your tech resource unless you are Facebook, Amazon or something alike.
This is why there exist products like WebEngage that provide push notification engine as a service. Suppose you are using WebEngage, so the App server that we discussed in the above point would be provided by WebEngage.
WebEngage (insert your third party app server's name) Client SDK– This is a piece of code that client adds to its app to integrate it with Webengage.
That's it. Now, let's understand the flow end to end.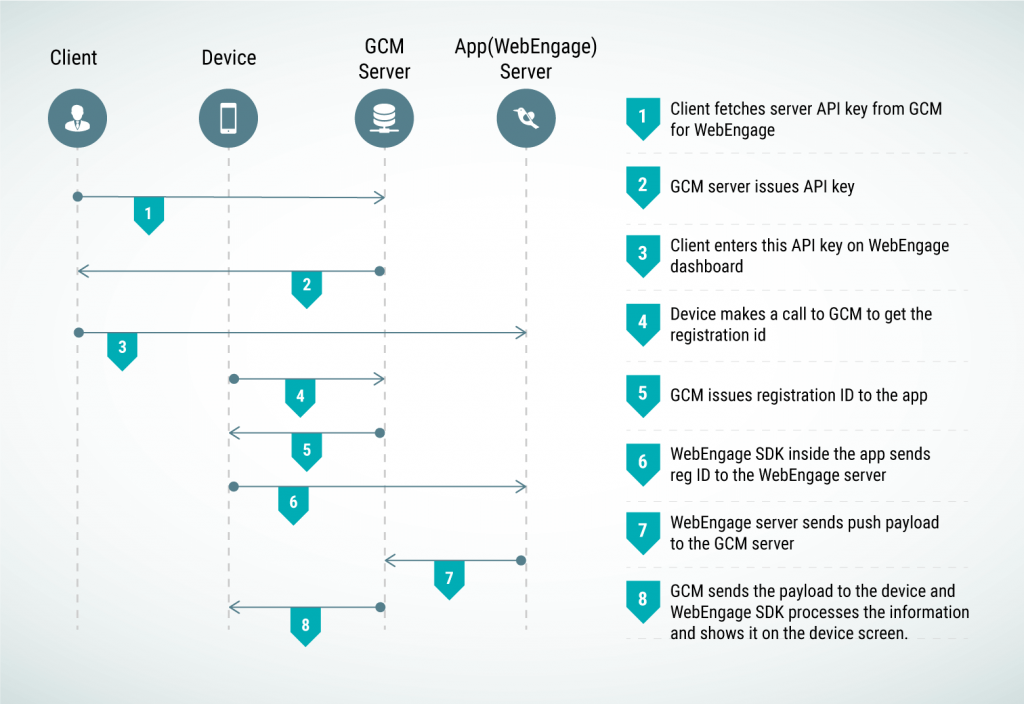 To be able to receive push notifications, the app must be configured and registered with a Push Notification Service Provider. The most widely used service provider globally is GCM (Google Cloud Messaging), or FCM (Firebase Cloud Messaging), a Google-run entity. FCM is the advanced version of GCM with additional features. Then there is APNS run by Apple for iOS. Registration with GCM provides you with an API key that will be used in the next step.

Contrary to the expectation, Apple devices don't necessarily need to configure with just APNS to receive a push notification. Even GCM can send notifications to iOS devices. All you have to do is upload your APNS certificate to GCM.

Once the client has configured with GCM, whenever a user installs the client app, GCM issues a unique registration id to this app-device combination. This registration is required so that the app can receive push notifications from GCM.
After the device registration, an equivalent app server identification is needed. This is required so that the app server can send notifications to the user's device on the client's behalf. This server identification is done using an API key in case of GCM/FCM, and a certificate in case of APNS.Read #2 and #3 again to understand how we are linking two end points (app and server) with the GCM.
Now, the registration id that we generated in #2 is unique to every app. GCM and app server identify this id to send notifications, therefore, it must be kept secret so that it is not misused.
When the user launches the app for the first time, WebEngage's client SDK sends this registration id to WebEngage's servers. The same id is thereafter used by WebEngage to send push notifications.
Now, a Push notification message is nothing but a piece of data called payload (4kb size in Android, 2k in iOS) which looks something like this.
The above one is for GCM. The one for the APNS would obviously be different.
When WebEngage server sends the payload via GCM, WebEngage's SDK on the client's app processes the information contained in this message and extracts out the relevant pieces to render push notification on the device.
Create That 'Aha' Experience For Your Customers With Push Notification
How are Push Notifications Different from SMS and Email as a Communication Channel?
While there's no shortage of communication channels today, ranging from the traditional cornerstones of SMS & emails, to the more new-age avenues of Push & In-app notifications, a lot of marketers still pin a huge chunk of their hopes on the former two. 
And it's actually surprising, to say the least!
You already know about the worldwide uprising against people checking their SMSs – people just don't open their messages these days. And let's not even talk about the open rates and click-through rates (CTR) of emails.
Then there are other challenges with these platforms. For example, SMSs give zero scope of customisation & with emails, there's no guarantee when your recipients would open them (if at all they do), which defeats the purpose of timely & prompt communication.
Now, I'm not downplaying the efficacy of mailers. It's a hugely important communication channel, but the problem surfaces when marketers limit themselves to emails. Today, a lot depends on what you want to communicate & not so much on how you want to communicate it. Which is why there's a dire need to look beyond the traditional means of communication.  
The alternative? – Mobile Push Notifications.
Push notifications solve for all of these. From a breadth of use cases to multiple customization options, push notifications are slowly becoming the gold standard for reaching out to customers. The idea that you can get your messages right in front of your users at just the right time (without asking them to move anywhere), with minimal efforts & can customize your messages to invoke actions from them, has paid attractive dividends. 
And rightly so! When push notifications boost your app engagement rate by 88% & 65% of your users return to your app within 30 days when push is enabled, it's certainly one channel you cannot afford to ignore.
So, to sum up, push notifications are different from SMS & Email in the following respects.
Extremely prompt

Very high deliverability, open & click rates

Deep linking to specific pages

Ability to use rich media

Easy Opt-in process without the need for any personal info

Cross-platform delivery 

Comparatively less costly, or in most cases free

No cap / extra charge for the number of notifications you can send
Why Should you use Push Notifications?
There was a time when marketing was mostly, if not all, about acquiring users. Zero to negligible efforts were put into retaining users, building user loyalty, ensuring repeat purchases or establishing user advocacy. 
Thankfully, that has changed!
Marketers are increasingly realising the importance of retention marketing as a real business case. And today there's an equal, if not more, emphasis on retaining users by various methods of user engagement & remarketing.
But while there are multiple acquisition avenues, the engagement channels are fairly limited. You can keep going back to your SMSs & Emails but when you have an audience who doesn't like to open messages & keeps unsubscribing from emails, there's really not much you can do in terms of engagement. 
Enter Push Notifications. And all of a sudden you're in a position to send rich media in your messages, ensure higher click-through rates via personalized communications & compel your users to take action at the right time for your desired events.
Increase Your CTR By 40% Using Push Notifications
Follow the best practices
Following are a few of the most common "whys" of Push Notifications,
1. The Right Kind of Users
There will be different stages in your Buyer's Journey and pretty obviously, not all of your customers will be in the same stage. Which is why even your messaging cannot be the same for all. Imagine sending a "complete your purchase" message to someone who's not even visited your product page!
Hence, it becomes extremely important that you tailor your messages based on your users' standing in their respective journeys. 
Your ultimate goal is to push your users, stuck at different levels of your buyer's journey, deeper down the funnel and enable them to complete your desired actions. And unless you do your targeting right, this objective of yours could remain elusive.
2. The Right Kind of Messaging
Have you ever been to an art exhibition? If you've and didn't understand what all the hype regarding the seemingly weird paintings are, then you're like me. (I still don't understand what's so extravagant about Vincent Van Gogh's "Starry Night" or "The Scream" by Edvard Munch) 
But we cannot just outright refuse the credibility of these paintings. The art lovers and painting aficionados get it. 
The same logic applies to communications. You cannot know what messaging will nudge which person; hence, it's important that you continually experiment with your messages & then pick the one which seems to be the most appealing (backed by data). 
3. The Right Kind of Delivery Mechanism
You're not the only one who wants to engage with your users right? There are a plethora of other brands that want to get your users' attention. 
Let's say your email lands in your user's inbox at 1 am. Obviously, they're fast asleep. Now, by the time they get up in the morning and check their mailbox, there are 10s of other emails there which ultimately pushes your mailer down, reducing the chances of it being ever opened. As a marketer, you'd certainly not want that. So what do you do?
With Push notifications, you can choose the precise time when you want your users to receive your messages, specify the DND (do-not-disturb) times for your users and also send your messages in their respective time zones. Ensuring just the deliverability won't do the trick anymore. A far greater emphasis needs to be laid on contextual delivery.
4. The Right Kind of Engagement
Let's say your TG (target audience) is millennials, between the age of 18 – 25. You know today the attention span of millennials is at an all-time low. There are a multitude of apps vying for the attention of this age group and everyone is doing their utmost to create the best content & communicate in the best possible way.
But is that enough?
Push notifications come with an added layer of innovation wherein you can compose rich messages (images, banners, carousels, GIFs, even videos), thereby providing a memorable experience for your users and doing more than "just communicating". And when top brands such as USA Today say that by including rich notifications, they saw an 18% increase in monthly app open rates, it's no joke!
Imagine if you could send in delightful communications to your users, right at the time of their onboarding, impressing upon the value they're gonna get by being on your app. Similar to what this brand does for its customers.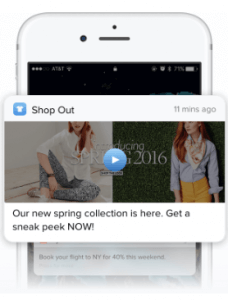 For an in-depth overview of how to maximize the value of your push notification campaigns, check out the Best Practices for Push Notifications.
Stay Updated!
Subscribe to our newsletter to stay updated on the latest in B2C marketing
Types of Push Notification Campaigns:
In the era of Conversational Marketing, people are very mindful of what they receive and as such, you, as a brand, need to be really prudent about not just what you communicate but also about when you communicate – the timing of your messages.
According to a survey by the UK's Data & Marketing Association (DMA), 78% of respondents said they'd immediately delete the app or disable the notifications if they were unhappy with what they receive. And there could be a number of reasons for this unhappiness – irrelevant notifications, untimely notifications, non-contextual notifications, etc. 
In such a scenario, understanding your user behavior first could be the key to reducing your churn rate. So let's have a look at some of the most common use cases for push notifications.
1. Cart Abandonment Campaigns
For eCommerce firms, Cart Abandonment is a real trauma and just about every e-commerce company grapples with it. It's also the biggest factor leading to loss of revenue. From "casually browsing (58%)" to "complicated checkout processes" to the "lack of payment methods" people earmark over 10 different reasons for cart abandonment.
According to a survey conducted by the Baymard Institute, the Cart Abandonment percentage for the US Consumers stands at a staggering 69.57%!
Below are some of the most cited reasons for it.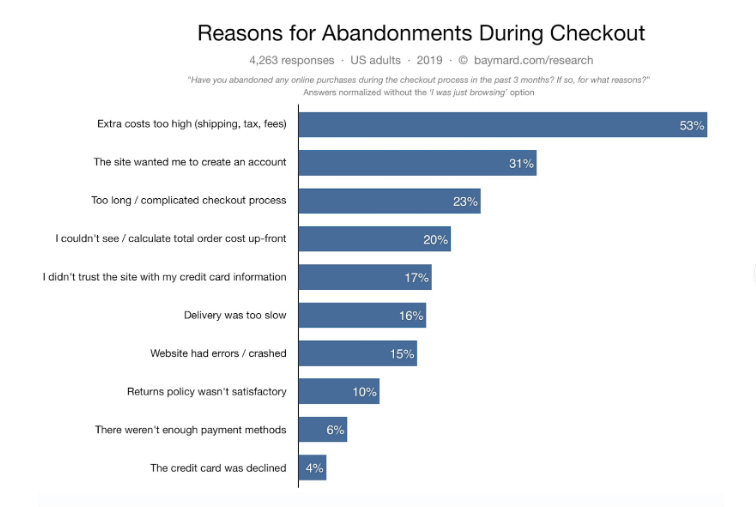 While the numbers do look frightening, push notifications have been able to greatly help the cause. 
Card abandonment campaigns using push notifications have lead to 5X higher reach & have been 37% more effective as compared to using emails for the same purpose. You can send your users curated offers, discounts or throw in a little surprise to entice them back into completing their purchase.
With massively higher opt-in rates, open rates and click-through rates for push notifications, they could be the exact weapon in your arsenal to cater to your card abandonment crisis. 
2. Triggered Campaigns
Triggered campaigns is another very effective way to re-engage with your users. Similar to triggered email campaigns, triggered push campaigns are also event-based campaigns sent to your customers once they complete a certain action.
Once inside your conversion funnel, your users receive a series of automated messages, triggered on predefined rules, the aim of all of which is to move your users to the next funnel stage. You can send in multiple messages in a single campaign that a user will continue to receive until they complete your desired action & move to the next stage. 
Defining the entry points (when someone would receive what message) will be very crucial here as while you do want to convert your users stuck at the different stages of your funnel, bombarding them with too many messages might result in the opposite, leading to increased churn rate.
Remember that there are users in your conversion funnel, ready to convert, all with just a nudge. And the best way to provide that nudge is through Triggered Push Campaigns.  
3. Promotional Campaigns
Before I begin, let me break a myth for you. 
People like to receive promotional texts – as much as 57% of them, according to this study. And this data is just about SMS not taking into account the other communication channels.
Let's say you're an eCommerce company, running a two-day sale on your website. How'd your consumers know about it? You can't expect them to just be there on your website at the right time. If your customers don't know about these events, no matter how well planned they are or how thoughtfully targeted they are, they're just not gonna bear any fruit. For all of your new offerings, sales, giveaways, exclusive or limited offers, you've got to intimate your users about them and remind them of it a couple of times too (to create a sense of urgency & FOMO) to encourage them to be on your website at the right time and make the purchase.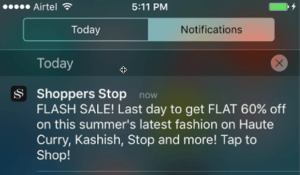 Your users when they browse through your website, give you a lot of data about themselves. Their product preferences, their purchasing power, their usual browsing times, etc. And taking cues from all these data, you can build powerful & tailor-made promotional messages to send to your customers. 
Other than these, your promotional messages could also include birthday /anniversary/milestone offers, time-bound sales, geolocation notifications, new feature launches (for B2B firms), etc.
4. Re-engagement Campaigns
Remember the reminding we talked about in the above pointer? 
Any to every kind of reminders that you send to your users fall under the Re-engagement Campaign – where you try to nudge your users to perform certain activities. This could be anything ranging from completing their onboarding process to making a purchase to asking for additional details to channeling the inactive users.
A loyal customer base can only be built on the back of a user's consistent engagement with your brand. If your user is not re-engaging with your brand multiple times, the chances of them being loyal to you and hence, advocating your brand are fairly less. And your push notifications can be a great tool to prevent that from happening.
Re-engagement campaigns are specifically useful for firms today trying to either reduce their churn rate or knock up their dormant users. 
5. Intimation Campaigns
Your Uber is on the way! See what people are talking about in your group XYZ! Mr. X, Miss Y, and 24 others liked Mrs. Z's tweet!
Remember these kinds of notifications that your favorite apps send you? 
All these are types of Generic Intimation Campaigns. The purpose of such campaigns is to keep your users in the know of events inside your platform, which might not be directly related to them, but which can incite them to open the app and check out what's happening. 
But there's a very fine line between what your users want to be intimated about (what will excite them or if something is good enough to know) and what they might consider as spamming. Even with the intimation campaigns, this component that a user can "take some definite action after receiving the communication" has to be always there. 
Pro Tip: Avoid sending the feel-good type of intimation campaigns unless your communication doesn't concern a milestone (birthdays, anniversaries, reaching a certain checkpoint).
A Marketer's Guide to Mobile Push Notifications
Measuring your Push Notification Campaigns:
One of the most interesting things about the field of marketing is you can (and should) measure every campaign that you run. Understanding the efficacy of every initiative that you take, be it for acquisition or retention, is very important as the results will form the bedrock of all your future campaigns, in turn helping you better understand your target audience.
If you're not measuring your campaigns & not developing your consumer insights, there's no way you can market or even sell your product effectively. 
In the light of this, let's have a look at the 5 important mobile app metrics to help you specifically measure your push notification campaigns.
Opt-in Rates: The number of people who sign up to receive your push notifications.
Click-through / Open Rates: The number of people who click on your push notifications.
Conversion Rates: The number of people who complete a predefined goal after opening your push notifications.
Time on App / Website after Notifications: The time your users spend on your platform, after opening a push notification.
Influenced Conversions: The number of times users manually open an app after receiving a push notification (rather than tapping on the notification directly to open the app) within a given time-frame.
Push Notification Performance Stats:
Due to the ubiquity of mobile devices, push notification has worked extensively well for mobile publishers. That's the reason why it was introduced in the web as well. There is a whole industry which has established itself on the back of this simple messaging medium.
To give you an overview of the performance of this medium, I have curated some stats from the reliable sources. You can visit the links to get the background right.
Push notification opt-in rates are higher on Android in comparison to iOS. – Business of Apps, 2019
In iOS, the average opt-in rate of push is highest for ride-sharing apps (79%) while lowest for Social apps (39%). – andrewchen.co
In the year 2018, the volume of push notifications sent by publishers rose more than 50 percent from January to December. Digiday, Jan 2018

Conclusion:
That's all about what does push messages mean and how push notifications work. If you are already running push notification campaigns then the following guides may help you refine your strategy:
If you have a point to make or any doubt, please mention in the comments section and we would be glad to address it to the best of our knowledge.
Targeted Mobile Push Notifications Can Help In Achieving Conversions As High As 50%