Our new feature release gives you more flexibility in scheduling Recurring campaigns. You can now schedule your Recurring campaigns for particular days of the month or week, all at once. Brands that see strong data trends during certain days/hours of the week or month, can automate more tasks through marketing automation software. After all, while creating marketing campaigns, publish dates aren't the only thing you need to keep track of.
For example, an EdTech platform can schedule campaigns and automate its monthly performance newsletters to parents or students. Or a Grocery delivery platform can send reminders to shoppers for ordering their monthly groceries on every payday (owing to the 'paycheck effect'). This will generate a much better response, as compared to sending messages simply during the end of the week, without the need to dedicate time in setting up the same campaign, at the end of every month.
Industry-specific use cases that can be solved using Flexible Delivery Schedule 
1.  Send birthday wishes to your users
This is the easiest and probably one communication every company should send. It's a simple act of making your users 'feel-good' helping you position your brand as caring and trustworthy. Through hyper-personalization, you can wish your audience on their birthdays and special occasions and set yourselves apart by sending birthday greetings. 
Who to send: Users who have their birthday in the next 24 hours
When to send: 1 day before the birthday with a "special offer"
Which channels: Email and Push notification
What to send: Example,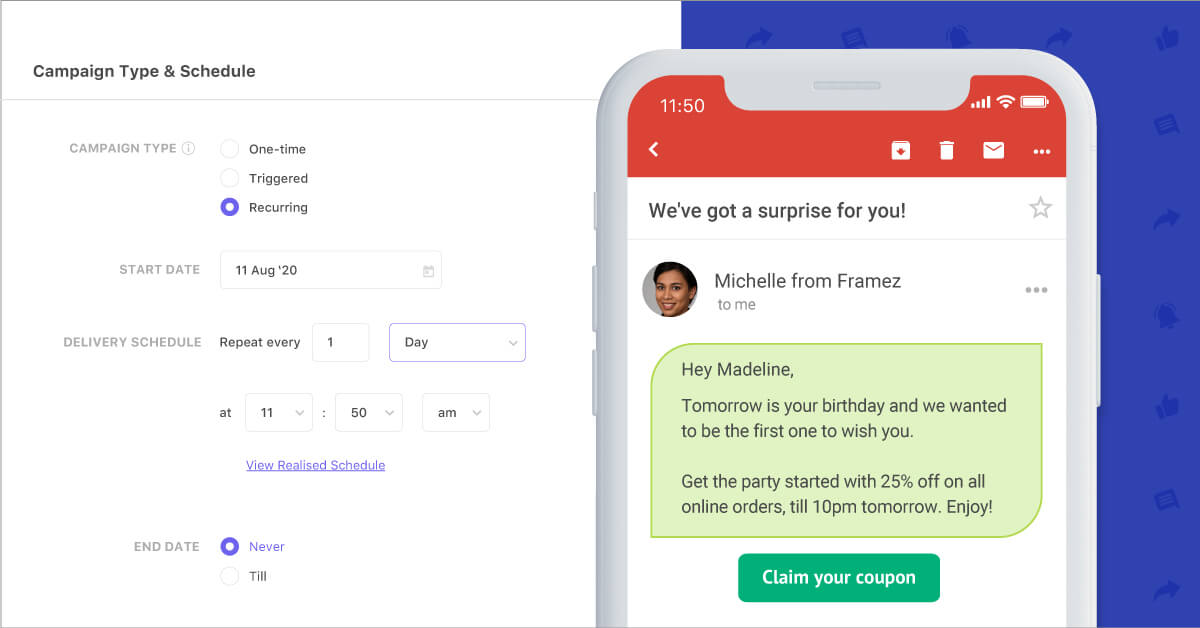 2. Daily class reminders and monthly newsletters for EdTech brands
EdTech marketing, offers quite a few scenarios where you can schedule recurring campaigns and automate them. One could be a generic "missing out on class" or "attendance-related" message, just before a class is about to start, for your video classes. Another one could be "course completion" messages, sent once every week. Or monthly performance newsletters sent to students or parents (depending on the audience).
Contextual nudges have emerged as rocket fuel to increase viewership, boost attendance to your live classes and course completion rates.
Who to send: Students who have subscribed to the particular classes/ courses, but have not logged-in in the last 7 days
When to send: Daily or weekly before the start of the class
Which channels: Push notification & SMS
What to send: Example,

3. Consultation reminders for Healthcare brands
Free/ paid doctor consultation reminder messages, after every 6 months from the sign-up date, is also a good use case. This could be more frequent, depending on the nature of the consultation and patient history. Recurring reminders like these can be extended to tracking vaccines for babies too.
Who to send: Every user and those with frequent doctor visits 
When to send: 3 months, 6 months from the last consultation date (or sign-up date for new users)
Which channels: Push notification, Email, and WhatsApp
What to send: Example,

4. Weekend special promotional offers for Food delivery
If your business experiences peak days—marked by spikes in searches, impressions, and product usage—it is highly profitable to capitalize on them by reaching out to a bigger audience. Most customers order food during the weekends. You can use this insight to send promotional offers and menus to users from Saturday mornings to Sunday evenings. This works great for bringing dormant users back to the platform. 
Who to send: Users who have not logged-in in the last 15 days as well as those who place regular weekend orders
When to send: Saturday morning and Sunday evening, an hour before usual meal times
Which channels: Push notification and SMS
What to send: Example,

5. Save/invest money messages for FinTech brands
For brands who want to inculcate the habit of saving and investing in their customers (as much daunting as that usually in itself) it's much easier to do when they actually have money to save/ invest. Notifying people towards the end and beginning of the month, when they receive their salaries, is the best time for this. 
Who to send: Users who saved/ invested either in the last week or the starting 10 days of a month
When to send: Once in the last week of the preceding month and 2-3 times in the opening week of the upcoming month
Which channels: Push notification, SMS, and Email
What to send: Example,

6. Diaper restocking messages for E-commerce brands
A common phenomenon among shoppers (parents) about the consumption pattern of diapers and the quantity, which is usually 20/ 30 pieces a pack. So a diaper restock reminder, two days before (on the 18th day from the date of purchase of a 20 piece pack), makes an excellent case for E-commerce brands. This can be extended to other hygiene products as well.
Who to send: Users who have purchased from you previously in the last 1 month
When to send: Two days before, i.e., on the 18th or 28th day of every diaper pack purchase, depending on the quantity purchased
Which channels: Push notifications and WhatsApp
What to send: Example,

Getting started
Flexible Delivery Schedule for Recurring campaigns is available as a feature on the WebEngage dashboard. Refer to the WebEngage knowledgebase and start offloading some of your campaigns.
But don't stop there! Once you've set the triggers, dig deep and run A/B tests to give yourself a competitive edge. Feel free to reach out to your Account Manager to understand which times or days will provide the most value to your business. If you are new to WebEngage, request a demo from our Success team to learn more about this feature.
To wrap up, here are some ideas to further help you decide on the campaigns you can automate.